Believe it or not, temperatures are dropping. If not, step outside. Yup, fall is here. As with football season, falling leaves and pumpkin pie so also comes seasonal trends. While 2016 has more or less been "The Year of the GR" with footwear playing more on a functional piece in a well-thought out outfit than grandeur statement like years passed, there are still a good mix of models bold and basic that will define autumn. Get our ten picks below.
Air Jordan 12
The Air Jordan 11 may own the holiday season year in and year out, but this fall its follow up is having its run. The Air Jordan 12 has a full fall lined up with no need for an OG take, drawing inspiration from artists with the "OVO" collab and the cooler climate with its "Wool" makeover. In general, the ribbed retro has all but always performed well at retail. The Drake co-signed pair will prove the ones that are chased with other renditions maybe not making as much noise on the net but definitely slated to be seen on-foot in real life.
adidas Yeezy Boost 350 V2
The adidas Yeezy Boost 350 V2 is officially out in the world. Super hard to get, the model will be chased in the aftermarket for many months to come. Will one of the other seen styles also release at retail this season? It's hard to tell. Conventional wisdoms says we'll get at least one more pair of 350s and one more pair of 750s before the year ends, but we will have to wait and see.
adidas NMD
A hit all year, the adidas NMD will continue to reign this fall season. Slated to launch in nine iterations on the first of October, the shoe will shift shape, color and composition all autumn but sure won't slow. From Pharrell collabs to trail takes to the original runner, the NMD will continue to be the must-have model that's also accessible.
Air Jordan 1
As cooler climate comes so does wardrobe changes. What hasn't changed? The Air Jordan 1 and its place in sneaker culture. The shoe that some could say started it all has remained championed in high top form. While no OGs are slated to see retail release this fall, creative colorways like the "Shattered Backboard 2.0" and "Top Three" will be street styled and kept in rotation by many a sneakerhead this season.
PUMA Suede
The PUMA Suede has a push. With inline endorsement from Young Thug, Lil Yachty, Rae Sremmurd and Kylie Jenner, the shoe is a prime example of the less is more trend in sneaker and style culture. While the OG iteration is made for the masses, it also can't be overlooked that the Rihanna Creeper collabs are still selling out each and every time they drop.
Air Jordan 3
photo by
@us11hustla
It's hard to imagine that OG Jordans selling through isn't a guarantee. One day the "Aqua" 8s hit the outlets, the next the "Flu Games" move like hot cakes. So, what will be the fate of the "True Blue" 3s? Honestly, it doesn't matter, these are a great shoe regardless of pairs purchased at or above retail. Shortly after their Black Friday launch, the "Cyber Monday" makeup will prove another easy wear and addition to the AJ3 legacy.
Nike LeBron 14
The King with another ring, LeBron James is coming into the 2016-17 NBA Season riding high. So, what will he wear? He might pull an MJ and start the year in last season's playoff producer, the Nike LeBron Soldier X. Eventually though, the Nike LeBron 14 will be unveiled and launched. Even with Kobe in retirement, Kyrie on the come up and KD on the move, LeBron James still has the most important signature shoe in the Nike Basketball stable. What will they look like? We can't wait to see.
Vans Old Skool
Always on deck, the Vans Old Skool will continue to have a place in both skate and style circles. The go-to shoe for young hip-hop's elite (A$AP Rocky, Travis Scott, Bryson Tiller, Big Sean — and occasionally Kanye) wears well on guys and gals and is a more understated approach to grunge driven outfits that would usually work with AJ1s.
Under Armour Curry 3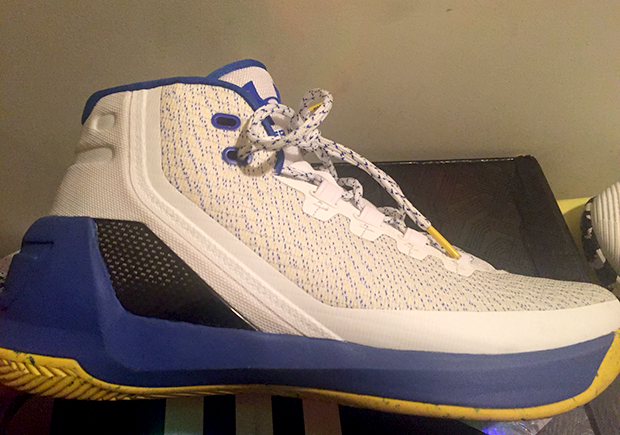 Let's not forget that Stephen Curry's 2015-16 campaign was about as big as it gets. Crushing in the stat sheet and at retail, the Under Armour Curry 3 will certainly be a talked about shoe upon official launch. While the brand continues to branch out in lifestyle, their main focus — performance product — has seemingly gotten better each season.
Nike HyperAdapt 1.0
Have you ever had shoes without shoe strings? Far from velcro and not conventional slip-ons, the Nike HyperAdapt 1.0 sees the launching pad for the biggest Swoosh innovation in years. This early installment in what could be the future of footwear will be enticing from an experience standpoint as would-be customers will have to book appointments to try them out.