MSCHF is exactly who they say they are as the brand continues to stir up trouble within the footwear industry. The brand is facing legal trouble yet again as Vans sues MSCHF over the Wavy Baby Shoes that are scheduled to release on April 18th.
The lawsuit comes by way of Vans and VF Outdoor, the parent company of Vans and other industry leaders like Supreme, North Face, Timberland, and more. Vans and VF Outdoor are suing MSCHF over complaints of Trademark Infringement, Trademark Dilution, and False Designation of Origin and Unfair Competition, in regards to the Vans Old Skool.
The Wavy Baby Shoes are a collaboration between MSCHF and Tyga, who is referred to by his legal name, Michael Stevenson, in the documents. Vans first sent a cease and desist letter to MSCHF on April 6th, in which MSCHF did not immediately respond.
Upon further examination of the documents, Vans also noted that both MSCHF and Tyga continued to market the Wavy Baby Shoes regardless of the cease and desist. MSCHF ignited a countdown timer to the release date, while Tyga posted a TikTok in which he microwaved a pair of Vans Old Skools to transform them into the Wavy Baby Shoes.
Following the complaint, MSCHF has reached out and offered an official statement: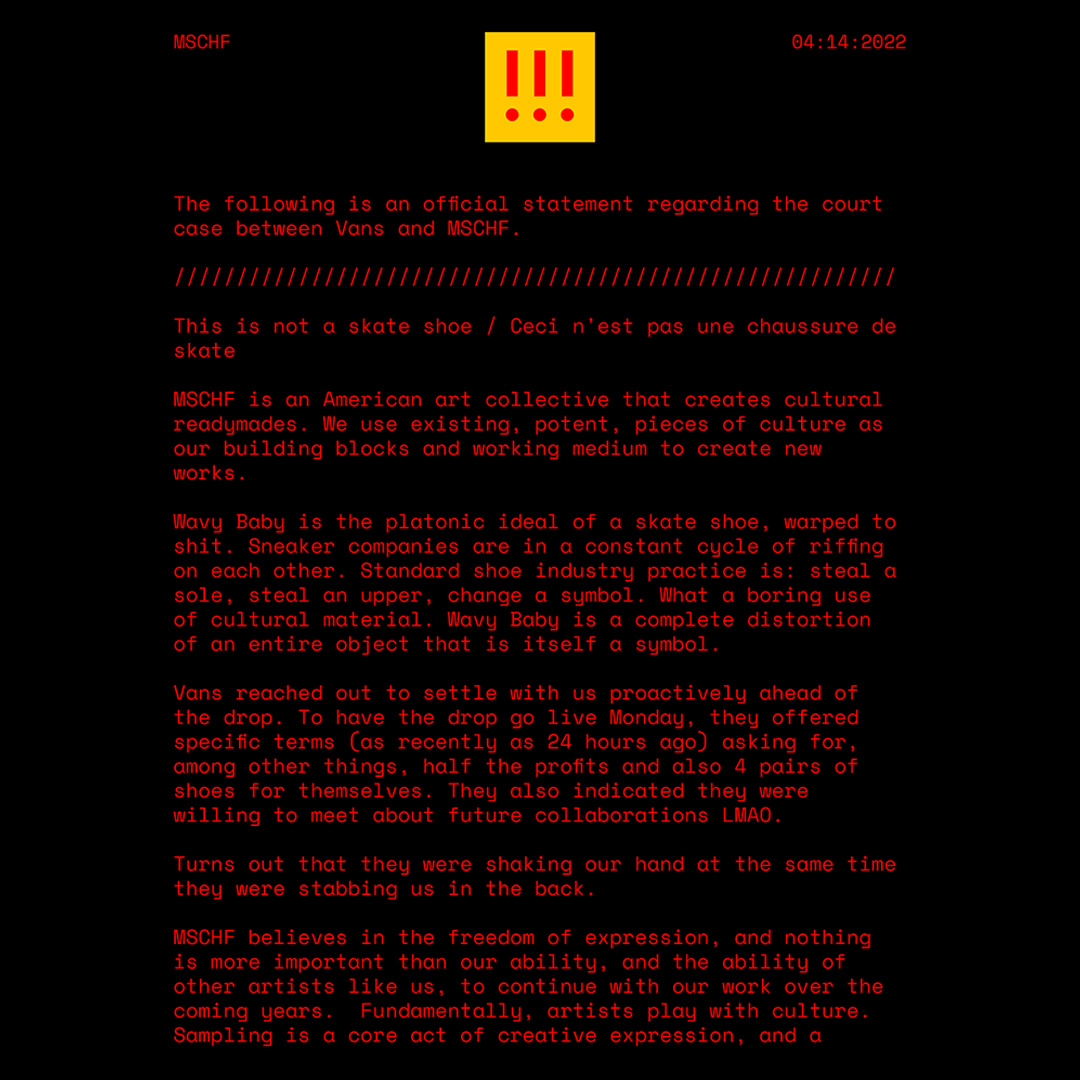 The Wavy Baby Shoes certainly made waves around the internet with numerous photos of the pair going viral. As rebels in the industry, MSCHF isn't afraid to take risks and has already face another industry leader head-on, when Nike sued them over the MSCHF x Lil Nas X Custom Nike Air Max 97 "Satan Shoes."
With the Tyga x MSCHF "Wavy Baby Shoes" still scheduled for a release on April 18th, it'll be interesting to see what happens from here. Nice Kicks will continue to update this story as the case develops. Take a look at excerpts from the documents below and follow @NiceKicks on Instagram.
UPDATE 5/2/22: Vans Wins Temporary Restraining Order Against MSCHF
According to documents posted by @sneakerlegal, Vans wins a temporary restraining order against MSCHF. The motion was granted on April 29 by New York Judge William Kuntz. The judge agreed with Vans and also ordered preliminary injunction. Under these terms, MSCHF is forbidden from fulfilling any more orders or sales of the Wavy Baby sneaker until the case is over and an official ruling has been made.
It's unclear where MSCHF stands in its fulfillment process, but it seems that a good portion of people won't be receiving their Wavy Baby sneakers anytime soon, although according to Vans, they stated in a filing that MSCHF continued to fulfill and ship out orders of the Wavy Baby shoes which violates the injunction.
Additionally, legal experts are predicting that Vans is likely to win the case in regards to its trademark infringement claims. Take a look at the documents below. Nice Kicks will continue to update this story as the case develops.