The Nike Air Max 1 "Curry" exists in a space very unique in sneaker culture. It's an all-time great Air Max 1 yet not an original colorway, often a carrying card for sneaker success.
They're revered like a storied collaboration while actually being the furthest thing from it. Believe it or not, at one point in time the "Curry" was nothing more than a "mall shoe" most wouldn't touch with someone else's hand. But in the years since its debut, something almost unheard of happened with the 15-year old sneaker: it became legendary for reasons most still don't quite understand.
One can't tell the story of the "Curry" or the Air Max 1 without first exploring the history of Air. Developed by former NASA engineer Frank Rudy and introduced in 1978 with the Air Tailwind, the technology was a rebellious and timely replacement for molded EVA midsole construction. The Air Tailwind, which succeeded foundational Nike classics like the Cortez and Waffle Racer, was by most measures a triumph for Nike. Yet, it lacked the innovative experience that was ironically enclosed within its midsole tooling.
At the time, though, Air was to be felt and not seen. Gas-filled urethane pouches didn't exactly scream aesthetically pleasing in the late '70s. It wasn't something that appeared progressive and certainly didn't seem marketable. Still, Nike needed to do more with the performance enhancer. After all, they were sitting on gold and no one could even see it. Sure, runners could feel it and subsequently shout its praises. Yet Air was simply too critical to the brand's future to solely act in invisibility. Tinker Hatfield would soon crystallize a solution on a now legendary trip to Paris.
When Hatfield landed at Nike as a Corporate Architect in 1981, hired to help design buildings at Nike's Oregon headquarters, his input on sneaker design wasn't required. That part of his tenure didn't begin until 1985. It quickly became clear that his skill set in architectural design were equally represented in other areas of design. Tinker began working on numerous products, most of which his contumacious spirit lead him to do outside of Nike's design brief. The bones of one of those projects would be the Air Max 1.
Centre Georges Pompidou
During Hatfield's aforementioned trip to France, in hopes of finding inspiration to help fill his lofty design goals in his new role, he placed his eyes on a building that formed an idea. The idea was one of aggressive exposure spawned by the revelatory Centre Georges Pompidou building. The French initially carried great disdain for the advanced structure. They saw it as contrived and overtly obtuse. The internal, operational aspects of the building could be seen on the exterior, some of which looked like translucent tubes. And with that, Hatfield had what he needed to crack the code that we now know as Visible Air.
Two years after Hatfield began designing sneakers for Nike, the Air Max 1 was released in 1987. Following initial push back from Nike higher-ups, with the assistance of Director of Cushioning Innovation, David Forland, Hatfield got the shoe to the market and the rest was history. "Sport Red" and "Varsity Blue" original colorways reigned, with more storied variations to follow in the years ahead. However, it wasn't until more than a decade later that Nike allowed collaborative partners to re-imagine the Air Max 1.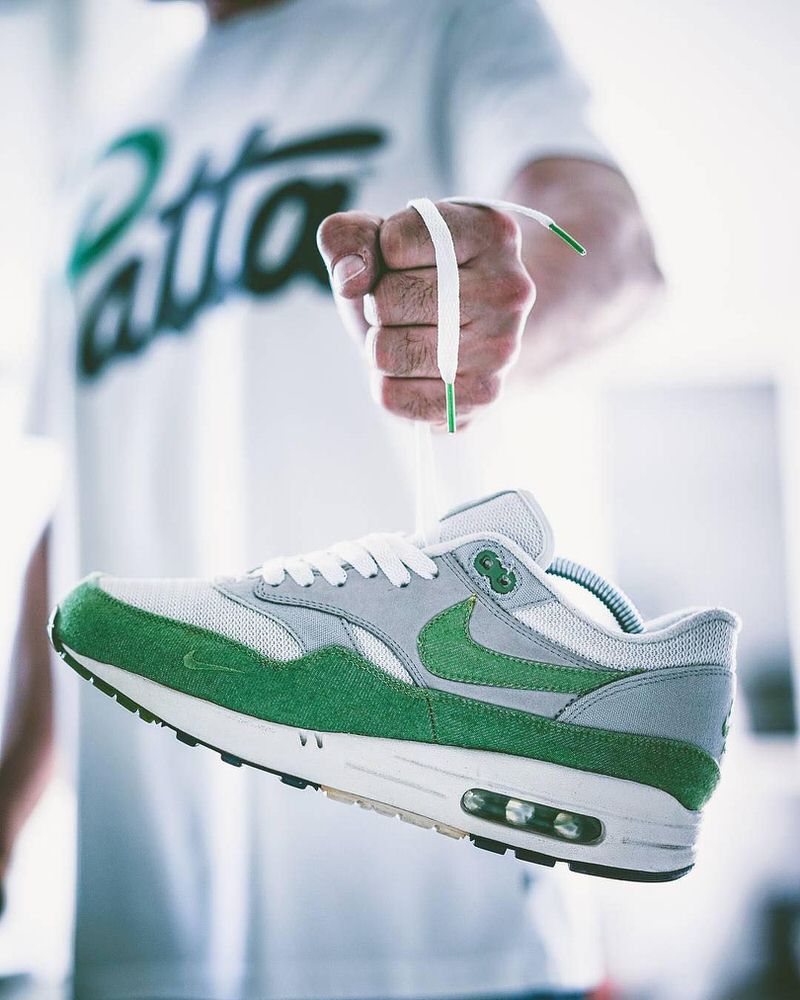 2002 brought about Atmos' masterful "Safari," which retroed after a long wait in 2016. The Japanese retailer would later one-up themselves with the "Animal Pack" in 2006. Dutch artist Parra championed the shoe in 2005 with an ode to his hometown of Amsterdam. And, in 2009, Patta struck gold with the "Chlorophyll," a shoe Air Max 1 purists hope is somewhere on Nike's retro calendar in the very near future.
There are many others. Droves of special releases, limited edition designs, so forth and so on. But, in 2003, at malls and standalone big-box retailers everywhere (because those still existed at the time), the Nike Air Max 1 "Curry" touched display tables and screw-in fixtures for the very first time. And like very few Air Max 1s that rest in modern-day lore, the shoe held a position on those fixtures for long while.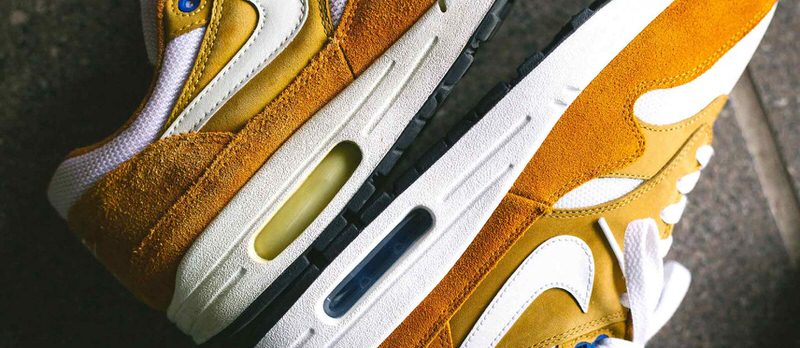 Those mystified by exactly why the "Currys" didn't initially move at retail should know it's representative of several things. For starters, inline Air Max 1s in 2003 weren't, well, hyped. Very few things were at the time. Moreover, that hype wasn't fueled through the same channels it's funneled through today. There were no blogs. There was no Twitter or Instagram or Stories. There was Eastbay, Slam, and very few other publications that pressed the issue of new releases.
What's more, while running sneakers were certainly coveted in the early 2000s, they didn't carry the appeal they do today. Following the colorful, exuberance of the '90s, style took a muted and athletic turn in the initial moments of the 2000s. There was an abundance of oversized tailoring, men and women in way too much velour, and more trucker hats and low-rise denim than anyone would ever own up to supporting.
The juxtaposition of fashion trends and Tinker Hatfield's masterpiece were at opposite ends of the ocean. There was a significant gap between what we were wearing and the complementary nature of a shoe like the "Curry." Also, for reference, the 2003 Pantone color of the year was Aqua Sky. Far removed from the lush brown hues that canvass the sneaker in question.
If we were world's apart in terms of style trends, then there was also a divide between the "Curry" and the type of shoes consumers leaned towards in 2003. Nike Basketball debuted the Air Zoom Generation to great acclaim for a young LeBron James. Adidas soon after revealed their second signature shoe for Tracy McGrady. More importantly, in context, was the run of the SB Dunk. By in large, the skate shoe trumped the Air Max 1 almost entirely in 2003. Supreme's series of Dunks reigned as best in show, outdueling other classics like the "Heineken," "Futura" and the "Paris," respectively, all released in 2003.
Running concurrently with the appreciation of OG Air Max 1s and its celebrated collaborations, over a lengthy period of time, a love for the "Curry" began to form. That adoration, in many ways, plays as an underdog story — the little inline that could. Here was this wildly normal colorway that started to take shape as a favorite after just years ago growing stale on sales racks. What had changed? At what point did the "Curry" go from inline to all-time? That answer is both rooted in our appreciation for the beauty in simplistic and a holistic maturation of the Air Max 1.
After just last year celebrating its 30th anniversary, similar to the Air Jordan 1, originally released in 1985, it's become easily evident that the Air Max 1 is in many ways the perfect sneaker. What was once a gamble for Nike and a potential career-altering mistake for Hatfield has become a staple in a billion-dollar industry. Thus, that second wave of Air Max 1s in the early 2000s all of the sudden became much more important than previously assumed. The "Curry" — and others from said time period — began to age with grace. They were now being revered, not glossed over.
Another growing pain to consider over the last decade and a half is the birth of the modern sneaker collector — a new breed of consumerism where all bets are off and every sneaker is fair game.
Sneakers were widely beloved in the late '90s and early 2000s marked as collectible and wearable art to those deeply entrenched in the bubbling subculture. Though over the 15 years since the "Curry" first released, that number has grown exponentially and, to its detriment, everyone involved isn't exactly devoted in righteousness. Certain new adopters are simply looking to cash in on the culture, buying often times as investors first and fans second — or third.
Yet, that's what ultimately separates the "Curry" from other sneakers. There is fleeting individuality in contemporary sneaker culture. There was a time — be it so far away — that a sneaker needed no qualifying characteristics to be great other than the fact that you liked it. The "Curry" was that type of sneaker. You might have been alone in your decision to place value on the shoe. And that was fine. No one else needed to covet them as long as you did.
On May 10th, when the Nike Air Max 1 "Curry" retros for the first time since its original release 15 years ago, they'll be desired by thousands across the world. An honor well deserved and a long time coming. Its journey here was an unteachable trip. Few others rival it. And we wouldn't expect that to be replicated anytime soon.