Sneakers, and the entire athletic industry along with it, would be pretty boring were it not for the inventive imagination, relentless drive towards improved performance, and raw aesthetic talents of Tinker Hatfield.
Oft nicknamed "The Architect," Tinker is more than just an artist that draws up shoes — he's gone on to become the architect of Nike's brand look now four decades. The mind behind the original Air Max lineup, the creator behind the entire Cross-Training category as we know it, and of course, unmistakably, the equal-parts-GOAT counterpart to Michael Jordan in creating the Air Jordan series' most iconic models, Hatfield is undeniably the footwear industry's most accomplished visionary.
To celebrate Tinker's 69th birthday today, the Nice Kicks team tallied up our favorite Hatfield designs through his illustrious career. From iconic signature models that have laid the framework for a multi-billion dollar brand, to cult tennis favorites and even a few oddities in between, check out our 30 favorite Tinker-tailored kicks below.
---
30. Air Jordan XX8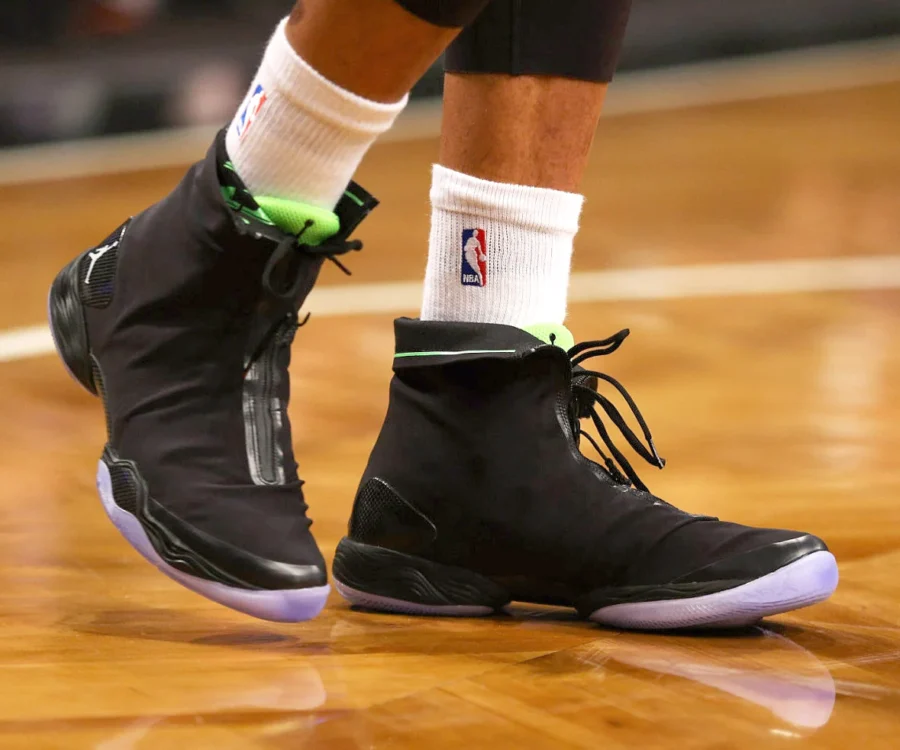 Design can point to a new direction a company is looking towards, or simply often represent an era and a period of time through a repetitive approach. The XX8 was the perfect response to the overly synthetic and increasingly busy designs of the early 2010s, with it's fully shrouded upper and targeted carbon fiber support wedges giving it a sleeker stance and dramatic silhouette.
At Michael's specific request, the shoe took on a "stealth" aesthetic. First debuting in its recognizable all-black edition on the feet of then-newly-signed Russell Westbrook, it would later feature everything from fully printed text uppers to graphic patterns tying back to several of the brand's key NCAA schools.
— Nick DePaula
---
29. Nike Zoom Vapor 9 Tour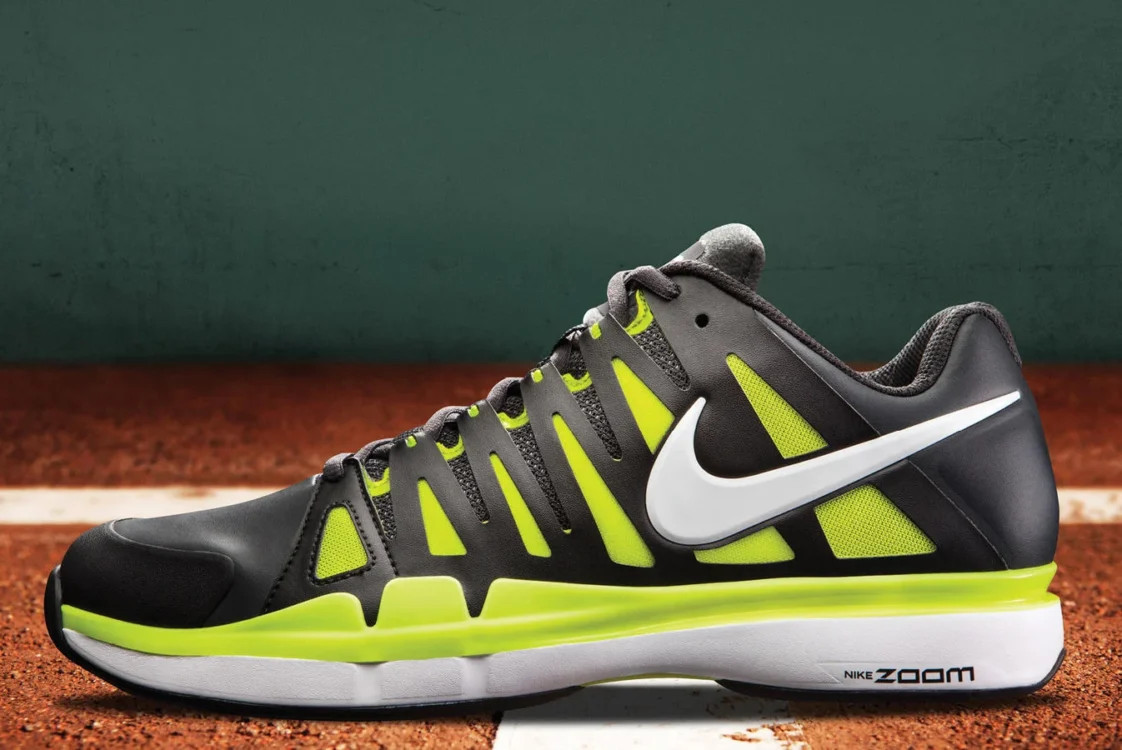 Many designers view themselves as problem solvers. Time-tested and well-proven in the art of war with pencil and paper, Tinker Hatfield took to modern weapons to help Roger Federer in the war against fatigue and boring style, in a sport that was getting younger and more competitive, but aesthetically less interesting.
So, what was Tinker's new weapon of choice in a time of a new athlete and new tech? The Apple iPad. Sketching the Nike Zoom Vapor 9 Tour in real time with real input, Federer was able to tell Tinker just what to change both stylistically and functionally. The result? A bold, bright, and light tennis shoe that led the Swiss sensation to a Wimbledon W over Andy Murray. Problem solved.
— Ian Stonebrook
---
28. Nike Air Tech Challenge III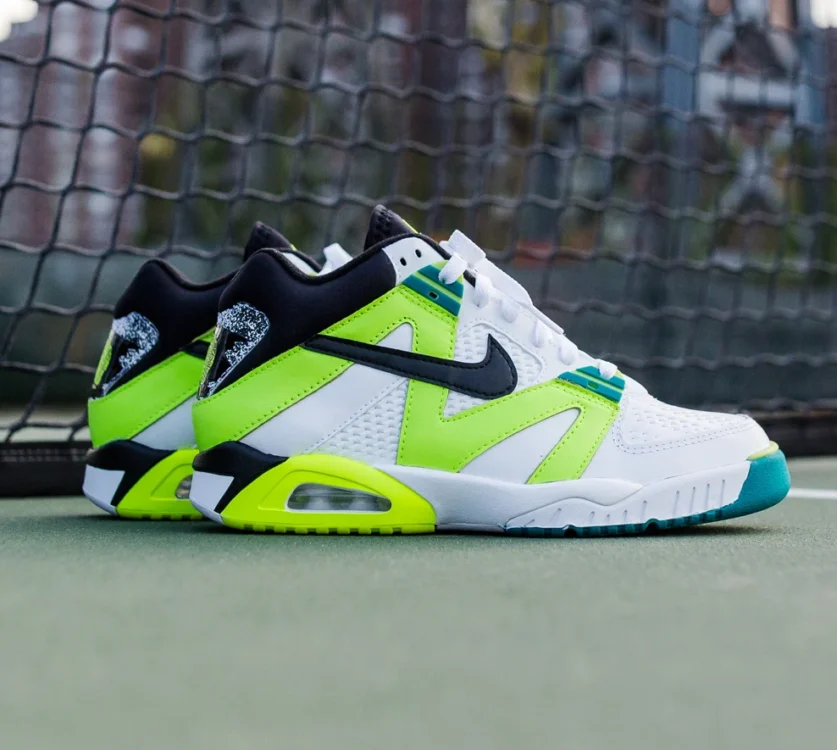 Long before Federer looked to shake things up with more flair on the court through his sneakers, Tinker helped to revolutionize the look of the sport in the early 90s through the style and brashness of Vegas-born rising star Andre Agassi. The Tech Challenge series perfectly encapsulated Agassi's rebel approach, with highlighter bright neons, a scorchingly fast tennis ball graphic along the heel, and head-to-toe matching looks that brought the disruption full circle.
— Nick DePaula
---
27. Nike Air Mowabb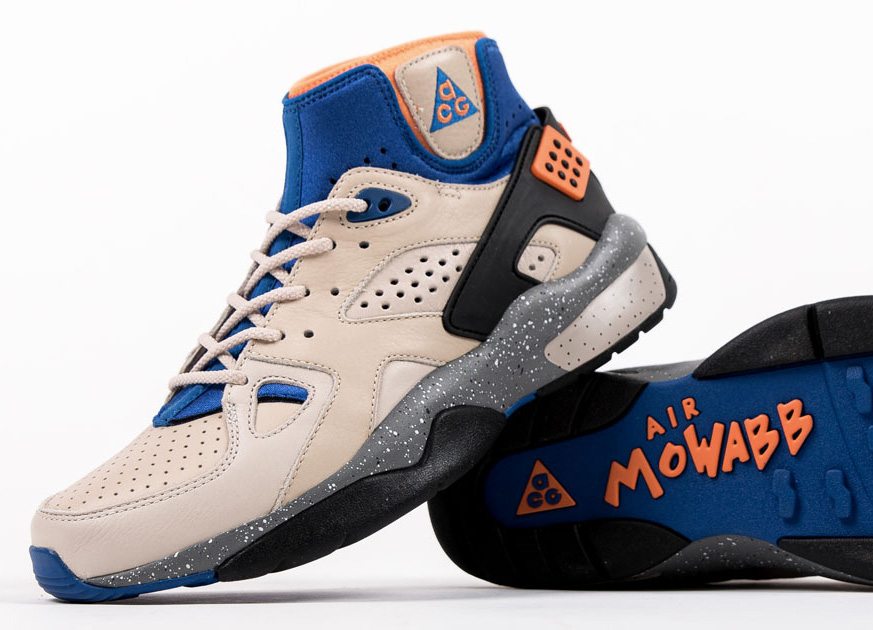 Man, Tinker, can you let these other designers live? If it wasn't enough to create categories, a collab with the greatest athlete of our era and debut visible Air, the man with the pen stepped outside — literally and figuratively — and made the most memorable ACG model ever. Yup, deriving from the same sock styling as his Huarache favorites, the Nike Air Mowabb still reigns as the funkiest and most favorited silo from the always evolving All Conditions Gear series.
Performance-driven in design, the lightweight hiker has seen crossover success over many a retro run, always navigating new paths. Give it up for Tinker as he appealed to both backpackers and ballers, thirteen years before Kanye released The College Dropout.
— Ian Stonebrook
---
26. Jordan Trunner
A hybrid of the words training and runner — people didn't really know what to make of the initial Jordan Trunner when it first launched in 1999 during the infancy of the Jordan Brand and its expanding range of footwear. With an aggressive v-silhouette along the collar and a full mesh sleeve tongue, most of the shoe's lockdown came from its molded midfoot and collar support panels.
The shoe also featured protective Max Air in the heel, along with some seriously springy Zoom Air in the forefoot, making for one of the most purely comfortable shoes you could ever throw on. Originally released in just a Bulls-esque white/black/red, along with a bright blue and black makeup, and the more refreshing alligator olive colorway, the Trunner was a classic exercise in Tinker design. There was a new take on performance design, a random and quirky colorway option, and a daring aesthetic that blurred the lines between what a trainer-slash-runner could even be.
— Nick DePaula
---
25. Nike HTM2 Run Boot Low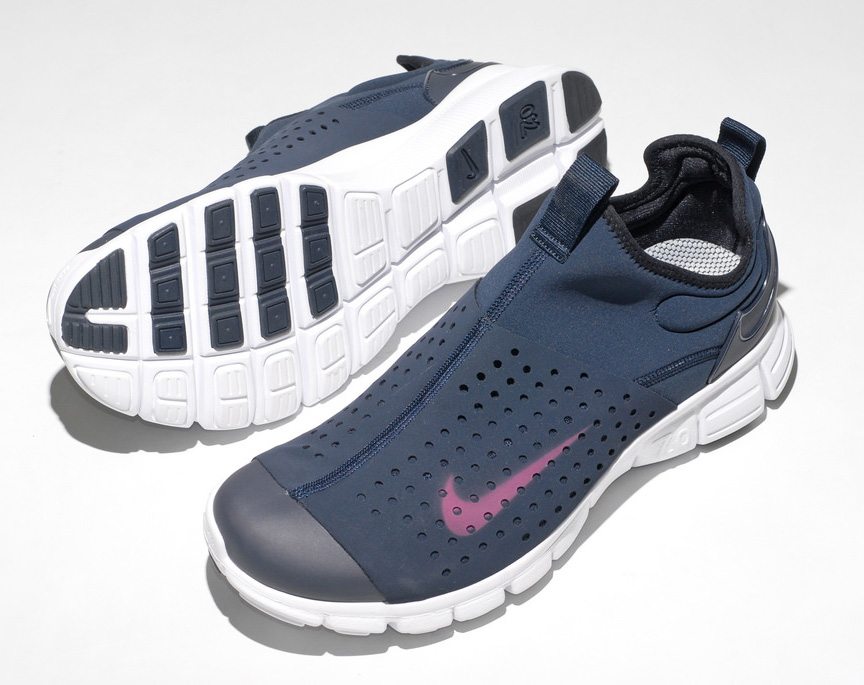 As the 'T' part of the brand's HTM collective, alongside Japanese designer Hiroshi Fujiwara and Nike CEO Mark Parker, the trio became known for their quirky collaborative takes on both original silhouettes and new looks alike. Along the way, they added a second 'M' — Mark Smith — and the oft-forgotten Run Boot Low perhaps best represented their shared approach to minimalism and comfort.
The neoprene sleeved slip-on sneaker featured targeted collar padding to help give you some structure, along with a perforated upper overlay, a reinforced toe and a hand-sprayed Swoosh, making for a clean and modern look atop a great kick-around sneaker.
— Nick DePaula
---
24. Air Jordan XX3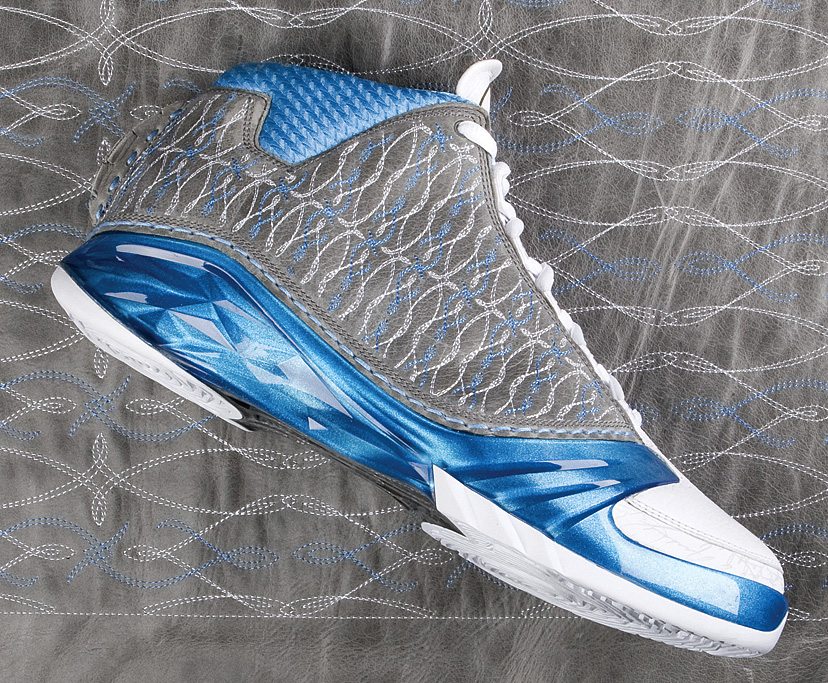 As Michael Jordan entered into the depths of roundball retirement for reals — or so we thought — the newly coined Jordan Brand continued the line in a direction of hoop luxury that was as aspirational as it was technical. Models like the Air Jordan XVI, Air Jordan XVII, and even Air Jordan XX1 would be more associated with an immortalized MJ who was in a category all his own: a living legend with an aura who reigned sovereignly over the game he both loved, left, and came back to as a court king in velour tracksuits and CEO in tailored business suits. Playing to positioning and toting tech, said shoes would pack a price point to match such esteem. Sadly for sales or even intended function, the bells and whistles associated with such silos were often deemed too nice, too expensive, and too hard to break in to actually ball in.
While Tinker perhaps best optimized the idea of a modern luxury basketball shoe on the Air Jordan XI, the Air Jordan XX3 still is and forever will be the grown man Jordan. Made with the craftsmanship and class that mirrored that of the greatest the game has ever seen, this tribute take will be remembered by collectors for its amazing marketing rollout, but will be immortalized for its attention to detail and design. Sleek, progressive, and elevated — just like Mike's game — this was a signature shoe in every sense, down to the John Hancock on the toe box.
With loyalty and royalty inside his DNA, the thumbprint on the underside of the tongue predated iPhone access, and truth be told a remastered retro will probably never do this shoe a true justice — save the Trophy Room collab, bravo. At the end of the day, the Air Jordan XX3 was both an event and a worthy shoe that could've easily capped off a storybook series just as perfectly as the Last Shot.
— Ian Stonebrook
---
23. Nike Air Oscillate
Tinker Hatfield didn't always have every athlete clamoring to wear his sneaker designs. Not only did he have to woo Pete Sampras into the Nike Air Oscillate, a shoe that he wore and dominated in for almost a decade, he actually had to trick him into it. Now, this wasn't because the design was bad or Sampras didn't like the shoe, he was just fine with the Nike sneakers he was currently wearing. As the legend goes, Tinker challenged Pete to a game of basketball and slyly gave him a pair of shoes to wear in the contest. Pete instantly loved the cushioning and responsiveness and would go on to wear the Oscillate throughout the remainder of his career, winning many more major championships along the way.
Mastery is often relegated to singularity. Not Tinker. He designed all-time great basketball, tennis, running, and track and field sneakers. As evident by the models worn by both Agassi and Sampras, the models could also live on opposite ends of the spectrum too. His belief that anyone with a body is an athlete allowed him to step outside of those confines and design for all sports, all people.
— Darren Griffin
---
22. Nike Air Tech Challenge II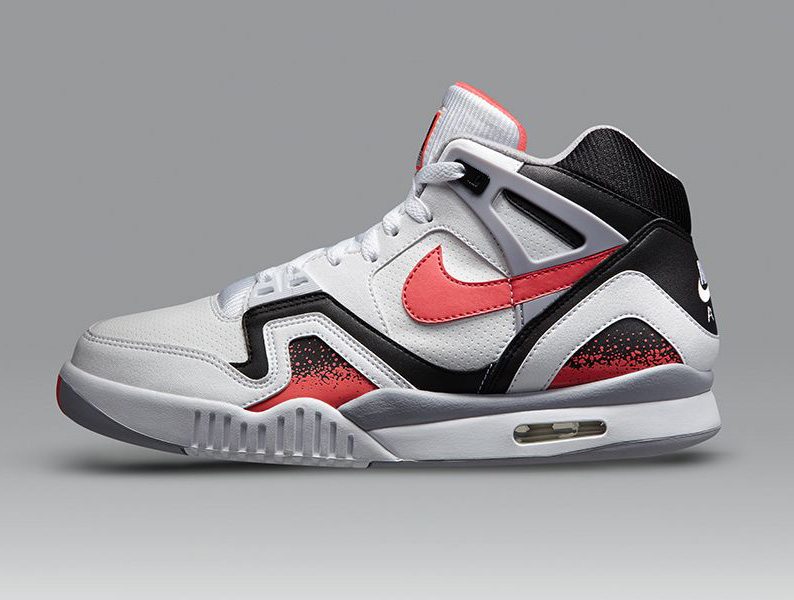 If the Oscillate became the most recognized, and albeit, fairly tame model worn by Pete Sampras, then the radiant pink and gradient fading Air Tech Challenge 2 without question perfectly represented Andre Agassi.
With overlays and a rubberized lace eyelet along the collar serving as the foundation of support, in a way similar to the Air Jordan IV just before it, the shoe was classic Tinker. There was an athlete that captured and owned the spirit of the design and iconic colorways and graphics that defined the sport's era. The fact that the tooling later became the foundation for the equally iconic Air Yeezy 2? Well, that's just a bonus of course.
— Nick DePaula
---
21. Air Jordan XX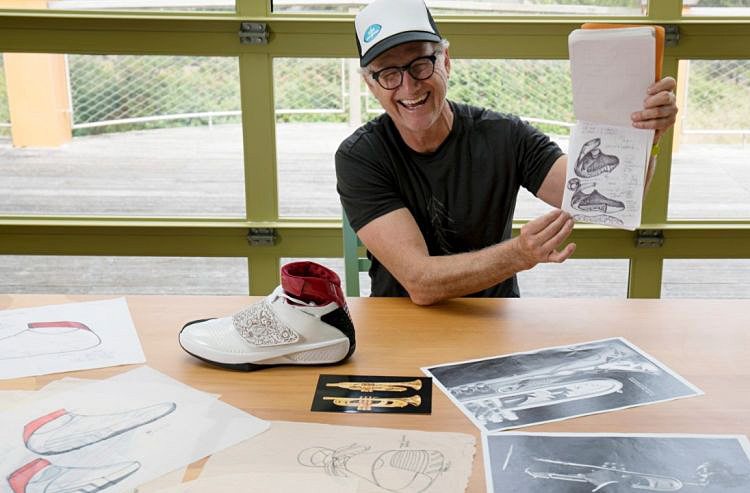 We wouldn't go as far as to say that taking risks was easy when Mike was playing, because he sure was a good guy to bet on. Patent leather on a sneaker? Dainty before, but dope if you're winning rings. Fuzzy branding on a tongue? Juvenile excess in reality, but a pop culture success when you're getting buckets with Bugs. So, while all Jordans were a hit when Jordan was hitting shots in them, how bold could you really go when he wasn't making them cool by making memories on the court? You needed a hitmaker and you needed some guts. Yup, you needed Tinker.
And Hatfield it was. Following the very safe anniversary iteration that was the Air Jordan X, the Air Jordan XX had to be a major moment, because two decades of flight had to be better and bolder than one — even if it meant taking a risk. Still it was a risk, and probably a scary one at that. Calling in Tinker after sitting out the last four Jordans, it would be crazy to go wild on such an anticipated comeback after his last design for Mike — AJ XV — was so panned. Right?
Wrong. Going for the gusto and even throwing off the fugazis — the also-celebratory Dub Zero was originally dubbed the Decoy to bait fakers and leakers — the real deal Air Jordan XX was the brashest model made for Mike since the 11. Would the internets or first day fans love it upon first look? Nooooo. But still, Tinker and team were right and the XX was greatness.
Propelled by technical innovation like every amazing AJ, the XX featured a polarizing ankle strap that offered the wearer the feel of a low top or a high depending on how they wore it. On top of that or actually below, podular IPS cushioning was good on court and far more accessible and aesthetically interesting than that of previous models.
The real kicker though? Storytelling. Years before we were sold shoes based off athlete's favorite sandwiches or court accomplishments that hadn't yet happened, Tinker teamed up with Mark Smith and Spike Lee to tell the tale of the greatest hooper to ever hit the hardwood via Laser technology and an amazing ad campaign. Relying on a real past with real tech and real friends, it really wasn't a risk at all. Trust Tinker.
— Ian Stonebrook
---
20. Nike Zoom Talaria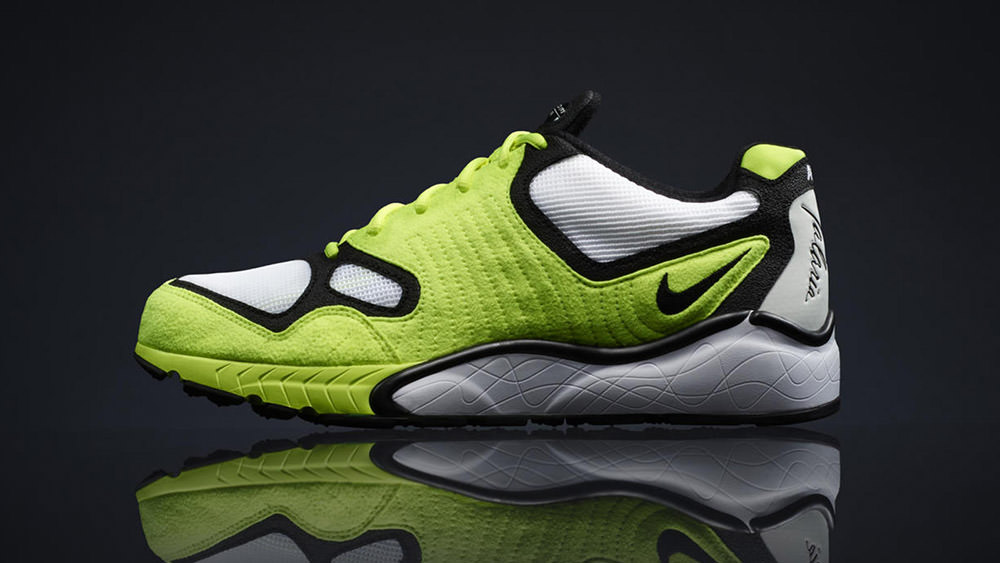 One of the many Tinker designs blessed with the ever-popular Nike "phone number" ads, the Zoom Talaria was born after the creation of Tensile Air, better known as Zoom Air, in 1995. In 1997, the Nike Zoom Talaria blended the industry's best new cushioning technology with bottom-loaded Zoom Air and flex grooves in the forefoot, making for a plush ride unlike anything before it.
Tinker also got creative with the build, outfitting the shoe with a breathable base topped by synthetic suede overlays. This shoe, in many ways, also gave viability to the "Tennis Ball" theme, as its Neon Yellow OG colorway was rich in color with a standout look.
— Darren Griffin
---
19. Nike Air Flight Huarache [with Eric Avar]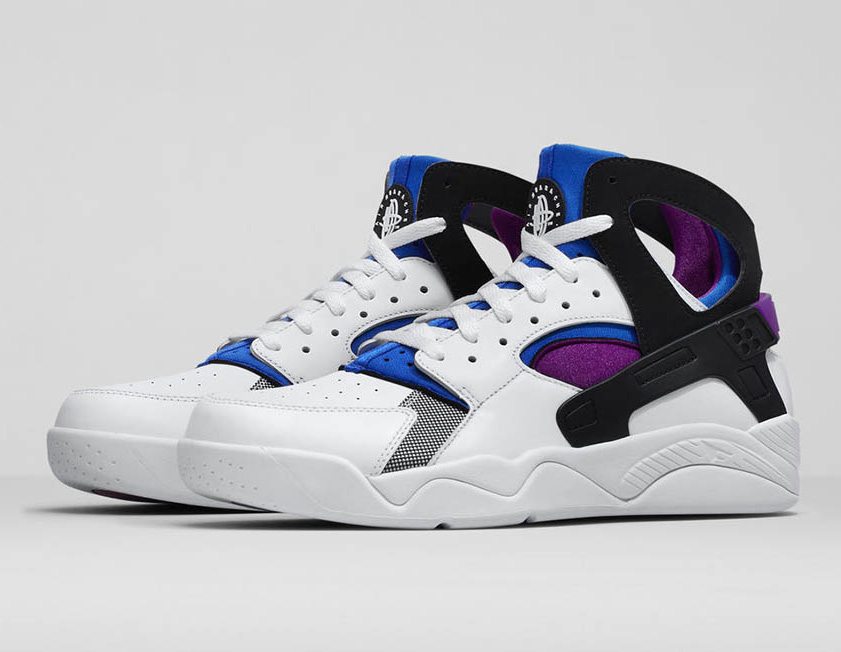 After an insight came to Tinker while water skiing, of all things, the neoprene-based foundation of Huarache was established, making way for a new fit-focused innovation in the initial running shoe that's still been a favorite all these years later. Just after designing the runner, Hatfield worked in tandem with young designer Eric Avar on a basketball adaptation, which became none other than the Flight Huarache.
"What was cool about the basketball shoe was that the Fab 5 at the University of Michigan were given these shoes, and they all wore them. They thought they were great," Hatfield recalls. "This shoe developed a life of its own partly because there was no basketball shoe that ever looked like that before it, and these guys all at the University of Michigan were all wearing them — it was an explosion after that."
While much of the credit can be given to the feet of the Fab 5 and their dominant influence of the early 90s, the shoe's classic design featuring a white leather upper and quirky neoprene accent colors was still all Tinker.
— Nick DePaula
---
18. Nike Air Safari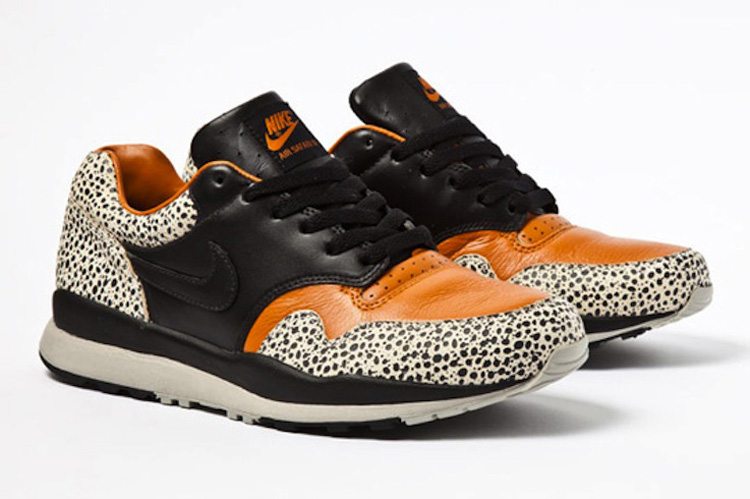 The Air Safari is admittedly a fairly formulaic design on the surface. A few of the lines even draft rather directly from the Air Max 1 just before it. But, running shoes at that time didn't come in a mostly black upper. Or feature huge allotments of orange. They definitely didn't incorporate what has become one of the more iconic Nike prints, as the Safari's pebbled grey and black patterning has gone on to establish the shoe as a modern design classic of the 90s.
Even still, we often see new releases from Nike that feature the print, whether it's new takes on classic running silhouettes or even futuristic soccer cleats that give new life to their forward-thinking silhouettes.
— Nick DePaula
---
17. Nike Air Huarache Trainer
The cross-training counterpart to the Huarache concept's running and basketball models didn't veer too much from the idea, as the neoprene sleeved tongue still provided conforming comfort for foot shapes of all sizes. Tinker also designed a midfoot overlay that offered more support, which worked in tandem with a midfoot strap for added lockdown. While the category was then still in its infancy, Hatfield's Trainer Huarache design has long set the blueprint for how trainers can look.
— Nick DePaula
---
16. Air Jordan 14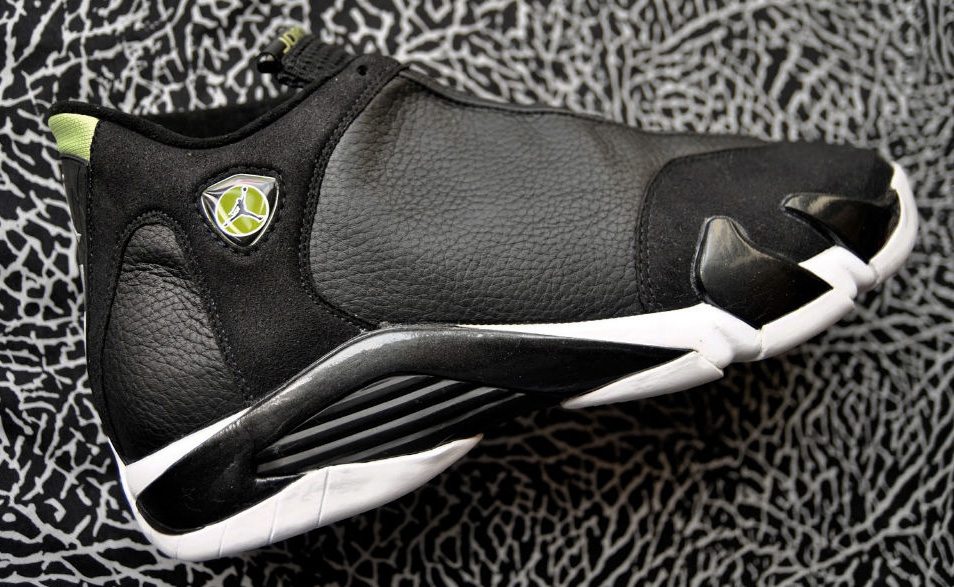 With inspiration drafting from none other than a Ferrari, the XIV represented Michael's ability to careen around screens, brake in an instant, and harness so much explosive force into his attacks — much like the automobile industry's pre-eminent sports car.
The collar logo took cues from the iconic Ferrari shield, with additional wordmark and typeface inspiration throughout. Of course, worn during Michael's final game and historic "last shot" as a Chicago Bull, the XIV perhaps offered up the most targeted and sleekened stance of any game shoe that MJ donned on the court.
— Nick DePaula
---
15. Nike Air 180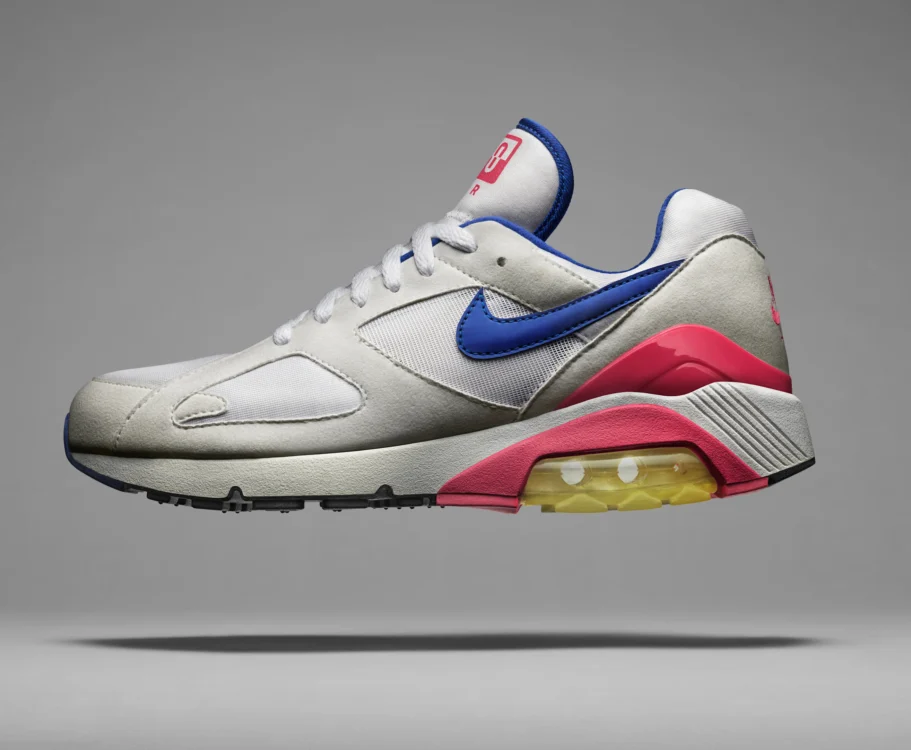 Michael Jordan didn't always exclusively wear Jordans. There were times when he wore other Nike designs, most of which were designed by the man who turns 65 today. MJ even sometimes sat his feet in runners, as is the case with the Nike Air 180.
In 1992 during that historic summer in Barcelona, when not towering over the competition on the court, playfully dominating on the golf course, or roaming the Olympic Village with his teammates, Jordan was seen cruising the European city in the "Concord" 180s. A break from on-court wears of the Air Jordan 7 "Olympic," Jordan opted for the mixed material comfort of nylon and neoprene, a juxtaposition far ahead of its time and long before anyone even thought to use words like athleisure. Tinker is a futurist at heart, forecasting what we'll want to wear for years, even decades to come.
— Darren Griffin
---
14. Air Jordan 13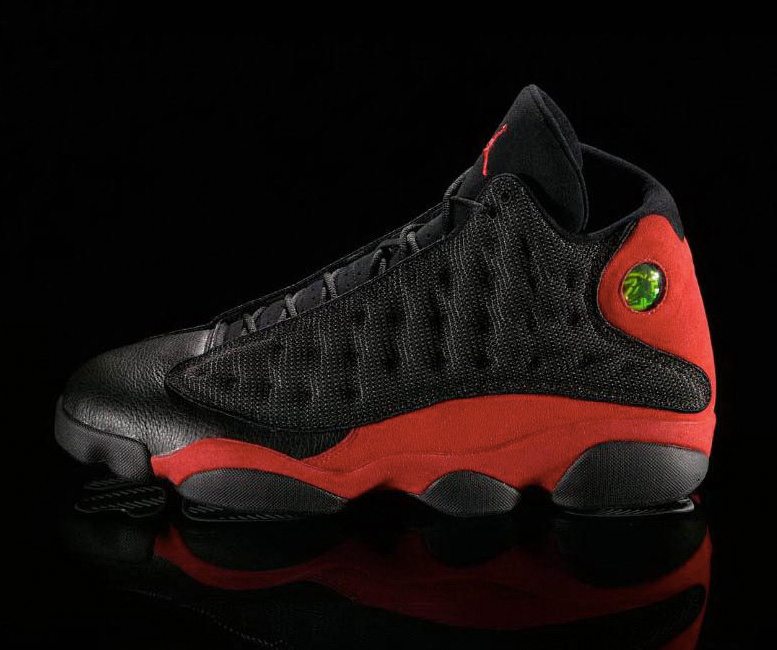 After designing ten signature shoes for His Airness, you'd think Hatfield would've exhausted all of his most personal stories and details connected to Michael. In fact, the Air Jordan XIII is perhaps the most personal of them all, leaning on MJ's guarded nickname, used by only his closest associates — The Black Cat.
With a podular outsole that mimicked the paws of a panther, the shoe also innovated in both materials and construction, like the 3M-mesh upper, the suede-wrapped midsole and the hologram logo icon along the heel.
— Nick DePaula
---
13. Air Jordan 12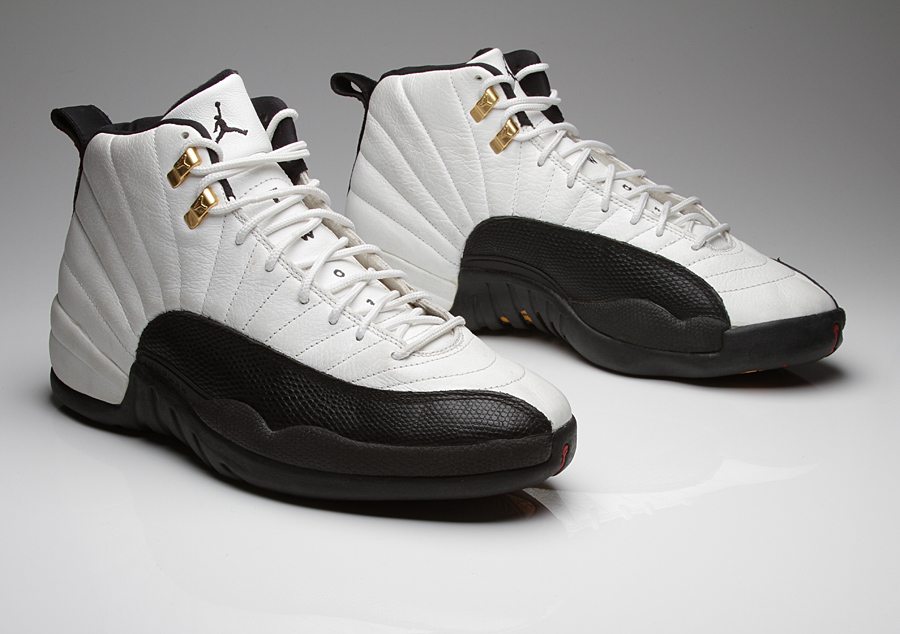 Following up the instant classic Air Jordan XI was no small task, and while many expected the brand to continue on with a similar look or style, that was the last thing on Tinker Hatfield's mind. He, of course, often talked about zigging while others zag, so the XII featured a rich full-grain leather upper, with bold overlays that made for an unmistakable court block.
With Michael's 72-10 season just before it, and another championship ring added to his legacy, the XII held back no punches, declaring "Quality Inspired By The Greatest Player Ever" along with the heel tab.
— Nick DePaula
---
12. Nike Air Raid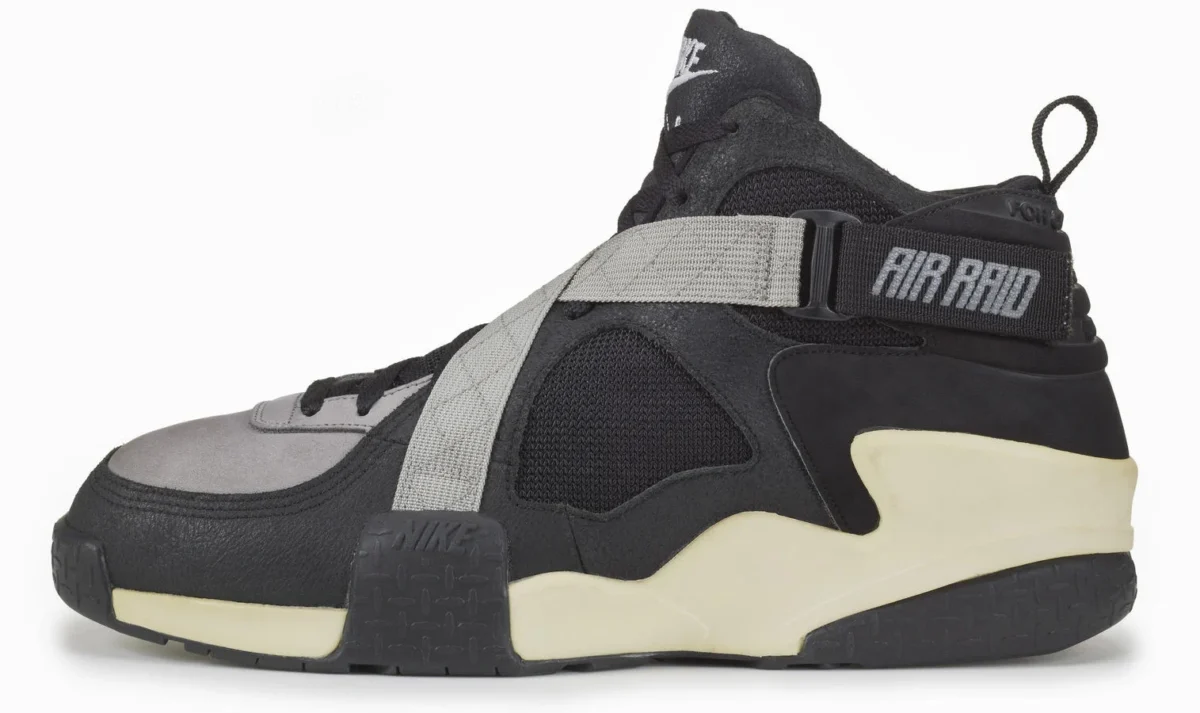 Before Battlegrounds, barbershops sold mixtapes or even EBC, streetball was born to boom commercially thanks to movies like White Men Can't Jump and Above the Rim. While Reebok would reign in said space during the mid '90s and the Trash Talk tees and Skip Tape from AND1 would eventually bring it back at the turn of the century, the subculture of hoops didn't officially have its own shoe until Tinker created it in 1992.
The Nike Air Raid was made just for the asphalt. Heck, it was actually offensive to wear indoors as it'd leave a mark more permanently on the court than any elbow to the jaw or sunlit poster thanks to its rugged rubber outsole. But, that was just the foundation. Strapped like Hustling Raymond after getting got by Sidney and Billy but keeping the peace on its afrocentric follow-up, the Air Raid held down outdoor hoopers in every since. Like any king of the park, it looked tough because it actually was tough.
Still relevant today, the Nike Air Raid is appreciated on the playgrounds of US and in Paris by Pigalle. High fashion or high heat, the Air Raid reigns as THE outdoor basketball shoe even as tech evolves in the game with no ref.
— Ian Stonebrook
---
11. Air Jordan 5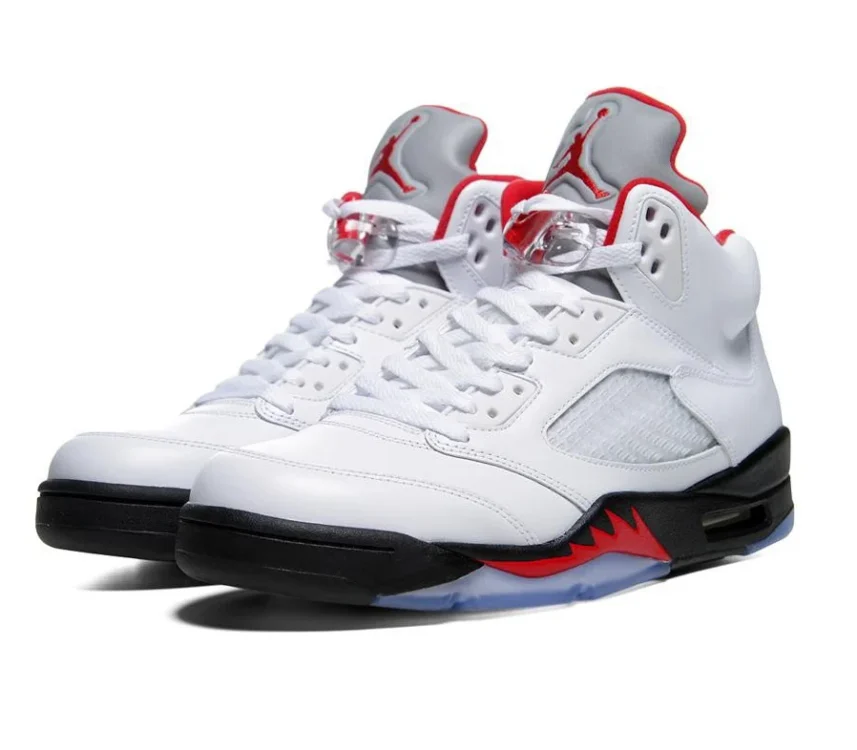 Is Tinker Hatfield a sneakerhead or is he the reason we are sneakerheads? We're gonna agree with the former but lean more towards the latter.
While anyone born after Tinker linked with Nike respectfully rendered their own kick creations based off the designs and culture Hatfield created, Tinker didn't look at something already existing in said space in an attempt to make something new in the same field. An architect by education and an athlete by choice, Tinker found inspiration in design off success in structure and speed much like Reverend Martin Luther King Jr. studied Gandhi to solve social issues in nonviolent matters. A stretch in analogy? Sure but a strength just the same.
Drawing literally and figuratively from a World War II Mustang Fighter Plane, the Air Jordan 5 would propel and equip Michael Jordan in sky high battle against the Detroit Pistons. The shark tooth midsole was a nod to the muse, but that was merely the launching pad for the innovation and iconography that would take place. Branding genius like a 3M tongue would literally illuminate the Jumpman logo as Getty Image photographers snapped the GOAT, while the introduction of an ice blue bottom would have traction in both a technical and aesthetic sense.
— Ian Stonebrook
---
10. Air Jordan 6
I remember seeing Creed in theaters back in 2015. The spinoff of the Rocky series follows Adonis Creed who was the son of Apollo Creed, Rocky rival turned training partner and ultimately best friend. Michael B. Jordan, the films' leading man, wore the Air Jordan 6 "Black/Infrared" in multiple scenes throughout the picture. During one in particular, he's training in the streets of South Philadelphia while native son Meek Mill scores the movie during this pivotal point of Jordan's character development. The camera cuts to wide lens angles to include Jordan's shoes in all their glory, while also ensuring his head-to-toe Jordan Brand sweatsuit equally in full view.
In that moment the film was anchored in historical context. The music, the wheelied bikes, and of course, the Air Jordan 6. The shoe had done the same in decades prior in White Men Can't Jump, as a youthful Kadeem Hardison donned that very same shoe with MJ's Chicago Bulls jersey in tow. Tinker Hatfield was not just influencing sneaker culture at this point; he was driving global culture. Films, commercials, advertisement, all hinged upon the designs of one man. That's ultimately what set Tinker apart. He wasn't just designing sneakers, he was diagramming popular culture.
— Darren Griffin
---
9. Nike Air Trainer SC III (aka Trainer SC)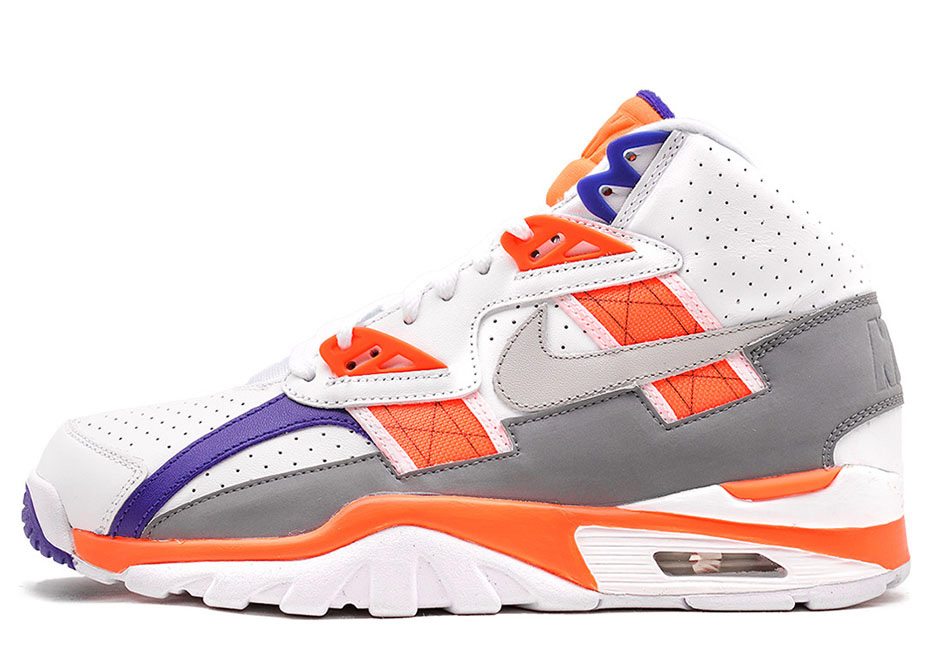 After creating a category with the Nike Air Trainer 1, Tinker Hatfield had the tall order of producing a sequel that once again appealed to an audience of athletes that ranged all ages and all abilities.
Tough crowd, huh? Casting Bo Jackson as the star, the Nike Air Trainer SC was a shoe designed for the demands of the world's greatest and most versatile athlete, thus making it good enough for everybody beneath his abilities — yup, everyone.
Scored by sailcloth that would go onto inspire Flywire technology two decades later, the shoe would not only carry on the success of the category, it would help the Auburn athlete that endorsed it become a blossoming star in a sports brand that was more and more about signature stories and charisma campaigns.
Since its time, no physical specimen has been able to fill Bo's shoes as the OG ad alludes to. Just the same, no designer has proved as versatile as Tinker.
— Ian Stonebrook
* Editor's note: The Nike Air Trainer SC III was mistakenly titled the Nike Air Trainer SC when it was re-released as a retro creating confusion for when the Nike Air Trainer SC was retroed and then adopted the title Nike Air Trainer III
---
8. Nike Air Max 90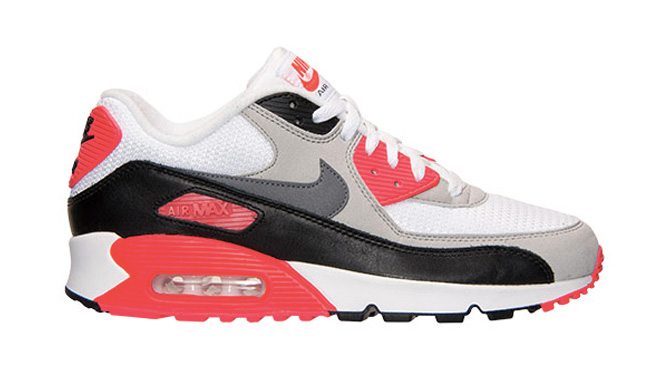 Originally dubbed the Nike Air Max III, Tinker Hatfield had one of his biggest non-Jordan commercial successes with the Air Max 90. Multiple retro releases of the shoe have followed since its inception more than 25 years ago, and its OG "Infrared" colorway has become synonymous with sneaker culture. The build was slightly higher than the Air Max 1, and the Air Unit was a bit more exaggerated.
A chameleon of sorts, no matter the material, fabric, or re-imagined frame, the 90 has been able to adapt and live in different spaces, different eras, and remain special to the audience that saw its birth along with the population that inherited it. Truly the mark of a transcendent shoe.
— Darren Griffin
---
7. Nike Air Huarache
If you think "sneaker inspired by a water ski boot," it's understandable you'd envision something potentially hideous and overbuilt. Luckily, one of Tinker's greatest traits is taking a bigger inspiration or design cue, and tailoring that into a beautiful-looking product. The Huarache is yet another example, with the inspiration mostly guiding him towards fit solutions.
"The neoprene bootie in a water ski fits a bunch of different people, so I'm thinking, 'That's kind of cool,'" he recalls. "I started sketching up booties and then realized that it needed, for support, some sort of exoskeleton, because I thought it would be cool to be seen. So the whole exoskeletal approach to the shoe design sort of came out of this sort of desire to want to develop this Dynamic Fit shoe."
The Huarache, named in part thanks to some inspiration from co-worker Sandy Bodecker, is in the midst of yet another resurgence in popularity and is one of today's best sellers of the current era.
— Nick DePaula
---
6. Air Jordan 4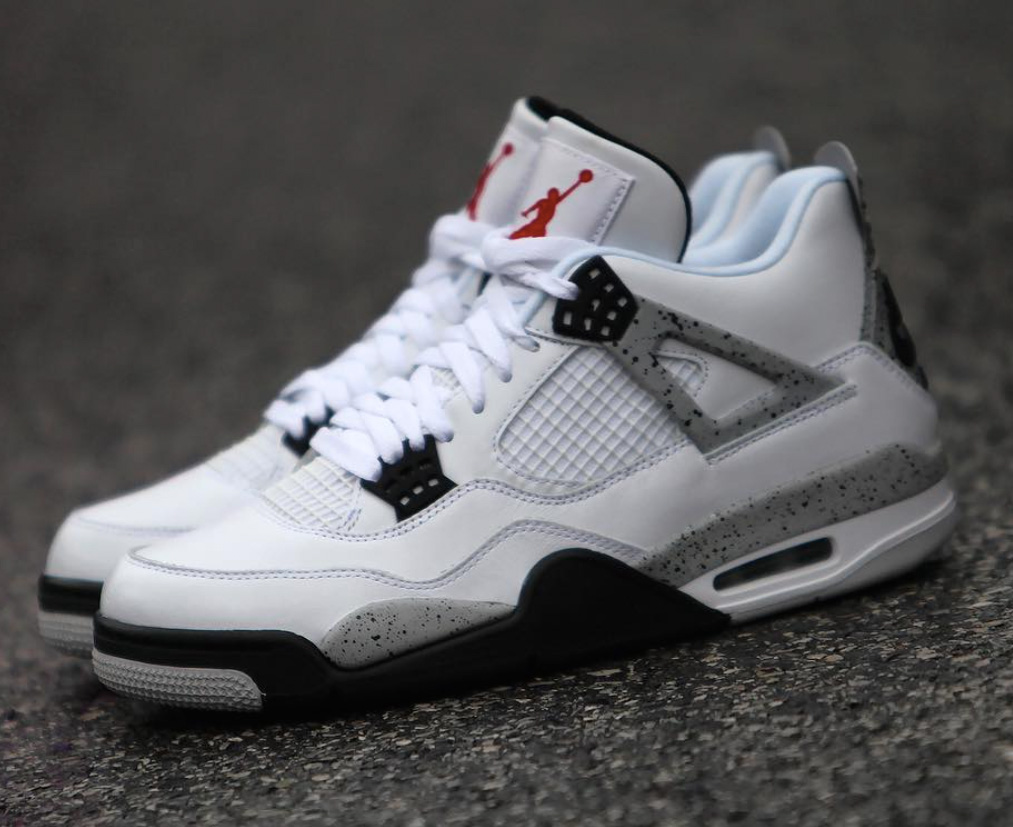 With its triangular and rubberized support wing, wrapping midsole and a unique mesh-wrapped tongue and quarter panel, as is often the case with a great Tinker design, the Air Jordan IV featured a striking look without any reliance on branding. The shoe stood out on court then, and still stands out off of it all these years later. Namely, in both its white and black-based takes with "cement grey" accenting.
— Nick DePaula
---
5. Nike Air Trainer 1
All throughout Tinker's career, he utilized his ability as a former multi-sport star athlete to also inform the performance traits he was looking to incorporate into his footwear designs. Along the way, he just so happened to create an entirely new category for the industry, based on his insight that there's a new for an all-purpose type of shoe.
"I was trying to stay in shape, and I was still playing basketball, so I'd go to the YMCA, and they had a couple of really nice basketball courts there," Tinker recounted to me. "You could also jump into a racquet game, and aerobics was really starting to pick up, and they had a really nice weight facility, too. So with me working for Nike, I would always go over there with three or four pairs of shoes and not really knowing what I was going to do. I'd actually have three pairs of shoes in my bag."
After a while, as you can imagine, Tinker realized that not only was it not all that practical to have to haul and switch sneakers for each activity, but that also wasn't realistic for the rest of the club members that didn't happen to work at Nike with countless shoes at their disposal.
"I was not gonna go for a 5-mile run in a pair of basketball shoes, but people were doing just that," he continues. "My observation was that most people would show up there with one pair of shoes, whether they were running shoes or basketball shoes or tennis shoes, and try and do multiple things with one shoe. I'm going, 'Well geez, now I see a path to a project.'"
And thus, the Air Trainer 1, a shoe that could work well enough for just about everything, was born, and the entire Cross-Training category as we know it, too.
— Nick DePaula
---
4. Nike MAG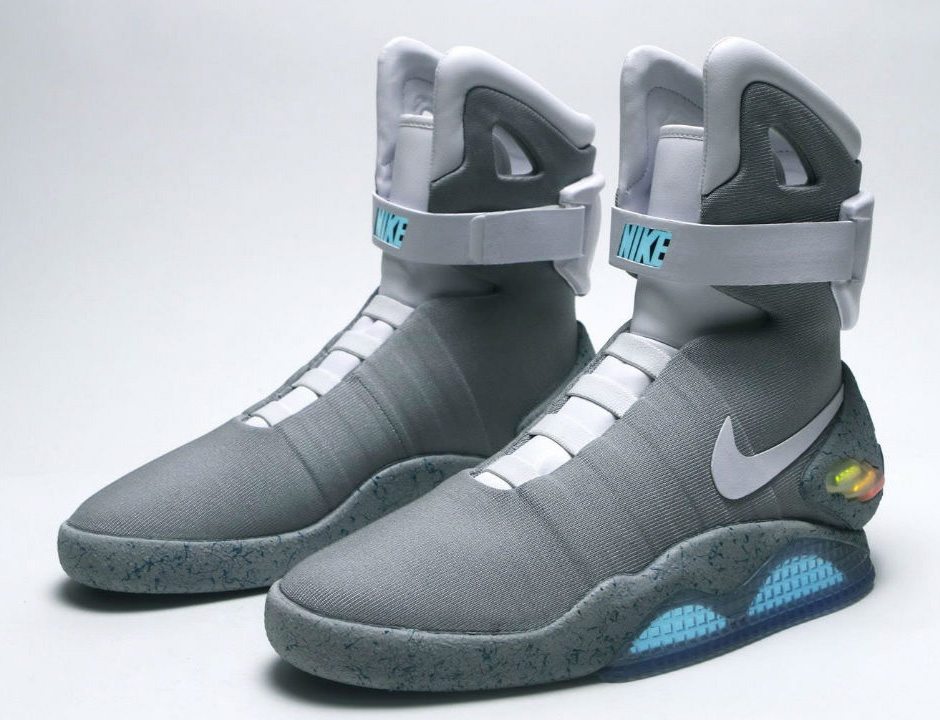 Sneakers can often take on an even grander profile thanks to the iconic athletes that wear them on the pro hardwood, fields or courts. In the case of the Nike MAG, the platform and audience that the Back To The Future franchise provided was beyond anyone's expectations.
For Tinker, designing a fictional shoe (along with the entire scene storyboard) for a movie set in the future was an all-new experience, and perhaps the greatest display of his otherworldly design talents.
"This was an opportunity to think about the future, which is a great exercise to go through when you're designing any shoe, really, because it will be in the future anyway," Hatfield told me years ago. "I thought about the year 2015, and I had a strong opinion that shoes might be somewhat intelligent and able to turn on and become alive in the future. I just naturally designed that into what ended up being this shoe."
That matter-of-fact explanation of the design process is of course an understatement, as the "Power Laces" and way in which the shoe illuminated went on to be defining traits of a shoe designed some thirty years ago. Ever since, its created mass hysteria among sneaker collectors, movie memorabilia collectors, and the general public alike whenever there's even a hint towards a re-release.
— Nick DePaula
---
3. Nike Air Max 1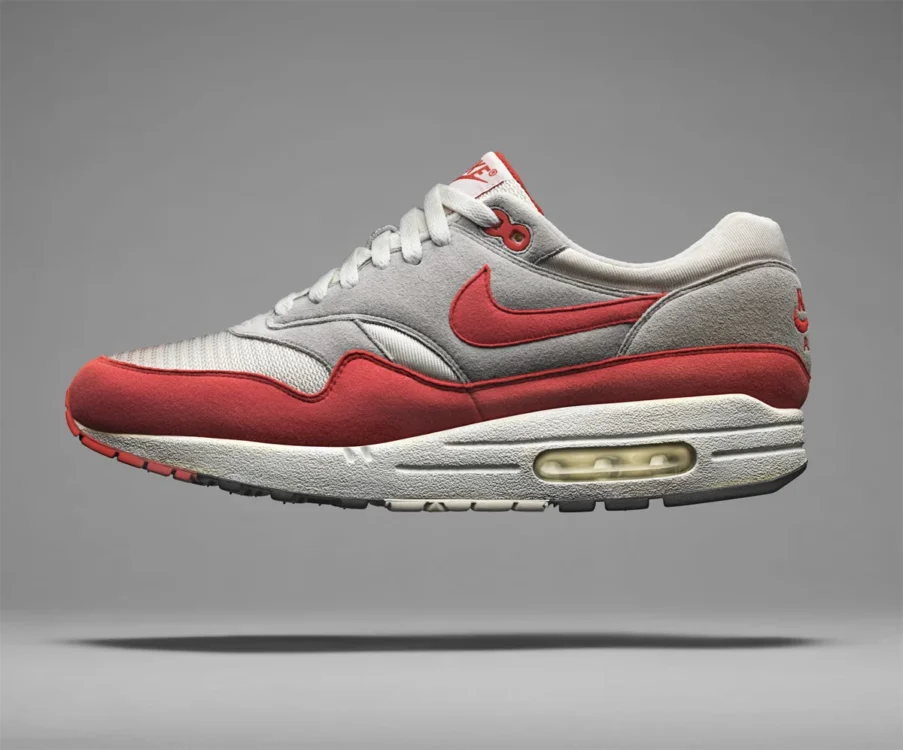 Tinker Hatfield's first connection to Nike came while in college when he ran track for Oregon track coach and Nike co-founder Bill Bowerman. Tinker studied at the University of Oregon earning a degree in Architecture from the University of Oregon School of Architecture.
Tinker joined Nike in 1981 when he began work designing Nike's Beaverton Campus and World Headquarters. By 1985 Tinker started designing footwear where he took inspiration from buildings.
Inspired by the Pompidou Centre in Paris, Tinker wanted to put the technology from the inside of the shoe on display for all to see. Nike had Air cushioning since 1979, but it wasn't until 1987 with the Nike Air Max 1 that it was on display for all to see.
Tinker would continue to design several other legendary and iconic shoes in the Air Max series, but the ground that was broken with the Nike Air Max 1 is one that is felt in every category of Nike products and still today.
— Matt Halfhill
---
2. Air Jordan 11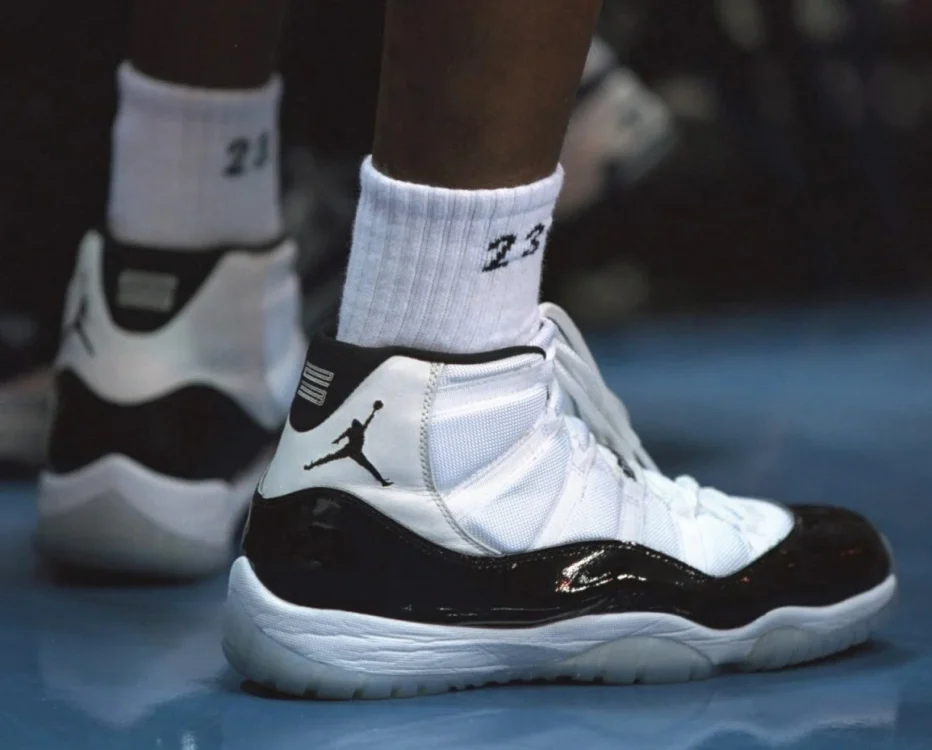 There are some shoes that seriously need no introduction, and if there was any Air Jordan that fit this label, it would be the Air Jordan 11.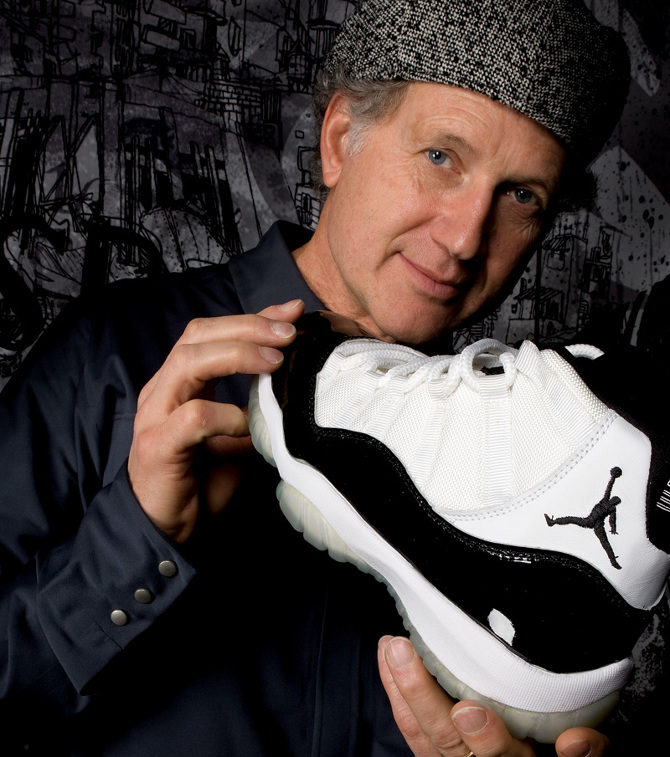 While the shoe will forever be cemented into NBA history on the feet of Michael Jordan during the historic 72-10 season, in addition to some of MJ's most memorable career moments, this shoe that was designed by Tinker Hatfield was his very best with or without Michael ever playing in them.
The design of the Air Jordan 11 was unlike anything we had ever seen in a basketball shoe from top to bottom. The lacing structure was again unlike anything ever done in sneakers down to even the actual laces. While not the first shoe to use patent leather, the way it wrapped around the mudguard of the shoe was completely original design. The midsole was a new material that was softer than prior models but with a greater energy return.
The full length Nike Air was one of the smoothest and most comfortable rides ever engineered. For stability, the shoe featured a carbon fiber plate. Lastly, the outsole featured a signatory clear rubber, but with traction pads with the herringbone pattern.
While many Air Jordans have crossed over from the feet of MJ and the sport of basketball to the streets and pop culture, none did it quite like the Air Jordan 11s. There is a reason that like MJ, Jordan Brand saves the best for last and finishes out the 4th quarter on top with a Jordan 11 release.

— Matt Halfhill
---
1. Air Jordan 3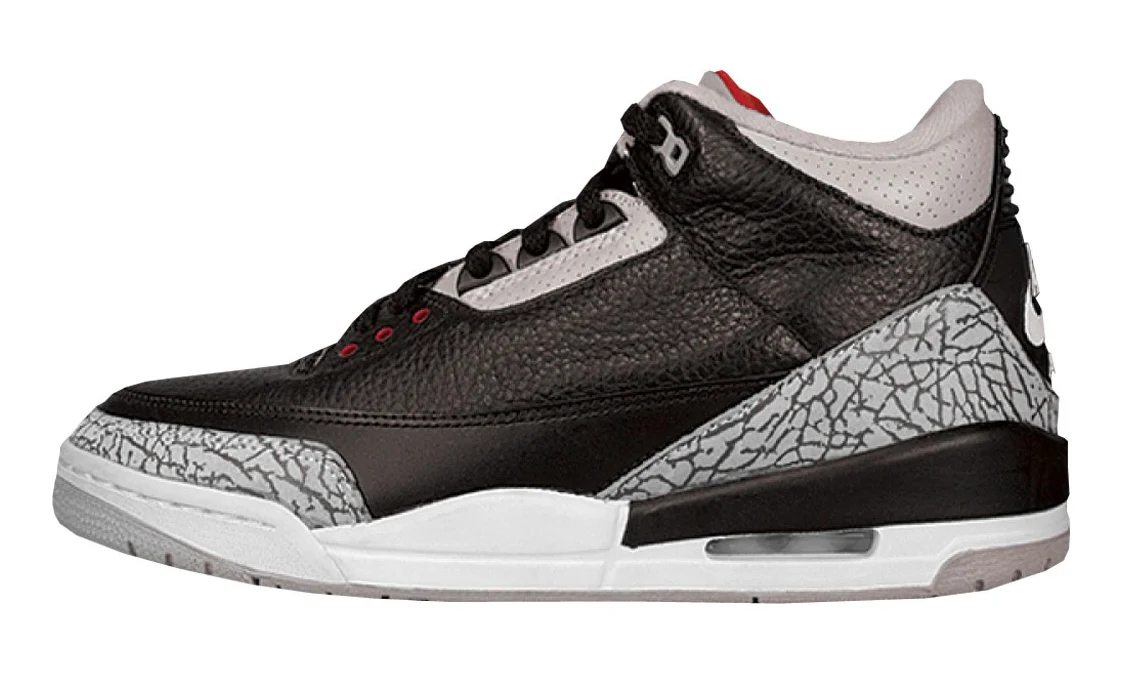 What makes a shoe a classic? Is it the design, the technology, the impact it has on culture, or what was accomplished in those shoes? Mark all of the above and then some for the Air Jordan III.
Three years and two Air Jordans into his contract, Michael Jordan wasn't exactly happy. There were talks of him leaving the Swoosh to join Team Adidas and even a failed attempt by Peter Moore, designer of the Air Jordan 1-turned-adidas-exec, to pull him away from Nike as well. It was at this time that Nike called in the difference-maker, the game-changer, the legendary designer, Tinker Hatfield.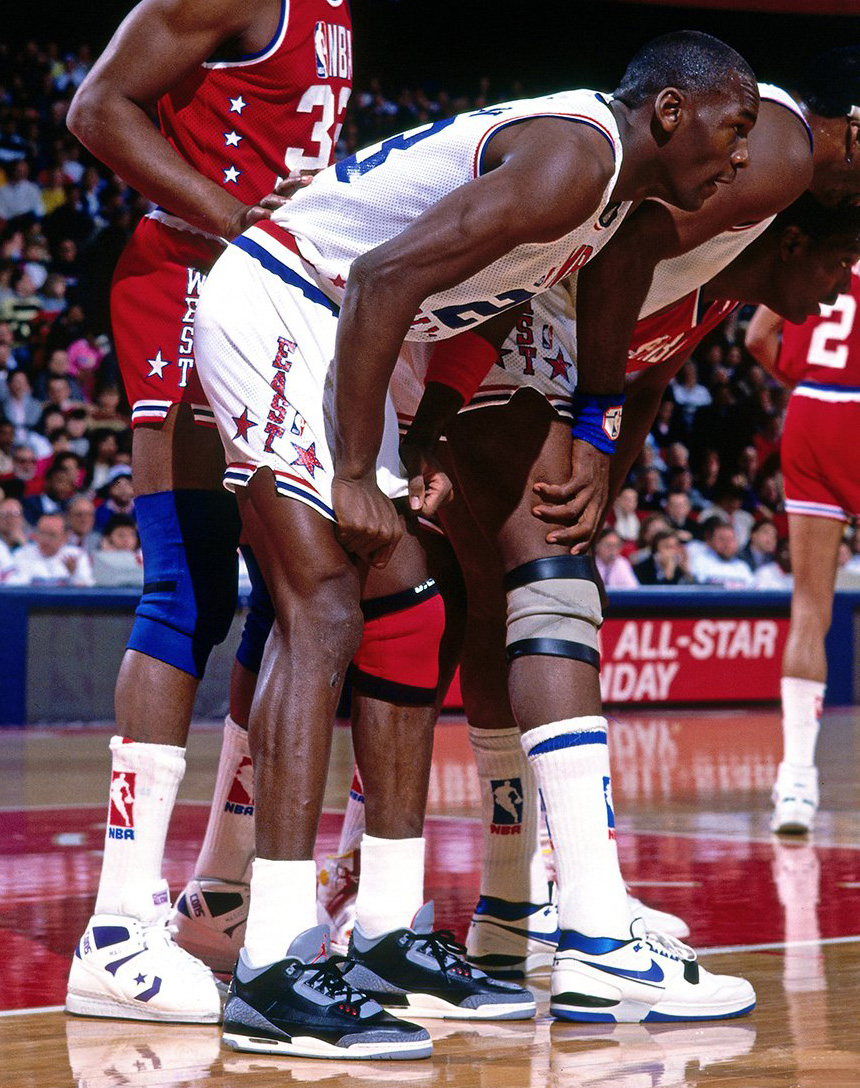 Tinker took a different approach to design. One of his first landmark designs was an all-purpose trainer. Literally a shoe that fit into no category except for all of the above, and in fact created a new space on shoe walls around the world called cross-training.
New approaches to design came in many ways to the Air Jordan III. It started with the first ever mid-cut basketball shoe. No longer did Nike need to produce a high and low top shoe for the Air Jordan franchise – there was just one. Another distinguishing look about the Air Jordan III was Tinker's call out to the Air cushioning in the Air Jordan with an exposed heel unit.
One of the most unique design elements to the Air Jordan III came in the form of the elephant print accents that have been borrowed by a number of Nike and Jordan products over time, not to mention other brands. Lastly, the Air Jordan III introduced to the world the Jumpman logo on the tongue for the entire world to see.
Nike was not a rookie in the marketing world, but when they called Wieden + Kennedy for the Jordan III, the stars aligned. You had a high-flying athlete, a wonderful product, and the cultural connection with Spike Lee as Mars Blackmon. Even Spike would have a hard time scripting a better recipe for success.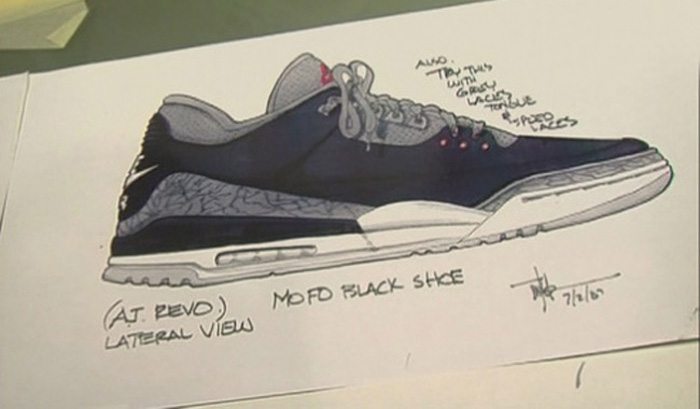 The Air Jordan III was an amazing product with many unique characteristics, but the life and legacy of the shoe extends far beyond just the leather and rubber that construct it. If you look back through the years of Michael Jordan's playing career, the 1987-88 season was arguably the greatest season for Mike where he didn't win a ring. In that one season, MJ accomplished what some Hall of Famers need an entire career to do.
Though he was not able to lead the Bulls to a championship in the Air Jordan III, Mike was honored with plenty of hardware. As an All-Star, MJ took home not only the Slam Dunk title, but also All-Star Game MVP honors. Mike dominated the offensive side of the ball leading the league with 35 points per game but backed that up defensively by leading the league in steals with 3.2 per game. As the Scoring Champ, Steals Champ, Slam Dunk Champ, and All-Star MVP, it was not a hard choice by the league to honor Michael Jordan as the league's Most Valuable Player for the first time in his career that season.
Design innovation, pop culture connection, and history derive from the Air Jordan III. That is why they are one of the greatest sneakers ever made.
Three. The magic number.
— Matt Halfhill