Tinker Hatfield. A living legend within the sneaker and design industry, Tinker's design and influence are more apparent than ever, with his sneakers still being extremely sought after, 30 plus years since sketching them out on his drafting table in Beaverton, OR. We were fortunate to talk to the living legend himself, we talked about his upcoming collab with Michelob Ultra for the NBA's 75th anniversary, what his current sneaker rotation is looking like, how his signature came to be, and who he'd design a sneaker for in today's NBA. Much thanks to Tinker and Michelob for their time and opportunity and this interview has been edited and condensed for clarity.
NK: The first question is what's on the feet currently? What are you wearing at the moment?
TH: I'm actually wearing a University of Oregon limited edition Jordan 14, and it kind of goes with this dusky kind of green top in my hat. I do a lot of work for the University of Oregon to help raise money for our sports and also academics, too, so this was one of those projects.
NK: And what's the rotation looking like? Are there certain shoes that are always by the door when you have to step out to do a grocery store run or anything like that?
TH: I guess some people are going to, like, freak out, but I wear a pair of Jordan 11s because they're so good in the rain. People are like, "Oh man, you don't get this those all messed up" but they actually work. You can splash around on the sidewalk in Portland and not really get wet because of the patent leather and then everything just wipes clean. So that's probably the shoe that's really kind of my wear list. And then I've been wearing the Foot Tent lately, which was a Comme Des Garcons collaboration.
So that's one of the shoes that I wear where we're pretty often because I actually bought this online for like 450 bucks. And it was a very strange shoe when I designed it way back in the day. And then it was actually kind of cool that Comme helped sort of re-imagine it just a little bit.
NK: I love it. I mean, I grew up during the Alpha Project era, so that shoe is cool to me still.
TH: Yeah, it was really a step outside the norm for sure.
NK: That kind of leads to one of the questions that I have. You're collaborating with Michelob Ultra for the NBA's 75th anniversary with a restock of the limited Championship bottles you designed. When you collabed with Hiroshi Fujiwara and Mark Parker back in 2002 for HTM, collabs weren't really a thing, that wasn't something that was really marketed. Fast forward to today, now it's kind of the norm when it comes to sneaker culture. Do you have any stories from working with Hiroshi and Mark that stick out?
TH: Yeah, I think I think Mark Parker is a very, very talented designer himself and a very thoughtful designer when it comes to all facets of what makes a good design. And then Hiroshi Fujiwara, you couldn't ask for a better partner than that guy, that cat man. He's the hippest dude. And he's been hip forever, so he just never goes out of style. Hiroshi Fujiwara is fantastic, I think he sees things that others don't. It made for an interesting team with me, Hiroshi, and Mark, I'm proud to have been part of that team. I have a secret desire to maybe do another project, but there isn't one on the books. Never say never though.
NK: I would love and welcome more HTM stuff. So kind of going into more of the collaborative take on all of this, a lot of your sneakers that you designed have had collaborative takes, with the likes of A Ma Maniere, Travis has done some stuff. Is there one someone that put their take on a sneaker you designed that sticks out in your head?
TH: Not really one that really sticks out but some people don't like it when people mess with their designs. But I think it's actually a compliment that people want to collaborate on some of my designs. You know, and people are making design changes and minor revisions to major, major colored shifts and things like that, I think that's all very cool. Not one sticks out to me, I just endorse the whole thing. And yet I know other designers who don't like anybody messing with anything they ever did but I'm not like that.
NK: As far as designing the beer bottle and the shoebox itself, you have a very solution-oriented thought process when it comes to design. Was that implemented when it came to the whole collaboration?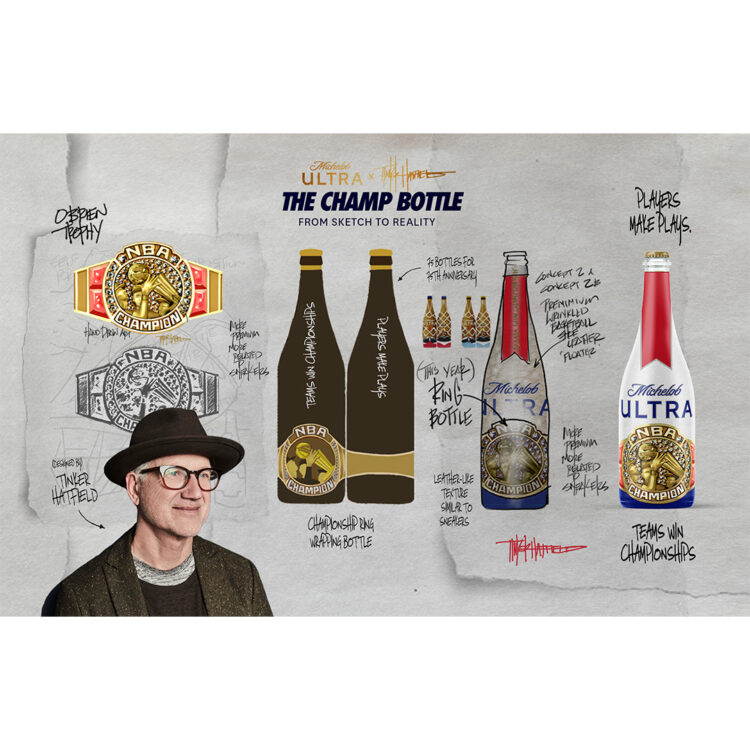 TH: Yeah, I think, you know, all the people that that work on Michelob Ultra creative projects are given a lot of space to do some cool stuff. No one really suggested to me what they wanted the bottle to be like so that's always, nice if you're a designer to not have somebody put too much weight on the scale right off the bat.
I was able to then think of something that would be important to the process of winning, which is the reward of a trophy or in this case, a ring, this being a very important part of this big championship in the 75th year and all that. And prior to that, we talked and we draped a net over the bottle because, of course, you get to cut down the nets when you win a big championship and you get a ring when you win a big championship as well.
I've seen a beautiful poster of Michael Jordan with all six rings and it's just stunning so I felt like that would be a good solution for the bottle. Make it look unique and interesting and different and more special. And then it also got wrapped in a faux floater leather, I had explained to the Michelob guys that what that was. It was a special leather that we see on especially retro-type basketball shoes, it's kind of a wrinkly leather.
NK: Your signature is iconic. It's on the bottle and on the box, I think that one of the standout features for me at least, is your John Hancock. The two signatures I always looked at and used as an influence were yours and Michael Jordan's. Did you work on that? I've always been curious about how your signature came to be.
TH: You know, I think I think some people just evolve their signature over time. I think though, what I did was that I come from the world of architecture where you've learned to print very straight members, a very rigid kind of printing. It's easy to read on a drawing and I started messing around trying to use that form for my own signature. I also I spent a lot of time in Asia in my early years at Nike. There's a style to it that I think is beautiful in Asian characters. I think that just evolved to a certain point, and then I just stayed with it. There have been times when I thought, "Man, I should have done a shorter section" but I enjoy actually trying to do it right.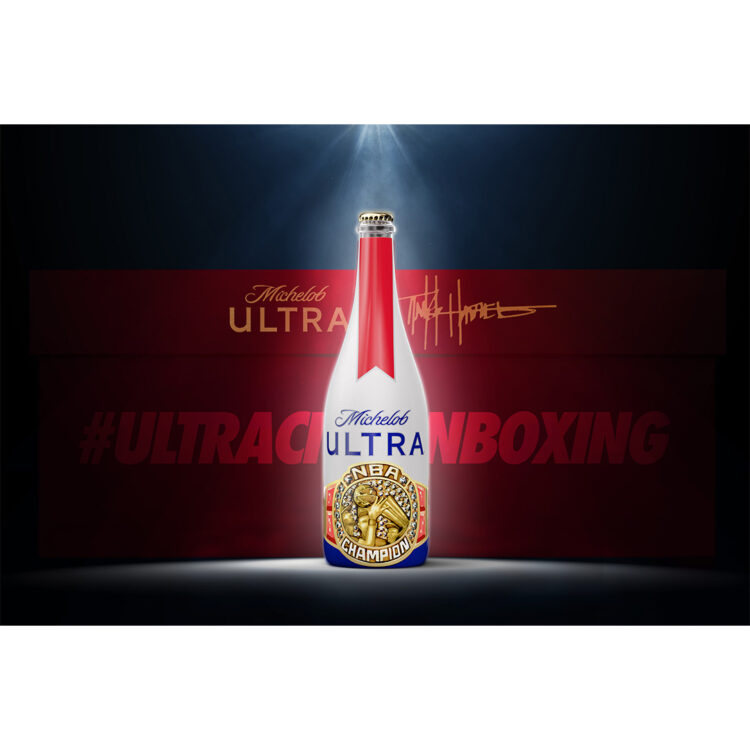 NK: And the last question I have for you worked with some of the greatest athletes, from back in the day to the present day. Is there a current NBA athlete who hasn't had a signature sneaker yet that you love to do a design for?
TH: He's a friend of mine, so it's going to be kind of a joke answer, but not so. I'd love to design a shoe for P.J. Tucker, he's a friend of mine and he's one of the biggest sneaker collectors on the planet. I don't know that anybody's ever done it a shoe from scratch for him, but he's the kind of player that doesn't always get the headlines because he's doing all the rebounding and playing defense and putting back in put-backs and things like that. So that's the way he plays, I think that he comes to play every night. So I'd like to do a shoe for him.
Want a shot at one of the 75 limited edition Championship Bottles? Looks like you need to be in the Bay Area or Boston as a scannable QR code featuring a larger-than-life shoebox will be dropped in bars along the potential championship parade route but the box will only unlock for one of the cities if they take home the Larry O'Brien trophy in the 2022 NBA Finals. On the day of the parade, winners will be given their Championship bottle as well as receive a rare NFT designed by Tinker himself, each featuring a 1 of 1 unique digital signature.