Flashback to 2011, when high fashion and streetwear wasn't the married couple we've come to know today.
This was before the Supreme x Louis Vuitton collaboration and six years prior to Virgil Abloh's "The Ten" collection with Nike.
Yup, at this time wearing sneakers at a luxury fashion show was a no-go.
We often hear stories about Kanye breaking down the walls of fashion and blurring the lines between streetwear and luxury, but how exactly did we get to this point?
While there are many groundbreaking moments involving Kanye West and the sneaker industry, one moment in history has prove more telling about the future of fashion than any other event.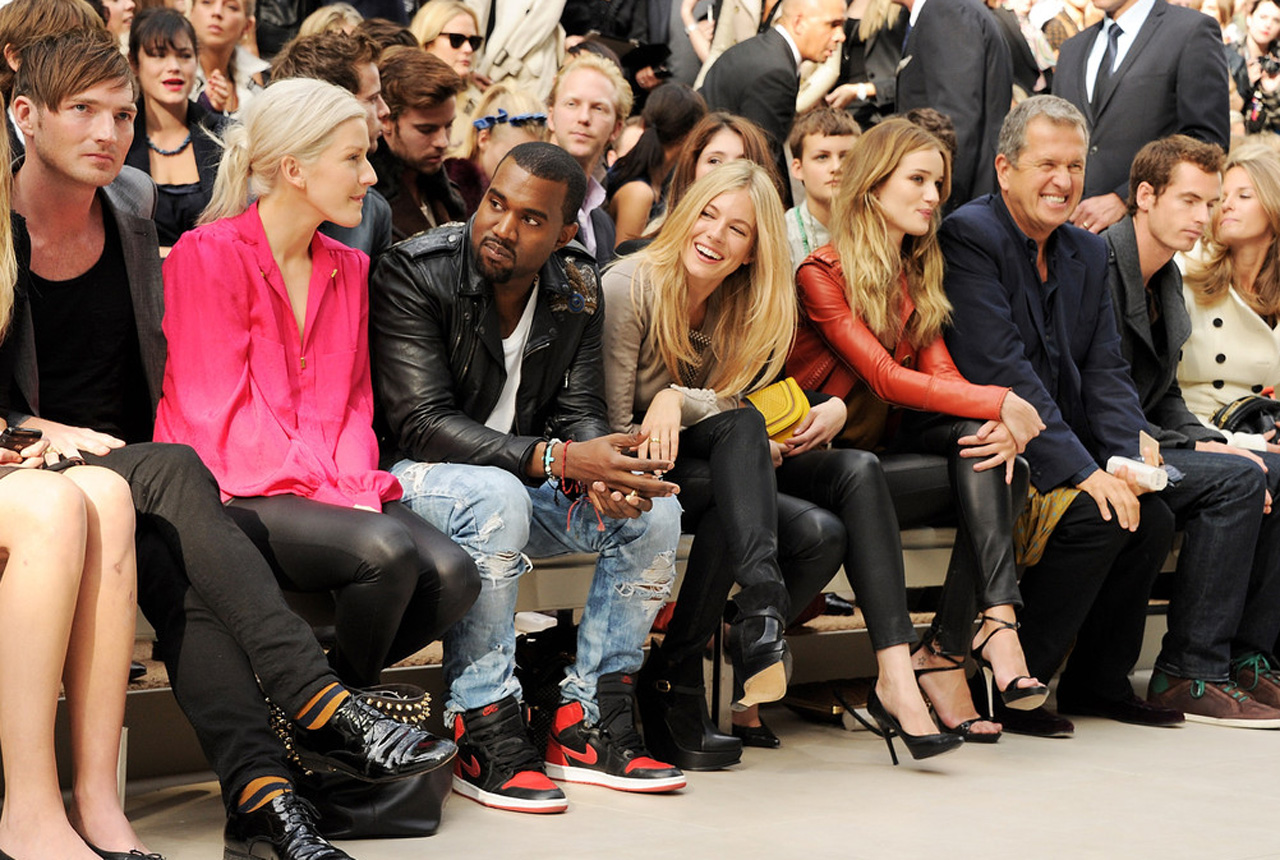 This of course is the time Kanye wore Air Jordan 1s to Fashion Week.
Kanye West arrived at the Burberry show in London wearing a leather jacket, ripped jeans and a fresh pair of 2001 "Bred" Air Jordan 1s. Seated next to fashion's elite, West went against the grain at a time when both streetwear and sportswear were scoffed at in relation to high fashion.
You can see in the image above how most attendends were dressed and how much it juxtaposed the look of the man who simply wanted to design more Yeezys with Nike. During that 2011 Fashion Show run, West was often wearing Tom Ford suits and Christian Dior couture with old sneakers made famous by Mike. At that time, Kanye stood out like a bad kid in middle school. Just the same, it's the reason we love Kanye.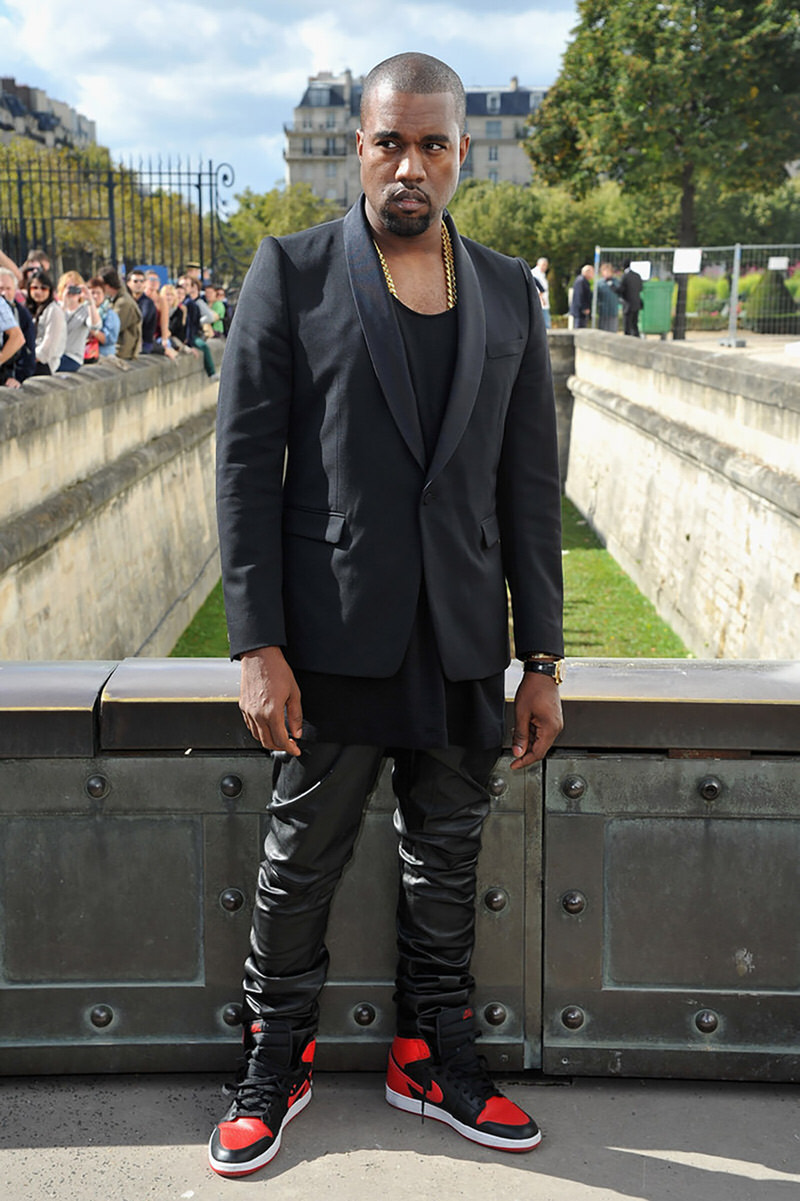 He took a risk and brought Chicago to London.
When considering the years to follow for Kanye and Virgil, that previous sentence would prove the perfect metaphor. If only the world could see the future that would create itself after these pictures hit the blogs and forums. Over the course of Fashion Week, Ye was seen rocking the "Bred" 1s to five different major shows.
The most iconic images of this week range from him dressing up the 1s in an all-black suit to him famously donning the Supreme real tree camo jacket with the '85 favorite. Even though this was in 2011, all looks still hold up today.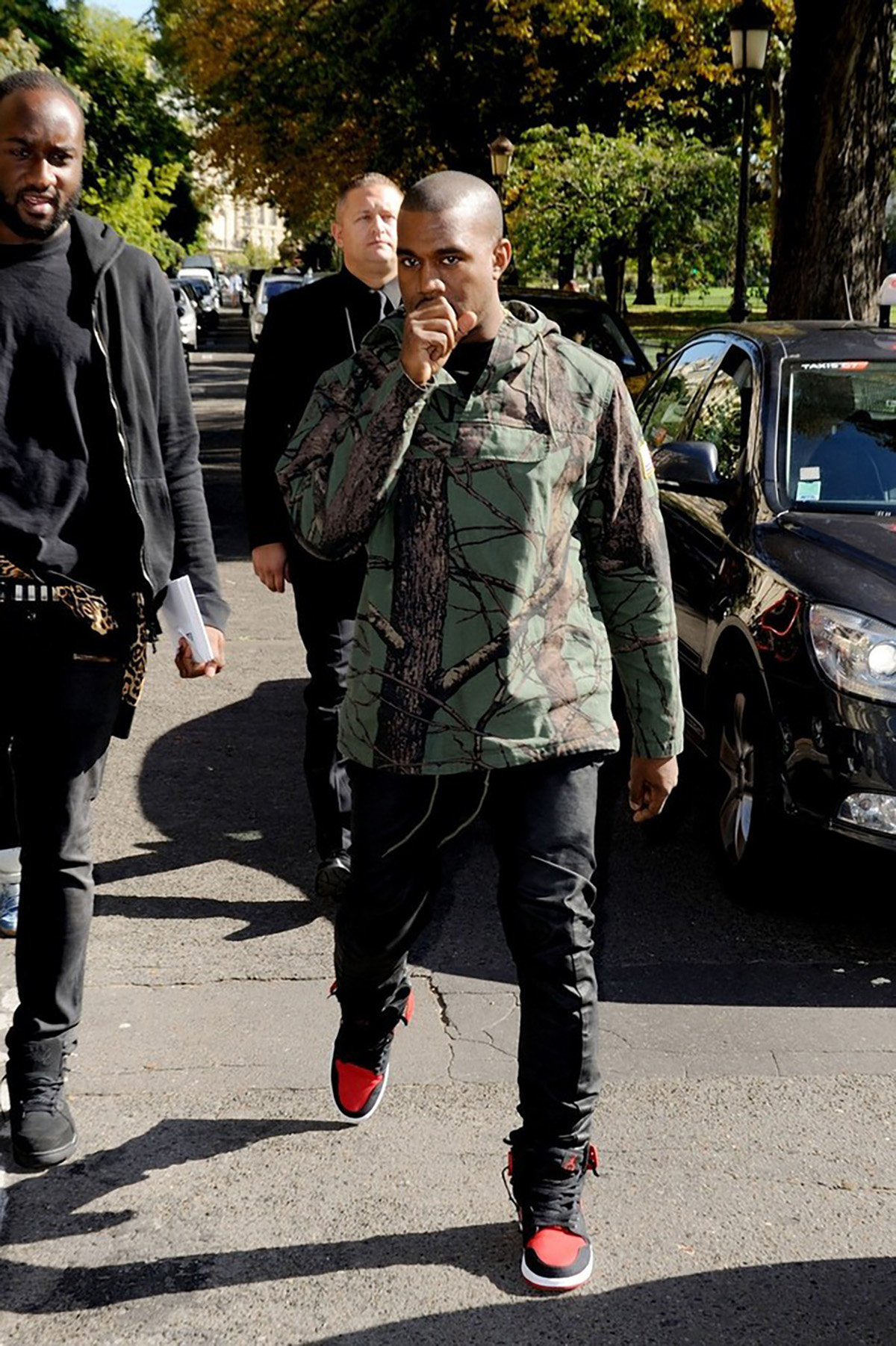 Looking back to 2011, many sneaker sites ranked the Air Jordan 3 "True Blue" and "Cement" retros as the top shoes of the year. While the Jordan 1 was a beloved favorite for time-tested sneakerheads and actual fans of Jordan the player, the AJ1 was not highly regarded when it came to sneaker culture or fashion on a mass level.
Air Jordan 1s sat on shelves when they retroed for only the second time ever in 2001. Even worse, when they returned in the Bulls vs Celtics Pack in 2009 seemingly the whole world slept on them.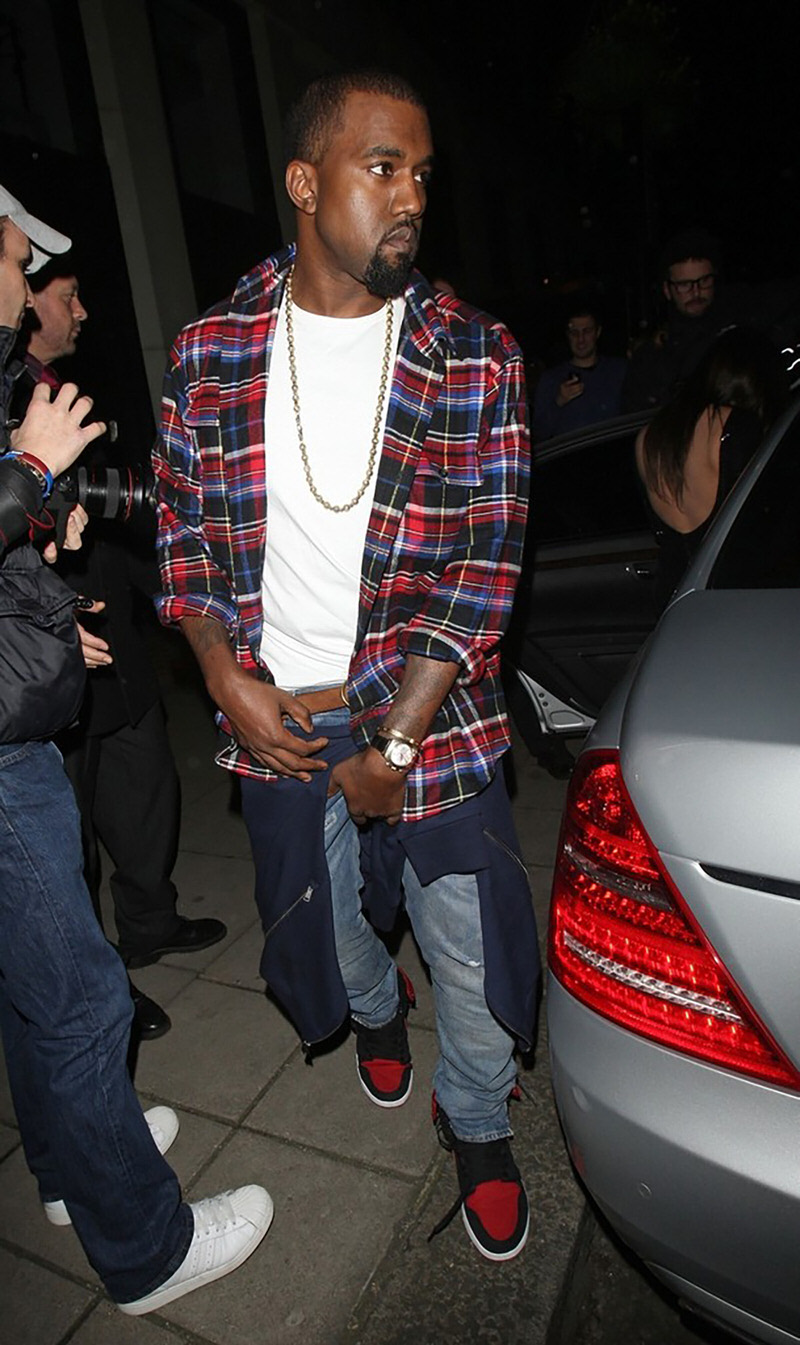 From forgotten favorite to cool guy essential, how exactly did the Kanye effect bring the Air Jordan 1s to the forefront of the fashion world?
Here's my take after looking back at the ascent of the AJ1 in fashion over the past eight years and the important moments to consider.
In 2011, Kanye was riding high. Coming off arguably the greatest album of his catalogue, 2010's My Beautiful Dark Twisted Fantasy, and releasing Watch the Throne the very next year, Kanye West was at his creative peak from a music standpoint and the talk of hip-hop culture.
From a footwear perspective, his music buzz only amplified hype surrounding the yet-to-be-released Nike Air Yeezy 2. Combining worlds as he often does, Kanye used his legendary Coachella performance to wear and tease his second signature Nike.
Following his 2011 foray at Fashion Week, everyone could start to see the trickle-down effect of Kanye in Air Jordan 1s. Fast forward to Fashion Week in 2013 or 2014 and you could see the influence of Mr. West. Numberous attendees rocked leather jackets, ripped jeans and even "Bred" 1s.
While "Bred" 1s were beginning to catch traction, Kanye was mixing it up by breaking out AJKOs and "Royal" 1s.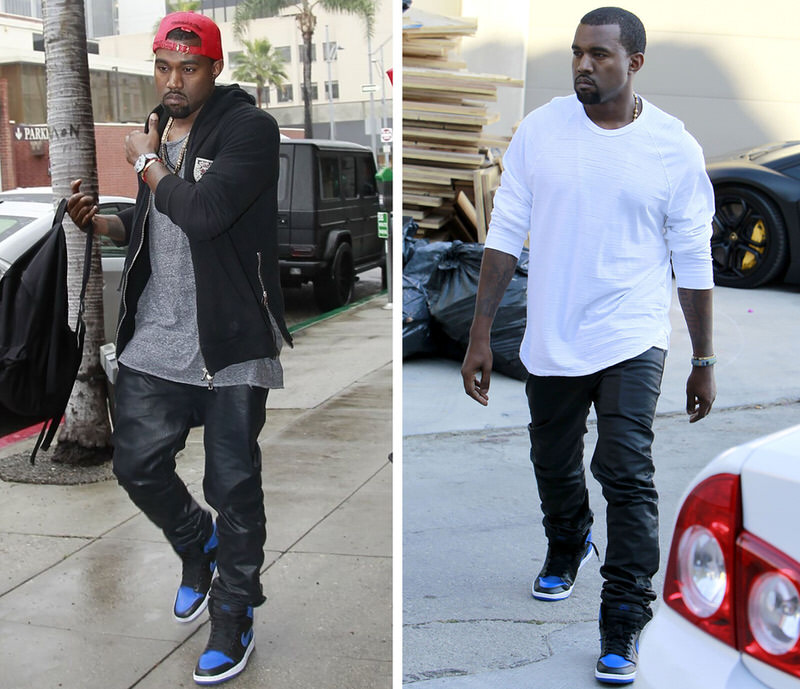 Hip to trends, Nike re-released the Air Jordan 1 "Bred" again on December 28th, 2013 and hasn't looked back since. The popularly of the Air Jordan 1 in the time since Kanye's co-sign has skyrocked and only ascended higher when considering collaborative releases with the likes of Union, Off-White and fragment.
In that same era and in the time since, Kanye and his team of collaborators and creators were also seen on the regular wearing Air Jordan 1s — especially in the "Bred" colorway. In a sense, the G.O.O.D. Music/DONDA crew created a team uniform that could be easily copied by fans. This commaradrie was apparent during the Yeezus era, the beginnings of Been Trill, the Owl Pharoah days for Travis Scott, and WTT era Jay-Z.
For years, fashion fans and sneakerheads had been watching every step of Kanye West. In 2012, however, the tabloids began capturing Kanye as at this time he started dating Kim Kardashian. Kim K, one of the most popular women in the world who was already a paparazzi favorite, took Kanye's visibility to a whole new level.
Pictures of Kanye West hit the internet more then ever and the world had an instant lookbook to feel inspired and recreate the looks that Kanye wore during this time. It was all the more easier, too, as Kanye wore less labels in protest to the barriers of allowing him to design in the fashion world. Just the same, fast fashion was booming allowing easy takedowns on is elevated basics.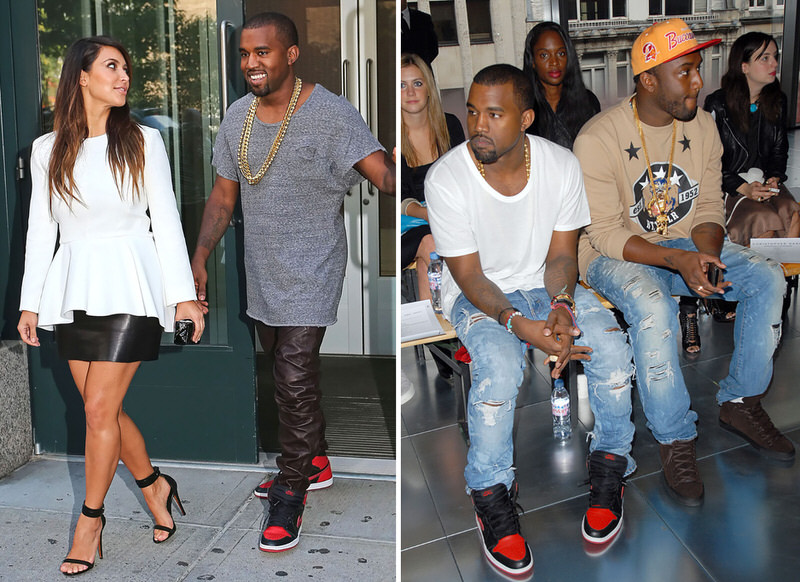 In 2018 alone, over 30 Air Jordan 1 colorways were released in that's when only considering men's sizing and high top cut. This of course includes the Union 1s which sampled the "Bred" 1s and collaborative pairs from Virgil.
On top of that, Kanye-protoge Travis Scott is said to release his own take on the Air Jordan 1 in 2019.
While Kanye West has changed the game on numerous occassions, it was when he wore Air Jordan 1s to London Fashion Week in 2011 that will live in history as a moment that broke down walls and forced a shift in sneaker culture.
To me personally, this was a moment that changed my life in regards to being a sneakerhead and a kid who loved fashion. I couldn't afford to buy a Balenciaga Arena at the time but I could afford Air Jordan 1s and so could my friends. Finally, we felt like we had a voice.
Fast forward eight years later and I'm wearing my "Bred" 1s while writing this to you from Paris Fashion Week. A true full circle moment.
Maybe it is the shoes.
select imagery via Zimbio