Rasheed Wallace, to his credit, played much of his NBA career in a basketball shoe that's not really a basketball shoe.
Sure, Bruce Kilgore designed the Nike Air Force 1 as a hoops model, yet by the time Wallace entered the league in 1995, there were far better performance models available. Sheed, though, from the late '90s forward, found matrimony with the shoe and never laced up anything else.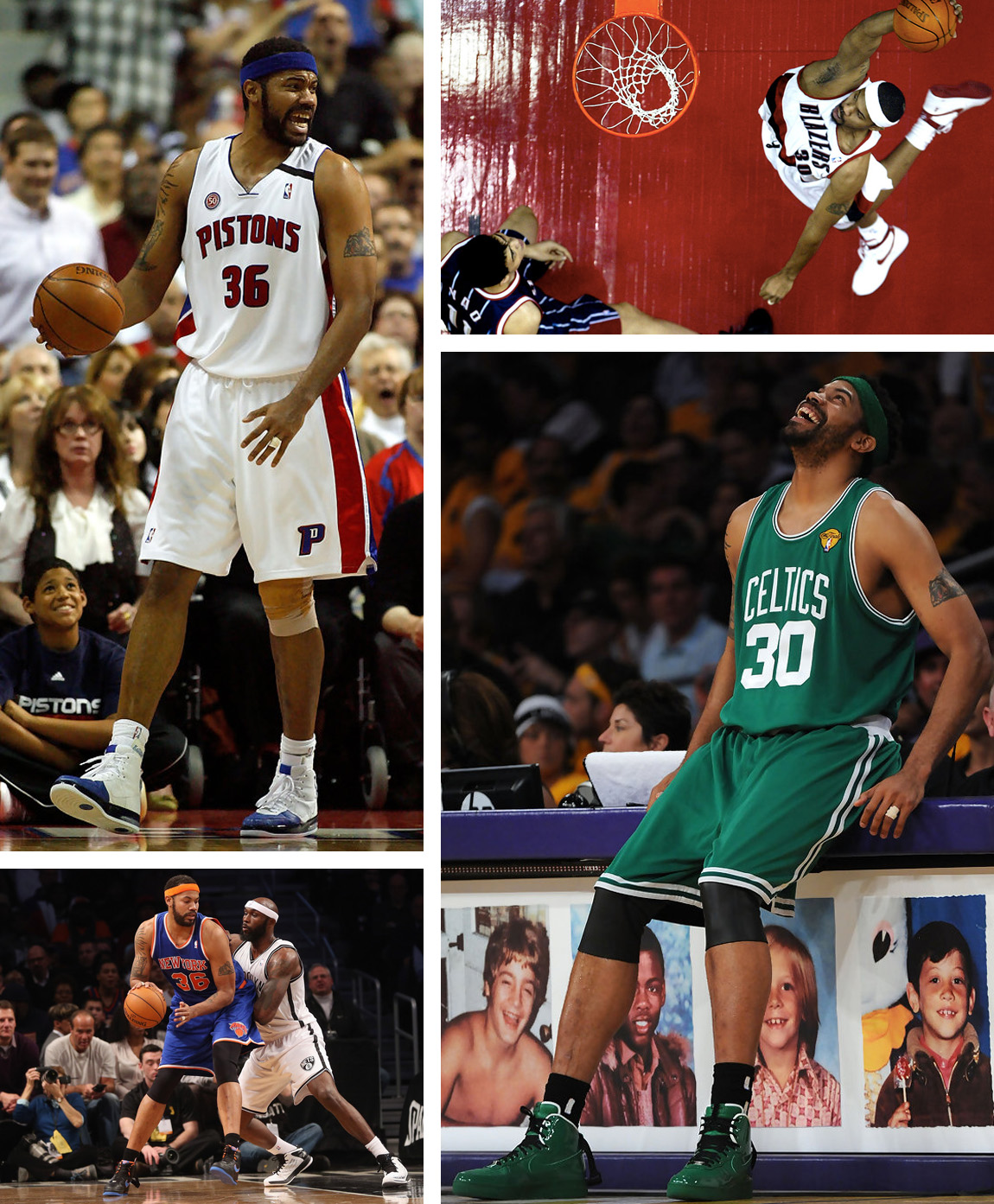 In the early stages of his NBA tenure with the Portland Trailblazers, aside from amassing a vast number of technical fouls, Wallace was wearing the high top in simplistic two-tone leather executions that worked in tandem with his uniform. Wallace was regularly seen in easy-going White/Red, Black/White and Black/Black pairs that worked well with the Blazers beloved '90s unis. His signature headband, whether around his head or postgame over his neck, always served as an ideal top off.
He'd soon grow more aggressive with his styling opting for more color and richer materials. His patent leather AF1's were certainly an aesthetic stance as much as they were representative of his personality on the court. Sheed was one of the very-first stretch fours. His inside-outside game was far ahead of its time and more on par with the league now as opposed to his heyday. He was revolutionizing the league and certainly his position. All the while making a style statement that would prove to only grown more intriguing based largely on his own likeness.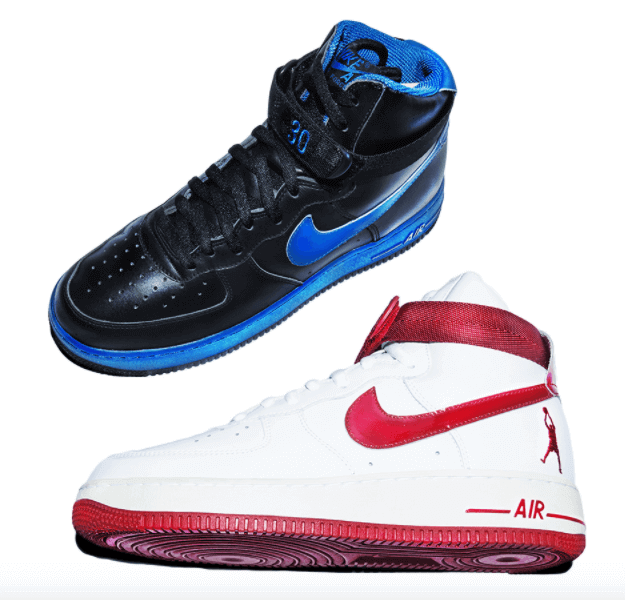 Now wearing full patent leather pairs of both the Hi and Low variations, the heel of each shoe became fixed with Sheed's logo. Shaped in the form of his 6'10" frame, Sheed is seen fading away in a picturesque ode to his signature shot.
By this time Sheed wasn't just wearing team specific colorways either. He'd grown his palette to express a wider variety of interest, some of the most famous being odes to his alma mater — the University of North Carolina where he'd play int he Final Four during the 1994-95 season. Wallace was taken fourth overall in the 1995 NBA Draft by the then Washington Bullets. Sheed started much of his rookie season in Washington in place of the injured Chris Webber.
Truly, the most intriguing thing about Sheed wearing the Air Force 1 High was not the shoe itself, but more so how he wore them. While he often times went without the top strap or had it over the shoe in customary fashion, it was almost revelatory when he'd let the strap hang from the back. There was a certain nonchalantness to it. An effortless cool that stands as Sheed's biggest on-court accomplishment that had nothing to do with basketball.
Later this week, the Nike Air Force 1 High "Rude Awakening" will hit retailers as the first true Sheed x AF1 retro. But it definitely shouldn't be the last. Rasheed's contributions to Nike and this classic shoe shouldn't be unsung.
This week's release is a great start but it should be just that — a start. Bullets colorways? Absolutely. Trailblazers PEs? Yes, those too. Knicks colorways? You can't do Sheed retros without a Knicks pair.
The possibilities are endless as they represent an under serviced era in Nike Basketball history. Expect the "Rude Awakening" on April 26 — as seen from Feature below — and hopefully a lot more to follow.
Nike Air Force 1 High "Rude Awakening" Nike Air Force 1 High "Rude Awakening"