Standing as a pillar of basketball for seventeen years, LeBron James' legacy leaves little to debate. He's one of the all-time greats, period, fin. Feel free to nit-pick various situations throughout his career, but when it's all said-and-done King James will go down as one of, if not, the greatest hooper ever.
Since 2003, LeBron and Nike have released more than 30 (Elites, Lows, Soldiers, Witnesses, etc) different signature shoes. From generational bangers like the 'Graffiti' Zoom LeBron 4s and the various 'LeBron Watch' LeBron 15s. Only Michael Jordan exceeds LeBron's Nike output; and for "a guy not as good as MJ"… that's…
For as many similarities as they share, LeBron doesn't have the volume of quintessential signature shoes as Mike. Jordan has the Air Jordan 11 "Concord," Air Jordan 1 "Banned" and the Air Jordan 3 "Black Cement" (& fifteen others) that all carry the distinction of 'THE Michael Jordan Sneaker." The savior of Chicago, simply, had soooo many iconic shoe/history moments that his legacy basically lives on through his retros.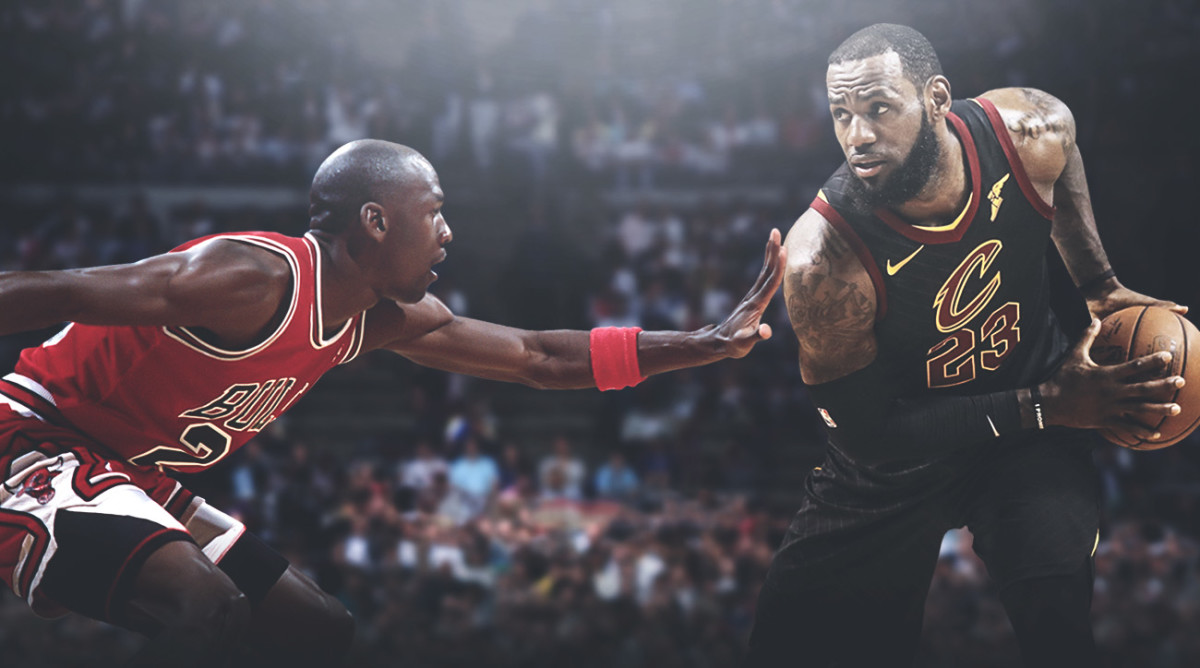 Sure, Nike's annual onslaught of new LeBron kicks keeps the L.A. star in the front of sneakerheads' minds, but what is THE LeBron James shoe? What shoes carry LeBron's legacy? Maybe it's his dismantlement of the Pistons while wearing the Nike Zoom Soldier 1 "25 Straight" or perhaps the LeBron 9 Elite en route to his first championship. Don't worry, we'll help you figure it out.
Eyes closed, mind focused… what shoes do you see when the name LeBron James hits your ears?
We've prepared an argument for five different King James signature shoes. Peep our picks below, marinate on it, and let us know which pair serves as LeBron's definitive shoe in the comments section and on IG!
Nike LeBron X Elite "Celebration Pack/Finals" (2013)
Game 7. 2013 NBA Finals. Even after his first championship in 2012 haters still doubted James. The San Antonio Spurs were giving "The Heatles" fits, and LeBron needed to bring the ruckus with Game 7 looming.
With all of that in mind, LeBron delivered… BIG. With a Finals stat-line for the ages, King James put up 37 points, 12 rebounds, and 4 assists to close out the Spurs and secure his second straight NBA Championship. Back-to-back champs. Hi haters.
The shoes were elite, and we're not just talking the branding; they were truly eliteee. The LeBron X Elite's aggressive shade of red paired with every detailing imaginable made these nice kicks pop on camera and in person. Luxury and performance collided on these phenomenal LeBrons. I mean, look at those lace locks! Fantastic.
Not much else to say, the pictures speak for themselves – they're a formidable pair of hoops shoes by Nike and well-deserving of upholding LeBron's legacy via footwear.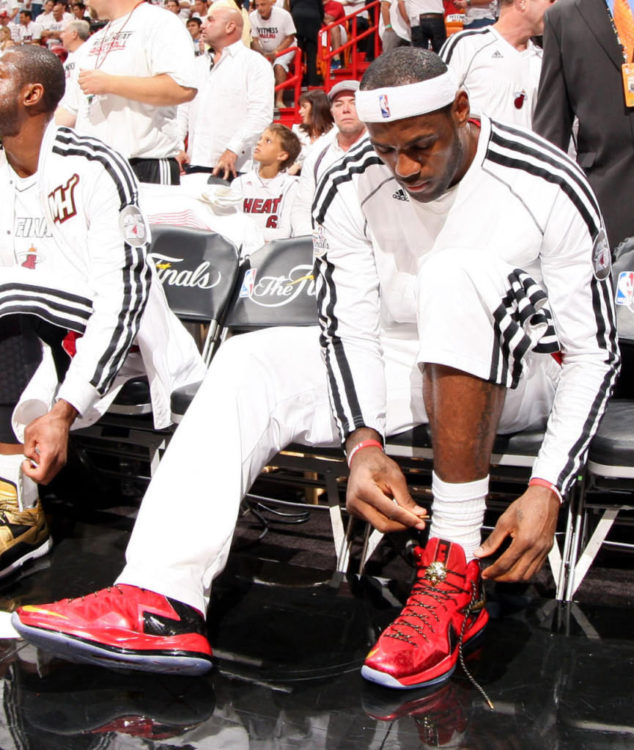 Nike Air Zoom Generation "First Game" (2003)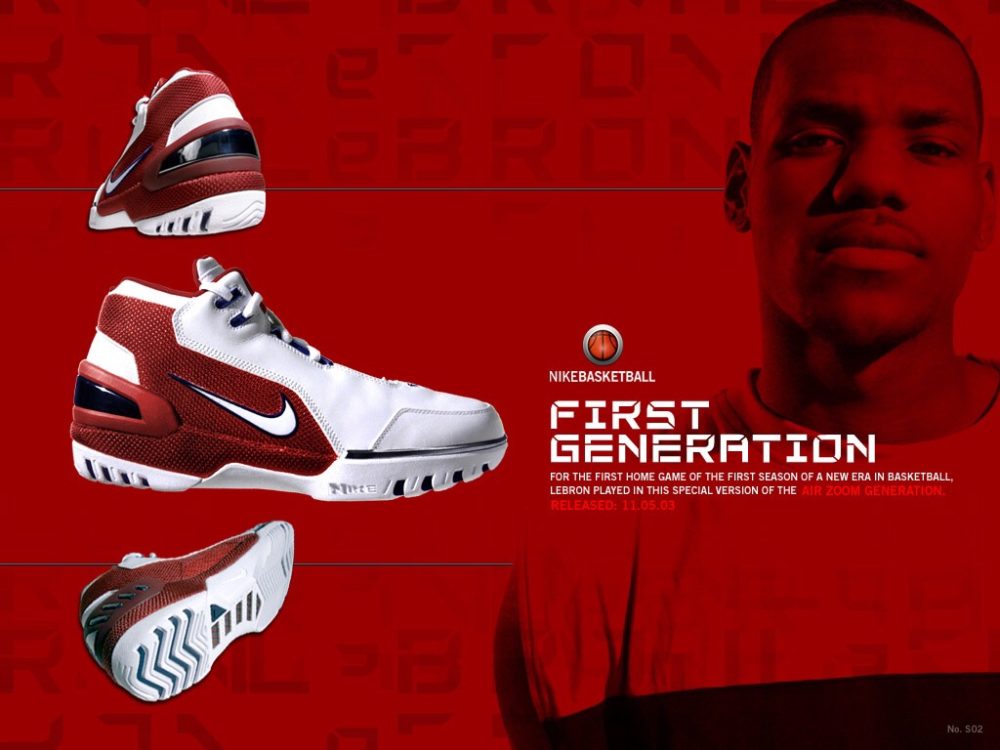 It's 2003 – Chingy's "Right Thurr" is dominating the airwaves, the Cavs draft a kid from Akron, and life is simple…
Every sneaker brand wanted a piece of young LeBron because they knew he'd be something special. Nike, obviously, won the James Sweepstakes and proceeded to launch a line that enjoys success to this day; but it all started with the Air Zoom Generation. As the name implies, LeBron ushered in a new era [generation] of NBA athletes. Not since Kobe Bryant had a young baller came in so ready for the game bursting with personality and swag. LeBron was ready for basketball's grandest stages.
Designed with the H2 Hummer in mind, the AZG embodied strength and grace. Prettiest or most sleek LeBron shoe in the line? No, but, we all gotta start from somewhere and the AZG truly started something great. Over the course of 82 games from 2003-04, the basketball world was introduced to an unparalleled high school phenom wearing the shoes of the future generation.
Within basketball circles, the Air Zoom Generation is iconic. They bridged the gap between Nike Basketball's futuristic designs from 1999-2002 and the literal future. You can't finish if you don't start, and the Nike AZG "First Game" started a revolution. Heavy consideration must go towards the "First Games" – they ushered in the LeBron era of Nike Hoops.
Nike Air Max LeBron 7 "Red Carpet" (2010)
Lucky number seven. LeBron's seventh signature shoe came correct with a massive roster of quality colorways, but the "Red Carpet"' piqued the interest of a new consumer base – non-sneakerheads. LeBron's kicks had been popular, sure, but the "Red Carpets" officially brought hype into James's sneaker equation. Everyone needed a pair.
Reeking of an understated sense of luxury, the "Red Carpet" were flawlessly color-blocked and rich to the touch. In-hand, they feel red carpet-ready with the woven upper and leather mudguard. Going the NFW (no Flywire) route allowed these 7s to play towards LeBron's "red carpet" lifestyle off-court.
Upon release in 2010, the sneaker community quickly dubbed the "Red Carpet" as one of, if not, the best LeBron shoe ever made. Ten years later that argument stands. They're a perfect example of what happens when great design and thoughtful execution collide.
Nike LeBron 9 "ASG/ Galaxy" (2012)
Released amidst the fever pitch of LeBron sneaker hype, the LeBron 9 "Galaxy" or "All-Star" was out of this world (pun intended). These jawns had everything. Everything. Bold galaxy print, vibrant orange uppers, and glow-in-the-dark outsoles. Worn throughout his 2011-12 MVP season, the LeBron 9 couldn't help but be seen as LeBron dominated the hardwood. These are the definitive colorway of the bunch when someone says "Oh those LeBron 9s" as they're referring to the Big Bangs.
Nike Basketball found itself vibing and dominating the market in 2012. Themed basketball shoes were the hottest kicks on and off the court and LeBron kept turning out banger after banger. Fans of the line regularly rank the LeBron 9 "Galaxy" as one of the best, and we can't disagree. I guess you had to be there, but at the time, these were it. Everything about this shoe is memorable.
Nike LeBron 8 "Pre-heat" (2010)
We wanted to give you a few options before dropping this bad-boy into the system, but… you know, the LeBron 8 "Pre-heat" is the best LeBron of all-time.
Call them "South Beach" if you like, but a rose by any other name is still a rose. Inspired by the beaches of Miami, these kicks took basketball shoe hype into a new atmosphere. The "South Beach" colorway finds its way onto far too many shoes nowadays, but this pair started the trend. Who would've known flash pink and filament green could be such a killer combo? A retro is an absolute must, ASAP. Nike, let the people eat.
Something otherworldly has to drop under the LeBron banner to dethrone the LeBron 8 "Pre-heat" as The King's legacy-defining shoe. Give us your two cents – what do you think?