Air, none of us can live without it.
Nike's flagship cushioning technology has evolved aggressively since its inception back in 1978 within the heel of the Air Tailwind. Annually Air morphs into a new advanced form that pushes its anatomy in ways that never abandons the tech's identity – meaning no one has to explain Air's relationship to Air Max forms because it's fundamentally comprised of familiar elements.
We see a clear plastic bubble within a foam window on the heel of an Air Force 180 and instantly know that Air Max bubble is related distantly to the Air unit used on the LeBron 7. Nike is forever paired with Air… shoutout to peas and carrots.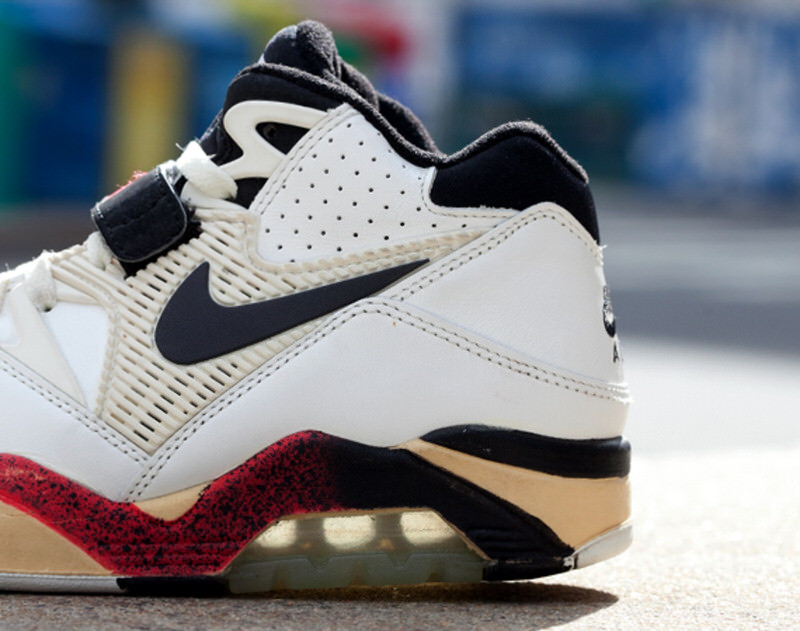 The Swoosh celebrates Air Max every year in commemoration of the Air Max 1's release on March 26, 1987. Over the years Air Max Day has grown into Air Max Month with fans rocking their favorite Airs all March long.
Let's take a look back at the history of Air Max to celebrate the holiday!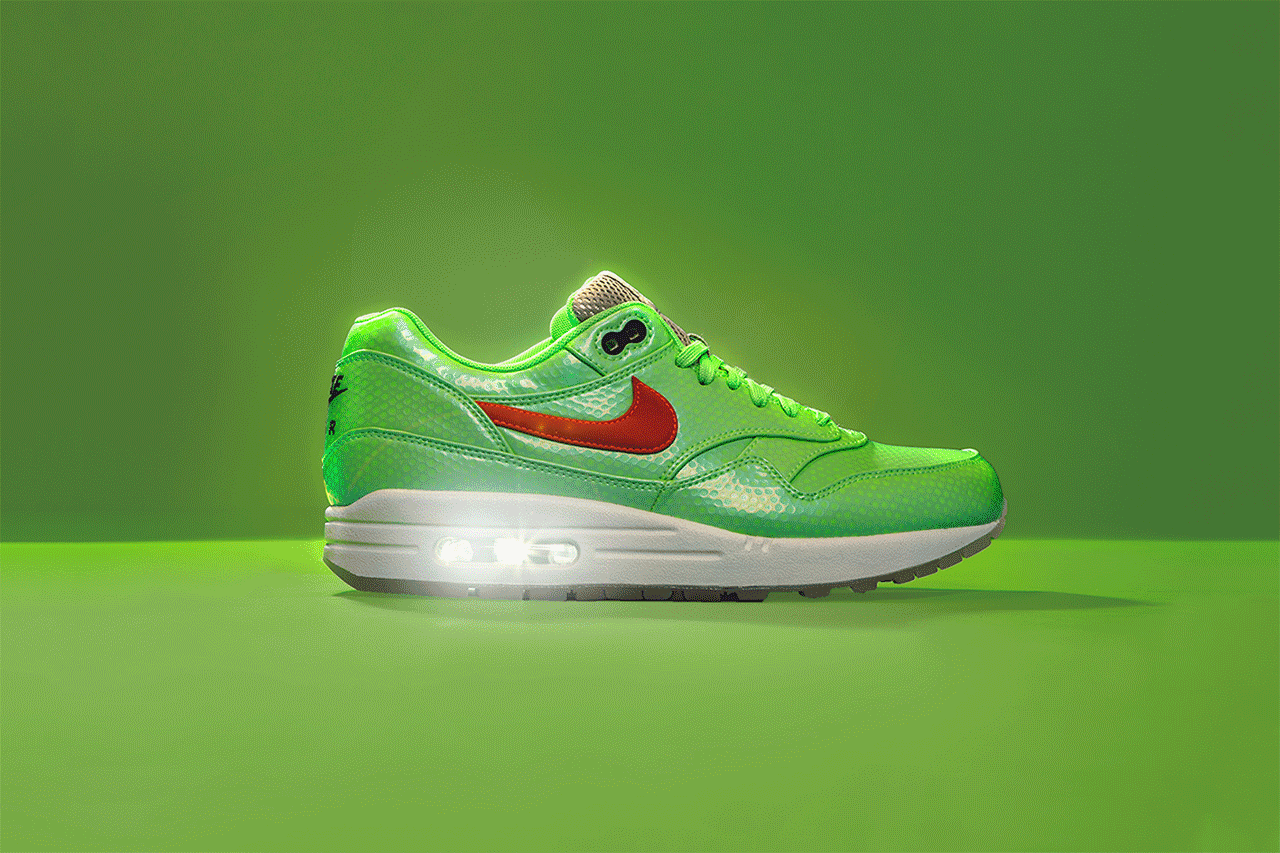 To clarify, it is not the celebration of internal Air like the units found within '78's Tailwind and '82's Air Force 1. To be an Air Max shoe the Air unit must be visible.
There's a rule of thumb for ya' 
AIR MAX, THE ORIGINATOR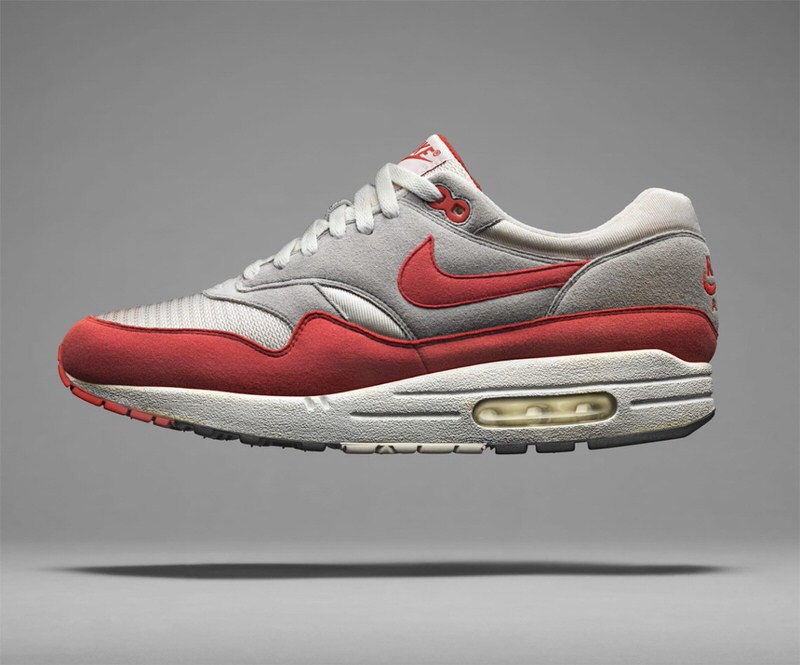 Tinker Hatfield gifted us with the original Air Max (1) with Visible Air back in 1987 and nothing was the same…
Humans understand concepts and ideas best when they can tangibly see what's going on, so Hatfield decided to capitalize on that concept royally. Nike could have told consumers all day that their newest sneaker would make them feel like they were running on air, but showing them flipped the script.
Sure, the Internal Air heel unit made a grocery list of Nike Running, Training, Tennis, and Basketball shoes comfortable; but Visible Air ultimately transcended sport and became a lifestyle – a collection of like-minded people with a shared love for the feel and looks of Air Max.
It's reasonable to say that Air Max bridged the gap between sport and fashion in a way that made modern streetwear possible to exist (now that's deep).
…It must be the shoes.
AIR MAX LEVELED UP
More is better, right? Nike thought so as they upgraded their Air Max bubbles to be larger and more robust.
The basic principle of "more air means more cushion" was in full effect as shoes like the Air Max 90, Air Max 93 (known as the Air Max 270 back in the day) and Air Max 2 carried the Air Max torch into the 1990s. A simple philosophy was established: bolder designs and bolder Air.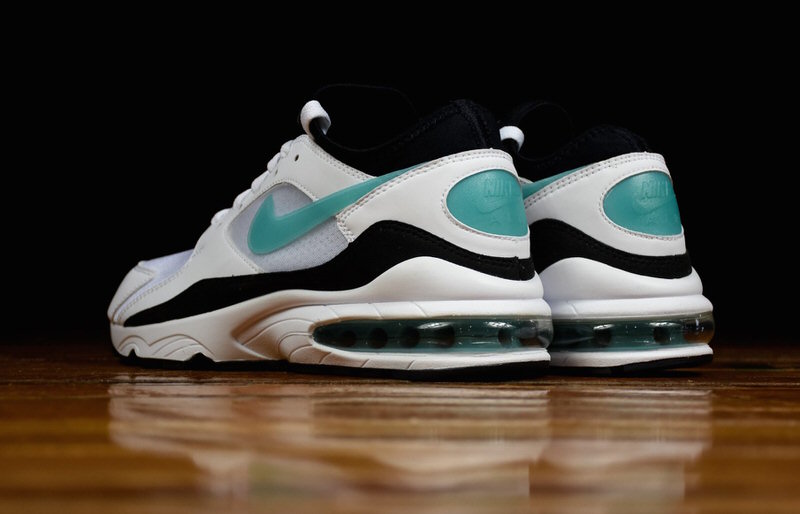 Materials, technology and processes improved after the Air Max 1 so Nike tirelessly worked to improve Air Max with each and every installment.
Like we mentioned above, Air Max literally grew in size from the Air Max 1 to the AM 90 but Nike sought to reduce surrounding foam even further (the theme of foam reduction will reoccur throughout this piece so get familiar with it).
1991's Air Max 180 did just that by removing foam and rubber so the Air unit would protrude through the outsole allowing for 180 degrees of Air Max cushioning.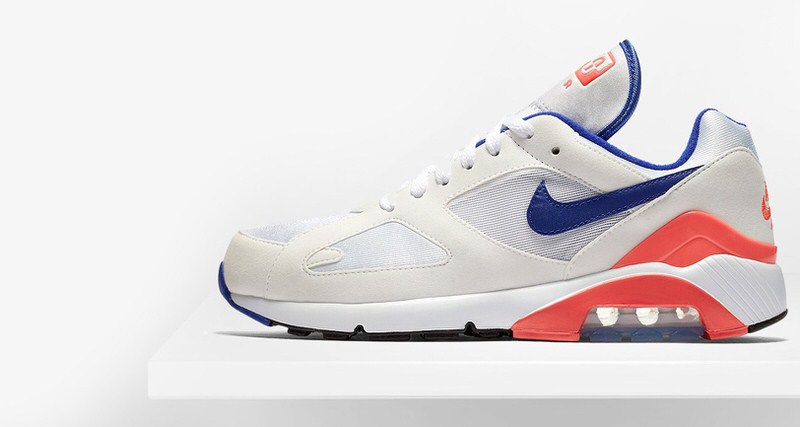 Extending Air Max through the outsole wasn't going to cut it in Nike's long term goals though, the next innovations had to truly maximize Air…
FOREFOOT FEELS AND BEYOND
The natural progression of Nike's Air Max tech was always destined to be more air in more places, and as the '90s extended so did the Air bubble…
Sergio Lozano's Air Max 95 design gave us the first sneaker with forefoot Air, and consumers lost their collective minds!
The Air Max 95 solidified the fact that Air Max was more than a novelty and that the tech would be around for years to come.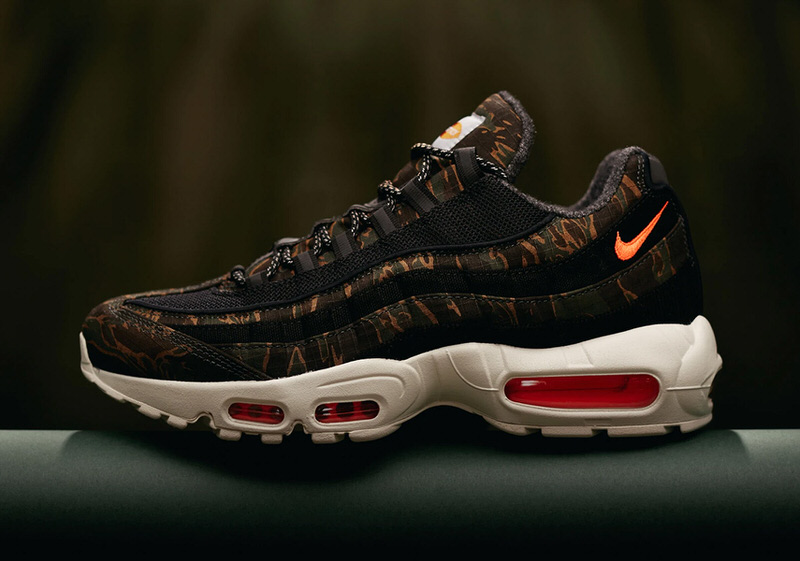 Having Air in the forefoot and heel proved to be beneficial in basketball as new models released featuring the latest Air Max cushioning too. Classic heavyweights like the Air Max Uptempo dominated both NCAA and NBA hoops with a new generation of elite level athletes rocking Nike's (then) most blazin' heat.
Honestly, 1995's version of Air Max might be the most recognizable iteration of the decade – it's impossible to ignore those perfect lil' forefoot bubbles on the AM 95 and Uptempo!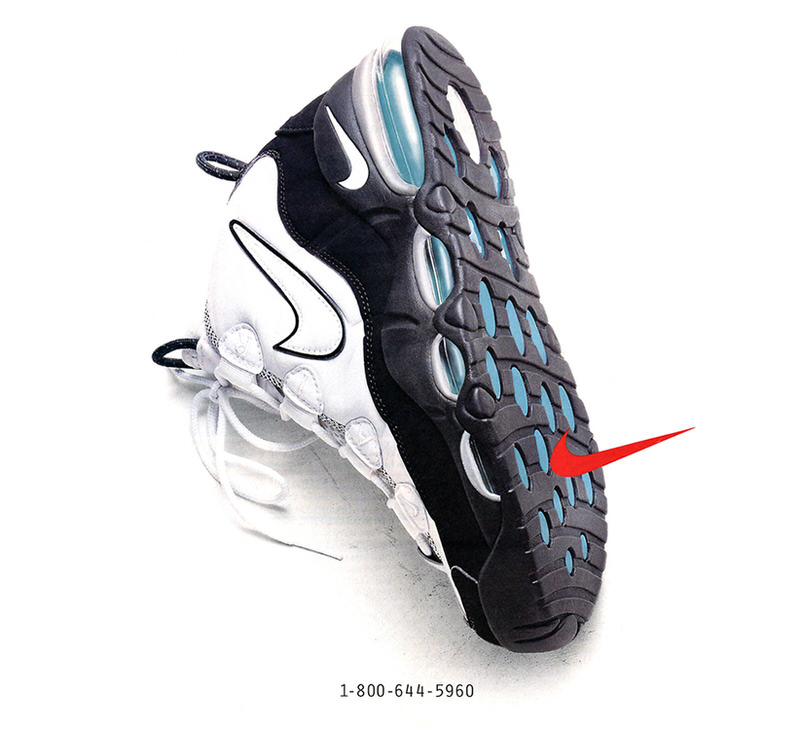 Adding Air to the forefoot was just a stepping stone in the grand scheme of Air Max. A continued focus on eliminating as much foam as possible drove Air Max expansion into new territory.
A new technique was developed allowing Nike to increase the number of consecutive 'pillars' (the visible, vertical, stabilization chambers located within the Air bubble) underfoot so Air could flow throughout the entire midsole resulting in the birth of Full-Length Air Max!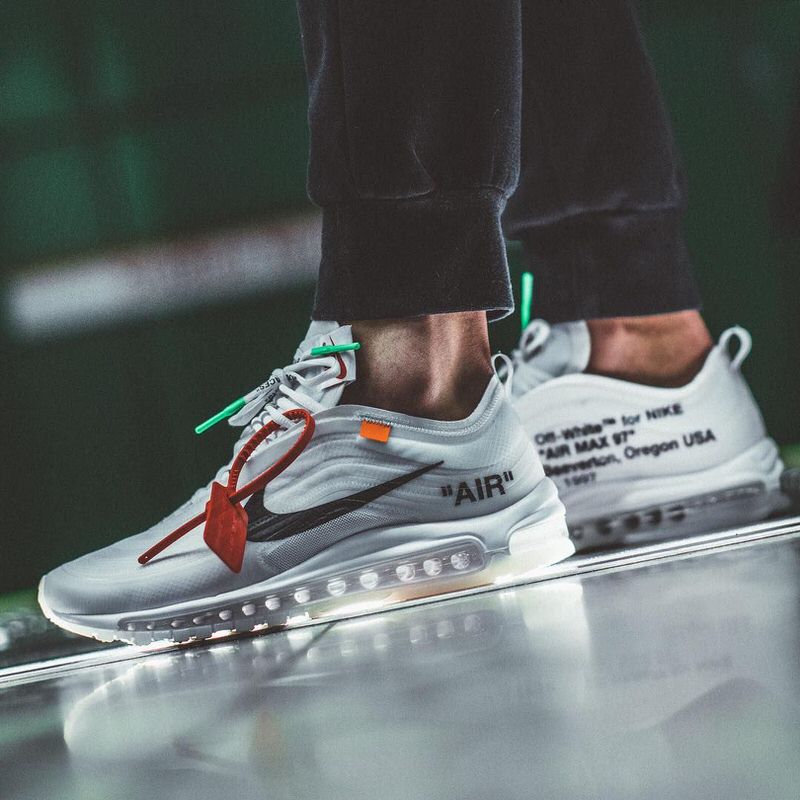 Gone were the days of regional Air bubbles as the Air Max 97 debuted with a futuristic look to match its futuristic Air Max tooling. The Chinese Bullet Train inspired kicks revolutionized Air Max with true toe to heel Visible Air.
The Air Max 97's hoops counterpart, the Air Max Uptempo '97 was popularized by Ray Allen's portrayal of (fictional) basketball star, Jesus Shuttlesworth, in the Spike Lee joint He Got Game. Much like its Air Max brethren, the Uptempo '97's complete build from top to bottom pushed basketball design forward both aesthetically and technologically.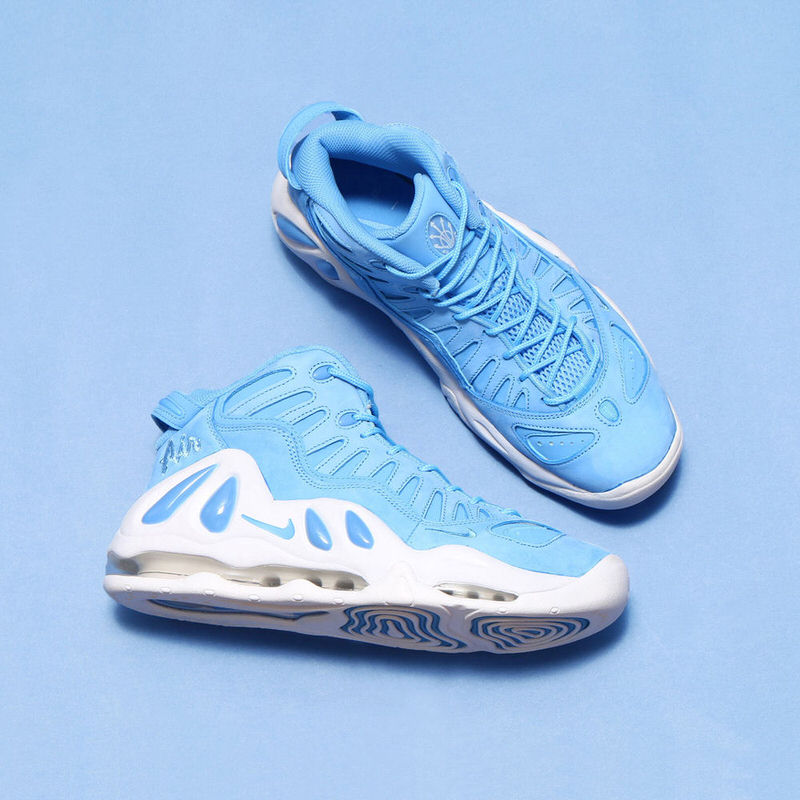 Once Full-Length Air Max debuted people questioned where Nike Air would go next. Air Max's 'manifest destiny' seemed complete so mission accomplished? No, the mission is never accomplished at the Swoosh! The bar may have been raised but the battle for perfection waged on.
TUNING UP AIR
Instead of forcing more Air into an already crowded midsole setup Nike opted into refinement with the Air Max Plus. The shoe's designer, Sean McDowell, used the beaches of Florida to inspire the shoe's upper which used flowing lines draw eyes down to Nike's new Air – Tuned Air.
Tuned Air or TN for short (as seen on the heel) ushered in new levels of stability and support by featuring duel hemispheres within the Air bubble. Basically, a region of lower density Air paired with a Pebax region (the little connected circles below) to affect how the foot landed with each stride.
The result guided the feet of runners into more comfortable positions all while providing exceptional cushioning. Nike would go on to refine Tuned Air over-and-over again while improving stability and performance.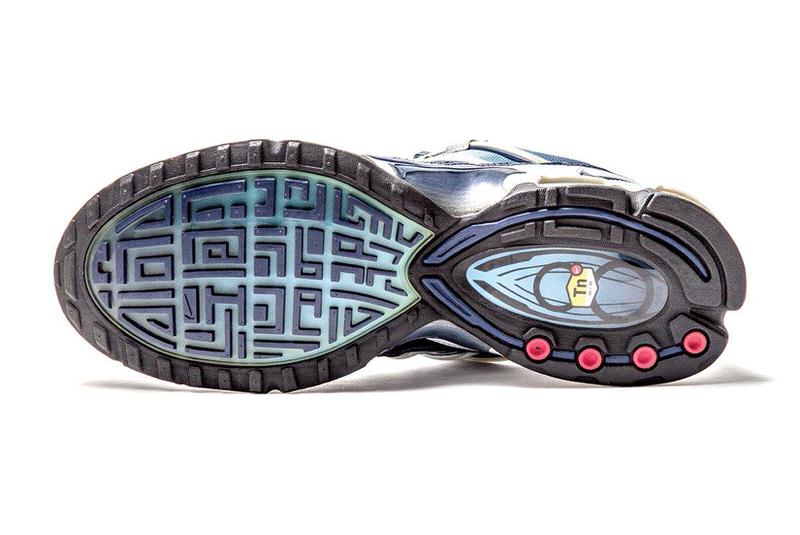 New millennium new Air! 2006 blessed Air Max heads with the first foamless Air unit; a development almost 20 years in the making! When the Air Max 360 burst onto the scene they lent direction to an AM line that seemed a bit lost.
Removing the foam and replacing it with rubber caging was a truly monumental feat in footwear engineering.
The image below highlights the 360 unit's anatomy perfectly – we can see how each Air bubble was sectioned off so the shoes would remain structurally sound while in use. Like many running Air Maxes before it, the 2006 iteration released alongside the Air Max 360 BB (basketball) too.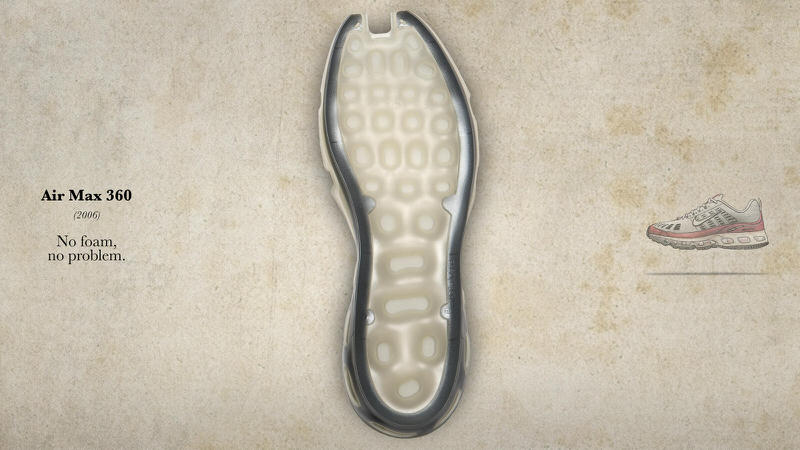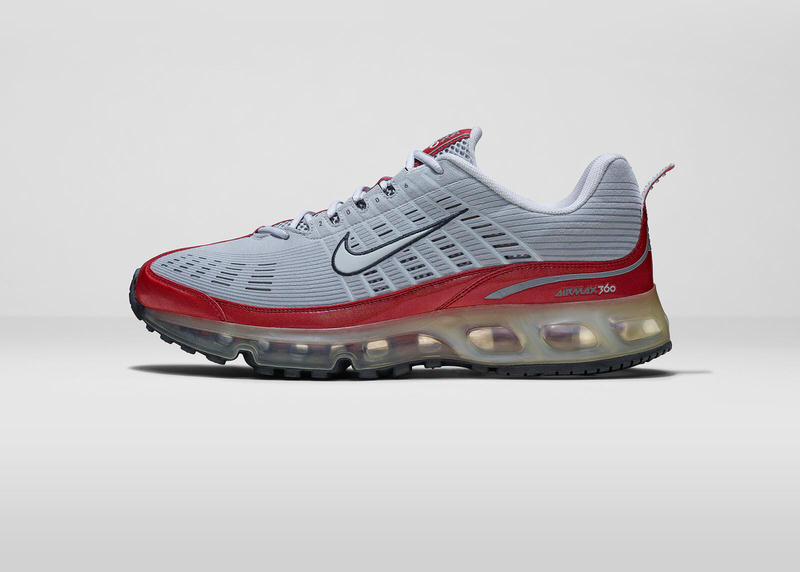 FULL THROTTLE INTO THE FUTURE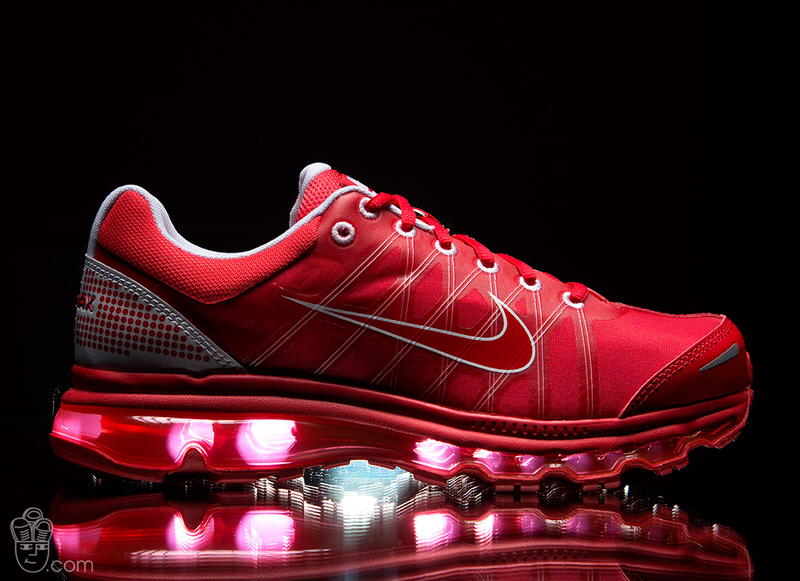 After a three year fast forward Full-Length Air Max shed most of the AM 360's bulk and became exponentially more flexible. This "new" Full-Length AM tooling combined the strengths of past Air Maxes to create a truly plush Air bag.
The AM 2009 might not be on the top of people's favorites list but there's no denying the staying power of its Air Max tooling. Shoot, Nike uses the 2009's outsole to this day under the "Heritage" tag on various Air Max models.
A few years later Nike would regularly feature an updated, basketball-ready, Full-Length Air Max bag on some of their hottest models like the LeBron 8 and Air Max Hyperposite, too.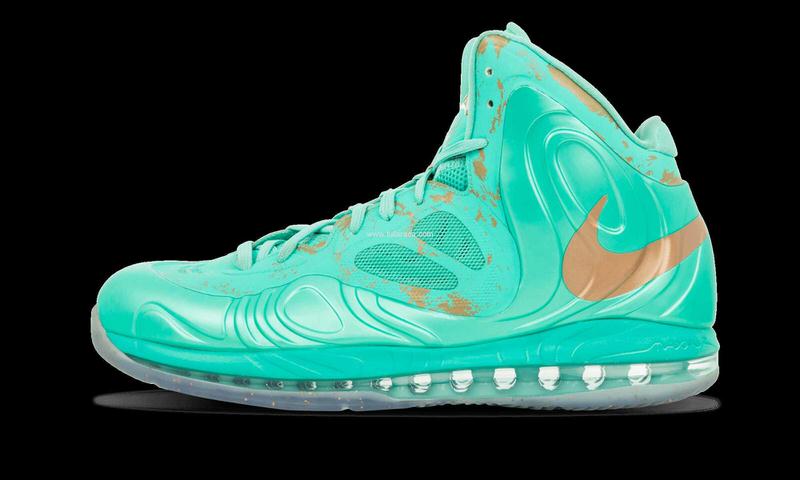 For the last two years, we've seen Air Max undergo a complete change in energy fueled by the VaporMax. There's no way to properly explain how VaporMax feels in words – they're truly a shoe that needs to be felt. Their uniqueness comes from an onslaught of pure Air from toe to heel.
Nike stuck the upper directly onto a system of curved, tubular Air Max units to create a new age sneaker that mixes all the benefits of Air Max with a new found levels of responsiveness and feel.
The VaporMax bridges the gap between sportswear and performance-wear in an effort to appeal to everyone – we'll see this theme continue into the foreseeable future.
FUTURISTIC FEELS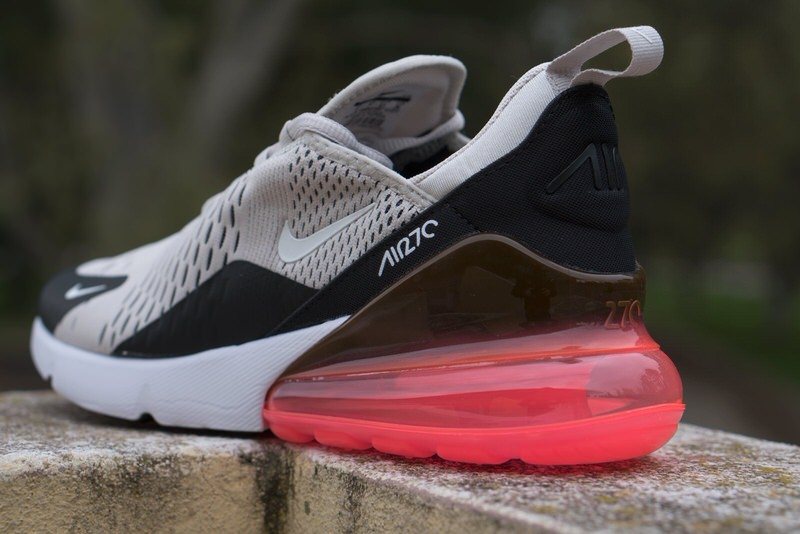 With their ongoing push to be the best within the lifestyle category, Nike debuted their most approachable Air Maxes in years, the Air Max 270. For the first time ever the Swoosh developed the AM 270's Air unit as a Sportswear (casual) model and not a runner.
The AM 270 pushes heel-centric Air Max construction to new heights with its massive, pillar-less build that literally bounces with every heel strike (it's a fun sensation). Interestingly enough Nike ditched their reservations about foam minimization and liberally used it on the 270. Think of the 270 as the spiritual successor to the Air Max 93 due to its evolved Air Max heel.
Air Max's philosophy has shifted to 'bigger is better', and the 270 has lead the charge!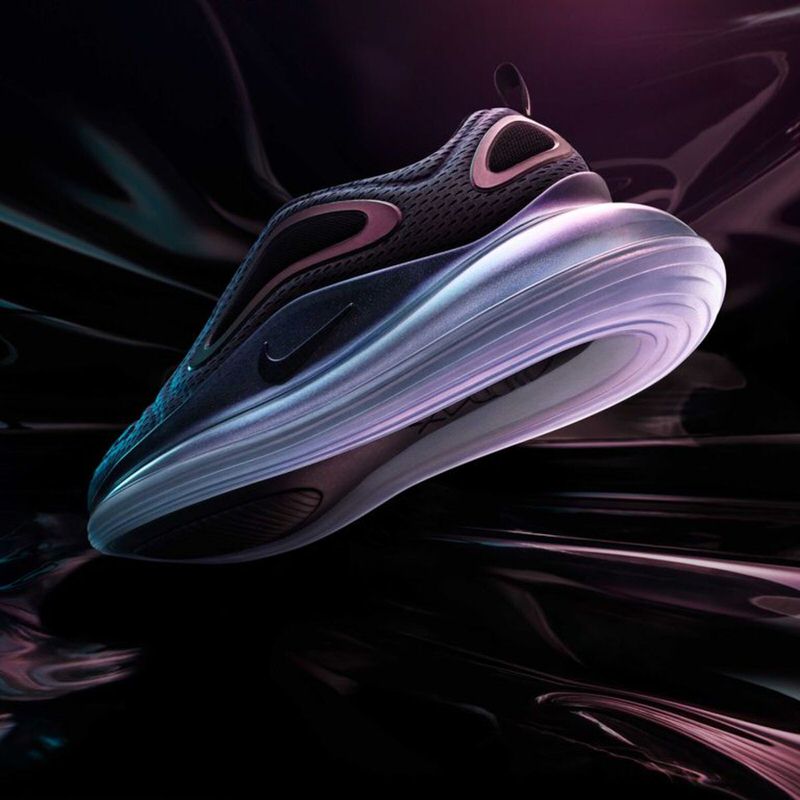 With the largest Air Max bubble in the books Nike took their new Air techniques to the next level with the recently released Air Max 720.
The 720 is a culmination of 32 years of design advancements – from upper cues from the Air Max Plus to Air bag construction derived from the Air Max 97. Air fills the AM 720 from heel to (mostly) toe and everywhere in-between.
The Air bag itself looks both futuristic and familiar – all the token Air Max elements are there, but now they're sleeker and modernized.
For many years the Air Max line felt linear like each year was simply an addition or subtraction problem needing to be formulaically figured out. That sentiment couldn't be further from applying to the Air Max 270 and 720 though; the early offerings of Nike's newest Air Max units have been creative and inventive.
Air resigns within all of us… and on most of our feet too! We hope reading this motivated you to bust out your favorite Air Maxes; so get on the road and enjoy that sweet, sweet, Air cushioning!