Most people are not built like Shaquille O'Neal.
Standing 7'1 and weighing right around 300 lbs even during his leanest and meanest days in Orlando, a shoe made for just for Shaq was never going to be just right for the market.
Not even the massive Reebok Shaqnosis.
Worn by O'Neal during the 95-96 NBA Season, the hypnotizing Hexalite shoes returned to news feeds this week with words of a 25th anniversary retro release in 2020.
Like Shaq, the shoes were larger than life.
Unlike the pairs sold at stores, Shaq's PEs were made much different.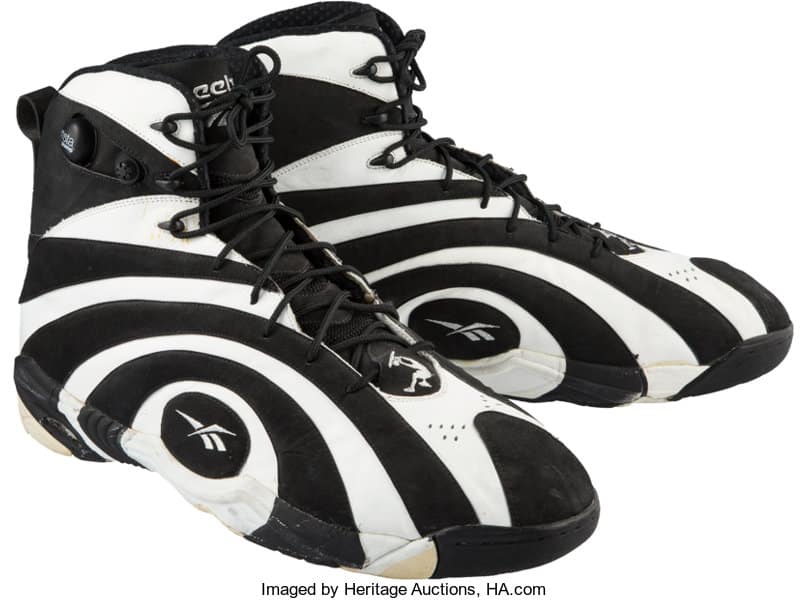 Super-high in cut, you can see Shaq's game-worn Shaqnosis PE — size 22 and all — courtesy of Heritage Auctions. While these have since sold, there's plenty to unpack about his actual game shoe.
Most important? They featured Instapump technology.
Fans will remember that previous Shaq Attaq signatures sported the Pump.
However, later Shaq sigs from Reebok like the Shaqnosis and Preacher Ice phased out the Pump, effectively making Hexalite cushioning the hero from a product sense.
In reality, Pump is a technology based on fit around the ankle and upper of the foot while Hexalite is a honeycomb based cushioning system that sits under the foot for impact protection.
Will this PE ever see the light of retail? Highly unlikely.
Peep 'em in detail below.