Birthday Bull.
In honor of the birthday of the greatest sidekick to have ever played the game of basketball, today we pay tribute to Scottie Pippen and his iconic, legendary, and timeless Nike sneaker history.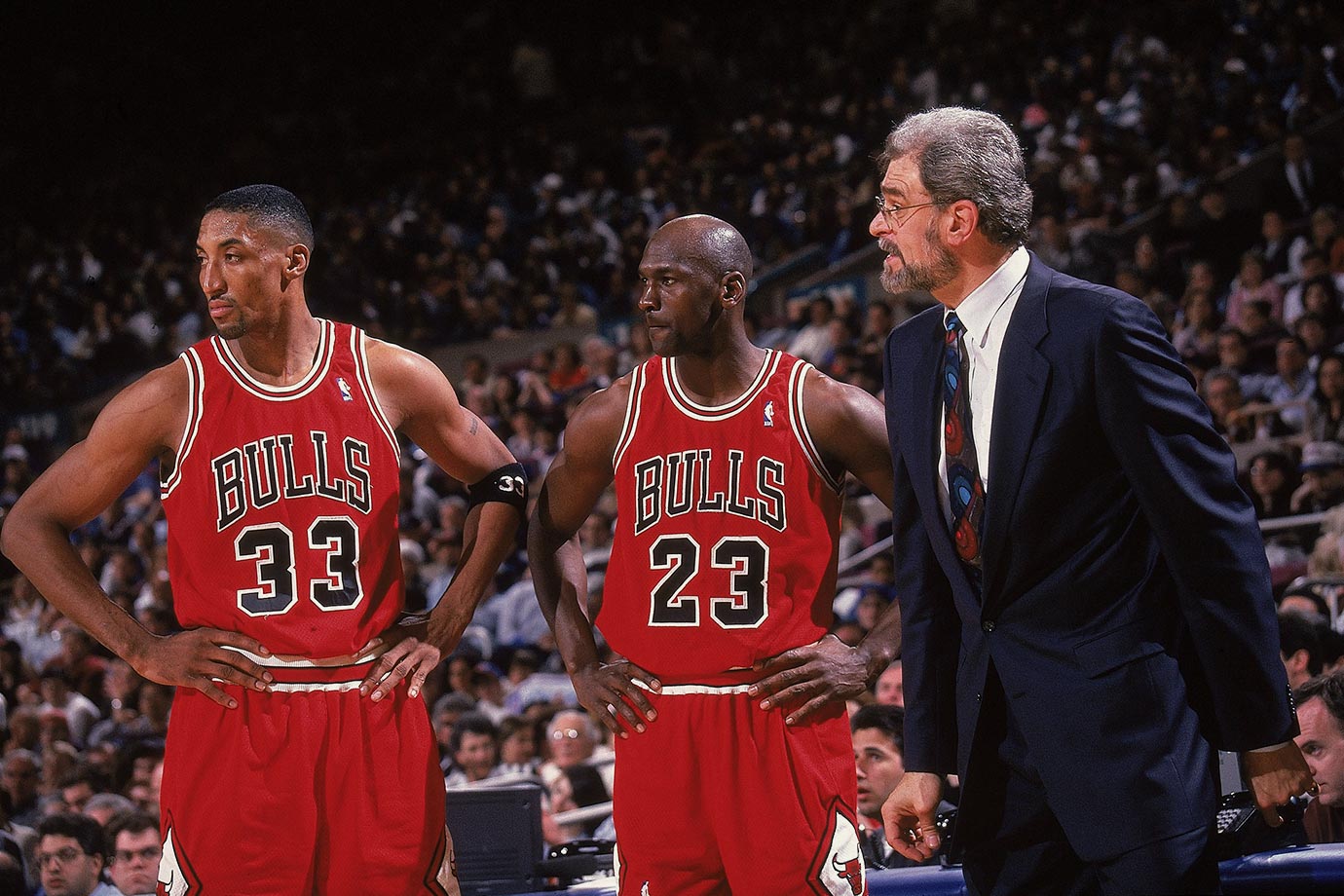 Being Pippen ain't easy. Originally a skinny, long-armed "tweener" out of Central Arkansas, Scottie Pippen ultimately developed into the original LeBron blueprint: a dynamic, versatile player who did it all. Additionally, and perhaps more importantly, Pip time and again demonstrated remarkable selflessness, placing team ahead of self, who understood his role and how that role would contribute to overall team success.
Often regarded as "the man next to The Man" or Robin to Jordan's Batman, Scottie's resume is certainly impressive: 6x NBA Champion, 7x NBA-All Star, 8x NBA Defensive First-Team selection, 2x Olympic Gold medalist, and NBA Hall of Fame inductee. As such, Pippen's place among the NBA's pantheon of greatness and as one of the greatest Bulls and small forwards of all-time is secure. In addition to his spectacular style of play and memorable playoff moments including a spectacular dunk over one Patrick Ewing in May 1994, Pippen is also best known for the legendary and iconic kicks worn on court throughout his career.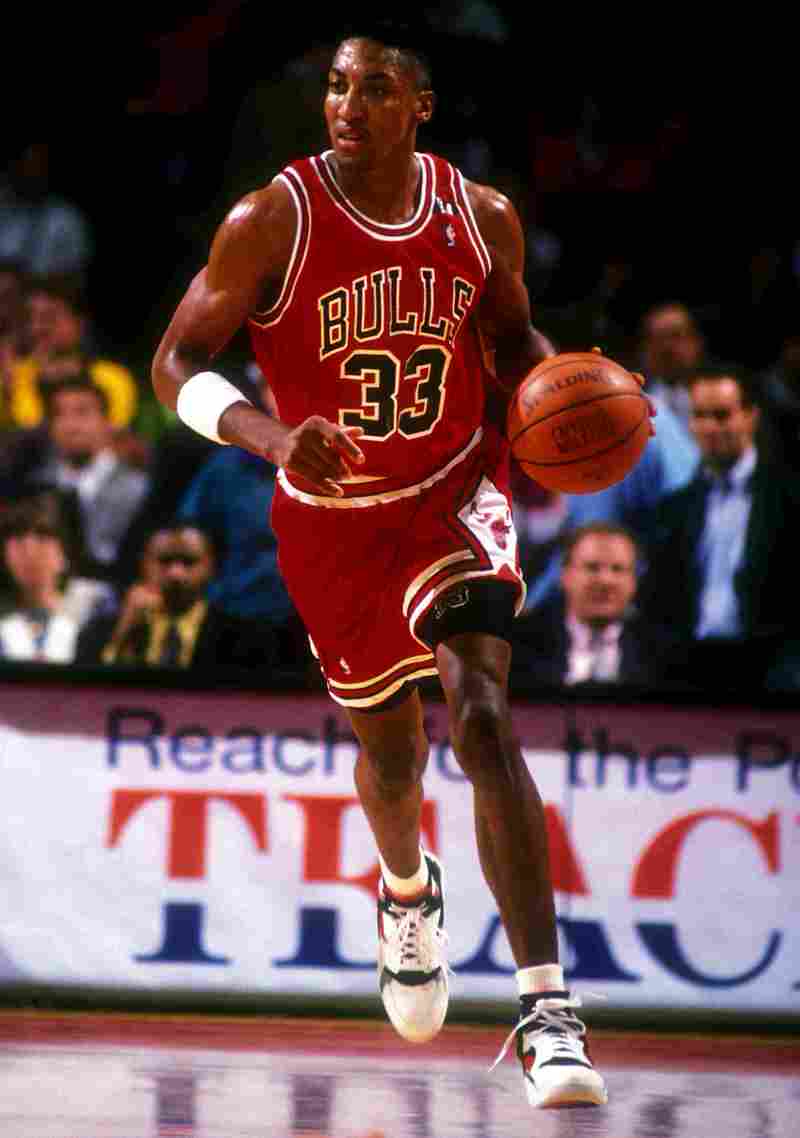 In the late 80s, Scottie wore the Avia 855 Low before transitioning to the Swoosh. Pippen's extensive Nike sneaker history traces back to the 1989 Nike Air Flight, a very popular model at the time, a silhouette which remains a classic and timeless model with its Jordan 4-like inspired design. In the early 90s, Scottie upped the ante and wore various models including the Nike Air Flight Huarache, Nike Air Maestro 1, and the Nike Air Flight Lite, the latter which served as his sneaker of choice during the 1992 Olympic Games in Barcelona as a member of The Dream Team en route to his first Gold Medal. His Flight Lite II featured custom embroidery of his Olympic #8 outfitted in a special Team USA colorway, serving as one of the earliest examples of a Pippen PE.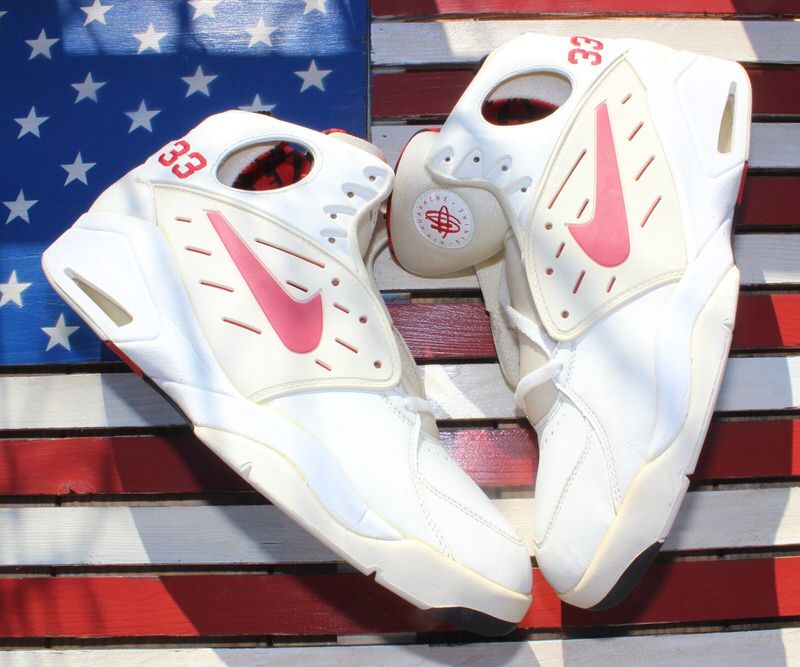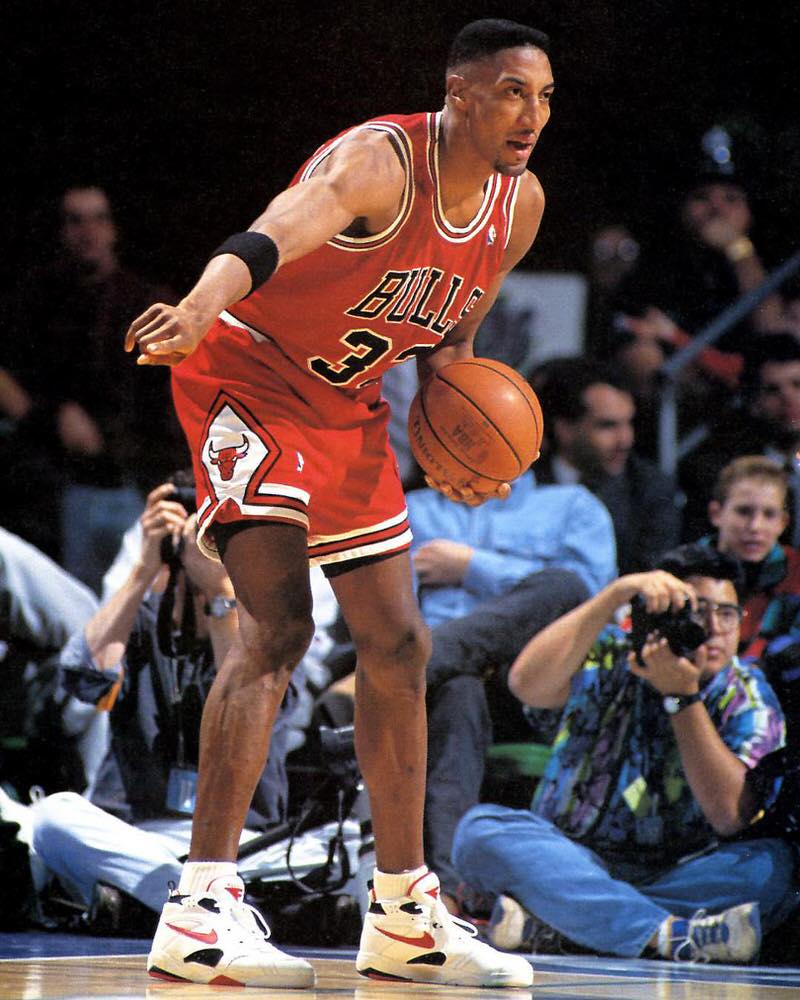 During the 92/93 season, Scottie once again opted for the Huarache touch, wearing both the Dynamic Flight and Air Maestro throughout the season and playoffs including during his spectacular triple-double performance of 15 points, 12 rebounds and 12 assists en route to a Bulls' win Game 2 of the 1993 NBA Finals against the Phoenix Suns. Originally designed by Tracy Teague, the Air Maestro was the successor to the Air Solo Flight and Air Flight Lite, serving as a blueprint and precursor for modern-day basketball footwear.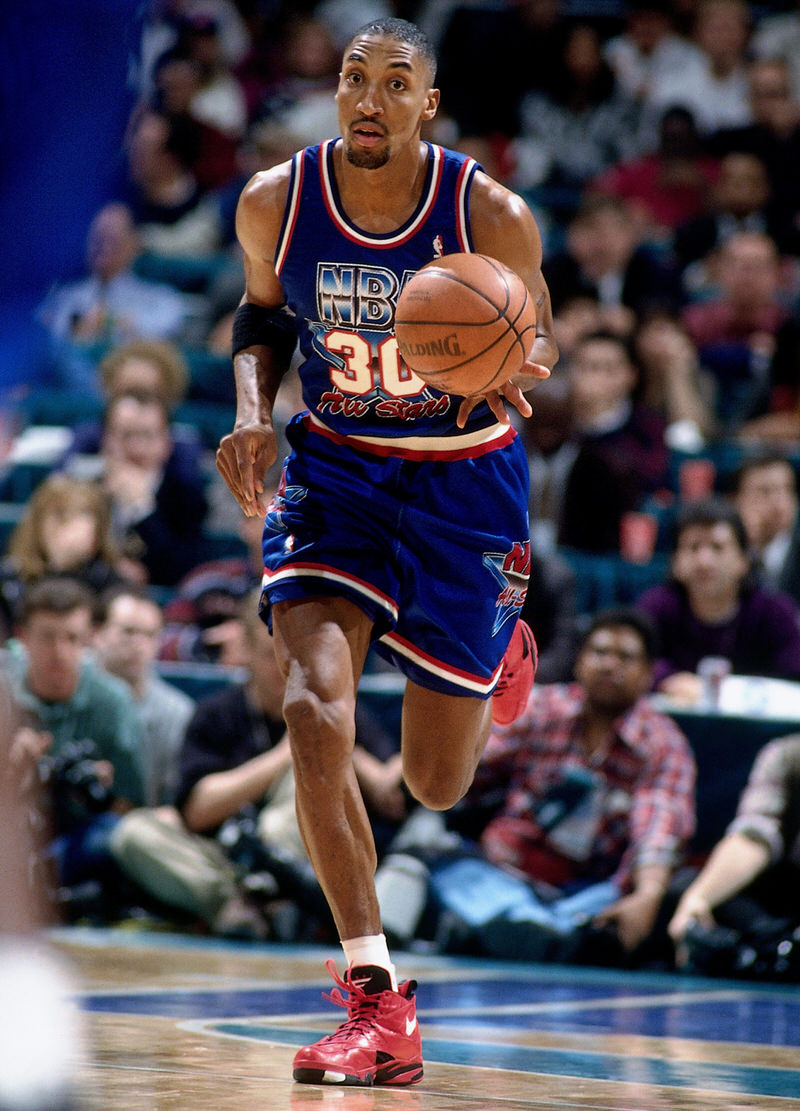 The following year, Pippen wore the Air Maestro I throughout the regular season; however, during the 1994 NBA All-Star Game in Minneapolis, Scottie captivated the basketball world and broke necks when he broke out an all-red pair of the Maestro II, a bold and unconventional move at the time. A performance gem, the Maestro made an indelible and immediate impact via its Durabuck upper, lightweight Phylon midsole, inner-boot, galactic-inspired tread, heel air sole cushioning, and revamped Flight logo created by Nike graphic designer, Drake Hamberg, design elements and cues which evoke nostalgia for the greatest sports and sneaker era ever. Earlier this year, Nike retroed the Maestro II as a quickstrike release under the "Champions Think 16" collection using high-quality materials and construction with near-correct OG color blocking which was met with praise, illustrating both Pippen and the Maestro's effect, allure, and influence on modern-day sneaker culture.
In the '94 postseason, Scottie rocked the Air Swift in a white/black/red Bulls colorway. Pippen then wrote the word "4PEAT" in black marker along the lateral aspect of each shoe as an ode to his quest for a fourth ring. His epic dunk and stare-down over Ewing in Game 6 of the Eastern Conference Semifinals remain a timeless and defining moment in his evolution and ultimate legacy to this day.
As the Bulls entered the 94/95 NBA season, their 2nd consecutive season without Jordan, Scottie served as the team's de facto leader. The reigning NBA All-Star MVP, Scottie helped lead the Bulls to a respectable 47-35 record – the Bulls' worst regular season record in the Phil Jackson era – while wearing the Nike Air Uptempo and Nike Air Up, whose custom pairs featured Chicago Bulls colors and his #33 on the heel.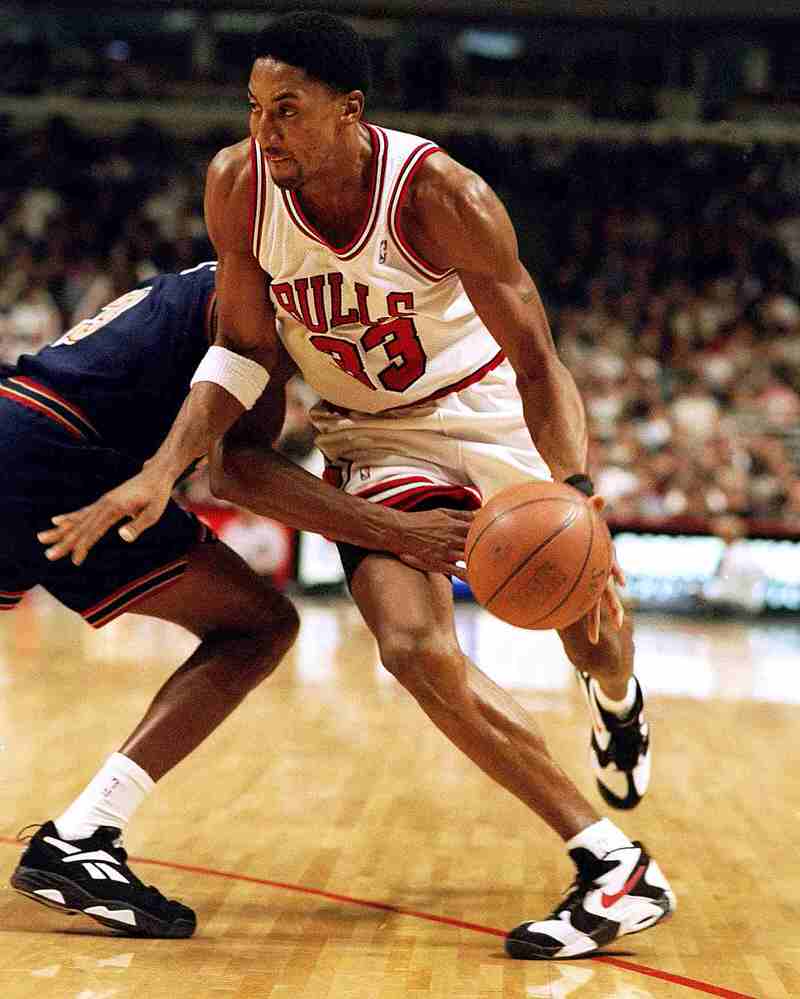 Moving ahead, Pippen began the 95/96 season wearing the Nike Air Way Up, a quintessential, classic mid-90s takedown sneaker which offered a comfortable, lightweight design with adequate heel cushioning, seen on foot by many NBA players throughout the league and became one of the premiere team hoops sneakers of the season. Scottie then went for more air, both literally and figuratively, as the Bulls notched a then-NBA record 72-win season en route to their 4th NBA Championship. Scottie abandoned encapsulated air for maximum cushioning and protection and wore the iconic Nike Air Max Uptempo during the 1996 NBA All-Star Game in San Antonio in a basic black/white colorway, followed by the legendary Nike Air More Uptempo during the playoffs and NBA Finals against the Seattle SuperSonics. Designed by Wilson Smith, the Air More Uptempo was highly significant in the evolution of Nike basketball as it served as the first Nike basketball shoe to feature a full-length visible Air Max unit with dual-pressure chamber Max2 heel air unit and the word "AIR" on both sides of the sneaker in large graffiti-style font, a detail which remains an everlasting image for older sneakerheads and Pippen enthusiasts to this day.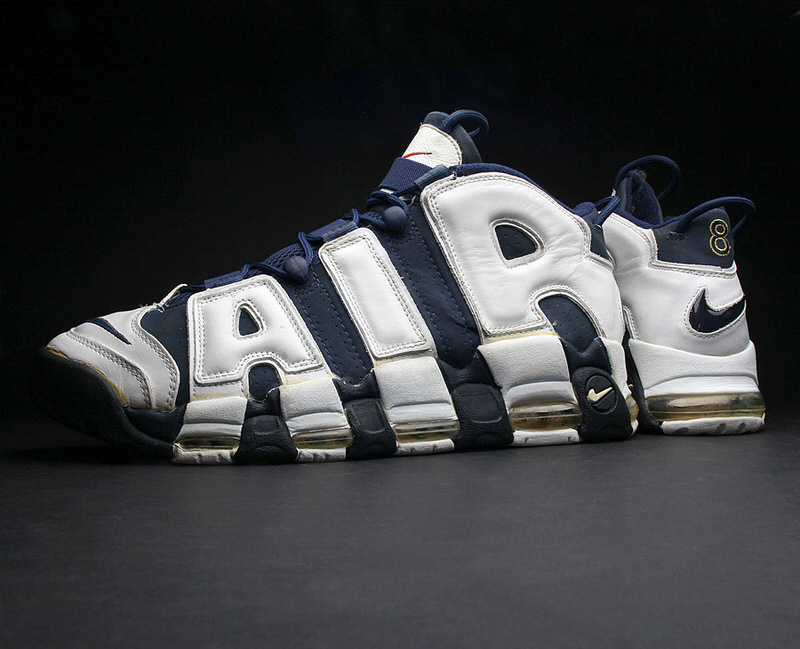 Scottie sported a white/blue/gold colorway during the 1996 Olympics in Atlanta, a pair which also featured his #8. A predominantly white colorway, as well as a black/white-chile red Chicago Bulls makeup, were also produced in the original model's run, the latter of which has yet to receive the retro treatment and remains a grail among Pippen and basketball collectors today.
At the start of the 96/97 season, Pippen had fully established himself as one of the game's premier players. Considered arguably the game's best sidekick and a player who proved he could carry and lead a team on his own accord, Pippen uncharacteristically lacked his very own signature sneaker. Scottie began the season sporting the Air Max Uptempo 3 which featured a full-length visible Air Max unit in a Bulls-inspired colorway.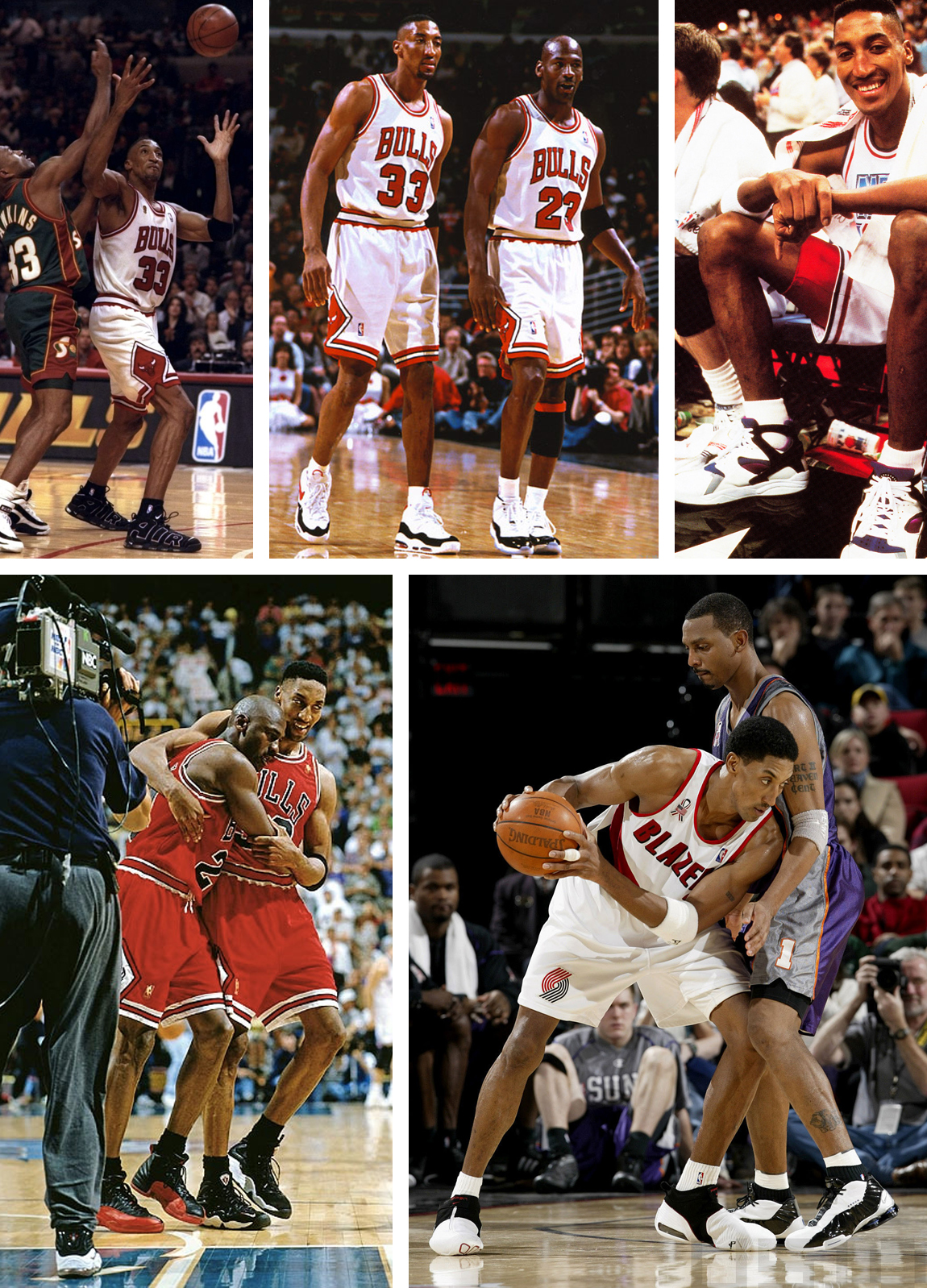 Then, in 1997, Scottie was finally given the signature treatment with the debut of the Nike Air Pippen. Ranked by Complex in April 2012 as the 23rd Greatest Nike signature basketball shoe of all-time, the Air Pippen remains a silhouette that strongly resonates in the hearts, minds, and "soles" of NBA, Chicago Bulls, and Nike basketball enthusiasts. Scottie wore this model throughout the 96/97 NBA regular season and postseason including during Game 5 of the 1997 NBA Finals also known as "The Flu Game" in honor of Jordan's 38-point performance en route to a Bulls win while battling flu-like symptoms. The image of Scottie wearing his Air Pippen PE helping an ill-ridden MJ off the floor will remain as one of the most unforgettable and iconic NBA Finals moments in history. While the general release model featured a full-length Phylon midsole and visible Air Max unit, Scottie's player sample version did not feature Air Max technology. Instead, Scottie elected to wear a modified version of the sneaker which featured an encapsulated full-length Zoom Air unit which reduced weight. Scottie would go on to wear the Pippen II, Pippen III, Air Hype Uptempo, and others in subsequent years; however, the aforementioned silhouettes remain some of the most iconic and memorable releases during the 90s Nike basketball era.
Scottie once said the following: "Sometimes a player's greatest challenge is coming to grips with his role on the team." How poignant and astute a statement, a testament to both his superb basketball IQ, excellent court vision, and above all, his maturity and commitment to the game and his team, a sentiment, statement, and mentality players of today's generation would do well to adopt.
Pippen truly was much more than a sidekick. At his prime, Pippen was an MVP-level player in his own right. Moreover, Pip will be remembered for his career accomplishments, but also, from a greater cultural and sports fashion perspective, through his signature sneaker line, an iconic player who finally received his respect due. A ballplayer's ballplayer, Scottie is, for all intents and purposes, unapologetically and unequivocally unlike Mike, and that's absolutely quite alright.
Dynamic Flight #33 PE pictures courtesy of @prostartsports