For far too long, sneakers have been an exclusive members-only club, marked with a sign that says, "No girls allowed." Whether it's cutting women out through limited size runs, dull designs, or makeshift materials, the sneaker industry hasn't been the most welcoming to women, and Sarah Sukumaran is here to change that.
After getting recruited by Nike to fulfill the role of Director of Product in Analytics, Sukumaran was able to see for herself how women are out-shopping their male counterparts by monumental numbers. With this data in mind, Sukumaran began to look around and wonder why the market didn't represent its biggest audience. As a longtime sneakerhead herself, she felt frustrated that the sneaker industry has constantly felt this way, and being able to see behind the scenes confirmed what she had always known – women want sneakers.
Sukumaran continued to work for Nike for 2 years, doing everything she could to mature at the company and cultivate opportunities for herself. Even though she was happy to be working for the brand that created some of her all-time favorites like the Nike Uptempo and the Nike Air Max 95, she couldn't help but feel like this opportunity wasn't enough for her. It didn't fulfill her ambitions and she felt that her love for sneakers could be more satisfied.
Since 2015, Sukumaran had dreamed of creating a sneaker brand that not only represented her, but represented the other women and femmes around her that so badly wanted more from the sneaker industry. Even though she didn't have the resources to get started right away, Sukumaran didn't give up on her dream and began conceptualizing the brand that would later become Lilith NYC.
Lilith NYC is a woman-owned sneaker brand based in Queens that aims to uplift femmes and underrepresented folks within the sneaker community. Named after Adam's lesser known wife, Lilith was the original bad girl that spoke her mind, broke all the rules, and was banished from the Garden of Eden because of it. Sukumaran connected with Lilith's independent spirit, and felt that her story being erased from history is something that a lot of women could relate to.
As Sukumaran began the creative process, she knew that she wanted to hire a team of women and give femme professionals opportunities, which are often scarce in the sneaker industry, despite the fact that they're highly coveted. Sukumaran got connected with ex-Yeezy designer, Sara Jaramillo, who has an expansive list of experience in footwear design. Together, Sarah and Sara, dived into the ethos of Lilith NYC and created the Caudal Lure sneaker.
Get to know the story of Lilith NYC as we talk to founder Sarah Sukumaran about the sneaker culture in Queens, the influence of Tamil, starting a business during a global pandemic, and championing representation in the sneaker industry.
Nice Kicks: What made you interested in sneakers?
Sarah Sukumaran: "I always say this, but I feel like growing up in the '90s in Queens, it was almost a given to be into sneakers – whether you liked it or not. Everywhere you went, you had fresh kicks. The '90s was also the height of the NBA. You had Pippen, you had Jordan, you were watching the games, you were watching the Bulls, even if you were from New York. It was so inherent in our culture, and with that went sneakers. So for me, I would say around the time I was 8-years-old, hanging out with a lot of guy friends, seeing what they were wearing. I also had a bit of a growth spurt at the time where I couldn't wear, or wasn't loving the women's section. So I would just naturally gravitate to the men's. That's kind of how it started, just hanging out on basketball courts or hanging out on handball courts. I always say Queens culture is sneaker culture. It's just something that's so inherent in the way we were growing up at the time. I think also going to Catholic school, you had one day where you could show up in your kicks. It was that one day of the week where you could flex to everybody."
What were some of the first sneakers that you were interested in?
"So I recently posted this photo, I think I was around eight. It was probably '95. I was wearing the Nike Air Way Up basketball shoe. I am not athletic. I do not play basketball. I am incapable, but I always gravitated to basketball shoes. I think it's because the guys wore them, and so I kind of wanted to fit in. It was a little bit more masculine. Then over time, the Air Max Plus and Air Max 95 were my go-to's. I always wanted the Foamposites, and the Uptempos, but my parents weren't buying it for me. They were like, 'No,' but those were definitely the sneakers I was interested in. Even today, I have Jordan 1s now, but I was never a Jordan fan, so I don't collect Jordans at all. I have a lot of Air Max Pluses and 95s."
What do you look for in a sneaker?
"It's the colorway for me. I always went with something gender neutral. That's why I always love New Balance too, because they always do these beautiful tinted greens and dark gray. I kind of like dad vibes I guess. They come through in the suede and the material. That's the other thing too, as a young girl, the girls' versions were always so cheap. They would use plastic versus fancier material, or wouldn't use leather. So for me, it's like looking at the materials that go into it, like a nice supple suede or things like that."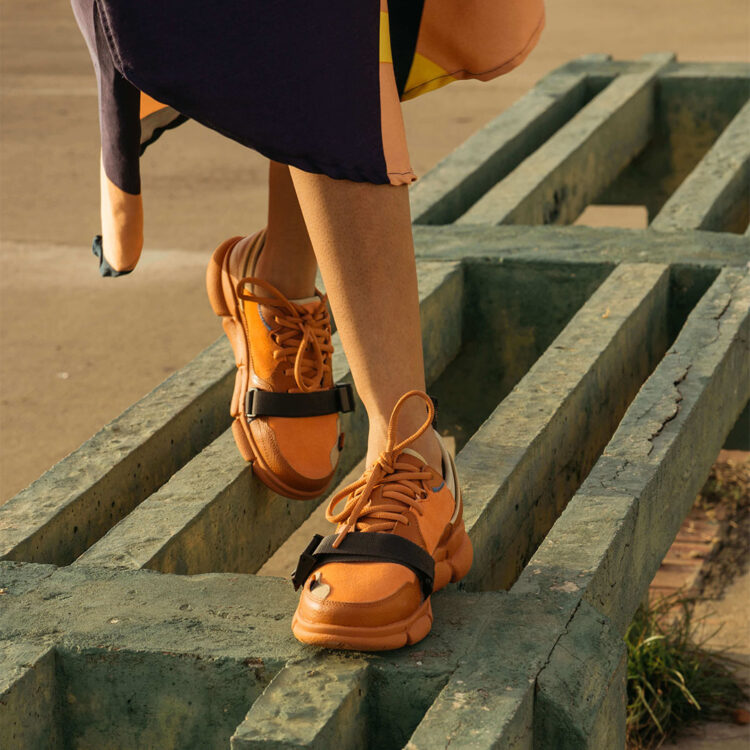 As far as sneaker culture goes, how do you make sense of the obsession? What is it about sneakers that make them so fascinating compared to other footwear or clothing options?
"I think for me, I was always an introvert, and the way I express my personality is through two things – footwear and outerwear. I always have a loud coat. Whether it's a technical shell, or a really nice trench coat and shoes. That's how I express my personality and how you know my mood for the day. I still don't understand the obsession with all of us. I watched this series, it was Lena Waithe's series on Quibi, and she said that we collect sneakers because we have trauma. We might not have been the cool kid or something, and now we need to collect every shoe, and it's so true. There's definitely trauma. It's a great episode and she's calling us out, but it's all true. The series was so dope. She did a great job with it and she talks to a bunch of sneakerheads about why they collect, but it all comes down to some trauma that we had."
What led you to Nike? Was it a company you always wanted to work for?
"It wasn't. I had a background in tech. I studied business management and then went down this kind of technical path with careers. I was at a German company, this large enterprise, and I was working on eCommerce analytics for them. Nike at the time had done an acquisition of a company called Zodiac in 2018. It's a predictive analytics company. They needed a head of product, and that's what I do. I basically work in product management, which means we design the software, we design a mobile app, it can be anything. Any sort of product in our world means like an application, whether it's a website, an app, software, analytics, et cetera. So Nike wanted to basically redesign this product that they had just acquired and they needed someone to lead that, so that's actually what led me there. I thought it was dope. It was an opportunity to work and bring my passion for footwear alongside working in tech. So that's actually how I ended up there. They reached out to me. I didn't even apply."
At what moment did you know that you wanted to start Lilith NYC?
"It was a few things over the years. The shopping experience is horrendous for [women]. Growing up, I would literally go to the Foot Locker or Foot Action, Athlete's Foot, Finish Line – all these different stores. Sometimes I'd go to Jersey to go to these stores, and you'd be able to walk in and go to the men's section. That was what my usual experience was. Then once everyone went digital, you would have to search for your size and colorways. It was so hard to shop. So in 2015, I was working at a startup and my boss, who was the CEO, we would share a desk. I had two screens up. One was for shopping when I was doing it all, because I worked in eCommerce, and the other screen was for the other work that I was doing. And he'd be like, 'What are you trying to buy?' And I'm like, 'I'm trying to buy sneakers, but I can't find any.' So I was at the time thinking, how do we build something that accommodates? It's like an aggregation site. Which you can narrow down by colorway, or you can narrow down by size, or narrow down by brand. In 2015, that was not there. You were going to every independent boutique site hoping you hit on whatever shoe. So that was the idea. And part of that struggle too is because, as you know, most shoes drop in a men's 7, which is a women's [8.5]. There's a whole bunch of us there in the small size and the large size, so we never even get a chance to get a high heat. We have to go grade school sizing. I'm not in the resale business, but grade school sizing doesn't have the same resale value. In my mind, you're already cutting women out of that opportunity, of cashing out the way men do, because they're trying to resell grade school sizing that no one wants. I had a bunch of issues at the time with just everything, but we were in the middle of an acquisition ourselves, and so I tabled it. I bought the domain and I sat on the Instagram handles and Twitter handles. I was like screw it. I don't have the money to do this. At the time, I think to land a Nike account, you had to also have a physical retail presence, which means you need to buy inventory, and I didn't have the money for that at the time. So, pipe dream. I just put it aside and carried on. I went on to that German company and spent three years there, then Nike reached out."
How were you able to start Lilith NYC?
"I was spending time with Nike and the platform I was working on basically predicts future cash flow for Nike. If we have your history of data, we can predict [how much you'll spend.] There's data out there, from different reports, that women were outspending men in the last couple of years, in sneakers. Not only do we shop for ourselves, but we're shopping for our partners, or our kids. We have the disposable income, but I just felt like all around, whether it was from the footwear itself, or the shopping experience, we were not talking to women just by having a women's business. I think I was almost two years into the job, and I was like, I know that I'm going to wake up with regret if I don't start this business today. I just want to do something. If it fails – it fails. If it's successful – it's successful. But I knew that I [had to] because I was reading all these other companies doing something in the space, and you know that feeling you get when you have that regret. So I was like, I just need to do it. And I stupidly quit [Nike] right before the pandemic. I didn't know. I quit in February, gave them four weeks notice, and then March rolls around, and they announced the pandemic, so that's how it got started."
How did launching during a global pandemic affect the startup process for you?
"I'm someone who worked in tech my whole life, and so working remotely is so normal to me. I used to go into the office twice a week, work remotely three times a week, and that's the norm for us in the tech world. So it wasn't any different there, but it definitely slowed down everything. I probably should have had samples a lot quicker. We were looking at China at first, then China went offline completely. Then we were in Portugal and Portugal went offline when they got hit with COVID really bad. Then we were back in China. It was a logistical nightmare, but also Sara, my footwear designer, she's in Colombia, and she couldn't travel to New York. Everything that we did is sometimes better to do over a table, like touch materials and look at designs together. We did that all remotely, so it was definitely challenging and probably slowed down the process a lot more."
How would you describe Lilith NYC's style?
"I always wanted for people to feel seen. I felt that in so much of legacy footwear, it was always male athletes, or white athletes. Growing up in Queens, we're brown, Black, Asian, and I never see those folks in ads, period. It was very intentional that even the models that we used, there's not a single white model in our shoes. It was very intentional so that people who grew up in Queens would see themselves in the ads because those are the folks who drive sneaker culture. They're the folks who spend on speakers, but they're so often overlooked when it comes to imagery. I think we're seeing a shift with some of the major brands and how that's positioned, but I wanted to be very intentional about that, and also tell the stories of the models. We share their background and their stories. Some folks have connections to sneakers, others don't, but they have very strong ties to Queens, which I wanted to emphasize."
Besides growing up in Queens, I know your Tamil heritage is a huge influence in your life. What are some Tamil highlights that inspire Lilith NYC?
"My ethnicity is Tamil. I'm from the island of Sri Lanka, but I just say Tamil because I don't identify with the state, it's political. Tamil is the culture and then Sri Lanka is the actual Island I'm from. It's confusing because there's also Tamil Nadu, which is in India, which is its own state. They also speak Tamil and have Tamil culture, but I'm from an island, so it's a little bit different. I'm a foodie, so I always say the food is something I'm inspired by, and something I always crave. I think the other thing too is island culture. I think it's a reminder to move a little slower. I was born and raised in New York, and we move at lightning speed, and we forget to kind of just take things in. Something I realized that I think I borrow from is the storytelling. I think Tamil as a language is so lyrical. It's so beautiful. There's a lot of double entendres, like double meanings in words, in what we say, and the poetry. We do a little bit of that storytelling through our branding. We're not trying to be super over-handed with it, but I think a lot of that is inspired from how Tamil storytelling is done. Whether or not folks pick it up, I'm not sure, but that's a lot of what goes into the branding for us, to do some deeper storytelling, but also not being so direct about it, and letting people sit with it, and kind of be inspired by the imagery, and be inspired by the stories on Instagram."
What's your favorite Tamil dish?
"I would say idiyappam, which is like kind of a rice flour, noodle kind of thing. It's steamed and I love it with chicken curry and sambol, which is made out of coconut and spices. It's really spicy. I would say that's my go to meal."
How did you get introduced to Sara Jaramillo?
"So actually, I was introduced to Jeff Henderson, who had a long career at Nike. He has a creative agency in New York, in Harlem, and he was actually who I was thinking about working with for the designs. He was also ex-Yeezy, and he heard the project, saw that I was wanting to work with women, thought that was super dope, and was like, 'Hey, you should really work with Sara. She's really great at what she does.' Sara is amazing. She's worked on high heels, she's also worked on footwear with Yeezy. She's a footwear designer for a company called ILYSM, where she does like the Tabi shoe. She's really talented. So that's actually how we got connected."
What's the working relationship like between Sarah and Sara? How do you guys create your magic together?
"I would say it's interesting. I don't have a background in footwear development. I thought it was going to be super simple, like let's get to tech-pack in 6 weeks, and that's not the case. I think Sara did a really great job of digging deep into the storytelling, because at the same time we were running brand development. [We were asking ourselves,] what is the ethos of the brand? I think that was an interesting thing because Sara and Jeff, at the time, had only ever worked on pre-existing companies. They worked with Cole Haan, they worked with Nike, they worked with adidas, and with Yeezy – so you're not working on brand development. [We had] this new concept brand that we were trying to figure out. It's a little more elevated, it's a little more premium. We want to focus on women and femmes. So at the same time as working on the product, we're also kind of figuring out if this in-line with what we're doing on the brand side. Luckily, those two tracks were happening at the same time. We had weekly meetings where it was a lot of vision board, mood-boarding, finding out what inspired me, especially in the early days of my sneaker obsession growing up in Queens, and Queens nostalgia. Also kind of like marrying the tropical modernism influence in Sri Lanka, which is a type of architectural style, which was pioneered by a woman, and it got erased. She's not attributed to it. So all of these different things, we were like, 'How do we pass this through footwear?' So every week, Sara would show up with a PDF deck with different inspirations. Whether it was like food carts, like the taco trucks in Queens, under the seven train. No one's seen this, but we literally have shoes designed based on that aesthetic, or just like culture. I grew up in a Catholic household, and so religious iconography in Queens is something in the communities that lives here that's pretty strong, and so she had a deck based on that. We had so many different inspirations that we went through, before landing on what we did. She was incredibly thoughtful about that."
Why did you guys decide to go with Vibram soles?
"The cost of making your own soles and opening up a mold is insanely expensive – that's one. Two, I think this comes from my tech background, like why reinvent the wheel? People are always like, 'Oh, I need to make a big splash and create my own thing.' Which I'm guilty of too. In the beginning, I thought maybe that's what I would do, but I realized that there's such great performance tooling out there, that women haven't even been exposed to. Vibram as a brand, if you were to talk like 50 people, most of the men will know what a Vibram sole is because they see them on their hiking boots, or they see them on some of the releases that are done for them, but you'll never see it on a woman's shoe. I think Lilith is actually one of a couple of brands that actually are women-owned that work with Vibram. I really wanted to introduce a high level of performance into lifestyle shoes, that for so long has been stripped out. I remember as a kid, the women's version wouldn't even have the airbag in the midsole because they didn't think we were paying attention. Even if you go look at grade school sizing shoes, and that makes sense for grade school sizing, because kids are growing, they're turning out of their shoes. But if you're telling women to go shop in the grade school sizing, then you're saying, 'Hey, women, you don't need the airbag in the midsole.' So for me, we were told to compromise for so long. So I really wanted to finally introduce women to the performance that men were enjoying. Women spend more time on our feet anyways. The Vibram soles are incredible. The sole that we use, it's a high abrasion EVA sole. I wear my shoes like beaters and there's no wear on the sole."
What are some missed opportunities that the footwear industry isn't presenting to female creatives?
"The biggest issue when you go to these existing companies is that the jobs aren't there. In footwear, there's a big change. There are tons more women footwear designers, but are they in decision-making positions? The problem is so many of these people who hold high C-suite positions, decision-making positions, are older white men. They stay 20, 25, 30 years. You even see that when they retire, there's notifications that go out because they're finally leaving, but you're not creating new jobs for people. Whether they're women, whether they're Black, whether they're non-Black POC – we're not really opening new doors. So until someone retires, until someone quits, you're kind of sitting by the sidelines hoping there's a turn. So for me, I think the missed opportunity is not creating new opportunities, but also not labeling them as diversity hires. As soon as you put the diversity hire label on, your white peers think that you're less than, and that you're there to fill a quota, and they don't take your ideas seriously. That language is used pervasively in the industry, which I get. I understand it. But you're not doing a service to all of those people who show up every day, and then their peer, who is white, is like, 'Oh, you're here because you were a diversity hire.' That happens to women, and that happens to Black folks, and it happens to non-Black POC."
As a woman, do you feel like being loud and shaking tables is the only way through? How can women put themselves in high power positions?
"I don't think it's the only way through, but some days it feels like it's the only way to get noticed. I think that there needs to be deeper conversations at these companies to bring up women and to proactively have them included in conversations. I had a manager at Nike, he was like, 'Hey, I can't make this meeting. I think you should go to this meeting because it gives you exposure to C-suite.' Which I would have never had. It didn't work out for whatever reason, but he made sure that because he couldn't attend, that he presented that opportunity to me. So I think it's also important for allies in the companies to make sure that women aren't having to do this on their own. That there are structural changes happening behind the scenes, not just Women's History Month. There has to be structural changes, and those structural changes need to come with new jobs where women can sit alongside those men."
How can women protect their stories and make sure that their history isn't lost along the way?
"I think something I've struggled with is sharing your achievements. I think we often naturally just shy away from tooting our own horn, but I think when you build the right community around you, they'll toot your horn for you. Something that's been so special to see, even just with footwear, is that the men have been super supportive, even women, but the men have shown up. I can't complain. Just being as an independent brand now, we've gotten incredible support from the sneaker community as a whole. So I think just tooting your own horn, first and foremost. Then building that community, who will always show up for you and also raise your name in conversations when you're not in the room is super key. Also, no gatekeeping."
What's the ultimate goal for Lilith NYC and how do you plan on getting there?
"I think people always say that the natural play is to go into becoming a lifestyle brand, where you have clothing and all that, but I think there's so much to do in footwear, that I just want to explore that a little more intensely over the next couple of years. There's such a gap in the market. Obviously we'll have clothing and stuff, but I think that to me, at least for now, it's not the focal point. It's doubling-down on footwear needs for women and femmes."
—
All photos provided by Lilith NYC.