Practice makes perfect.
Today's Throwback Thursday pays tribute to a sneaker that guided Reebok into the new millennium, a performance model with street credibility worn by one of the most polarizing yet enduring NBA players of all time: Allen Iverson and his 2002 Reebok Answer 5.
An NBA Hall of Famer, 2000-2001 NBA MVP, 11X NBA All-Star, 2X NBA All-Star Game MVP, 4X NBA scoring champion, and 1996-1997 NBA Rookie of the Year, Iverson's resume and list of accomplishments is nothing short of remarkable. His true legacy, however, transcends basketball and sport, as Iverson remains one of the most iconic, controversial, influential, and transformative athletes not only of his generation but in history.
Iverson was a freak of nature who stood barely 6 feet tall and who harbored an imposing will, drive, and desire to succeed. Viewed by many including Larry Bird and LeBron James as "pound-for-pound probably the greatest player who ever played," and a "certified killer" according to Russell Westbrook, who also said "reminds me a lot of me," Iverson was a hard-working player, who had time and again overcome obstacles, challenges, and doubters throughout his life.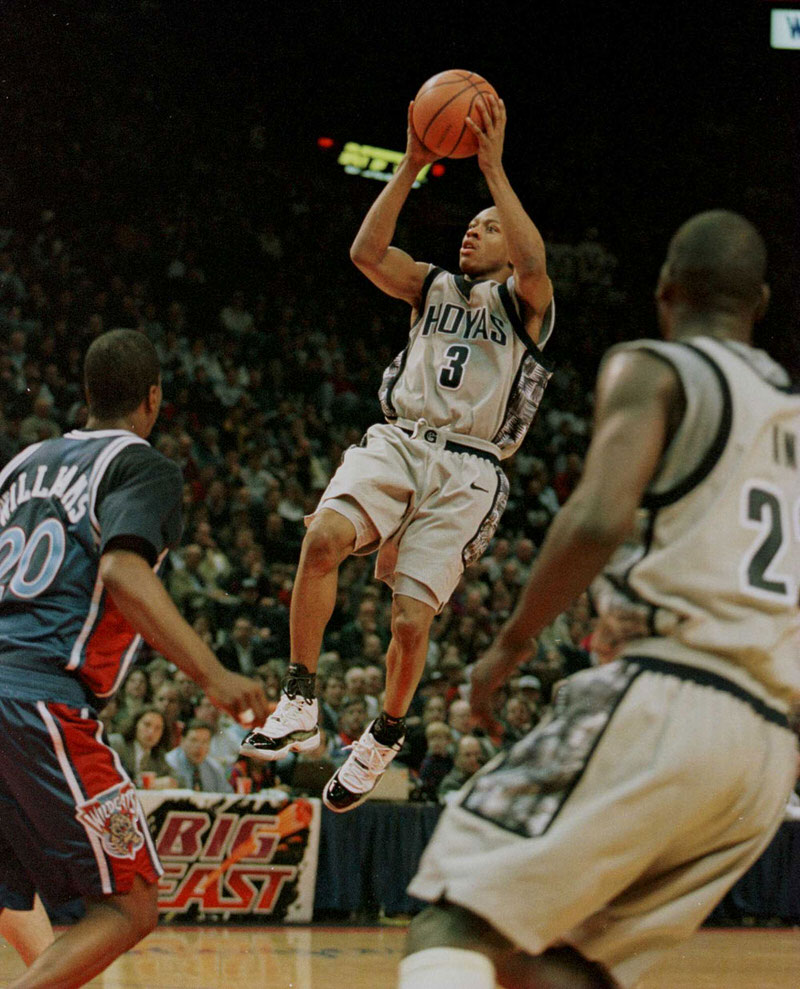 Originally from Newport News, Virginia, AI led Bethel High School to two state championships in both basketball and football as a two-sport athlete. He brought his blue-collar Chesapeake Bay mentality and talent to Georgetown University where he became one of the most prolific scorers in school history, playing for one of the most legendary college coaches of all time, John Thompson.
Following two remarkable college seasons in DC, AI entered the NBA Draft where he was selected #1 overall by the team from the City of Brotherly Love. In time, a winning culture returned to the once proud franchise that had fallen upon tough times following the trade of Charles Barkley several years prior.
Enter The Answer, Allen Iverson, the original process of the Philadelphia 76ers.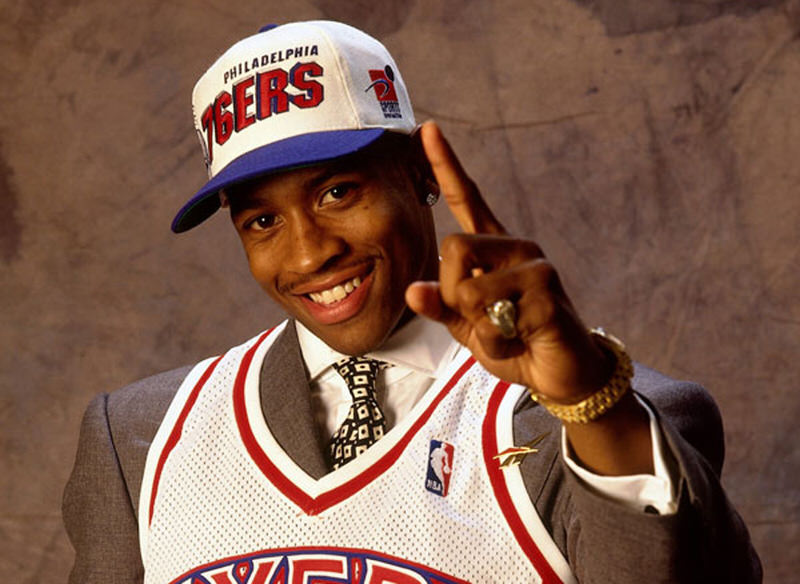 AI made a name for himself by virtue of his uncanny scoring ability particularly in light of his small stature and big heart. He was one of the first players to bring the element of street basketball onto the hardwood, whose game closely resembled that of the original crossover king of the early 90s – Tim Hardaway – by virtue of his many forays to the rim amid a land of giants.
While viewed as selfish during the early part of his career, his commitment and desire for winning served as a true testament to his proud work ethic despite his aversion to occasional team practices. Nevertheless, his reputation and output on the hardwood, in addition to his pioneering, trendsetting, and timeless fashion sense off the court not only resulted in NBA rule changes, but have withstood the test of time and helped pave the way for many of today's fashion trends.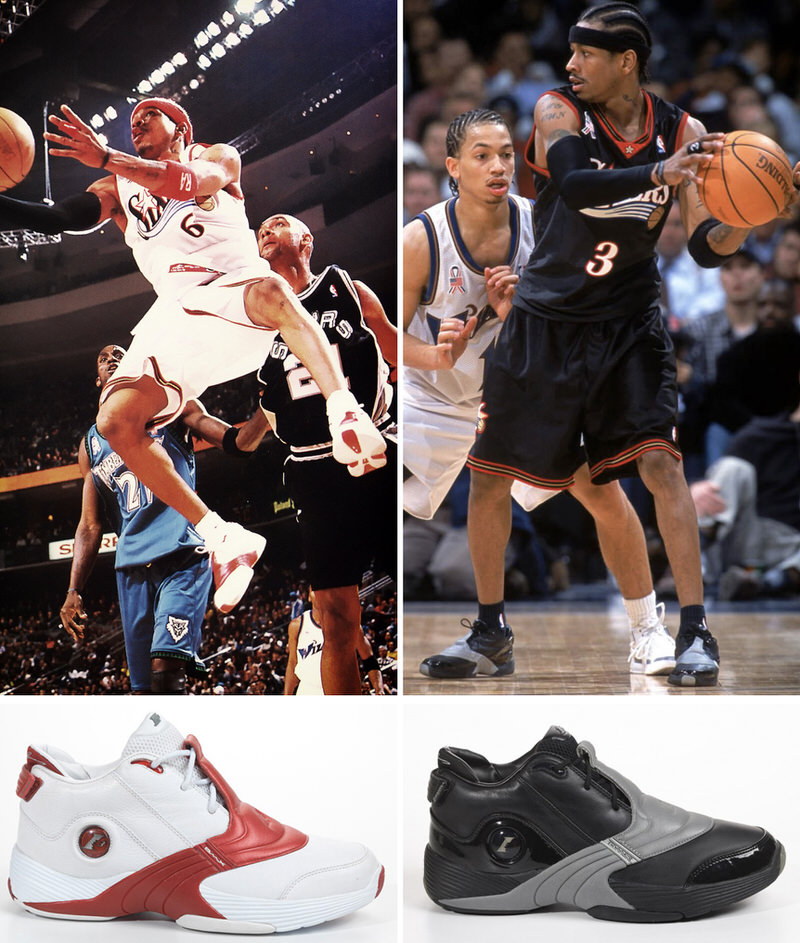 The Answer 5 followed in the wake of AI's impressive MVP season which saw him lead the 76ers to the top of the Eastern Conference and an NBA Finals berth, one of the most popular and memorable NBA Finals series in the new millennium. As such, the fifth edition in the Reebok Iverson collection had big shoes to fill, literally. How fitting a task and challenge for one of the smallest and most fearless players in the game, a transformative player unafraid of physical contact, who time and again played every game as if it were his last.
Released in 2001, the Answer 5 featured Reebok's patented DMX I-Pak and Ultralight technology, perfect for a player whose game is built on speed and quickness. Weighing just 13.5 ounces, the A5 featured a leather upper and hook-and-loop heel strap for a custom, lockdown fit around the foot. Iverson wore the Answer 5 throughout the 2001-2002 NBA season in multiple colorways including most notably at the 2002 All-Star Game in Philadelphia, where he played in front of his hometown fans while wearing a white/red colorway and a #6 jersey as a tribute to 76ers legend, Julius Erving.
That same year, Reebok created a stylish streetball commercial featuring both AI and Jadakiss who dropped bars on both AI and his sneaker, presenting the A5 sneaker as both a performance silhouette and as a lifestyle and street culture statement piece as well, literally crossing over and bridging the gap between sport, music, and street culture, much like the player for which the pair was designed.
Iverson once said, "I want my legacy to be the guy that came out and gave everything he had. The whole 165 pounds, 6-foot frame. Everything he had. I don't want to be Jordan, or Magic, or Isiah, or any of those guys. When my career is over, I want to be able to look in the mirror and say I did it my way." That he most certainly did, a small-sized player with a big heart, Virginia's very own, who had his flaws and shortcomings yet remained true to himself and defined his success and image on his own terms, a global sports icon who influenced an entire generation of ballers and basketball fans from around the world.
All questions have been answered.
Rumors have ben swirling of more Reebok Answers returning. Stay in the loop with all upcoming Allen Iverson retro releases by checking the Reebok release dates calendar.