words & interview // Nick DePaula:
Every young player has a superstar they idolize, pattern their game after and look to emulate. Whether it's a hairstyle, approach on the court or even wearing their signature sneakers, trying to mold your game after the league's most accomplished stars is nothing new.
For LA native DeMar DeRozan, that player was unmistakably Kobe Bryant.
As the Raptors' four-time All-Star has now reached the heights of the league himself, he's done so literally in Bryant's footsteps along the way. He's worn literally every model from Kobe's line throughout his career, from the Huaraches and first three Zoom Kobes while at Compton High School, to the Kobe IV during his lone season at USC and a lengthy list of pairs later on with Toronto.
For the past several seasons, Nike has looked to DeMar to help carry the torch in a sense, building custom PEs of the Kobe AD series for the scoring 2. With Bryant's namesake series now undergoing a "Protro" revamp, you can look for him to once again be breaking out a variety of his own personal pairs.
Nice Kicks recently caught up with DeRozan to discuss his latest batch of player exclusives from Nike, where he stores his stash of sneakers and his relationship with Kobe over the years.
Nick DePaula: As you were growing up in LA, what are some of your earliest memories of Kobe?
DeMar DeRozan: Seeing him get drafted, being bald headed, and then having the fro and every accomplishment that came with it. For me being a Laker fan, back when they played at The Forum, was the greatest thing in LA. To be able to go watch the Lakers play at The Forum are my first memories.
NDP: What kinds of things did you learn from his footwork, post game and style of play over the years as you started to develop yourown game?
DD: It was everything. I used to grow a fro out when I was young, cause he had the fro. [laughs] As a kid, we all gravitate to some player that you try to imitate or be like, and Kobe was definitely that.
NDP: You've been with Nike your entire career, what was the first Kobe shoe you played in and do you have any early favorites?
DD: The Huaraches were the first, but for sure my favorites are the 1s. It's pretty cool to see them be re-released and come back out and see the response that they're getting from people.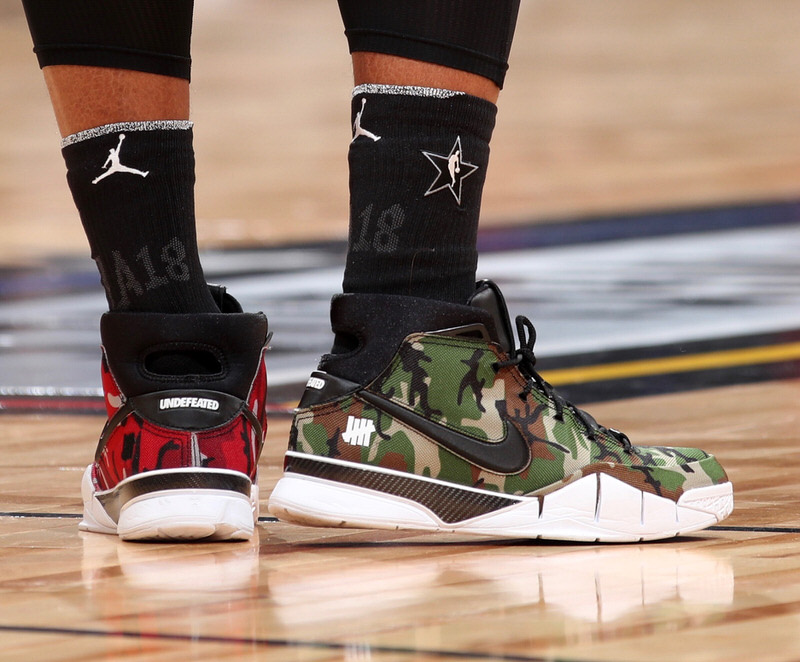 NDP: As a guy that's played in Retro Jordans, Foams and a bunch of Retro stuff, what'd you think of Nike's plan to update and upgrade the original Kobe models with the Protro concept?
DD: I thought it was awesome. I thought it was about time. [laughs] I was always wondering what it'd take for them to start retroing [Kobes]. So many dope early-on Kobes haven't been re-released. I think it was the perfect time for them to be able to come back out, for a new generation to be able to adapt, and for the older crowd that understands, to get them too.
NDP: Of course, Kobe scored 81 back in '06 in the Kobe 1. What do you remember about that game?
DD: I remember it being an early game. I was sitting on my bed, just at home watching the game. I remember they were losing, and the game was really not all that interesting. [laughs] It was kind of dead in there, and it wasn't jumping like it normally was. That second half came around, and the next thing you know, I remember literally sitting on the edge of my bed watching every single shot. I was really tripping out, and wondering if I was playing a video game or something.

NDP: The last couple years, you'll wear the new AD one game, 8s the next and then break out a Kobe 11 – how do you decide what you're going to wear on a game-by-game basis?
DD: It's just however I'm feeling. I got a little place in the arena that I call my "vault." I have all types of shelves of shoes. Sometimes, I just tell my equipment manager to pick me a pair and surprise me. We have a routine now where sometimes he'll just pick out my shoes. It's pretty cool to have that selection of shoes, especially with it being my favorite brand of shoes.
NDP: How many pairs are in the vault?
DD: It's shelves. You gotta get a stepladder to get them. It's kind of ridiculous.
NDP: You have access to pretty much everything at Nike, but is there one pair of Kobes you've never been able to get?
DD: No. [laughs]
NDP: With Nike and Kobe really driving this idea of Protro, have you given much thought to what you would do to update some of the other Kobe models? Is there any one that sticks out that you'd like to see come back?
DD: I remember when the 3s came out, with the webbing and how they looked. At that time, it set the bar for a design. People used to look at how much those stood out, just by the design. The 3 is one of them shoes that really stood out, and I used to call them "The Spidermans."
NDP: If you had to pick one, what's your favorite Kobe model to play in?
DD: For some reason, I love the high-tops, the 9s. I go to them a lot. A lot of people wasn't really on the 9s like that.
NDP: I got so used to playing in Lows after the 4 and 5, that it was hard to go back.
DD: That's the weird thing for me too, because I'm always big on the Lows too. The 9, maybe because they stick out and how comfortable they are. People just wasn't on them like that, but that's still one of my favorites to go to now.
NDP: You had your own PE release of the 'Comp10' Kobe AD last season and now PEs of the 1 Protro – what's it like to be headlining this new Kobe Protro series?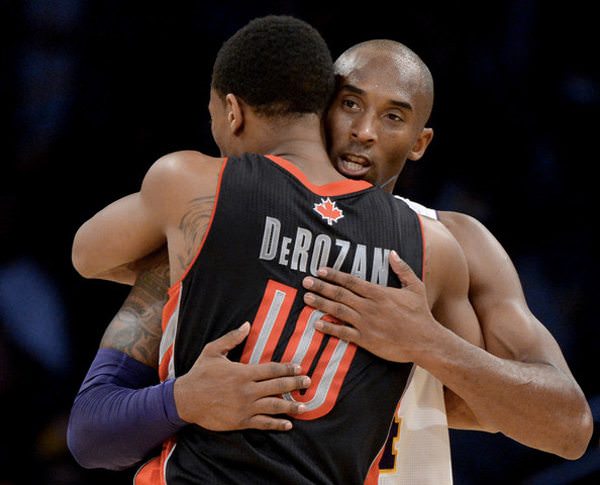 DD: Man… [pauses] Just you saying it, and every time that conversation comes up or I see a shoe months before they come out or I'm told an idea, it still trips me out. I grew up watching him and idolizing his game, then playing against him and playing in his last All-Star game with him. It's a shoe [series] I've worn my whole career. To have that really come full circle is definitely something I can't even put into words.
NDP: You mentioned playing against him in his last All-Star Game. Is there a moment that really sticks out for you on the court against him?
DD: We played in LA once, and we had the game won. He pulls off one of those crazy games and forced the game into overtime. He ended up winning the game and had like forty-something. That's one of those games – I remember every single shot he took, you could hear the crowd gasping while the ball was in the air, and you could hear the excitement as soon as it went through the net. It was one of the craziest atmospheres. You just saw him willing himself to the win.
NDP: Away from the game, is there anything he's helped you with advice wise? 
DD: Kob is kind of like the Bat Signal. If I need him, I just put the Bat Signal up. [laughs] He'll be there for sure. It's not one of those relationships where I abuse his time. When we have a conversation and talk about something, or something arises, the mutual respect is always there. Whenever we see eachother or do speak, it's definitely something that can last for a long time until I need him again.