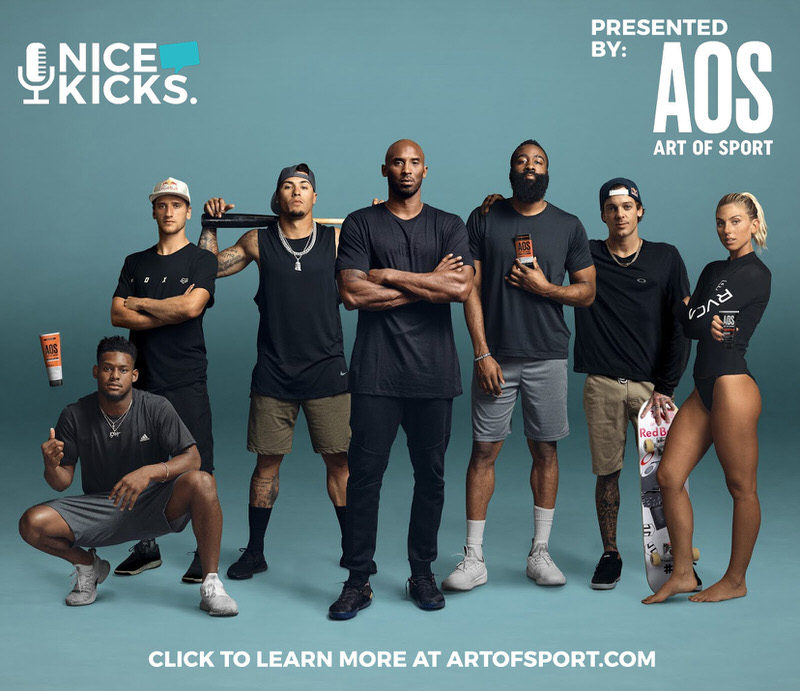 words // Nick DePaula
podcast production // Jade Hoye
portraits // Gabe Oshin
Last year represented a season of shifts for Kyrie Irving. Not only was he stepping into a new situation on the court during his first season with the Boston Celtics, he was also beginning a new relationship with his signature sneaker designer, as rising Nike Basketball designer Ben Nethongkome was handed the reigns after Leo Chang had shaped the first three sneakers of the series.
With a successful Kyrie 4 design behind them, the pair has been deepening that partnership while creating the new Nike Kyrie 5, slated to launch on November 22nd. To hear all about the design nuances, performance updates and color inspirations that went into Irving's latest model, we ventured out to Nike's Beaverton campus to catch up with the designer on the latest episode of the Nice Kicks Podcast.
Read ahead for key excerpts from Ben Nethongkome on the Kyrie 5, and be sure to keep tabs on Kyrie's designer on his @BenSlamin Instagram account. 
[ LISTEN HERE: Subscribe to the Nice Kicks Podcast and check out Episode 20 with Ben Nethongkome on iTunes. ]

Becoming quicker & sharper:
"Out the gate, he said, 'Yo Ben, for the 5, I want to push being sharper and quicker.' For me, I took that as, through a performance lens, he wants to be quicker on the court. From a visual expression standpoint, the shoe should look faster, quicker and sharper. That was a departure from the 4 to the 5, where the shoe looks like speed on the court. To do that, we took some steps.
First and foremost was making sure that the silhouette was quicker. We looked at it from the ground up. The last of the shoe – we removed some volume in the forefoot, so that the taper in the forefoot is more modern and less bulky than what we had in the 4. We checked with Ky and said, 'Here's the shape of the shoe – just the silhouette – before we even get into the design. How do you feel about that look?' He liked that we were getting quicker and sharper."
Incorporating 240% more Zoom:
"It's going to be a gamechanger, I believe. When we did the podcast last year on the 4, we talked about how we didn't design the shoe just for the 4 or the 5. We thought about the 6 and the 7, and then we worked our way back. We had this thing cooking from our inline innovation team, around, 'How could we make Kyrie better and quicker?'
This bag we have inside the shoe is our newest innovation for Kyrie. It's the biggest Zoom bag we've ever made [for him.] If you compare it to the Kyrie 1 forefoot, the size is 240% larger than the first one. It completely covers the forefoot. As you know, the signature geometry for Kyrie is that curved outsole, so we manipulated this bag to also mimic the curvature of the outsole. It's not just a flat bag, it has these channels that are welded in that help to curve around the geometry of the outsole. Everything started with the bag. That's the engine of the shoe."
Adoption around the league:
"Ky was telling us over the summer that Anthony Davis wanted a pair. You see the range from 1s to 5s of players wanting to wear Kyries, and that's a great feeling. That's something that we try to design for, is make it as versatile as possible, but also as specific to Kyrie as possible. It's a fun challenge to have. That being said, man, Kyrie went down with an injury last year, and to see the line continue to thrive and other players want to wear it from there, that was a good feeling. Kobe had a Kobe army, and Kyrie right now is trying to build his Kyrie army as well. He's got some names that we're trying to push."
Collaborations ahead:
"Kyrie wanted to have a platform for Taco or anyone else who's creative to have this moment and be creative. That's one of the collaborators that we have, and there's a few others that I can't mention right now – but it's gonna be flames for sure. [laughs] Our strategy was, 'Let's do it right.' We're not going to just collaborate with people that would be easy to get dubs. Let's just work with people a little more unexpected and give them a platform to be successful.
I think it was a working formula to take existing Nike silhouettes, like the Rayguns and so on, but with us moving forward with the 5, we're going to have more original content for these collaborators. We gave those collaborators free range to do whatever they want, and that's why the Taco looks the way it does. It gives us a new look, because these guys aren't footwear designers, and it can give us a whole new aesthetic."
Hamsa Hand inspiration:
"Can you recall his tattoo? You did a story on his Hamsa Hand colorway of the 3. You wrote a very good, detailed article on the meaning behind Hamsa, and we took inspiration from that. In talking with Ky, we said, 'Yo, did you know that the meaning behind Hamsa is Arabic and translates to the number 5?' This was his fifth signature shoe, and I just thought that it was poetic to incorporate that language here. We did that, and the language of the outsole took on the Hamsa Hand altogether. The Nike Air Zoom Turbo has that language on the inside. We're just trying to project that."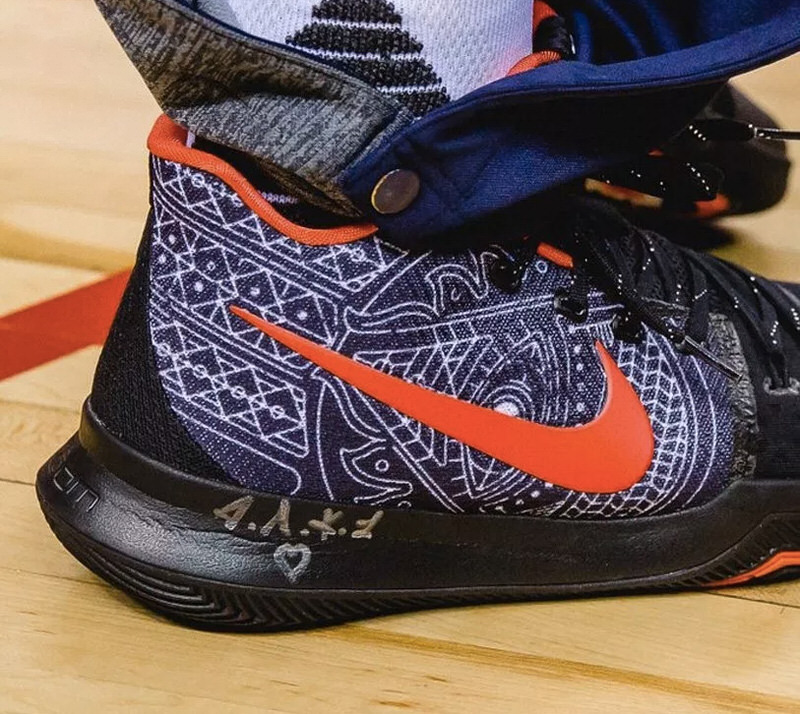 Enhancing fit for the future:
"We talked about fit, and I asked him, 'Can you give me an example that's outside of shoes that describes how you want the shoe to fit?' He used this dope analogy of a boxer. I was thinking he meant how a boxer can be a featherweight and have great, really quick footwork, like him. He said, no, like the boxing glove. When a trainer wraps the boxer's hand and then slips on the boxing glove, it's tightly laced and the boxer barely has any wiggle room in there. He's fully ready for the fight.
He wants his footwear to feel like that. They're his haymakers. Why can't his footwear feel like a boxer's hand in the ring? That totally makes sense, and we said, 'Oh shit! That's inspiring and that's a whole new perspective on footwear.' How do we create that level of sensation for his footwear."
[ LISTEN HERE: Subscribe to the Nice Kicks Podcast and check out Episode 20 with Ben Nethongkome on iTunes. ]
Presented by: Art of Sport, a new performance driven body care brand for athletes. Available now at ArtOfSport.com.