words // Nick DePaula:
I was on a panel way back in 2013, somehow tasked along with nine others to pick the "Shoe of the Year" — an impossible task for the most part. We each had tastes ranging across the spectrum of both performance and lifestyle. Some of us never cared about the tech or latest innovations, others exclusively valued the sheer looks, and a few others were admittedly heavily weighing hype, exclusivity and the attached name(s) more than anything.
Needless to say, the panel was a mess. After an hour of banter and back and forth, somehow the black / royal Air Jordan 1 was selected atop all others from an entire calendar year of relentless releases.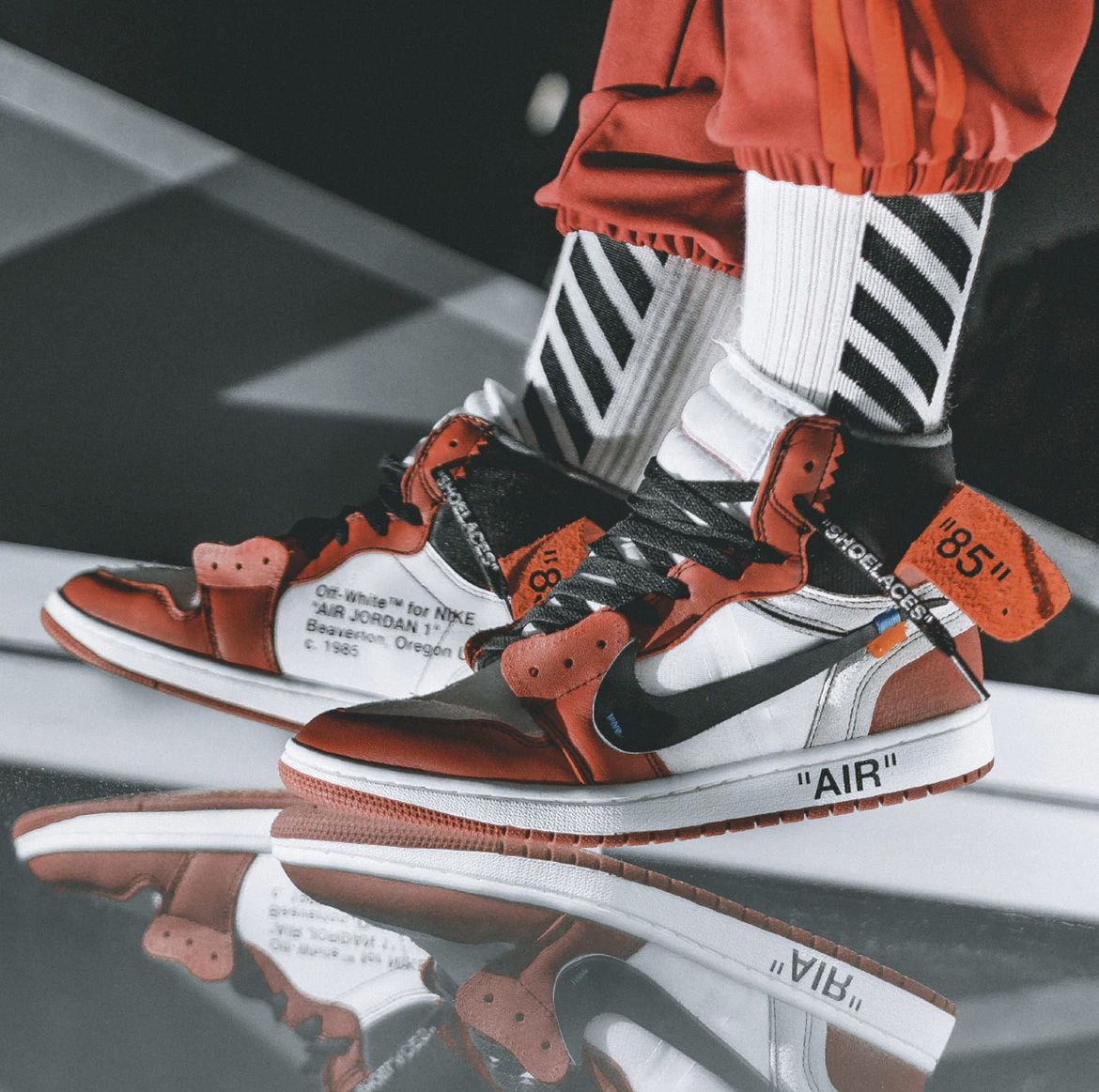 My choice was the LeBron 11, in black and red specifically. I thought that shoe was an undeniably incredible design, and featured new angles, new Swoosh placements and an ignorantly bouncy full Zoom Air unit that was amazing to walk around in. (They weren't exactly great to hoop in, but this wasn't a tech review session…)
I was badly outvoted down the stretch, but my biggest shouting point was that the so-called "Shoe of the Year" should represent THIS YEAR.
The Air Jordan 1 was the best shoe of 1985. It's an icon in footwear that literally will never get old, no matter how many remakes, re-issues or even Flyknit editions get released.
The black/royal colorway also happened to be my very first Jordan shoe, back on October 6, 2001 — a day I still fondly and vividly remember. But the shoe shouldn't be remembered as an iconic entry for 2013, or even 2001, as far as I'm concerned. It'll be just yet another time (of so, so many) that Jordan Brand re-released one of its classic early models.
With all of that said, I'm actually 10000% on board with Footwear News' designated "Shoe of the Year" selection for 2017 — the Off-White Air Jordan 1, designed by Virgil Abloh.
Sure, it's also the same base model that originally released in 1985, in pretty much the exact original 'Chicago' colorway that it's remembered for, but this version means so much more, and for so many different reasons.
When Virgil Abloh set out to design an entire lineup of Nike's most iconic silhouettes, latest innovations (and perhaps-forced-because-politics additional add-ons), he did so with a lofty deconstructed and loose approach to filter through each of the ten designs.
"What we're talking about here is larger than sneakers, it's larger than design culture. It's nothing short of state-of-the-art design," Virgil framed it in his NikeInc release. "These 10 shoes have broken barriers in performance and style."
With Michael Jordan's debut signature edition serving as the pinnacle model of "The Ten" for the Chicago native-turned designer, Abloh set out to reveal the panels, layers and details that went into each of the original designs.
And he crushed it.
The Air Jordan 1 in particular, took on a level of cultural impact that quite frankly, Jordan Brand had been shockingly absent on of late. For the last few years, there's been a weird haze clouding the brand. The game shoe has been mostly unveiled to a sea of indifference, the most beloved Retro models are sitting at stores, and the brand's general aura has been seemingly, slowly slipping away.
Virgil helped to not only reinvigorate the perception of a retro Jordan sneaker, but did so while putting his own imprint onto the entire look of the model — this isn't just some new exercise in color and panel choices.
It's the exact opposite — it's a collaborative take using an already iconic colorway. There's a nuance to the finished product that can be seen across the entire "Ten" series, that perhaps Abloh didn't even initially realize he'd be soon achieving.
Either way, the capsule also allowed for the Air Jordan 1 to be worn by a wide array of folks considered to be at the pinnacle of influence from the blurred silos of the athlete, entertainer, fashion or guy-with-Instagram worlds.
From the start, the collaboration could be perceived as new territory for the brand, and a departure from Jordan's comfort zone. The fact that the best photography of the shoe during the early stages of its seeding featured the 1 High styled along with adidas Calabasas pants said a lot.
That's how real people wear things nowadays — but it's literally never an image you'd see from a brand, of course. The Off-White collection has shown up in all tiers of fashion, from emerging youngster Luka Sabbat, to Virgil himself at the Met Gala, and a host of others simply on the go, allowing the shoe to take on a creative lens that Nike has been desperately seeking to connect to.
And then, there's the damn quote marks, which stated overly obvious items on each shoe in plain capslock text, in this case "AIR" – "85" – "SHOELACES." They'll most definitely become a signature touch of Virgil's for the forseeable future.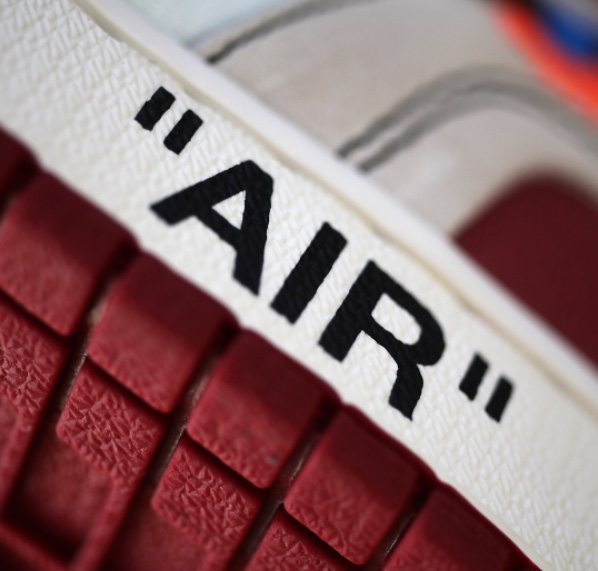 When he hand-scribed out early seeding pairs to friends and celebs, the "Air Whoever" midsole text added a nice personal touch. Now, we're seeing Abloh double-quote literally every Instagram Story caption, or something as simple as "Logo" below the iconic Swoosh of a Nike shirt.
The spontaneity of the premise has allowed for people to put their own spin on the approach, all while being admittedly simple, subtle and even juvenile, a hallmark of the early Off-White design approach.
With the help of a well-executed "Ten" launch event-slash-panel in New York aiming to explore that inner ability of expression, dubbed "OFF CAMPUS," Nike has repositioned itself favorably amongst a crowd of creatives. It was that entire premise of being a "creator" that had been at the root of adidas' surge in popularity, adoption and relatability over the past two years.
Thanks to Virgil, I can honestly say that there's a new perception, and a new view towards the Jordan Brand, and the greater Nike as a whole. The Off-White Air Jordan 1 might not be the most mind-blowing design the industry has ever seen, it doesn't take innovation or technology to a new place, and surely has seen its audience of critics along the way. In many ways, Nike took a leap of faith to allow Virgil to even "DESIGN" ten nine of its most celebrated silhouettes, and the newest Hyperdunk, in the first place.
The collection — headlined by the Air Jordan 1 — also unquestionably captured our attention since the summer and into the fall, nudged Nike along in righting the ship of this awkward and unexpected slump of sorts, and can deservedly be dubbed the "Shoe of the Year," even if the base model didn't actually debut in 2017.