Odell Beckham Jr. is a Cleveland Brown and the go-to guy for Nike Football.
Growing up a soccer star and growing into the ultimate stunt man, Mr. Nice Watch has positioned himself as the NFL's most watched style star both on and off the field.
Keeping track of his cleats, see the tale of the tape for the 2019 NFL Season so far.
Game 16 vs.Cincinnati Bengals
+ Shattered Backboard inspired. Classic
+ Y'all feeling the Uptempo lettering with this colorway?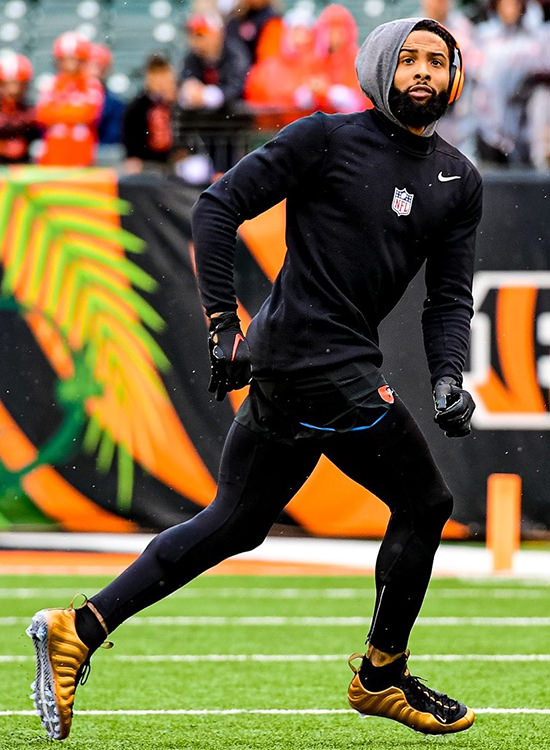 + Need more Foam-inspired cleats
+ Nike has done a great job of bringing some classics to the gridiron
Game 15 vs. Baltimore Ravens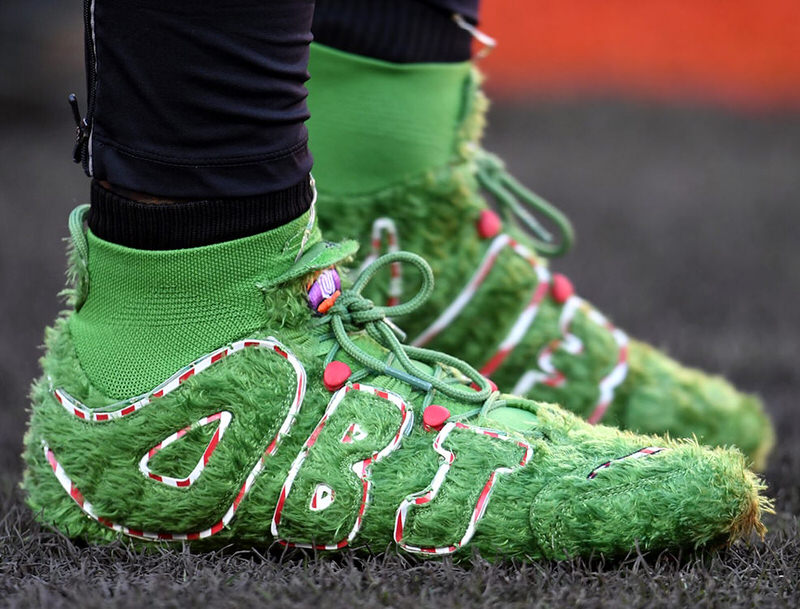 + The details on this sneaker go crazy
+ Nike needs to release these cleats ASAP
Game 13 vs. Cincinnati Bengals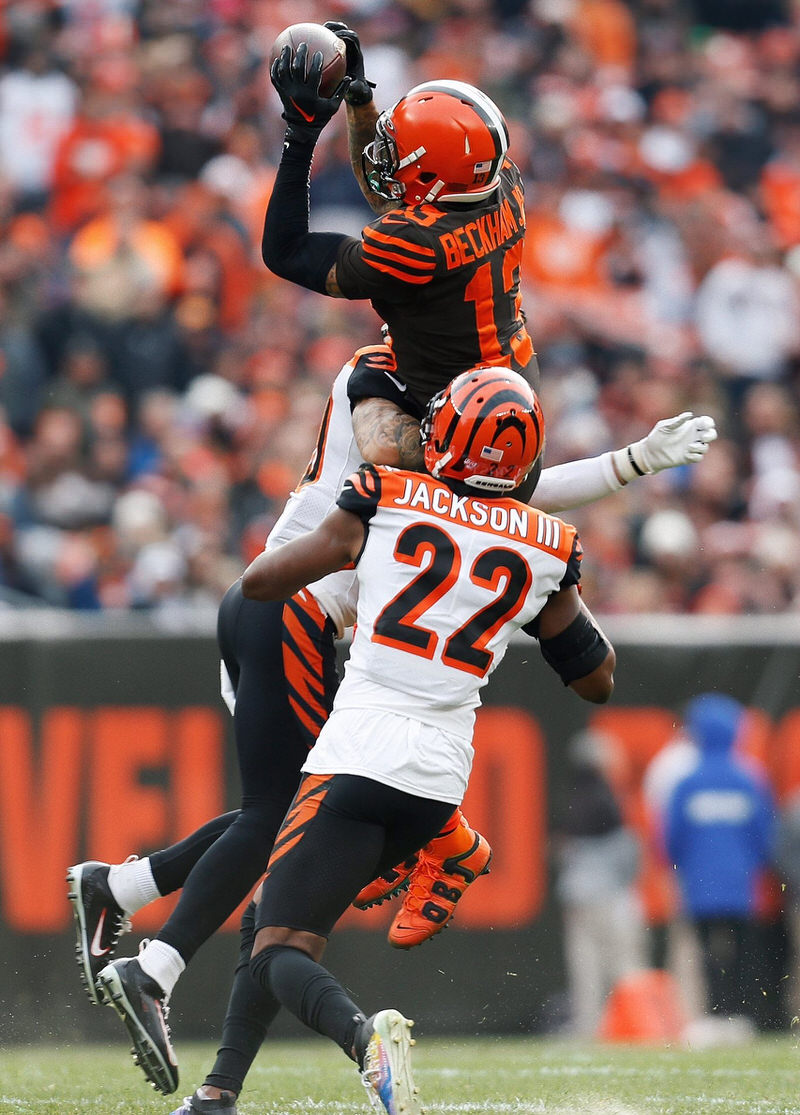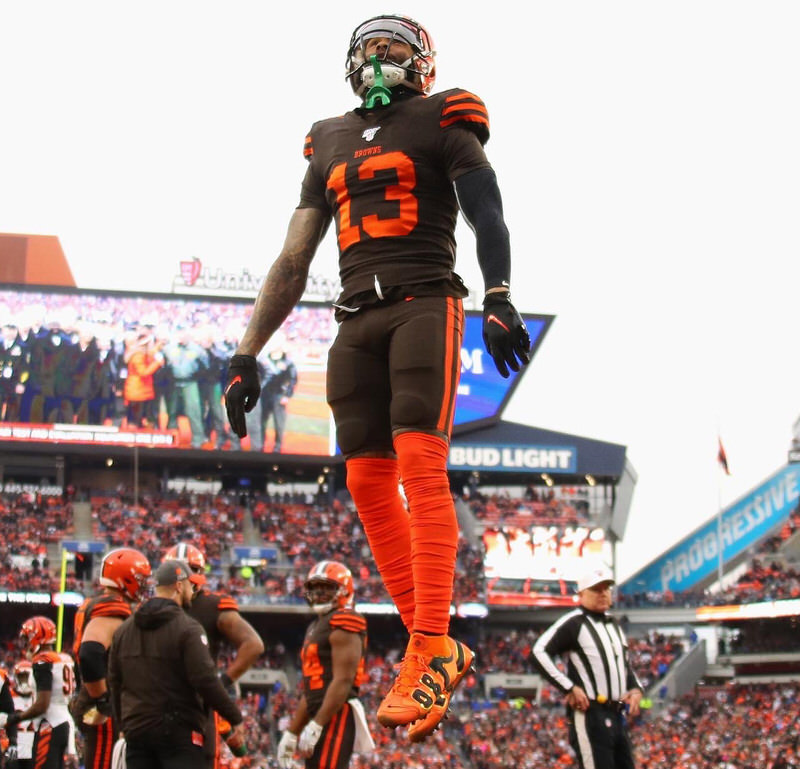 + Orange, brown and iridescent come together for OBJ's cleats
+ We need Nike By You to adopt the Uptempo lettering for some custom fire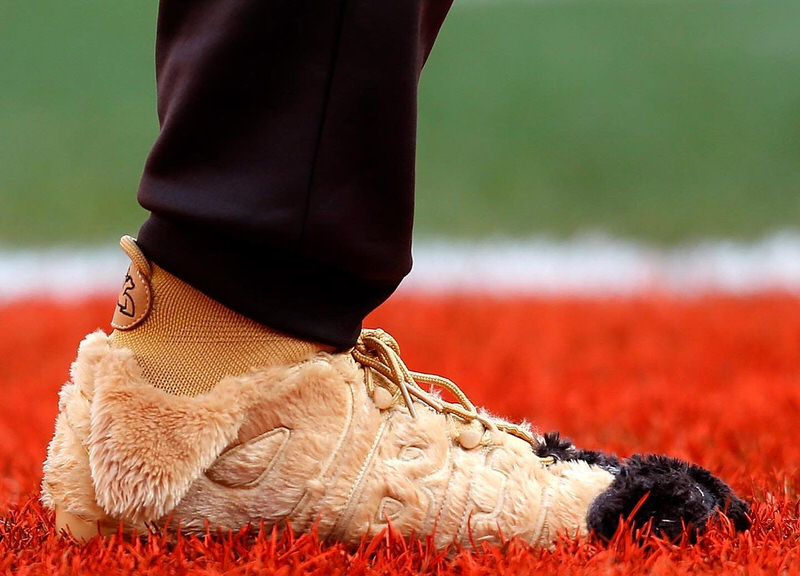 + The pair was inspired by the Berea Animal Rescue Friends as part of the My Cause, My Cleats
+ No lie, these go hard
Game 12 vs. Pittsburgh Steelers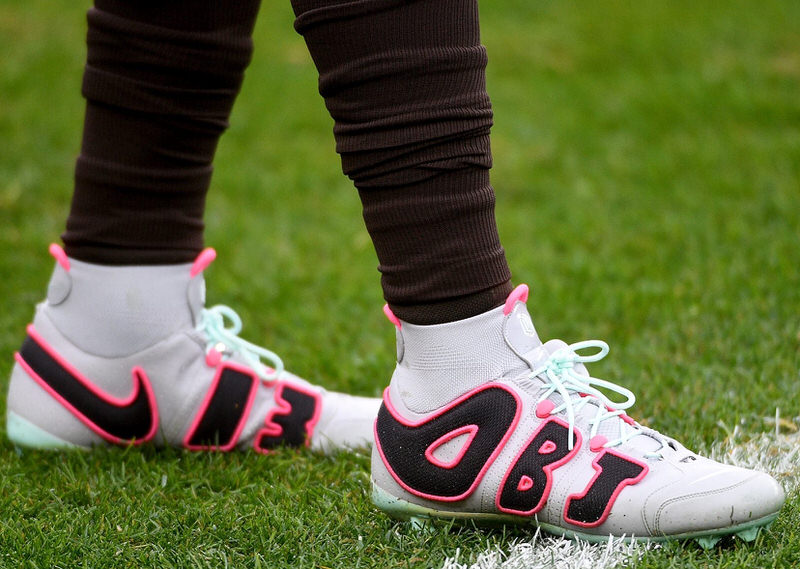 + For the second straight week, Nike and OBJ cook up an ode to The King
+ The colorway is inspired by Nike  LeBron 9 PS Elite "South Beach"
Game 11 vs. Miami Dolphins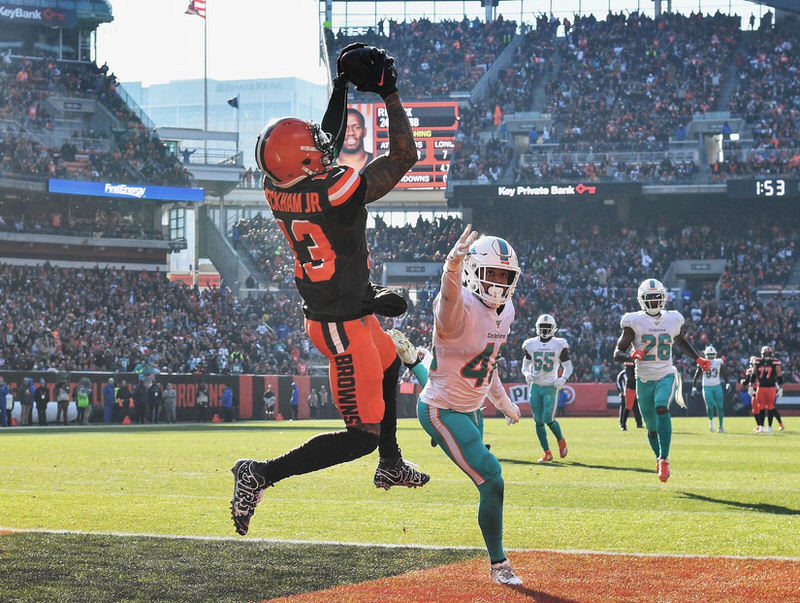 + These cleats are looking good with OBJ in the end zone
+ Military camo with Brown hues don this cleat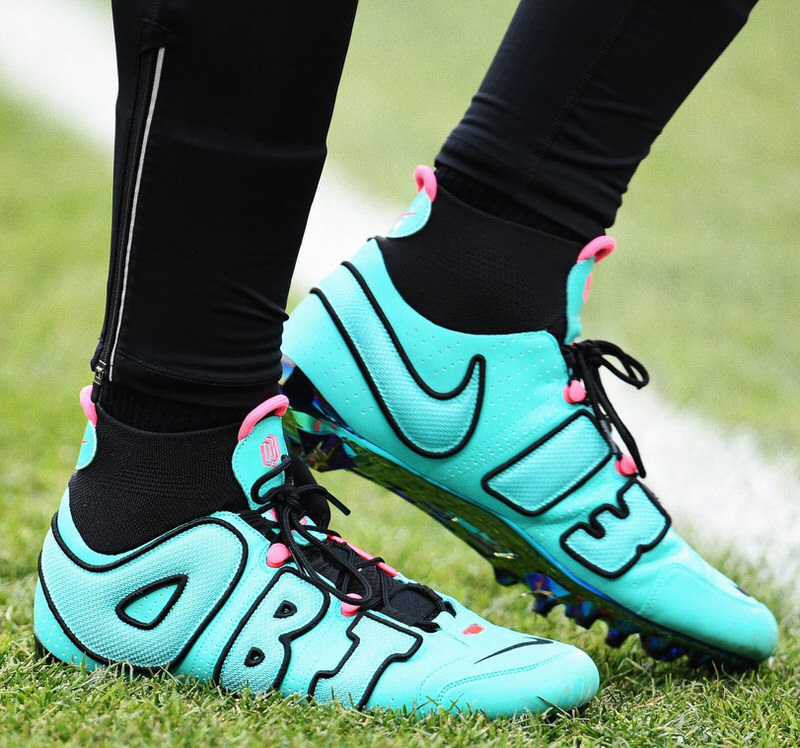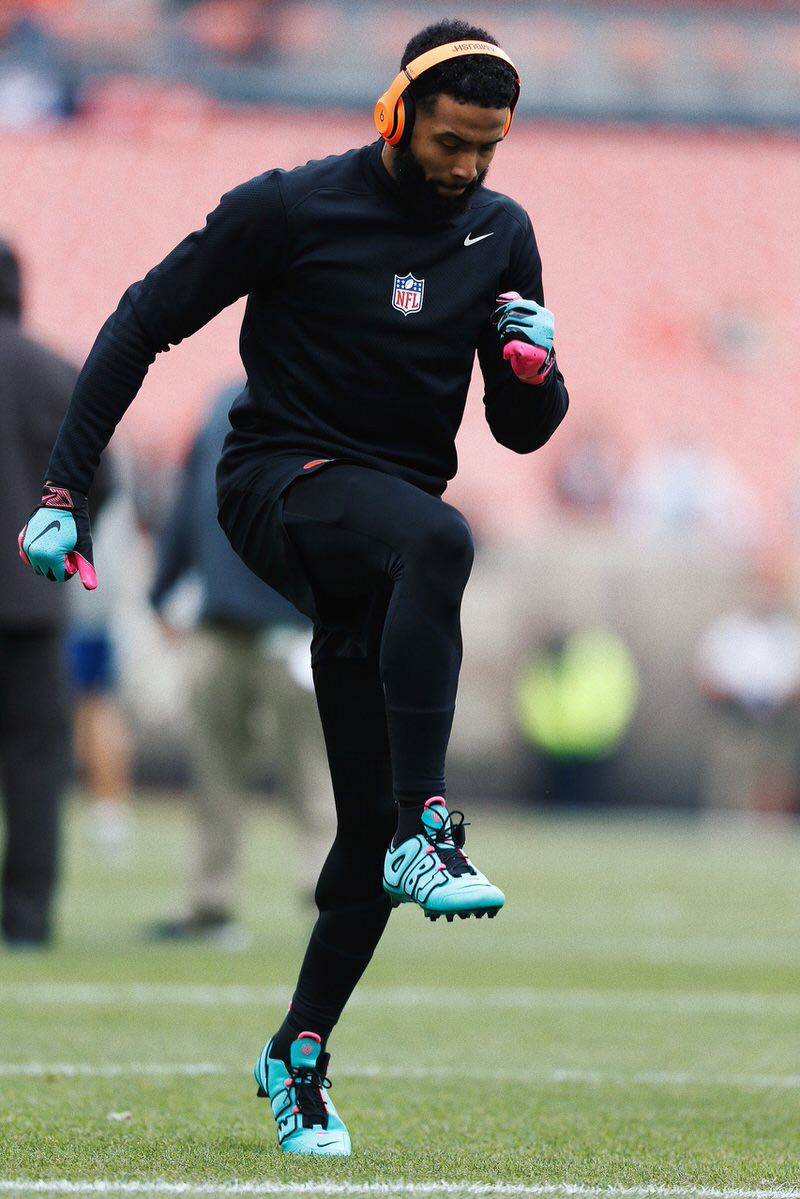 + Nike stays killing it with the Uptempo upper
+ Is this Odell's best PE to date? We think so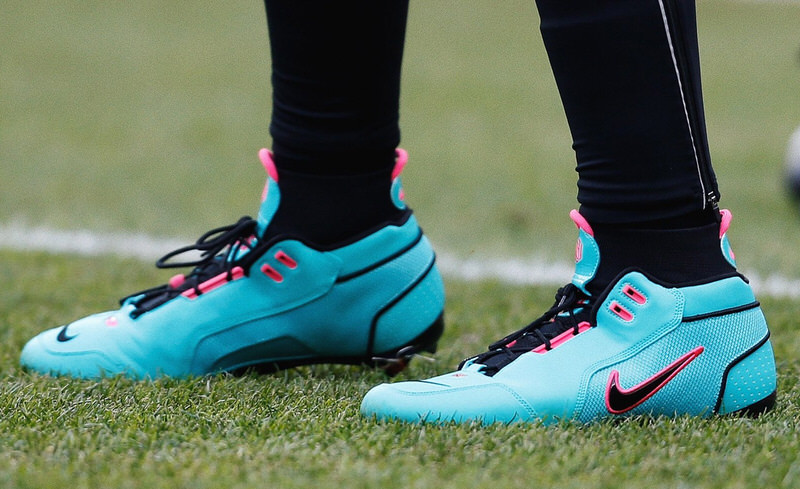 + Air Zoom Generation with that "South Beach" colorway is pure money
+ We need Nike to release these ASAP
Game 10 vs. Pittsburgh Steelers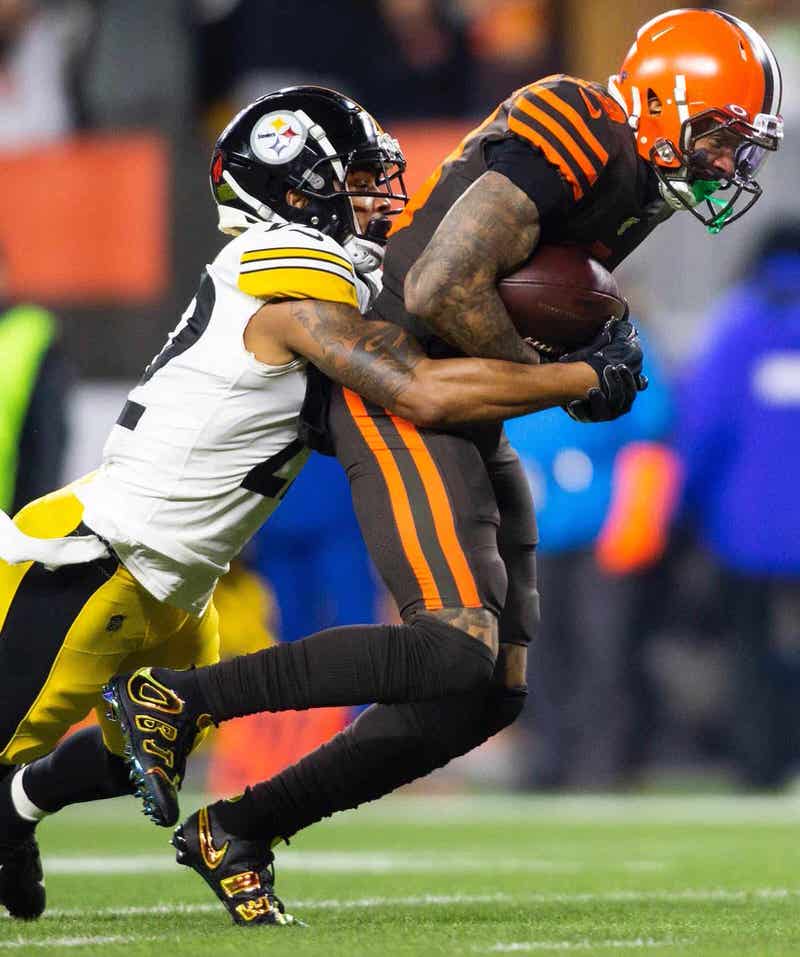 + That iridescent lettering on the cleats is a clean look
+ Brown and orange never looked so good
+ The cleat draws inspiration from iconic Nike patterns and collabs
+ The cleat released at the start of the game and sold out instantly. That's the OBJ effect
Game 9 vs. Buffalo Bills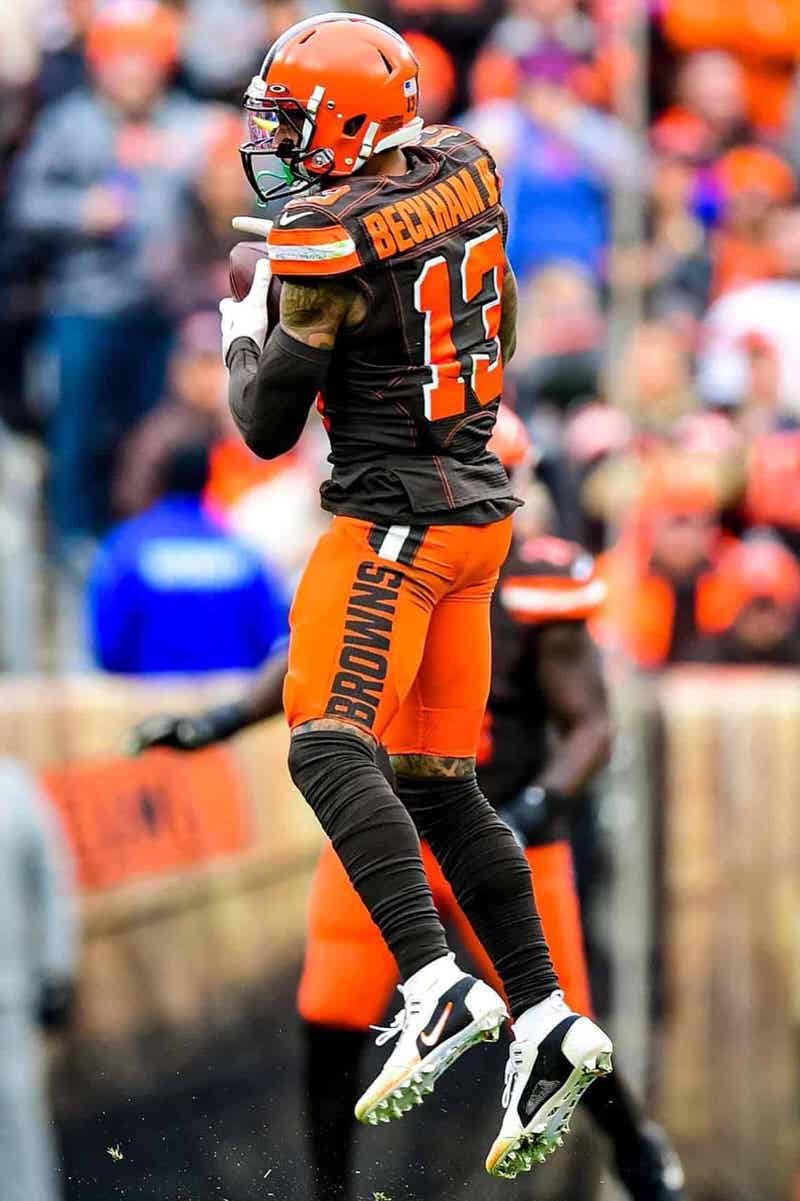 + OBJ pays homage to The King of Cleveland
+ The cleat is inspired by LeBron's first signature model — the Nike Air Zoom Generation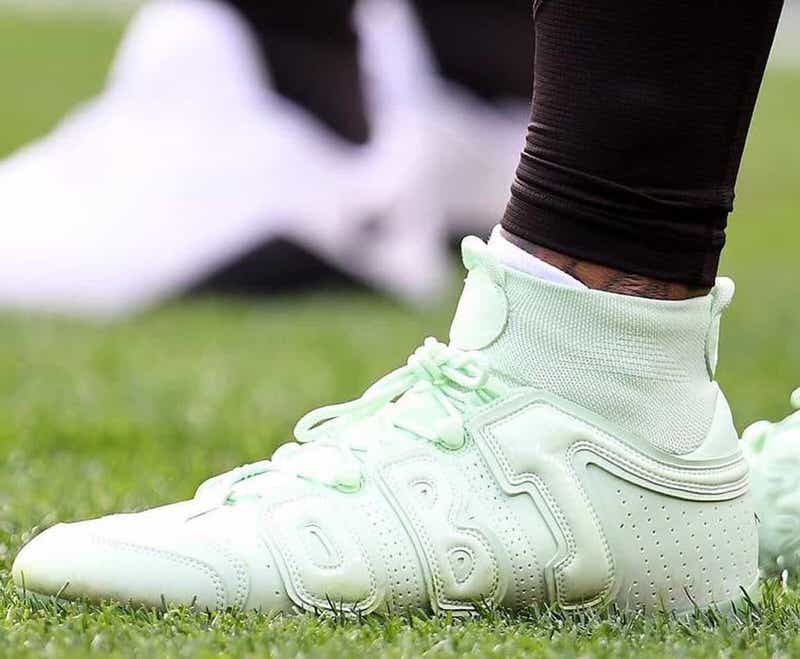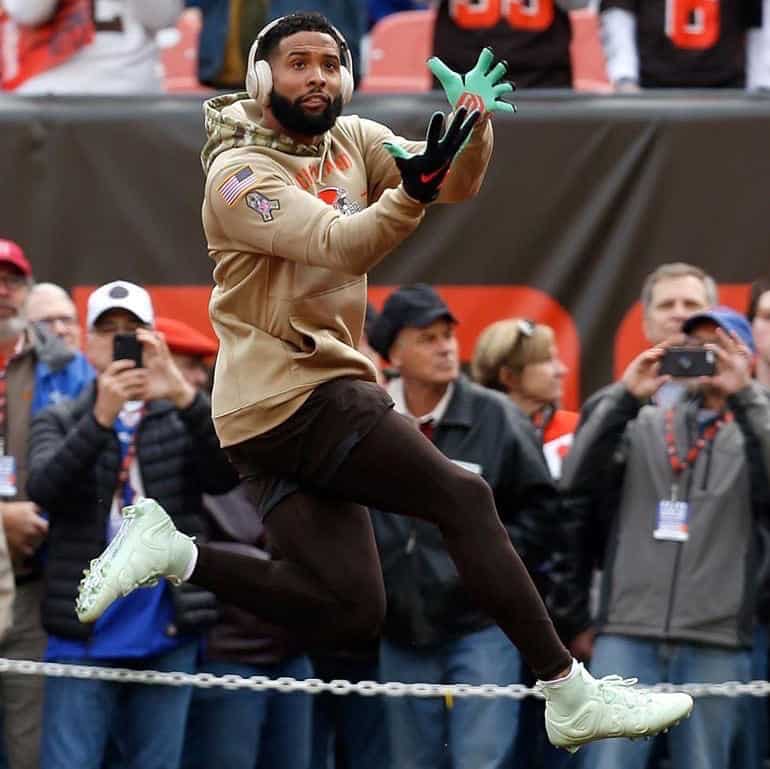 + These are icy
+ Hot take: these are better than the Nike Air Fear Of God 1s
Game 8 vs. Denver Broncos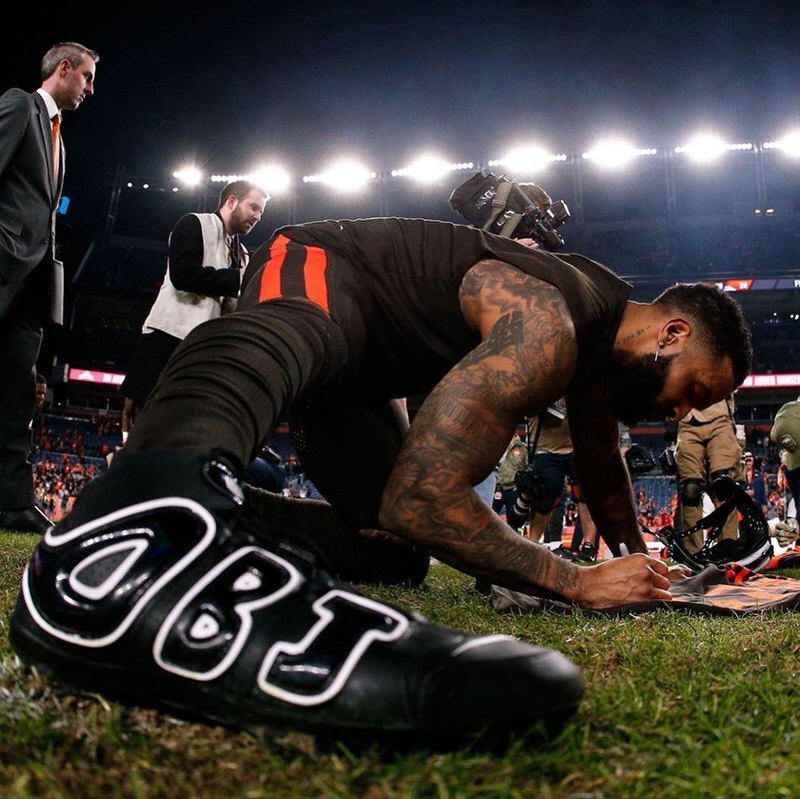 + You can never go wrong with a black Nike Uptempo
+ Word up to Pippen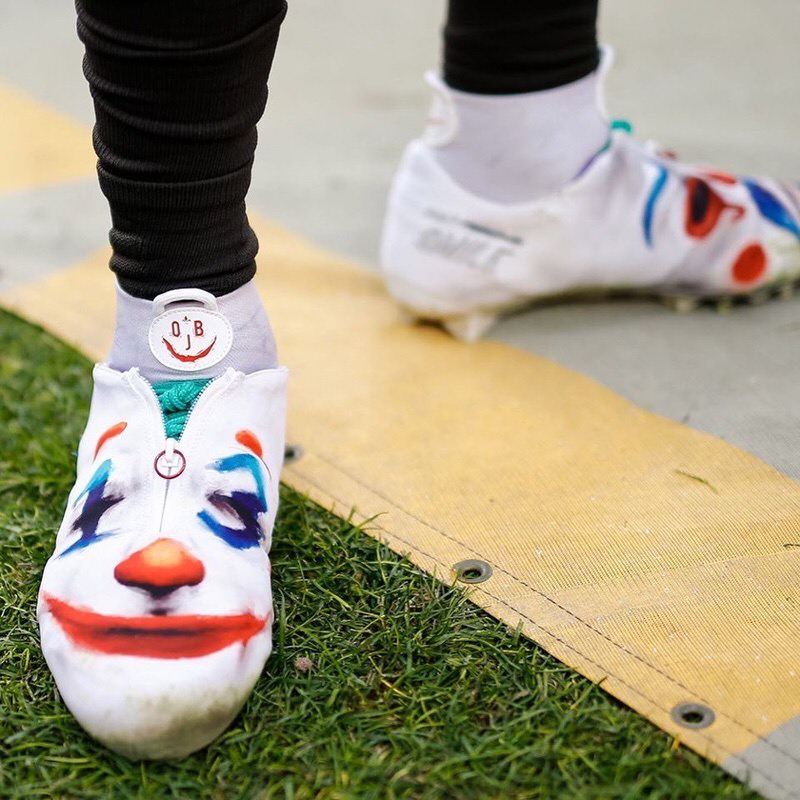 + The entire design on this cleat was money
+ From the logo to the eyes transformed into 13, the storytelling on this pair is second to none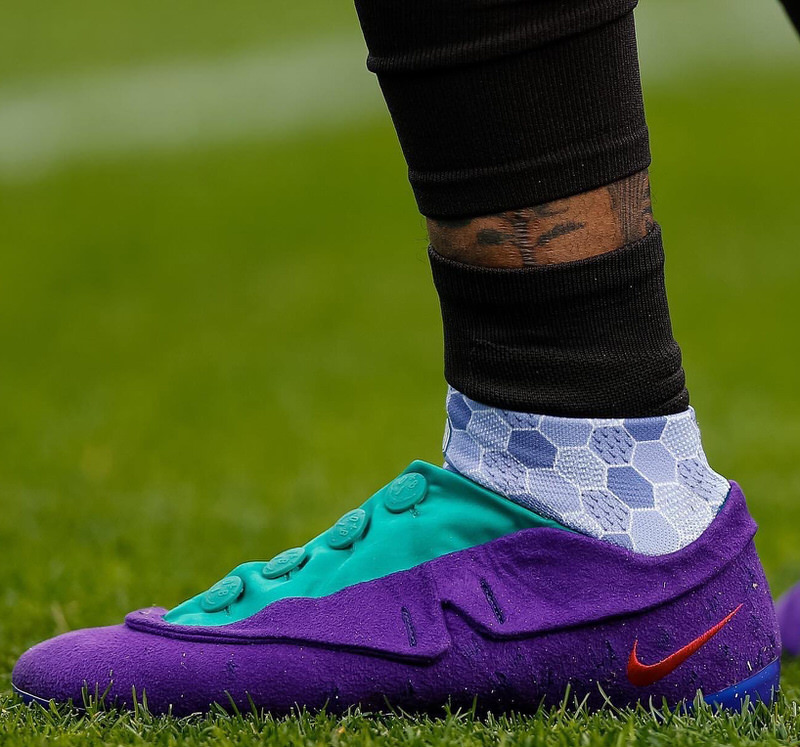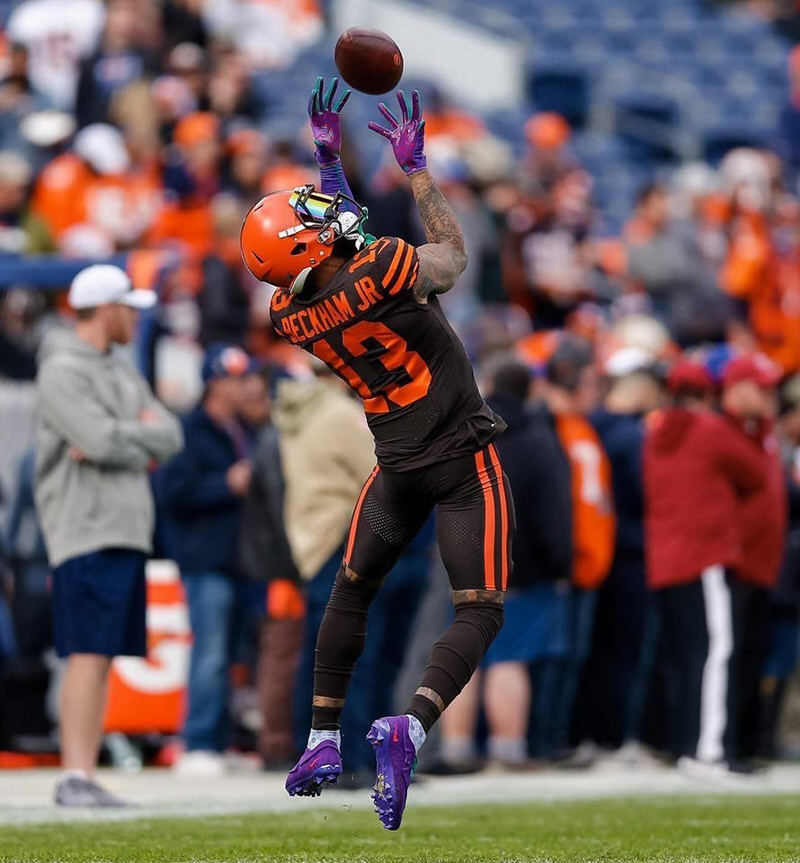 + This pair debuted last season as OBJ was getting creative with his PEs
+ Where would you rank this cleat out of Sunday's lineup for OBJ?
Game 7 vs. New England Patriots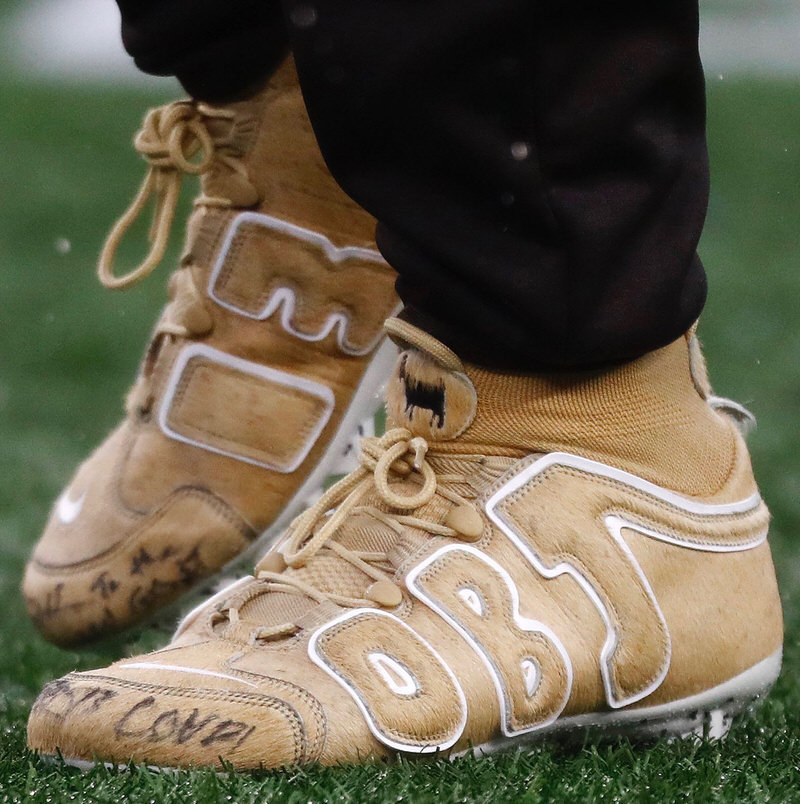 + Word to OBJ for gifting Tom Brady the pair after the game
+ According to OBJ himself, the pair was made with real goat hair
Game 6 vs. Seattle Seahawks
+ A little patent leather finish on these cleats for that "Shattered Backboard" look
+ Another week, another Richard Mille watch for OBJ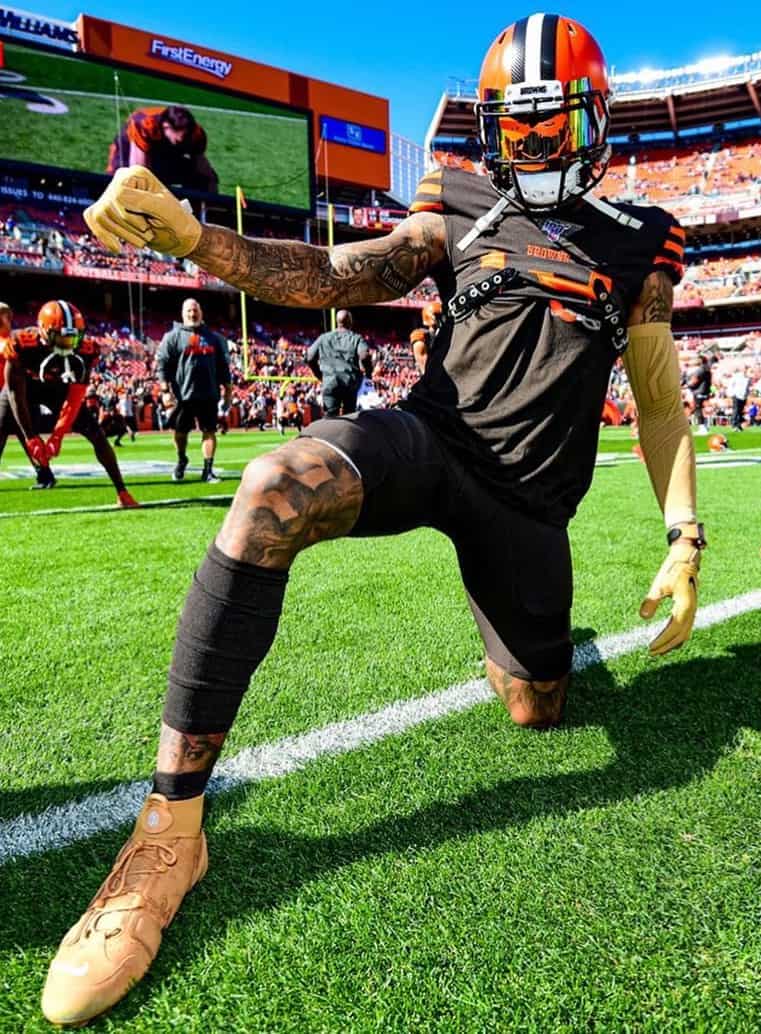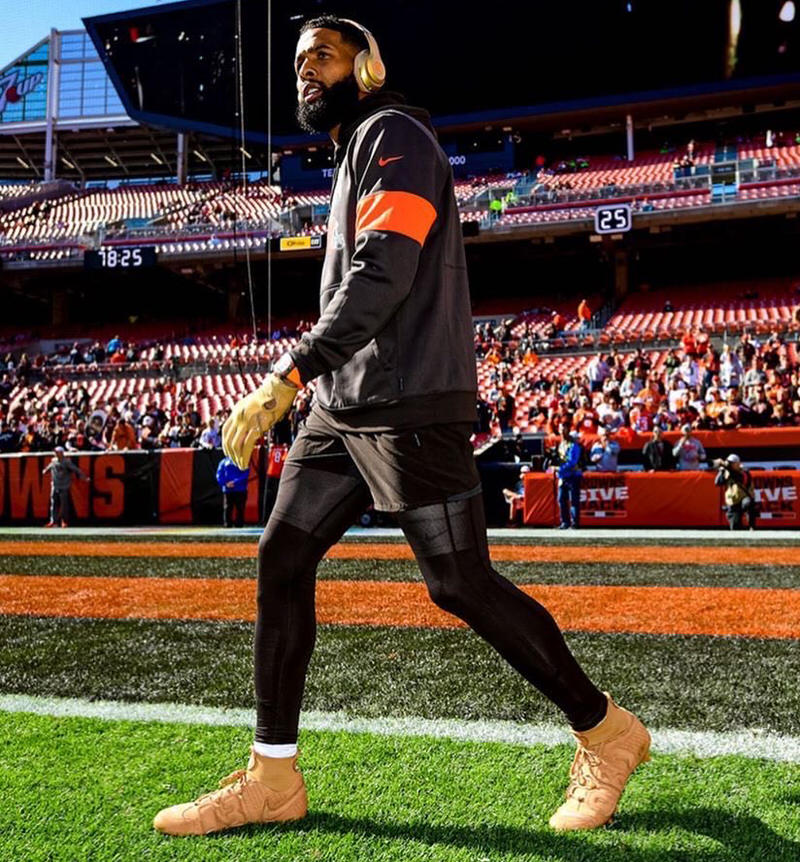 + Nike draws inspiration from the Nike Air Force 1 High "Wheat" aka "Flax" for this week's cleats
+ Word to Nike for the matching gloves and sleeves
Game 5 vs. San Francisco 49ers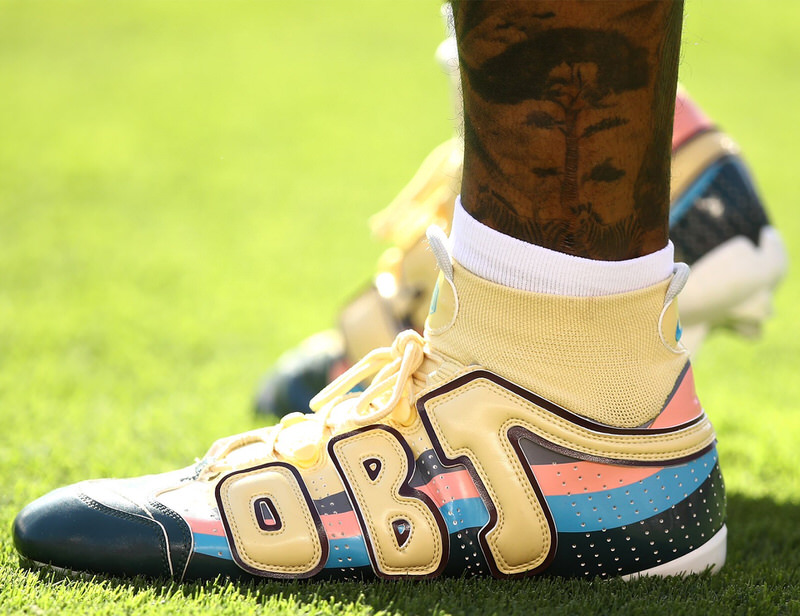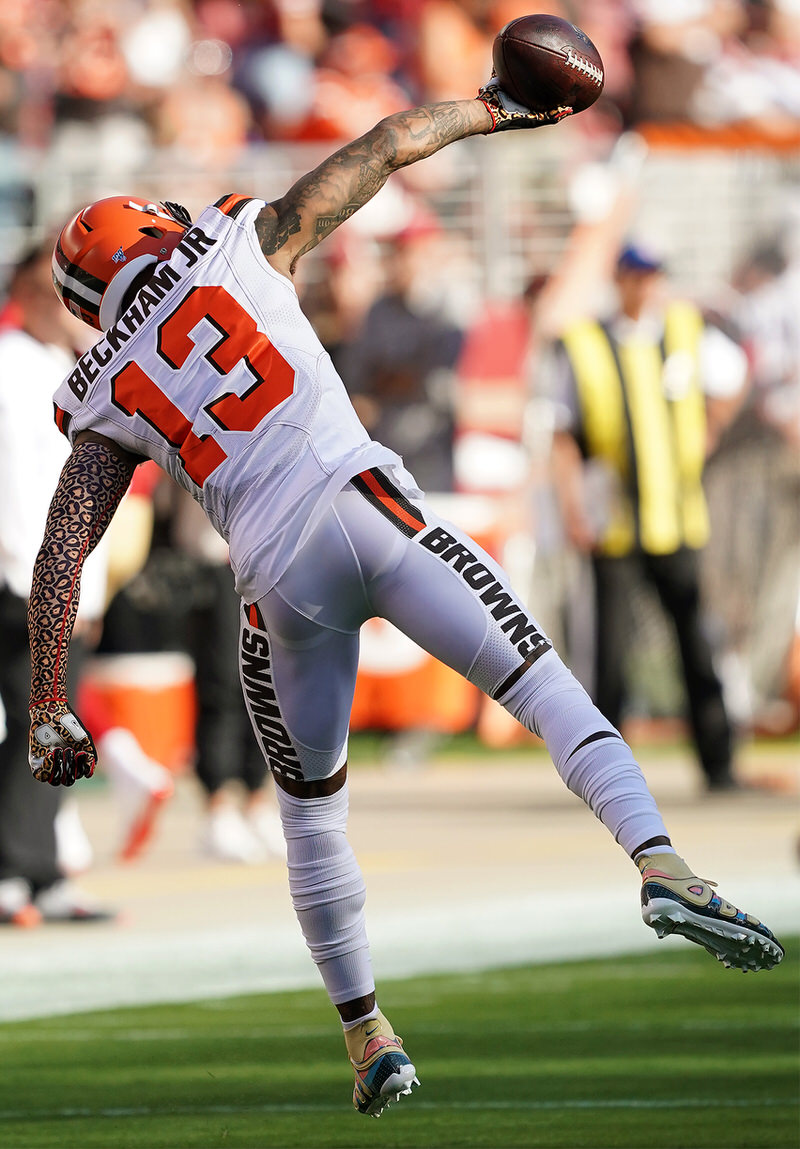 + OBJ is the PJ Tucker of football. Straight heat
+ The colorway is inspired by Sean Wotherspoon's Nike Air Max 97/1 that has become an iconic colorway and collab within a matter of years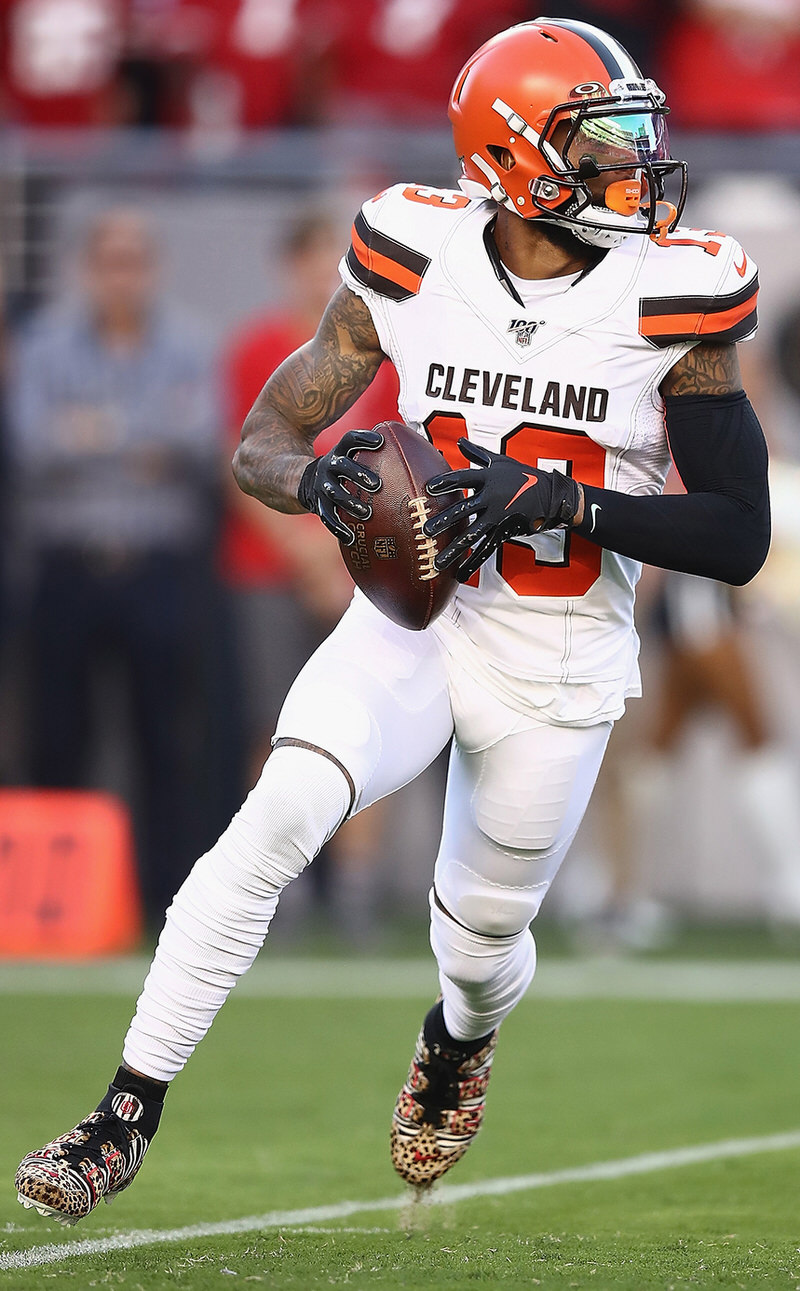 + Nike has been cooking for OBJ every week
+ The PE features an array of animal prints across the entire upper and his logo placed on the tongue
Game 4 vs. Baltimore Ravens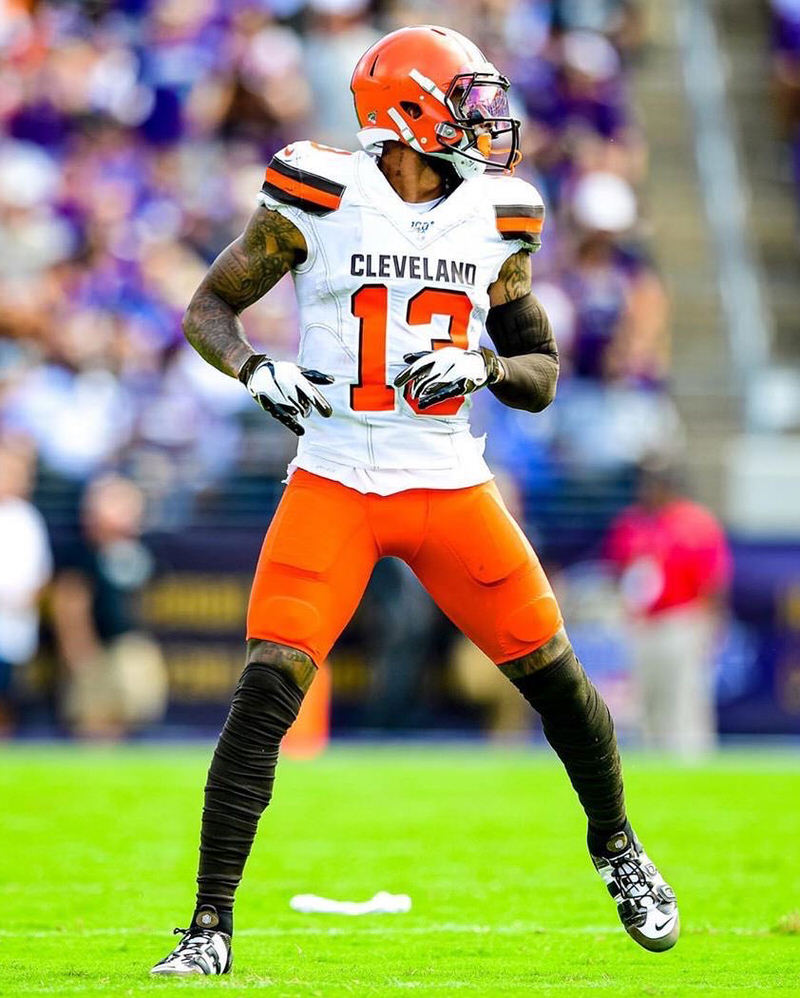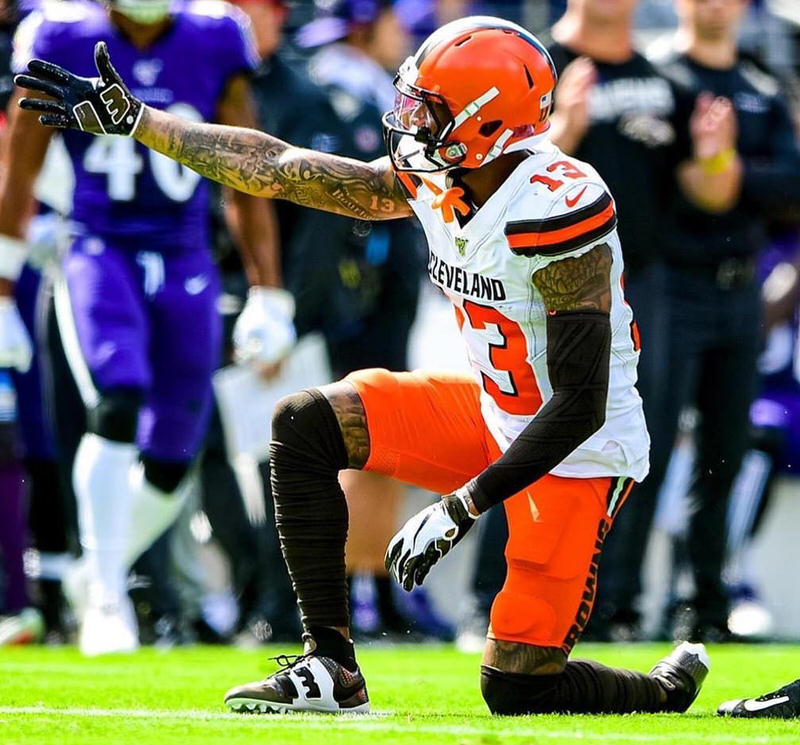 + The cleat draws inspiration from Travis Scott's collaborative AJ1. These would look so good with the pink and red laces. If only…
+ OBJ and the Brown got their second win of the season in a 40 – 25 dub over the Ravens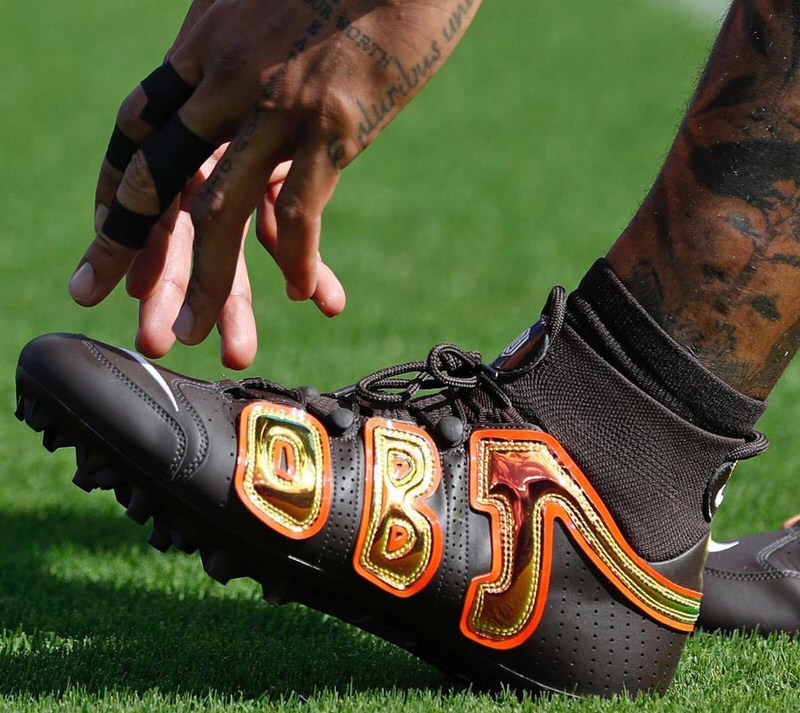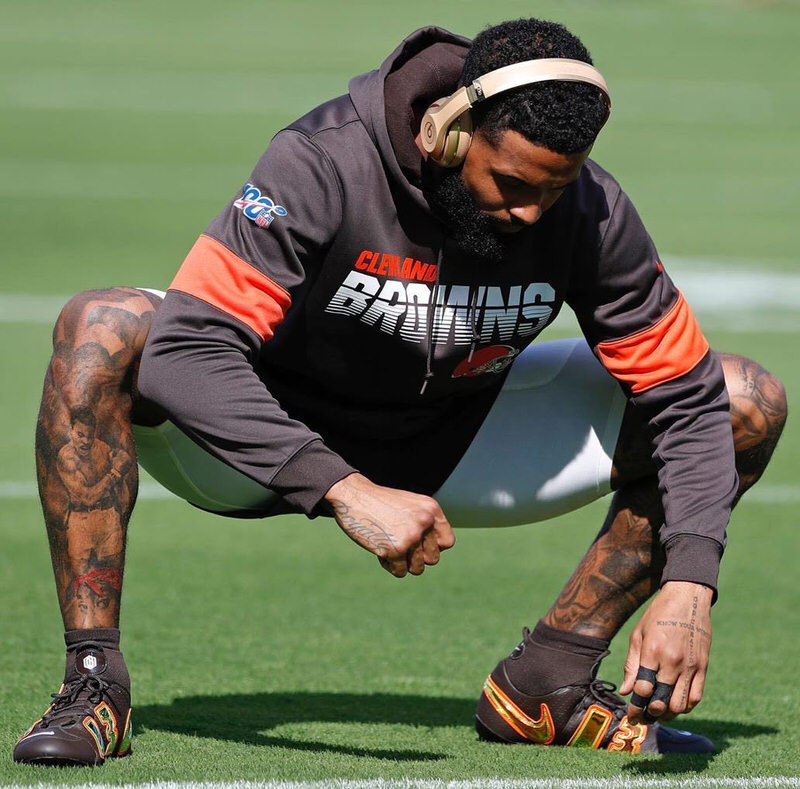 + That iridescent lettering on the cleats goes hard
+ Brown and orange never looked so good on a cleat
Game 3 vs. Los Angeles Rams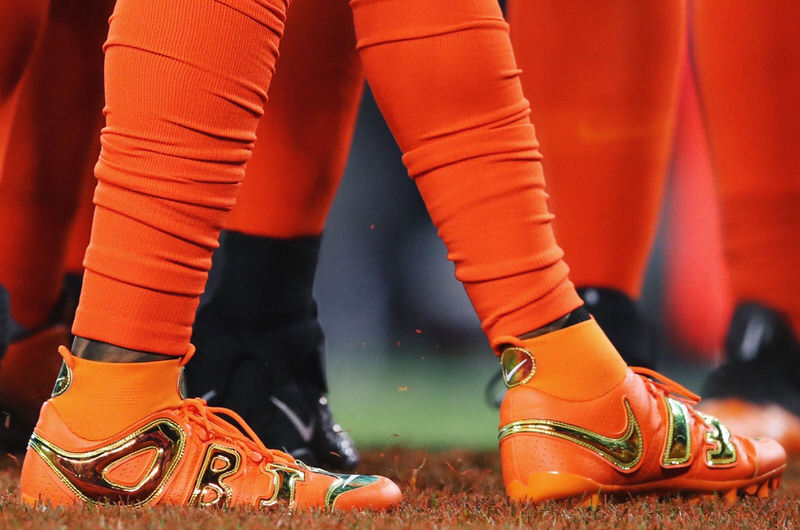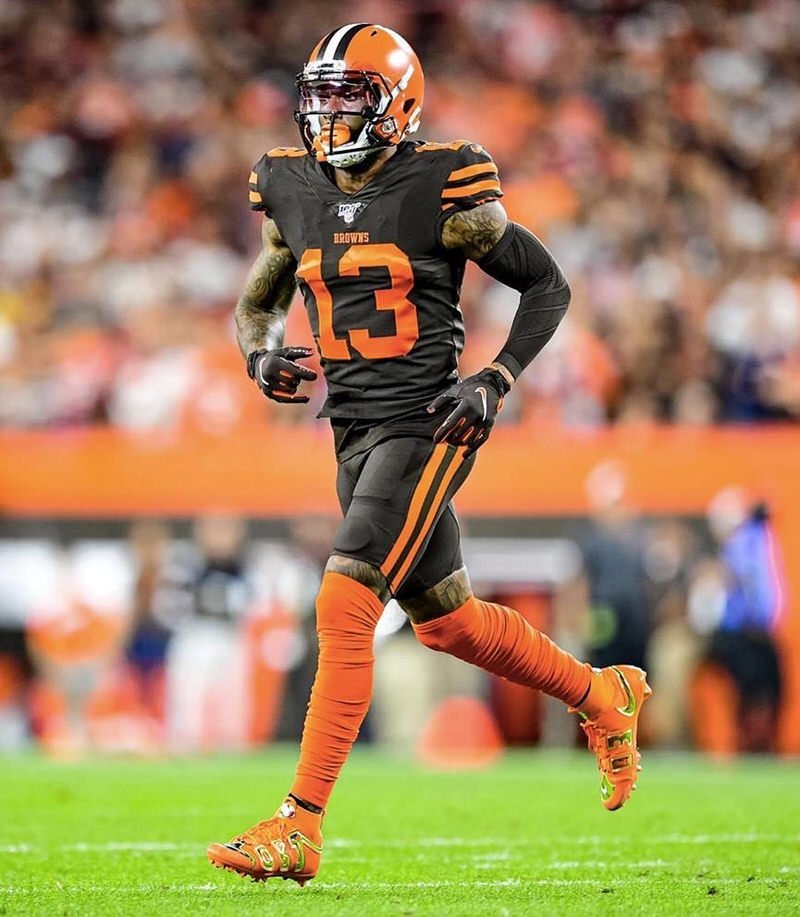 + The metallic finishing on the lettering is a fire look for OBJ
+ You can also see hints of it on the toe box and the back heel tab of the cleat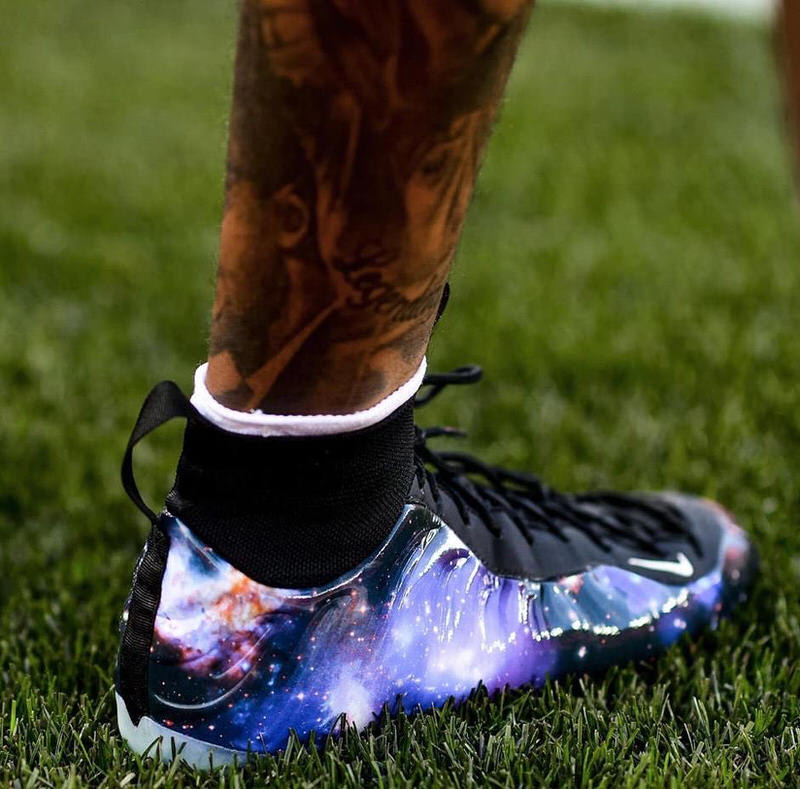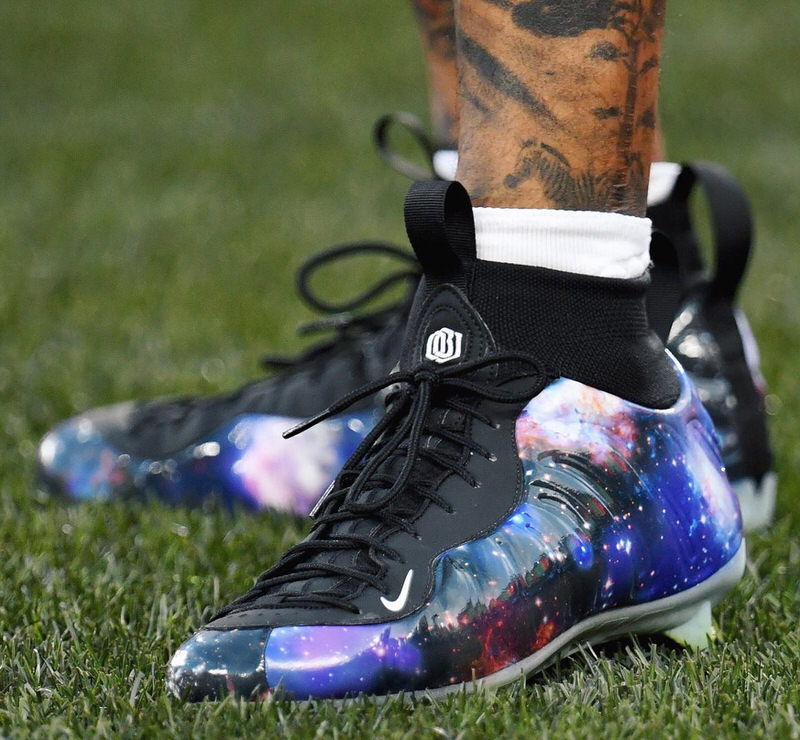 + The pair is an homage to the Nike Air Foamposite One "Galaxy" from 2012
+ They got every detail on the pair from the outsole to the shape of the Foamposite on the upper
Game 2 vs. New York Jets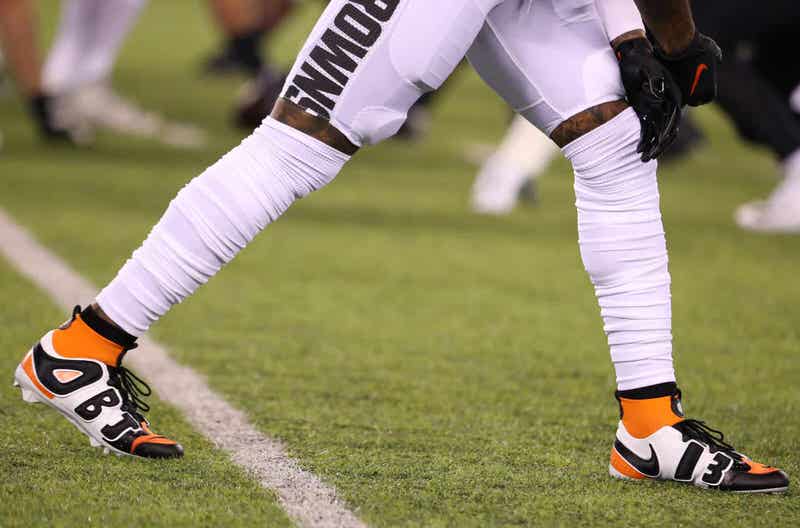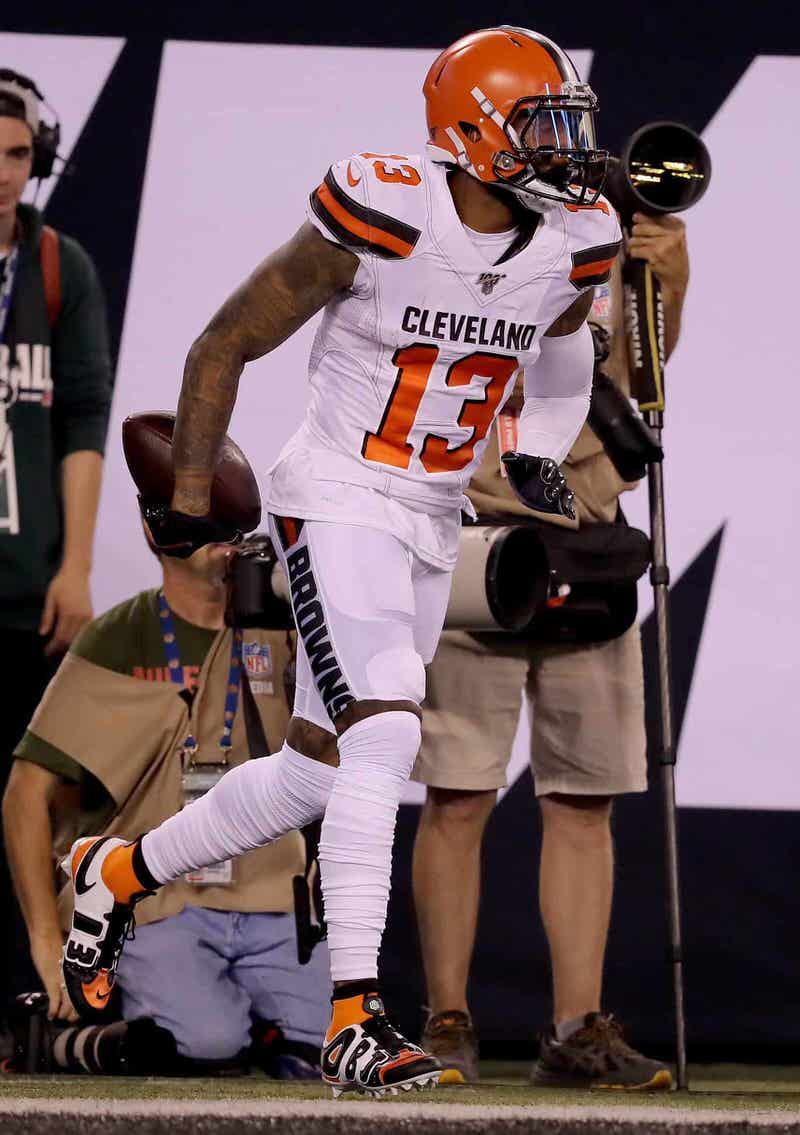 + Nike brings out another Browns-themed pair with a sprinkle of some Air Jordan inspiration with the colorway
+ The Swoosh needs to release these to the public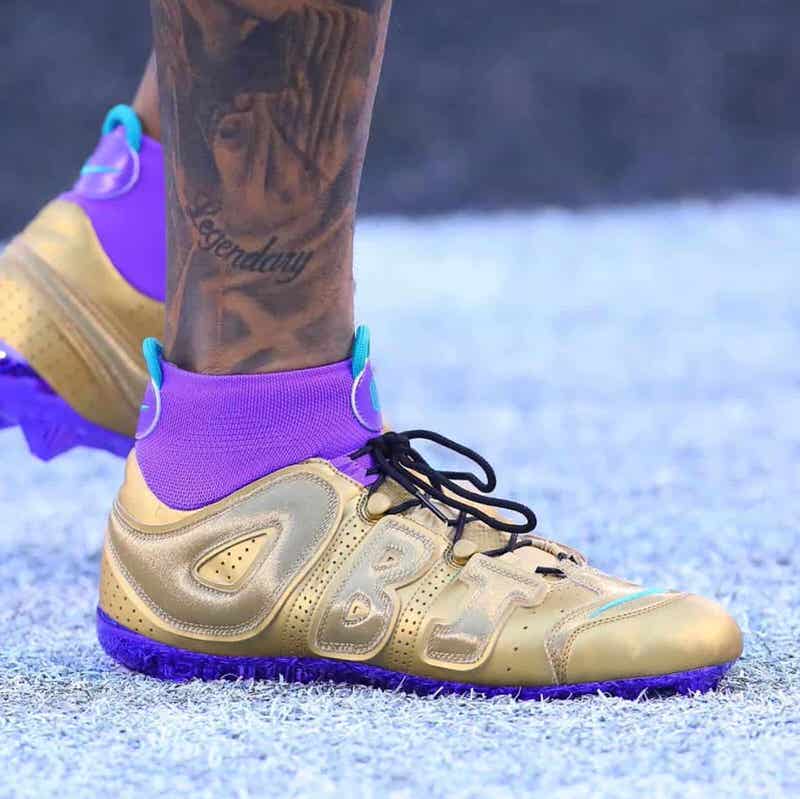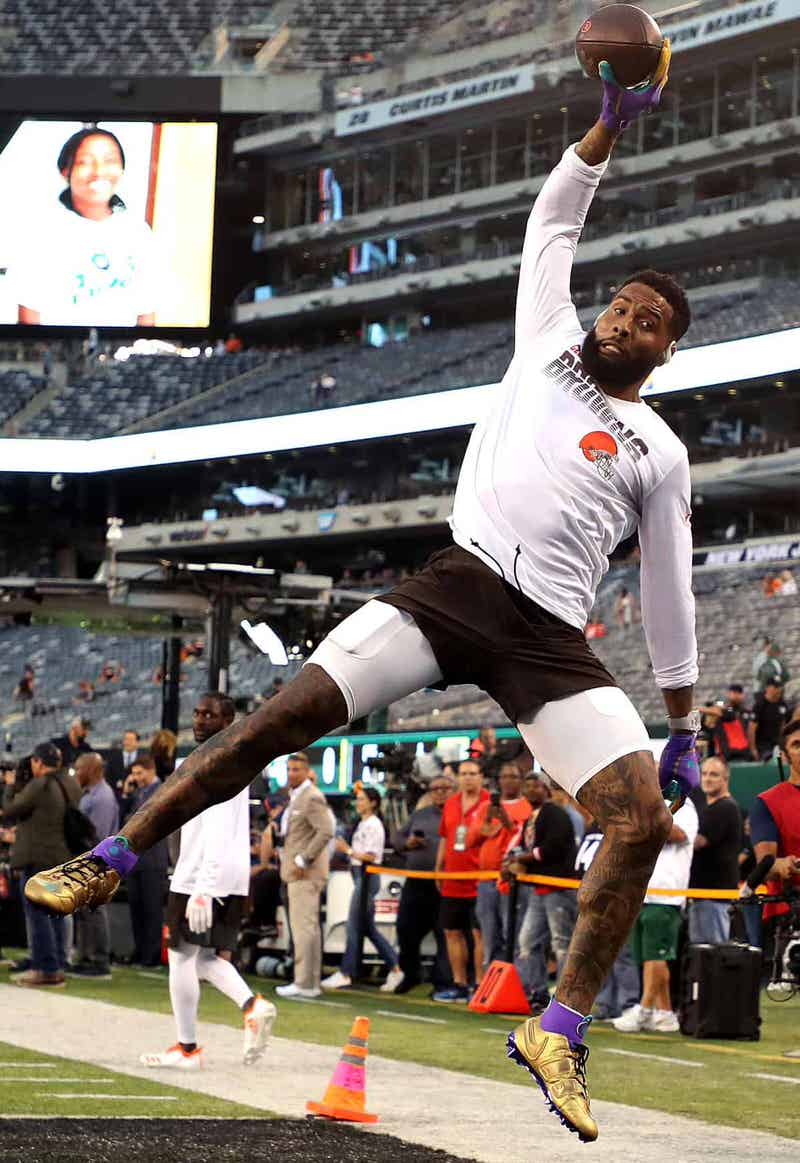 + You think Will Smith approves this cleat?
+ Another week, another Richard Mille watch for OBJ ($2.2M on the wrist)
Game 1 vs Titans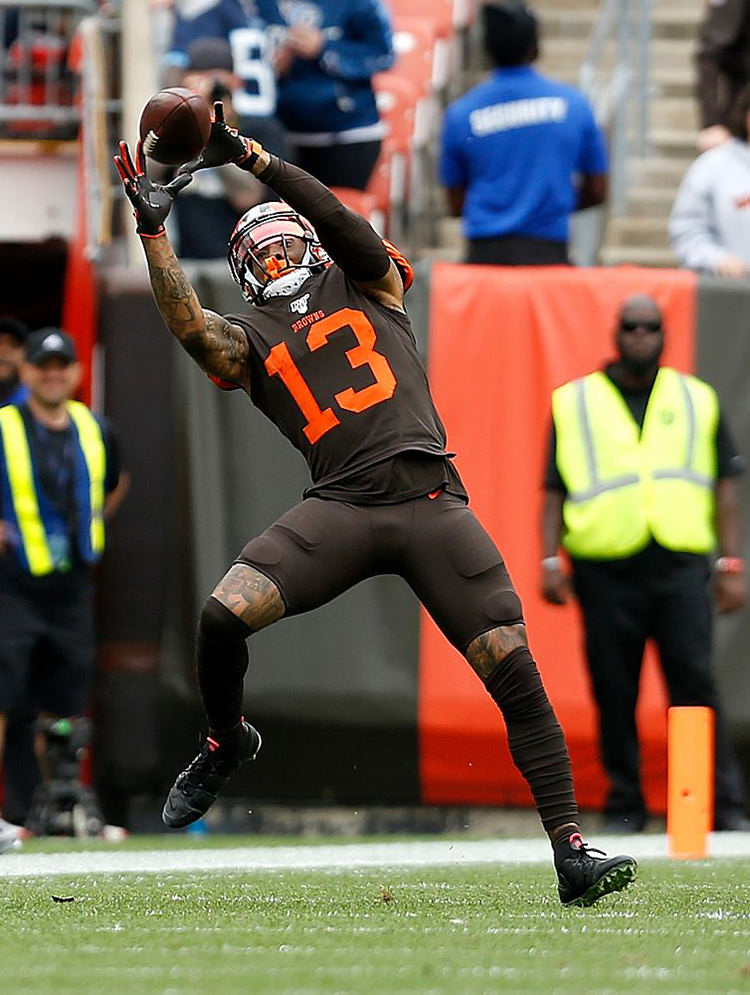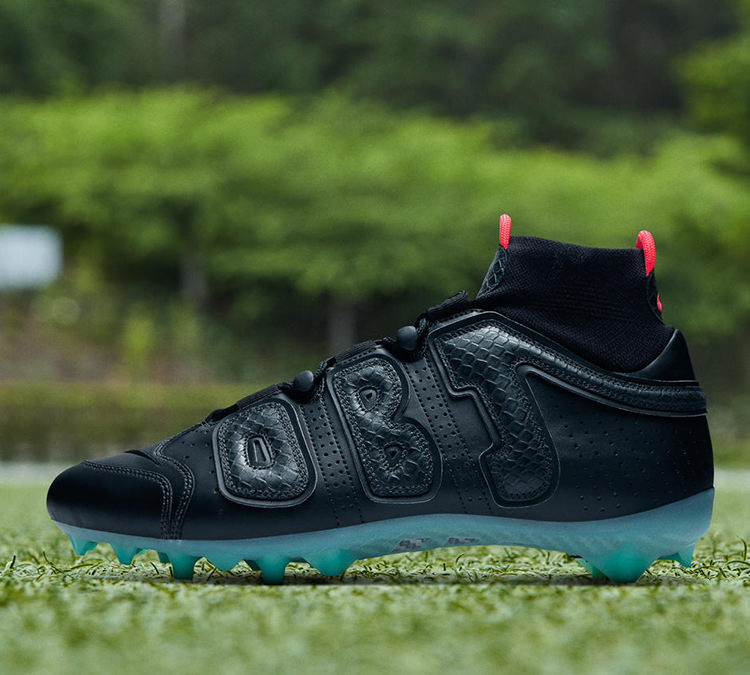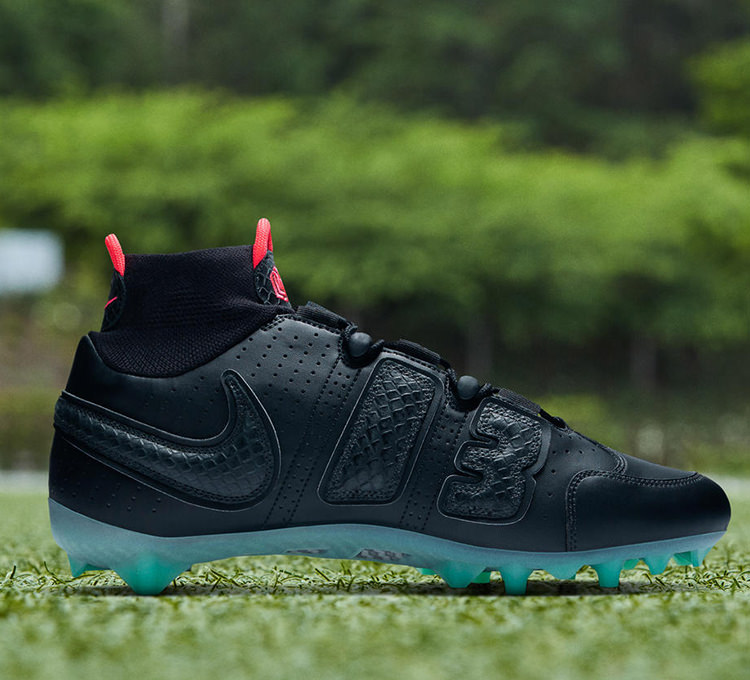 + Already a hyped homage, the Supreme x Nike Air More Uptempo-inspired Nike Vapor Untouchable Pro 3 Uptempo takes on the palette of the 2011's Nike Air Yeezy 2 "Blink"
+ Originally intended for pregame wear only, OBJ brought these out for in-game action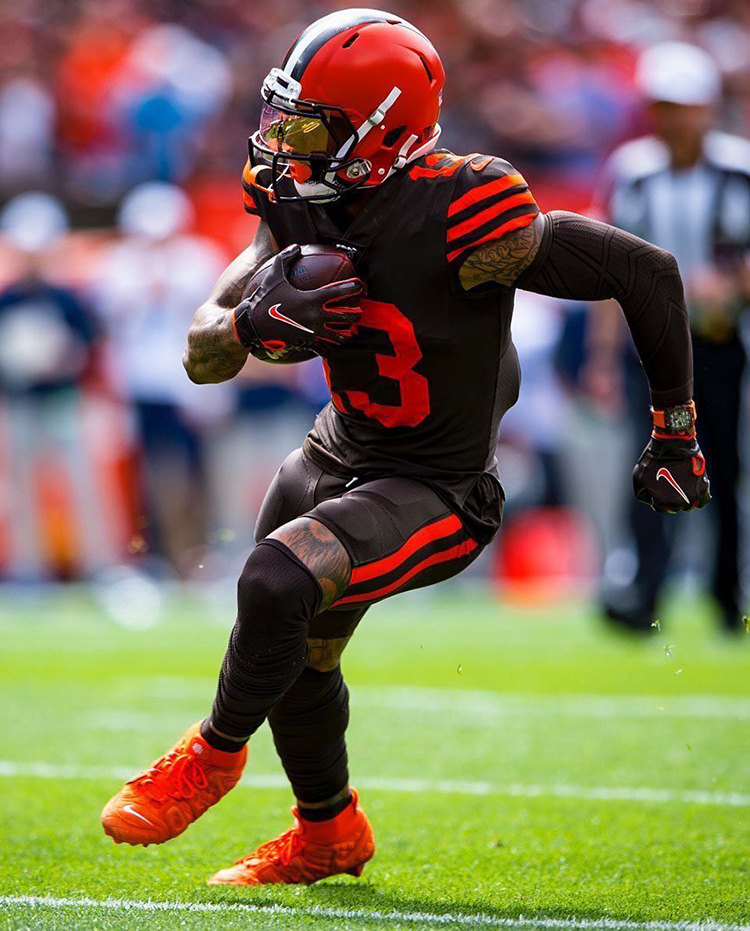 + Taking on an all-orange aesthetic the Nike Vapor Untouchable Pro 3 Uptempo manages to play off team tones while still standing out
+ Peep the matching $350k Richard Mille watch