In recent years, the adidas Matchcourt has served as the creative canvas – both literally and figuratively — for the Three Stripes skate talent to make their mark on the market. From young riders like Na-kel Smith to Harlem hit maker A$AP Ferg, the Matchcourt has been the calling card for introducing action sports artists to the world of footwear.
Enter Nora Vasconcellos.
The Massachusetts made skateboarder is the first female rider for adidas Skateboarding and much like her brand brethren an artist on and off the board.
Lucky for us, when she's not touring the world with adidas, shooting videos for Thrasher or being profiled by Rolling Stone, she has time to talk kicks. On the eve of her first retail release — available now at select skate shops — we chatted with Nora about art, anxiety and lacing her grandma with her new shoes. Check it out below.
Nice Kicks: How did you and adidas first connect?
Nora Vasconcellos: That came about in 2016. I think my name got brought up there. At the time they were really interested in you know working with women and trying to create something different. They were kind of just like "Hey, do you want to skateboard for a living?"
Nice Kicks: What was the process and timeline like for creating your first signature shoe?
Nora Vasconcellos: I was surprised by the trips and the team in a great way. Last summer is when they started talking about the colorway and all that stuff. It's just such a wild concept. They're doing a shoe, and it's basically "Do whatever you want to it." It's pretty crazy. There was a lot of back and forth and shift in ideas.
Nice Kicks: How does the look, feel and function of the shoe represent you as a person, skater and artist?
Nora Vasconcellos: They really wanted to incorporate my artwork somehow. We also talked about how to get the most quality detail on the shoe. Once it started coming together, it was so delicate looking which I loved. It looked kind of stitched, and that was really cool. The color was something we worked on getting somewhere within that purple range. We settled with kind of a dark, hydrangea color. It's crazy, even little subtleties, like the tongue of the shoe. We messed around with embroidery. We were choosing around from other shoes and looking at what was best. It's been fun. The ultimate creative process.
When I was looking at the sample, it was something that I just never thought I would get to do. To do a colorway and do it with adidas? That's the ultimate in footwear. It still hasn't hit me yet.
Nice Kicks: You've been super open about your anxiety disorder, how does skate and art help you find peace and what tips would you give to someone going through the same thing?
Nora Vasconcellos: I think it's kind of like checks and balances. It's all about what works best for you. Everybody handles anxiety differently. For me, it was really about not saying "no" to things anymore and allowing myself to be vulnerable and being like, "Hey what's the worst thing that can happen?" Once I really started to approach things and not be so careful or timid, I started seeing the results I wanted to see in my life. Whether going on trips I always wanted to go on or just having success in other ways like contests or filming. It's definitely a trial and error for everybody, but I think the first step is getting out of your comfort zone. Skateboarding, even though it's my job, it's something that I find the most joy in. That in itself, having what you love as your job, is all about finding balance. Getting personal time and rest is sometimes needed and not needed with anxiety.
Nice Kicks: Aside from your shoe, what are you working on now or have on the way that Nice Kicks readers should be on the watch for?
Nora Vasconcellos: I've been working a lot with adidas and Thrasher so that's been the main focus. I get to do a few different things and I get sidetracked all the time from different projects. It's a lot slower than I wanted to go, but at the same time it's been cool because I'm filming with Mike Gilbert who I have much respect for. It's cool to work with people that I idolize in a little bit of a way. To have Thrasher and adidas backing you is like a dream come true.
Nice Kicks: How does shooting with someone like Mike Gilbert influence your style or approach?
Nora Vasconcellos: When you're shooting with somebody you respect and whose work you like, you want to work harder because you visualize what the outcome is going to be and you're excited to collaborate with them. There's been times where people don't hold as high as a standard as I wish they would. They settled with whatever we get. But people like Gilbert and others will go out and get the trick and then we go back and look at it and say that it wasn't good enough. He'll hold me to the standards I try to hold myself at. That is really important when you're trying to film because it's easy to get lazy if you want to rush something. When you have that person that is pushing you and knows what you're capable of that makes all the difference.
Nice Kicks: To close on your shoe, whether it be peers or fans who are you most excited to see wear it?
Nora Vasconcellos: I'm most excited to give it to my immediate family. To have my mom and my dad or brother walk around in them is just the most important. They've been my supporters since Day 1. My parents are also really smart and creative people. They've always been, not skeptical but rather like, "Do you think you can really be a skateboarder?" They've always supported me but have asked that question at the same time. Part of me is like, "Yes, and look at what happened." They grew up wearing adidas and are fans of the brand. To be able to give them something they're hyped on and can be proud of is very exciting. I'm also really excited to get my grandmother a pair. My family has been the best. I don't think anybody expected things to happen the way they happened. It's exciting.
It's funny too because I follow a lot of shops that post my reels and now I see them post my shoes and that trips me out so much. "Oh my God, this shoe on a shelf and can be bought in two days!" It's very surreal and the next year or so is going to be really exciting. It'll be cool to cater to the women and male market. Definitely exciting.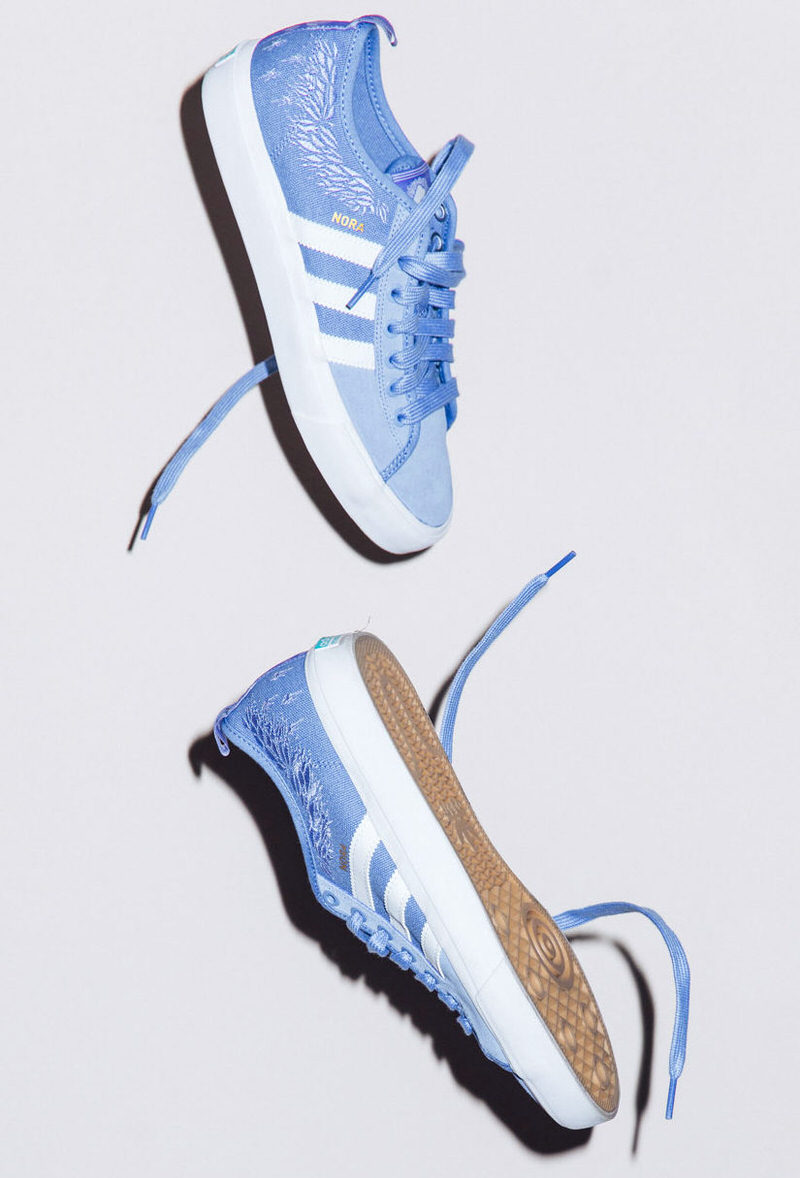 Keep up with Nora on IG and head to your local skate shop to pick up the Nora Vasconcellos x adidas Skateboarding Matchcourt RX Nora.
Lead image by Nick Cantwell