Nike today announced a new long-term apparel partnership with Chelsea FC starting with the 2017-18 season. This union stands as one of many for the Beaverton sportswear giant, and just a drop in the proverbial bucket when it comes to yearly endorsement dollars.
Nike's endorsement budget has grown substantially over the last decade. Dating back to 2007, the company was spending roughly $2.7 billion annually. In 2016, though, Nike has spent a whopping $9.4 billion in endorsements.
Last year, Nike shelled out $6.2 billion in total endorsements, which marks a 52% increase in dollars spent in just one year. In 2014 that number was just $4.7 billion, an even greater leap if viewed from a two-year timespan.
Nike, of course, is bolstering their roster of endorsers both domestic and abroad. So while these numbers may seen staggering, this uptick in expenditures is to be expected considering their rapid growth. It's without doubt they'll break the $10 billion mark in 2017.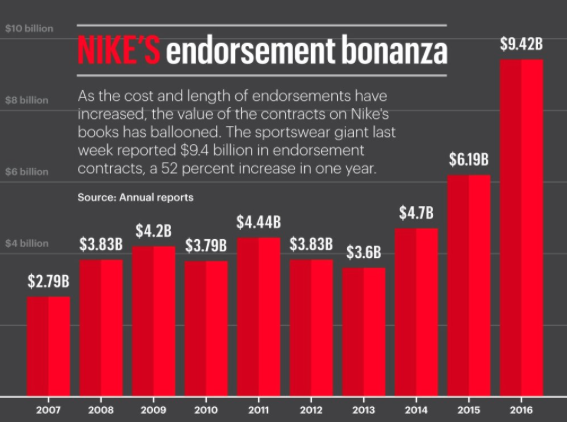 Source: Portland Business Journal