(Lead image via Cato Cataldo/Getty)
With Anthony Davis' "Reverse Grinch" releasing later this year, here are other Mamba kicks we want Nike to put into production.
The Nike Kobe line is officially back as the Swoosh and Vanessa Bryant get ready to relaunch the signature series on Kobe's birthday, August 23.
The return of the Nike Kobe line gives fans and aspiring ballers everywhere the chance to celebrate the life and legacy of Kobe Bryant, while also having access to some of the best performance sneakers in the game.
Since Kobe's death, only a few players have been honored to carry forth the Nike Kobe torch, with standouts like Anthony Davis, PJ Tucker, Devin Booker, Malik Monk, and DeMar DeRozan regularly sporting Nike Kobe PEs.
"Putting his shoes on, every time I go out, I represent him," said PJ Tucker in an interview with Boardroom. As the NBA's resident sneakerhead and former Kobe competitor, it's been an honor for PJ to carry on the Mamba's legacy through his Nike Kobe PEs.
"The hard work that I put in, that he put in, to be able to do this – I can't let him down," said PJ. "You wear it a little more on your sleeve since then. It's something definitely personal, that I cherish for sure."
As a childhood mentee of Kobe, DeMar DeRozan shares this same sentiment with PJ as the Compton-native grew up idolizing Kobe Bryant and fostered a special relationship with Kobe after attending one of his youth camps when he was 15-years-old.
"It started with little conversations like, 'Do this, do this,' next thing you know — it started to slowly turn into a whole different type of relationship that came from respect to me being an athlete, and really paying attention to everything he said," said DeRozan in an interview with Paul George. "By the time I was senior in high school, I'm getting his shoes, personally. He [gave] me his shoes like, 'Play in these.'"
DeRozan and Kobe continued to have a close friendship throughout the years and even competed against each other as DeRozan was drafted by the Toronto Raptors in 2009. DeRozan recalled a memorable moment playing against Kobe during his Raptors era when he decided to opt out of wearing Kobes and faced the Black Mamba wearing Jordans instead. Without any hesitation, Kobe approached DeRozan on the court and said, "Oh, that's what we're doing m*therf*cker?" Kobe showed no mercy to DeRozan that night and hit the game-winning shot in Toronto.
There will only ever be one Kobe, but countless players have been inspired by his gameplay, with Devin Booker attacking the Black Mamba head on in his early days with the Phoenix Suns.
"Playing against Booker, he went straight to my move," said Kobe in an interview after his final game in Phoenix. "You're not going to beat me on my move, [Booker], but it was great to see."
Following that game, Kobe signed Booker's pair of Nike Kobe 11 Elite Lows with an eternal message — "Be legendary" — that Booker has since incorporated into his various Nike Kobe PEs.
Malik Monk is another Mamba maniac and is rumored to have over 200 pairs of Nike Kobe sneakers. The Sacramento Kings player cites Kobe's sneakers as an absolute must-have for gametime saying, "Kobes. I only wear Kobes. These are the god of shoes."
Out of the select few chosen to carry on the Mamba's legacy through his Nike Kobe PEs, Anthony Davis is the only Laker, who unfortunately never got the chance to play alongside Kobe in Los Angeles. The two got to play together on Team USA during the 2012 Olympics, but Davis didn't join the Lakers until 2019, three years after Kobe's retirement.
"Being someone that [knew] him since I stepped foot in the league, all the way back to the USA team, seeing everything he did on the floor, off the floor kind of inspired me to follow that same path and have that same work ethic," said Davis in an interview with the Los Angeles Times. "Being here in a Laker uniform, it's even more inspiring for me to try to continue the legacy that he built here. He's the guy that everyone looked up to and wanted to be like."
As Mamba fanatics get ready for the Nike Kobe relaunch, which kicks off with the Nike Kobe 8 Protro "Halo," Nice Kicks selects 15 Nike Kobe PEs that we would like to see release amidst the Nike Kobe revival.
---
Nike Kobe 4 Protro PE "Drew Aid"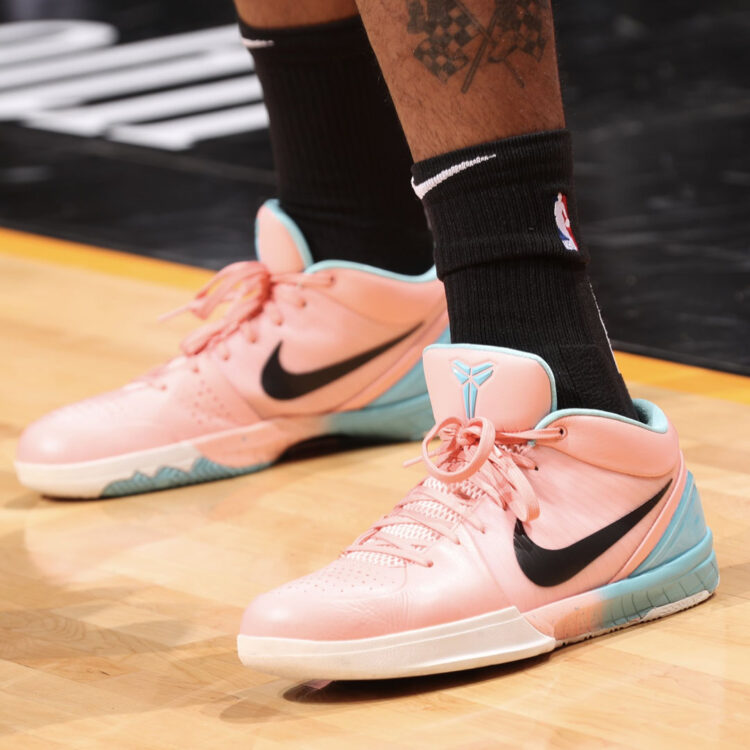 Get a taste of Drew League's "Drew-Aid" with this Nike Kobe 4 PE. This colorway is inspired by the summer league's signature pink lemonade, homemade by Mrs. Smiley, who keeps the drink's secret recipe under lock. The chilled potion isn't your average pink lemonade as it's been said to have notes of watermelon, strawberry and other fresh fruit. The Nike Kobe 4 Protro PE "Drew-Aid" has a sweet pink upper with chilled blue highlights on the heel counter and Kobe logo.
Nike Kobe 4 Protro PE "Argentina"
DeMar DeRozan's Nike Kobe 4 Protro PE "Argentina" was made to honor Manu Ginobili at his Spurs jersey retirement in 2019. DeRozan designed the pair 6 months in advance of the special day and took inspiration from Argentina's flag as an ode to Ginobili's heritage. This sneaker has a rare suede upper with a striped heel counter and gold finishes on the Swoosh and Kobe tongue logo.
Nike Kobe 4 Protro PE "Lakers"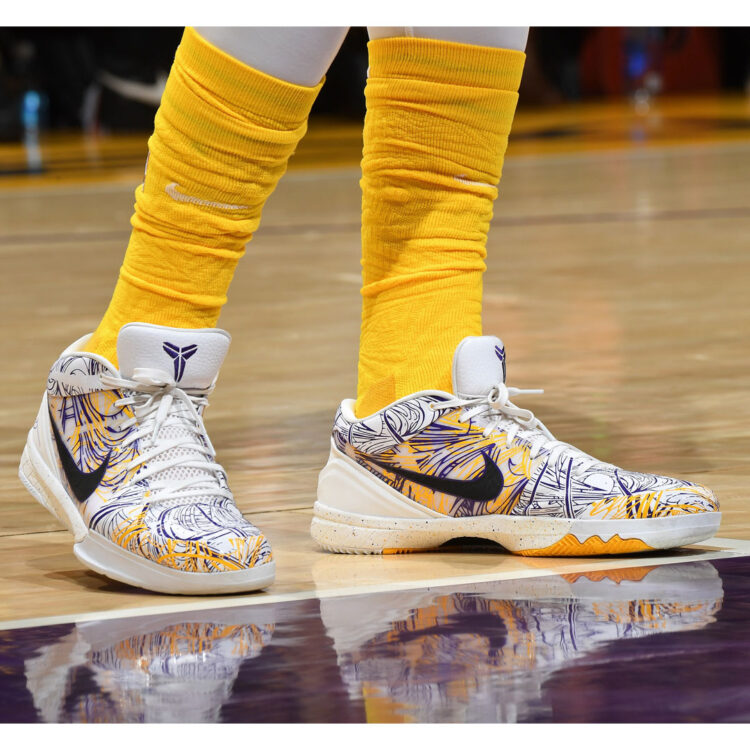 As basketball royalty, the Los Angeles Lakers inspired this regal Nike Kobe 4 Protro PE colorway worn by Anthony Davis. This sneaker has a premium white leather upper with the Lakers' signature team colors creating a unique purple and gold swirl pattern fit for a dynasty as championed as the Lakers.
Nike Kobe 5 Protro PE "Chicago"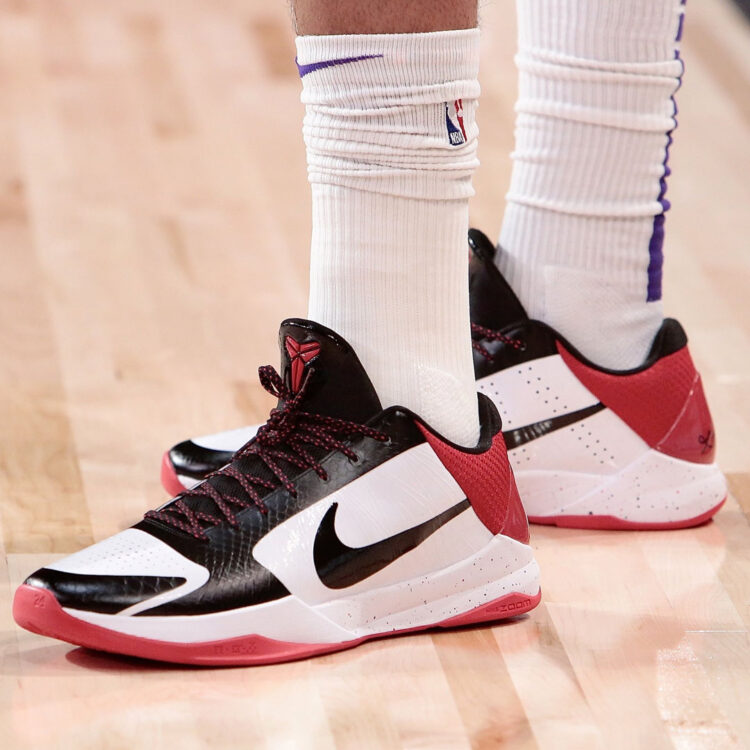 Two GOATs collide on Anthony Davis' Nike Kobe 5 Protro PE "Chicago." This sneaker honors the legacies of both Kobe Bryant and Michael Jordan as the silhouette takes on the iconic "Chicago" colorway. This PE pair is especially sentimental to Anthony Davis as these sneakers helped him to bring home another championship for the Lakers during the 2020 NBA finals, just months after Kobe had passed.
Nike Kobe 6 Protro PE "WNBA"
Before his untimely passing, Kobe Bryant was a big proponent for the WNBA and looked forward to the day that his daughter Gigi would join the league. The two would regularly attend games together and Kobe even acted as a mentor for standout athletes like Sabrina Ionescu, Jewell Lloyd, and Gabby Williams. It hurts knowing that the world will never get to see Gigi shine in the WNBA, but DeMar DeRozan's Nike Kobe 6 Protro PE "WNBA" serves as a reminder of Kobe and Gigi's message to support female athletes and uplift Mambacitas everywhere.
Nike Kobe 6 Protro PE "Green"
DeMar DeRozan dropped 38 points in this Nike Kobe 6 Protro PE "Green" in a game against the Phoenix Suns on February 7, 2022. DeRozan definitely made use of the silhouette's locked-down fit with Nike Zoom technology and responsive cushioning. The sneaker takes on a minty green upper with a purple Swoosh, matching Kobe logo, and speckled midsole.
Nike Kobe 6 Protro PE "Sunset"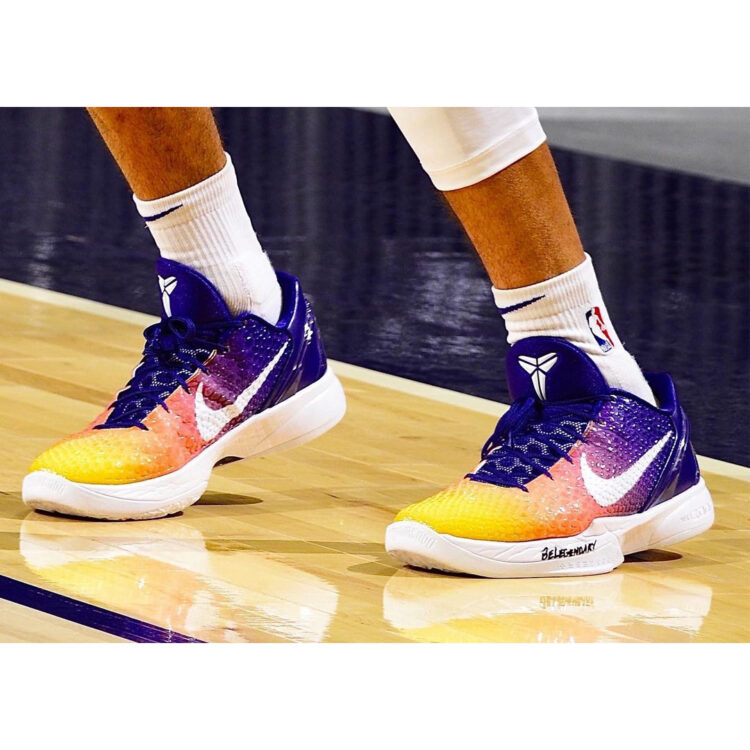 Just when you thought it couldn't get any hotter in Phoenix, Devin Booker takes it up a notch with his Nike Kobe 6 Protro PE "Sunset." This gradient sneaker gives high-heat a new meaning as the sunset-inspired colorway represents the Valley of the Sun with its signature yellow, orange, and purple.
Nike Kobe 6 Protro PE "Reverse Sunset"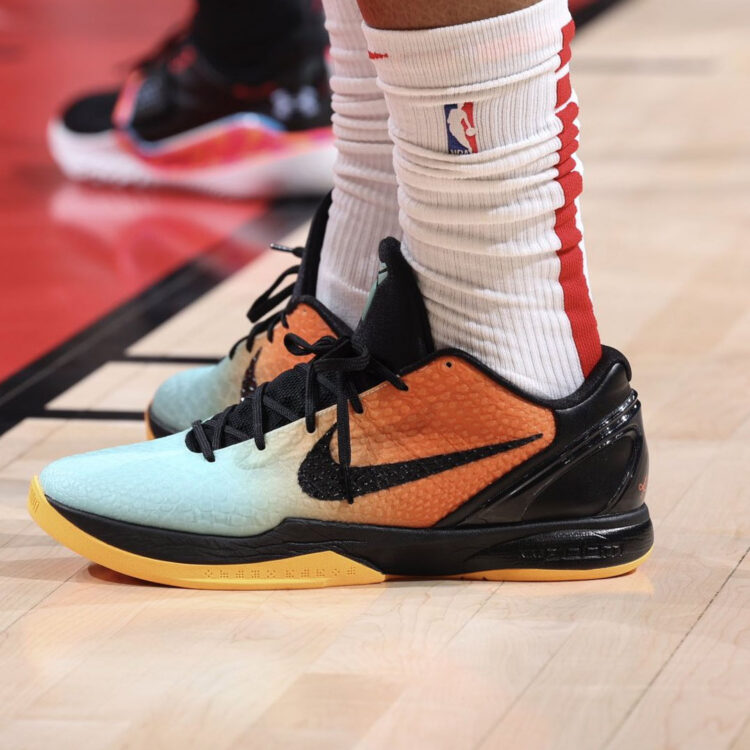 From dawn to dusk, DeMar DeRozan is always reppin' Kobe in one way or another, and was even rumored to be the new "featured face" of the Nike Kobe line at one point in time. DeRozan's Nike Kobe 6 PE "Reverse Sunset" is nothing short of glorious as this sneaker sports a breathtaking colorway that fades from sky blue to sunset orange.
Nike Kobe 6 Protro PE "Neapolitan"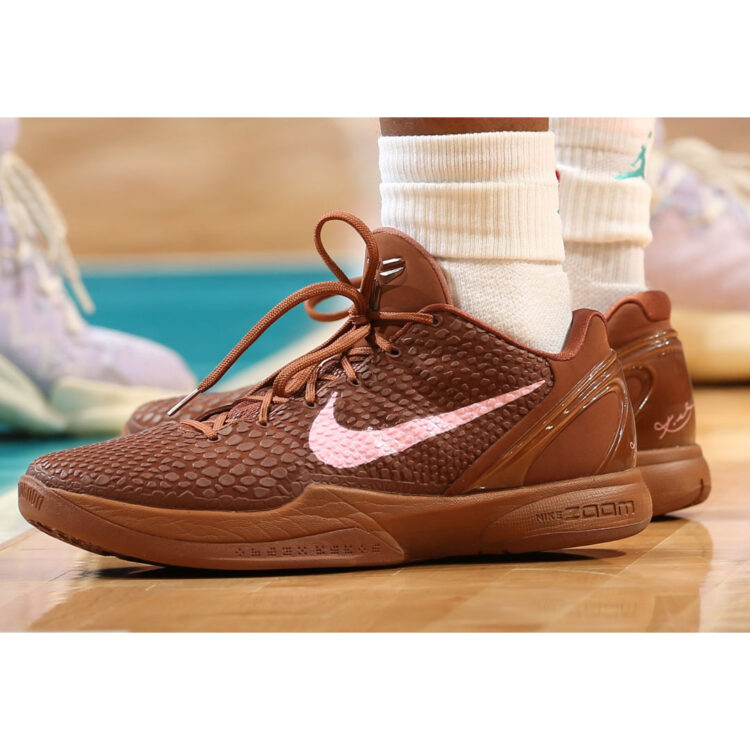 Malik Monk's Nike Kobe 6 Protro PE "Neapolitan" could cure any sweet tooth as this decadent colorway has cocoa brown hues and a sugary pink Swoosh. Despite the colorway's ice cream-inspired palette, this sneaker was actually designed for Monk's dog, who is a Neapolitan Mastiff named Bear. Although Monk currently plays for the Sacramento Kings, the Arkansas native previously chose the Los Angeles Lakers during his free agency in 2021, just so he could play for the same team and in the same arena where Kobe built his legacy.
Nike Kobe 6 Protro PE "Mamba Day"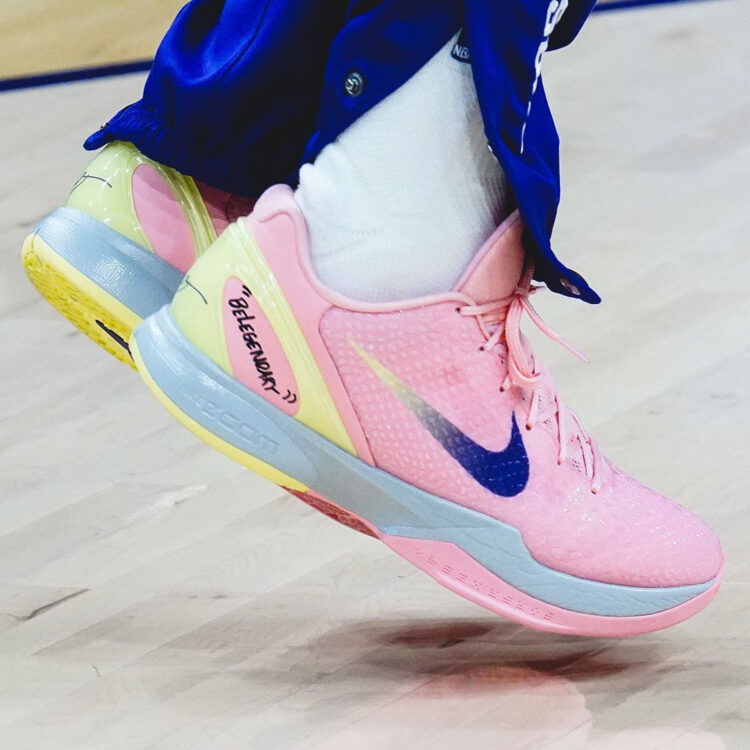 Devin Booker's Nike Kobe 6 Protro PE "Mamba Day" was inspired by Kobe's Mamba Mentality. The Phoenix Suns shooting guard inked "BE LEGENDARY" on the side of the lateral heel counter, which complements the sneaker's pink upper, pale yellow highlights, and gradient purple Swoosh.
Nike Kobe 6 Protro PE "Girl Dad"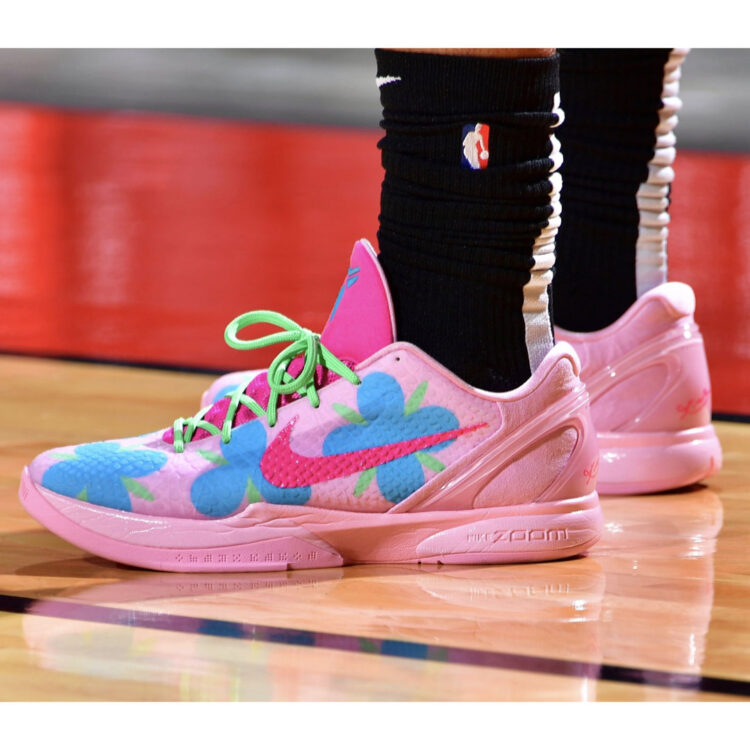 As the father of four daughters, Kobe Bryant proudly repped being a "girl dad" and inspired fathers everywhere to be there for their daughters. DeMar DeRozan keeps the girl dad movement going as his exclusive Nike Kobe 6 PE "Girl Dad" was inspired by DeRozan's daughter, Mari. The sneaker has a playful pink upper with bright blue flowers and green accents throughout.
Nike Kobe 6 Protro PE "Cheetah"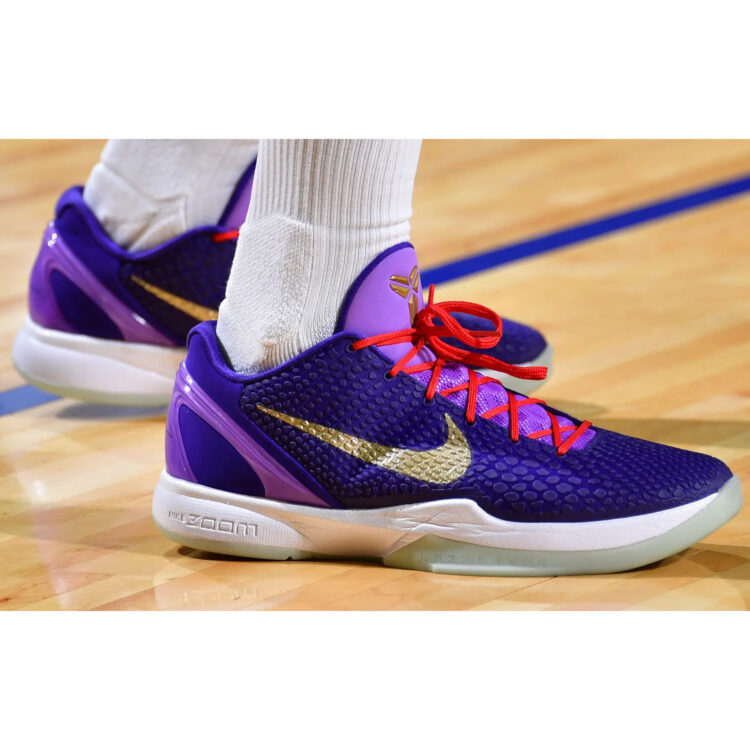 On and off the court, PJ Tucker has some of the rarest sneakers around. This particular Nike Kobe 6 Protro PE "Cheetah" might be one his rarest, as this sneaker was inspired by an unreleased Nike Air Yeezy 2 colorway designed exclusively for Kobe Bryant to wear during All-Star Weekend in 2012. The Nike Kobe 6 "Cheetah" features a purple Mamba-skin upper with red laces and a golden Swoosh. Asking for this PE to release might be as far-fetched as an 81-point game, but with perseverance, miracles can happen, and we're begging for Nike to bless us.
Nike Kobe 6 Protro PE "Floral"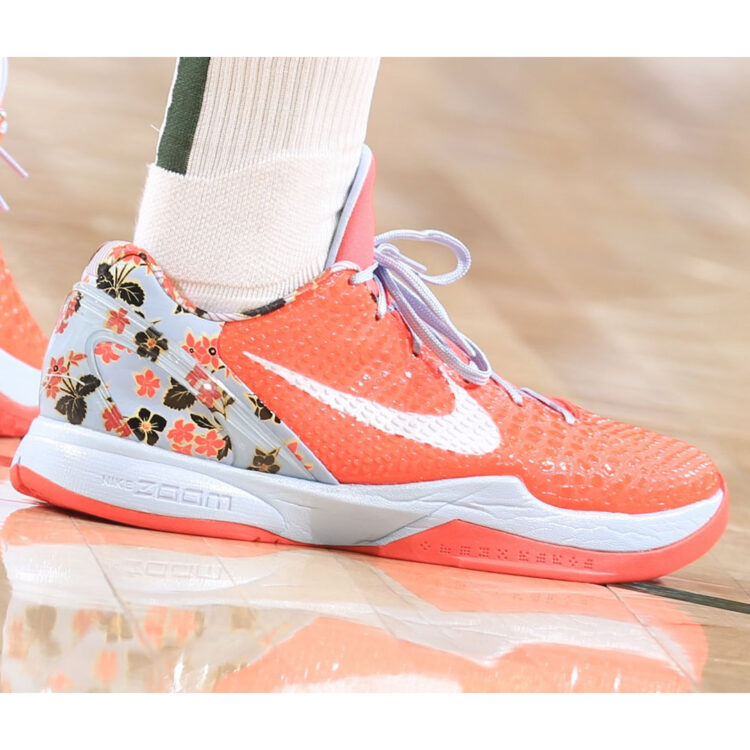 PJ Tucker's off-court style inspired his Nike Kobe 6 Protro PE "Floral." This sneaker used a custom print made to look like one of PJ's favorite Prada shirts. Italian summers inspired the colorway with an Aperol-colored upper, pale blue heel counter, and complementary floral print. Earlier this year, PJ signed and donated this game-worn pair to a charity auction held by the 76ers' Youth Foundation, a non-profit organization that provides basketball resources for kids throughout Philadelphia.
Nike Kobe 6 Protro PE "Ukraine"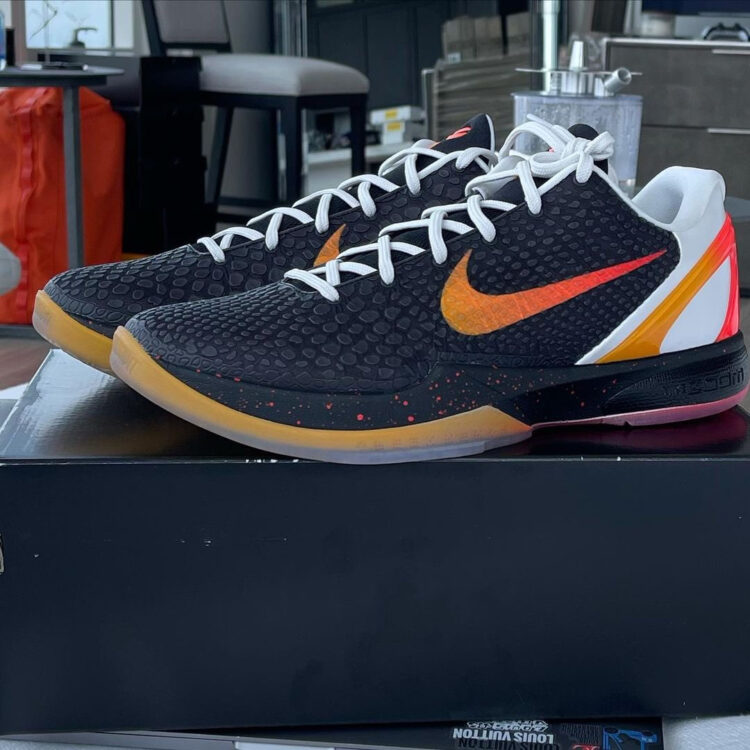 Between 2008-2010, PJ Tucker played for BC Donetsk in the Ukrainian SuperLeague and his Nike Kobe 6 Protro PE "Ukraine" is dedicated to his time in competing in the Eastern European country. The sneaker uses BC Donetsk's team colors with a black upper and gradient orange accents throughout, inspired by the team's tiger mascot. BC Donetsk was short-lived and only lasted from 2006-2014, but its legacy lives on through PJ's exclusive PE.
Nike Kobe 6 Protro PE "Lakers"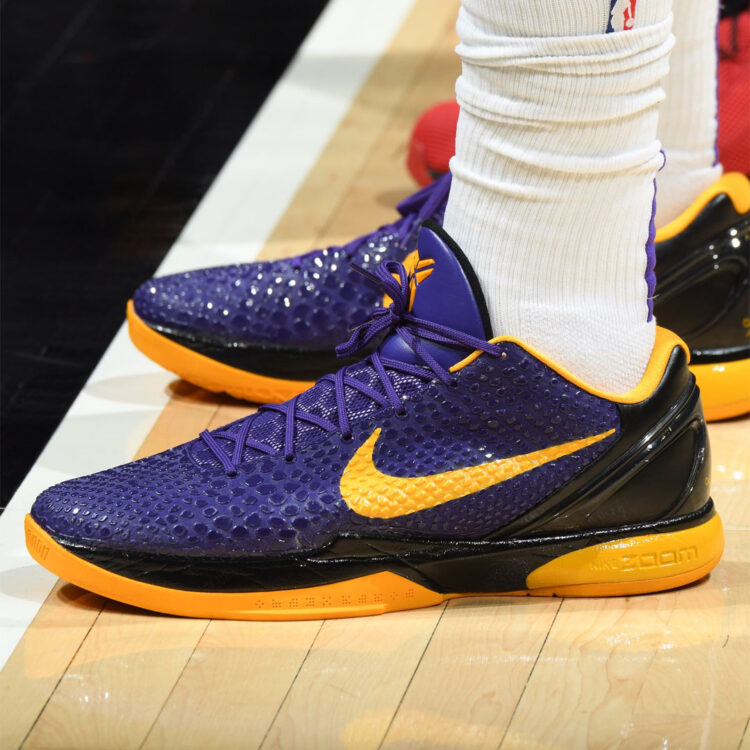 The Nike Kobe line has too many Lakers-inspired colorways to count, but this Nike Kobe 6 Protro PE hits different. This pair belongs to Anthony Davis, who has been with the Lakers since 2019. The snake scales strike harder than ever on this deep purple upper, with gold details and black shadows that give the sneaker a Mamba-approved finish.
---
For more sneaker news and Nike Kobe release dates, follow @NiceKicks on Instagram.