Technology is often moving at a speed faster than most of us can keep pace. Where sneakers are concerned, technological advancements in the industry are changing not only what we wear, but how brands manufacture products we ultimately covet.
Nike announced the introduction of Flyprint — the first 3D-printed performance fabric. And, for what it's worth, it may just be their most influential contribution to sneakers in more than a decade. Yes, it's bigger than Flyknit and more culturally relevant than Hyperadapt self-lacing technology.
On many levels, Flyprint is a highly defined, remarkably streamlined iteration of Flyknit. Think of it as an iOS update that finally feels right, following countless workable yet slightly inefficient patches. Now that's no knock on Flyknit — or Flywire for that matter — as there wouldn't be one without the other. But progression has always defined Nike and its many innovations.
The Nike Zoom Vaporfly Elite Flyprint feels different. It feels right. It feels like they nailed it. Here's a deep-dive into what it is, how it came to be and why it will be great.
What Exactly Is Flyprint?
The term computational design is largely associated with creation and thus the definition of progression in the tech industry. Nike Flyprint now represents that space in sneakers. A manufacturing marvel as the first 3D-printed textile upper in performance footwear, Flyprint uppers are produced solely through a solid deposit modeling (SDM). The process represents a TPU filament unwound from a coil, melted and laid down in layers. This is all backed by a customized 3D printer from a proprietary Nike polymer.
Unlike many 3D-printed goods, Flyprint is not necessarily a hard-shell composite. It's more of a fabrication with reinforcements by past Nike developments like Flyknit and Flywire at the tongue, collar and eyestay. There's a noticeable bond between Flyprint and Flyknit. The two work in matrimony through a seamless union that creates a lightweight one-piece design, built both for performance and aesthetics. Sure, Flyprint can be a standalone product, but as of right now it doesn't appear to be.
Where Flyprint surpasses all other technologies is in its specificity to athletic performance. The process to develop the Flyprint upper starts with capturing athlete data. As previously mentioned, this is funneled through computational design. Data is accumulated and computed to affirm the ideal composition of the material. That information is then used to help produce the final textile. This not only lends to Flyprint's exclusivity, but it speaks to just how fast iterations can be created. Nike has stated that prototyping is 16-times quicker than in any previous manufacturing method. This implies athletic performance can be tweaked and tested in record time, allowing athletes to overcome roadblocks at a much quicker turnaround. Moreover, Nike now has the ability to produce customized 3D-printed sneakers faster than ever.
How Did Flyprint Come To Be?
In September 2017, at the Berlin Marathon, Eluid Kipchonge ran the fastest time ever recorded, canvassing the 26.2 mile distance in 2 hours and 25 seconds. Still, he fell short of his ultimate goal of finishing a marathon in under 2 hours. The Kenyan distance runner was the central figure in Nike's 2017 #Breaking2 campaign, which also revolved around their hallmark marathon runner, the Nike Zoom Vaporfly Elite.
In that failure — if it can even be described as such — Nike learned a very valuable lesson: the shoes were absorbing water on wet surfaces, slowing down the runner's strides as Kipchonge would later detail. So, in lieu of tinkering with the shoe's chunky midsole tooling which provides unparalleled energy return, Nike designers revisited a new application of a performance-printed 3D upper. They would later coin the process Flyprint.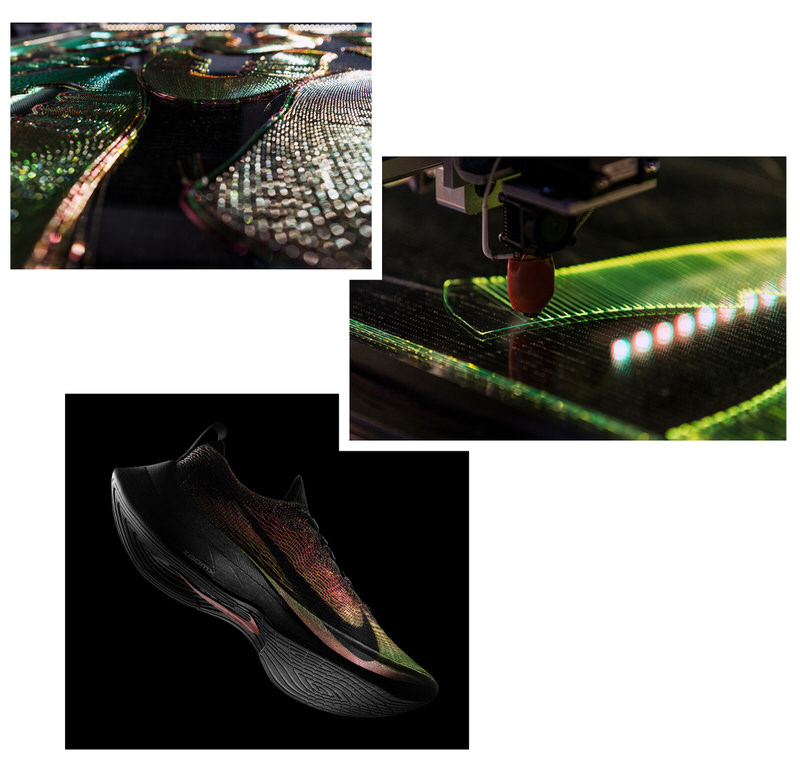 This is not the first time a groundbreaking innovation emerged from a misfire. Roger Chen, Senior Director of NXT Digital Innovation at Nike, in a statement to Fast Company said that Nike didn't originally want to implement 3D-printing simply because it's the shiny new industry toy. It had to, and at its very essence be required to, make absolute sense for both the runner and the product.
"We didn't want to use 3D printing for the sake of using 3D printing," Chen reiterated. "That's where we took a step back, and thought, how do we focus on the design brief: a lighter shoe, that's more breathable, and allows rain and moisture control?"
Flyprint Will Completely Shift Performance Running Footwear
One of the primary functions of a great runner is speed. The Nike Zoom Vaporfly Elite Flyprint weighs just 169 grams, undeniably making it one of the lightest running sneakers on the market. This marks a 6% reduction in weight when compared to the Zoom Vaporfly Elite which comes in at 180 grams. This leads to a huge indicator of increased speed for the runner — that's not to mention the Elite Flyprint's ability to shed potential weight added by water retention.
A Flyprint upper is almost visibly translucent. When you're running in the shoe the wind blows through to your feet, a feeling Kipchonge related to "flying." As one of the fastest distance runners around he is flying, in large part due to Nike's ability to render Flyprint to perfection from start to finish in approximately four months. Typically, sneaker production of this magnitude takes the better part of ten to twelve months.
Nike, with the creation of Flyprint, has scaled the trial and error process substantially. Speed now takes on an entirely different connotation. Runners are inherently and through hard work filled with endurance and speed. Now, Nike can produce running sneakers with industry best speed. By every measure, quicker production should also eliminate increasing labor cost. Robotics doesn't require an hourly rate for manufacturing processes.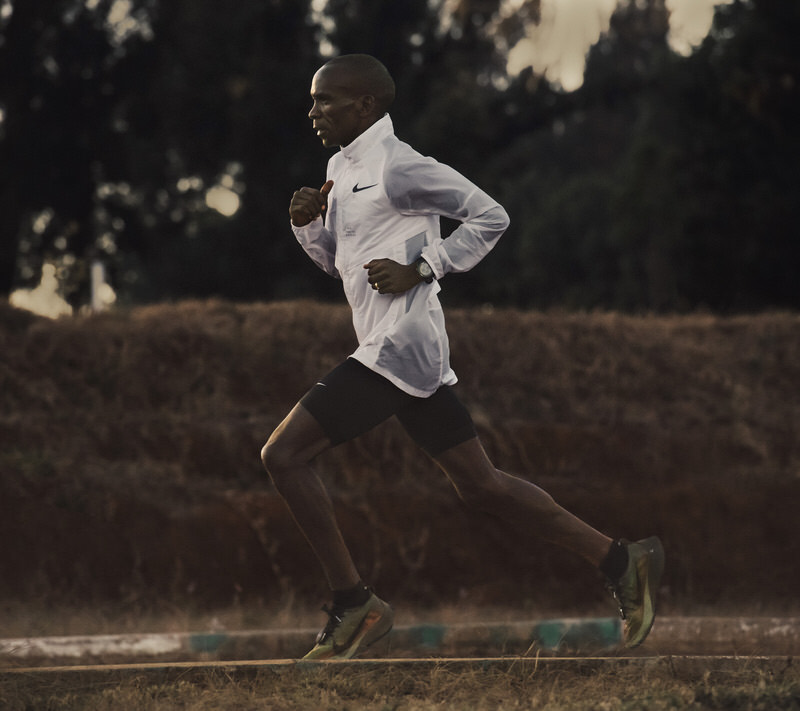 Back in 2015, Nike competitor, adidas, announced plans to open its Speedfactory in Ansbach, Germany and soon after in Cherokee country Georgia. Its foundational premise relies on automation and production robots to streamline and simplify manufacturing. Adidas stated the factory would allow them to produce more of its products faster and in closer proximity to its consumer base which has grown exponentially in the U.S. in recent years.
Nike, too, won't be far removed from factories of a similar volition. Fewer physical employees, greater production numbers and, equally important, reduced waste enhance this approach to manufacturing. Simply put, it can and will aid Nike's ongoing sustainability efforts.
What To Expect From Flyprint This Year
Eluid Kipchonge will debut the Nike Zoom Vaporfly Elite Flyprint at the London Marathon on April 22nd. Subsequently, a limited number of pairs will be made available that weekend in London via the Nike app. The shoe will reportedly cost $600 USD.
This, as history has proven, is repeat behavior where widely desired Nike performance releases are concerned. An athlete wears the shoe, Nike tweaks it to meet their personal specifications, then, at a later time, a somewhat scaled version is released to the masses.
Pro-level technologies will be pronounced to a lesser degree for retail, as the general public doesn't require what a pro marathoner does. Expectations are that the shoe will be available to the masses in late 2018 or early 2019.
What's certain at the current time is that Nike has created something that will revolutionize the footwear industry. Computational design in mind, this incredible new approach towards performance runners could one day impact the world of basketball, football and the full range of track & field.
Nike is going full tilt with Flyprint. This is just the beginning.