Paying tribute to 13 years of design innovation and technological breakthroughs, Nike today unveils the foundational "Black Mamba" pack. Circling the partnership with Kobe Bryant and designer Eric Avar, the pack celebrates a legacy fulfilled and fittingly, fades from white to black in accordance with Bryant's final game on April 13.
Including each and every Nike Kobe silhouette – while also implementing silhouettes clearly tied to Bryant like the Nike Huarache 2K4 and the original Hyperdunk from 2008 – 13 cities offer inspiration to each style, signifying Bryant's creative fuel from around the globe with GPS coordinate markings in The Black Mamba Pack boxes.
The Nike "Black Mamba" Pack launch will begin tomorrow, March 22, kicking off with the Nike Huarache 2K4 in white. All 13 styles will be available globally, in limited numbers, at select retail locations and the SNKRS app leading into Bryant's final game on April 13, in which he'll the Nike Kobe 11 in black/gold. Check out the looks below.
Nike Black Mamba Pack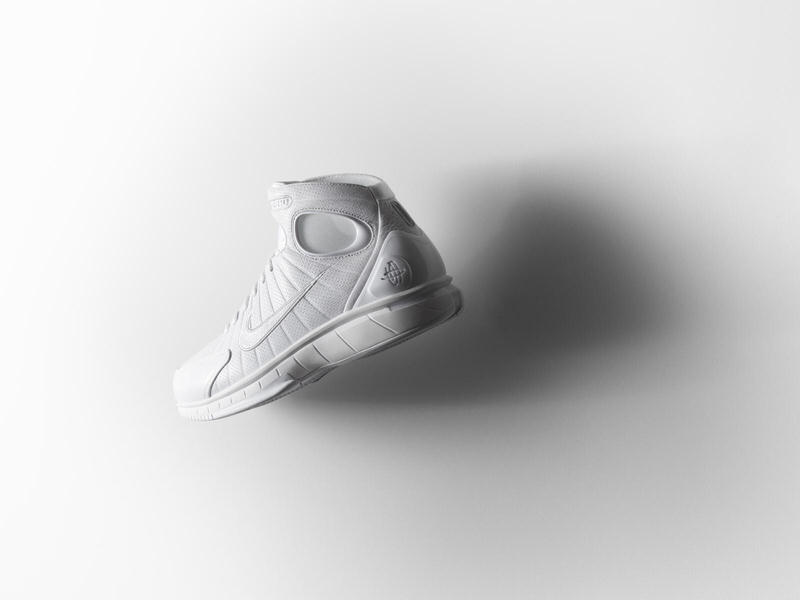 Nike Zoom Huarache 2K4 FTB
Color: White/White-White
Style Code: 869610-111
Release Date: March 22nd, 2016
Price: $200
Nike Zoom Kobe 1 FTB
Color: Sail/Sail
Style Code: 869451-110
Release Date: March 23rd 2016
Price: $200
Nike Zoom Kobe 2 FTB
Color: Light Bone/Light Bone
Style Code: 869452-003
Release Date: March 25th, 2016
Price: $200
Nike Zoom Kobe 3 FTB
Color: Matte Silver/Matte Silver
Style Code: 869453-004
Release Date: March 28th, 2016
Price: $200
Nike Zoom Hyperdunk FTB
Release Date: March 28th, 2016
Price: $200
Nike Zoom Kobe 4 FTB
Color: Dust/Dust
Style Code: 869450-005
Release Date: March 30th, 2016
Price: $200
Nike Zoom Kobe 5 FTB
Color: Tumbled Grey/Tumbled Grey
Style Code: 869454-006
Release Date: April 4th, 2016
Price: $200
Nike Zoom Kobe 6 FTB
Color: River Rock/River Rock
Style Code: 869457-007
Release Date: April 5th, 2016
Price: $200
Nike Zoom Kobe 7 FTB
Color: Blue Fox/Blue Fox
Style Code: 869460-442
Release Date: April 6th, 2016
Price: $200
Nike Kobe 8 FTB
Color: Dark Raisin/Dark Raison
Style Code: 869456-551
Release Date: April 8th, 2016
Price: $200
Nike Kobe 9 Elite FTB
Color: Anthracite/Anthracite
Style Code: 869455-002
Release Date: April 11th, 2016
Price: $200
Nike Kobe 10 Elite Low FTB
Color: Dark Obsidian/Dark Obsidian
Style Code: 869458-441
Release Date: April 11th, 2016
Price: $200
Nike Kobe 11 Elite Low FTB
Color: Black/Black
Style Code: 869459-001
Release Date: April 13th, 2016
Price: $200