"What's good with it?" Na-kel Smith asks me positively and genuinely.
Recently rapping at Thrasher's SXSW showcase, modeling Supreme's collection with Public Enemy and UNDERCOVER, and designing three collaboration capsules for adidas Skateboarding, Nak has every reason to be worn out. On top of that, at the moment I'm talking to him he's running late only because he just got pulled over for his first speeding ticket. So, not only does he have every reason to be worn out, he's got good reason to be down or even negative.
That's just not Nak.
A creative in every sense of the word, the 23-year old pro is fueled by endless ideas and positive vibes. The result? An insanely busy schedule that takes him to both coasts and both hemispheres, but also an amazing output for someone that's really arriving on a global scale.
Ahead of this weekend's 3 Rooms event in LA where he'll launch collaborations with adidas Skateboarding, Brooks Brothers and Fucking Awesome, we spoke with Na-kel about turning doodles into designs, being seven shoes in with adi and retiring in the mountains.
Nice Kicks: Your history with adidas Skateboarding is young but still decorated. What went into creating these three collections and what makes them more unique and more personal from your past work?
Na-kel Smith: [Pauses] I have a lot of ideas. I was thinking about so many things at one time, thinking what am I gonna do next. Eventually, I was able to put a few of the ideas together. Really, there's a bunch of different life experiences that add to each piece.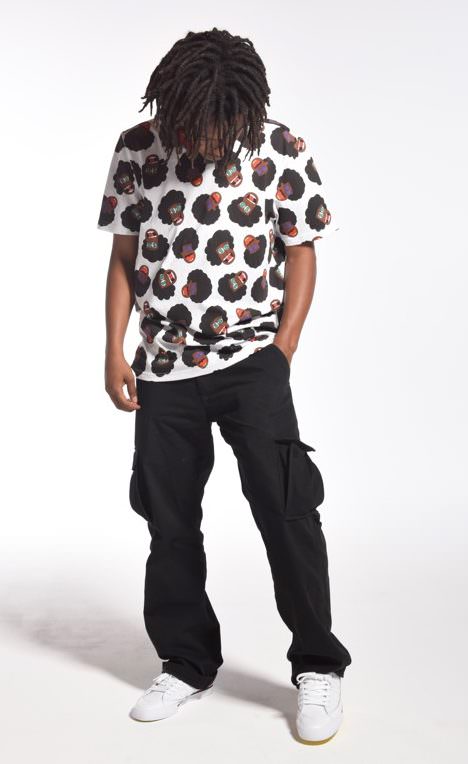 With the Brooks Brothers and adidas collab, I went to The Tate in London when I was on an adidas trip and I saw some really good art and some really pretentious art that made me laugh. When I was thinking about the collection as a whole, doing the Fucking Awesome shoe was number one. Then I wanted to do a shoe that you could just chill in which is what the Nak-apulco is. Then I felt like adding the Sports Pack [Na-kel Smith Collection] aspect made sense in pitching it all to adidas to make it work because I'd seen so many collections they did with soccer jerseys and sweatshirts.
It just really grew over time, we've been working on all this for over a year. I just try to make everybody happy. I know what I want is a little crazy because sometimes that's how my ideas can be — and we haven't even got to the crazy things yet — but there's comfort zones and I try to think about how people will look at stuff and figure out a way that we can all equally get what we want.
Nice Kicks: The face logo on the shirts and insoles is definitely the hero of the Na-kel Smith Collection. When did you first draw it and what does it represent?
Na-kel Smith: I draw that all the time, I've been drawing that since I was young and it's just something that I doodle. It just started off as a doodle, but then sometimes I'd draw it to show different moods I was in or different ideas I have. It helps me save ideas, it's quick and it feels good to draw it. It's like my friend now. I really draw that all the time.
Nice Kicks: This week you've got the 3 Rooms event going down. First off, tell us how that feels. Secondly, walk us through the three rooms and the three collabs for those of us who can't attend.
Na-kel Smith: First, there's the Brooks Brothers x adidas room which is the Business Room. It's the first room you walk in. I wanted it to look like a boardroom or a waiting room, just real formal. Then you walk into the Na-kel Smith Collection room, the Sports Room, that's where you see all the stuff with the faces on it. There'll be games, there might be a 2k tournament, FIFA in there, the clothes will be hanging and it's gonna look real cool in there. Then you'll have the FA room, the Space Room, that's gonna be real outerwordly, it's gonna be wild. We're gonna kick it and just hang out. I don't even know how to feel about any of this yet, honestly. This shit is all so wild to me. The fact that I'm about to be seven shoes in? It's really crazy to me and it really trips me out.
Nice Kicks: The Brooks Brothers collaboration was really interesting to me because it's so unexpected. Any time you do a shoe it's a layup, but how did the suit come about?
Na-kel Smith: Adidas helped a lot with getting the Brooks Brothers collab to turn out how it did. I had the idea to make a suit first, but I didn't think about it from wanting to do something with Brooks Brothers I thought about it through making a suit first. I was told that it would be easier to collaborate with somebody that was good at making suits because I wanted it to be a real suit and not tacky.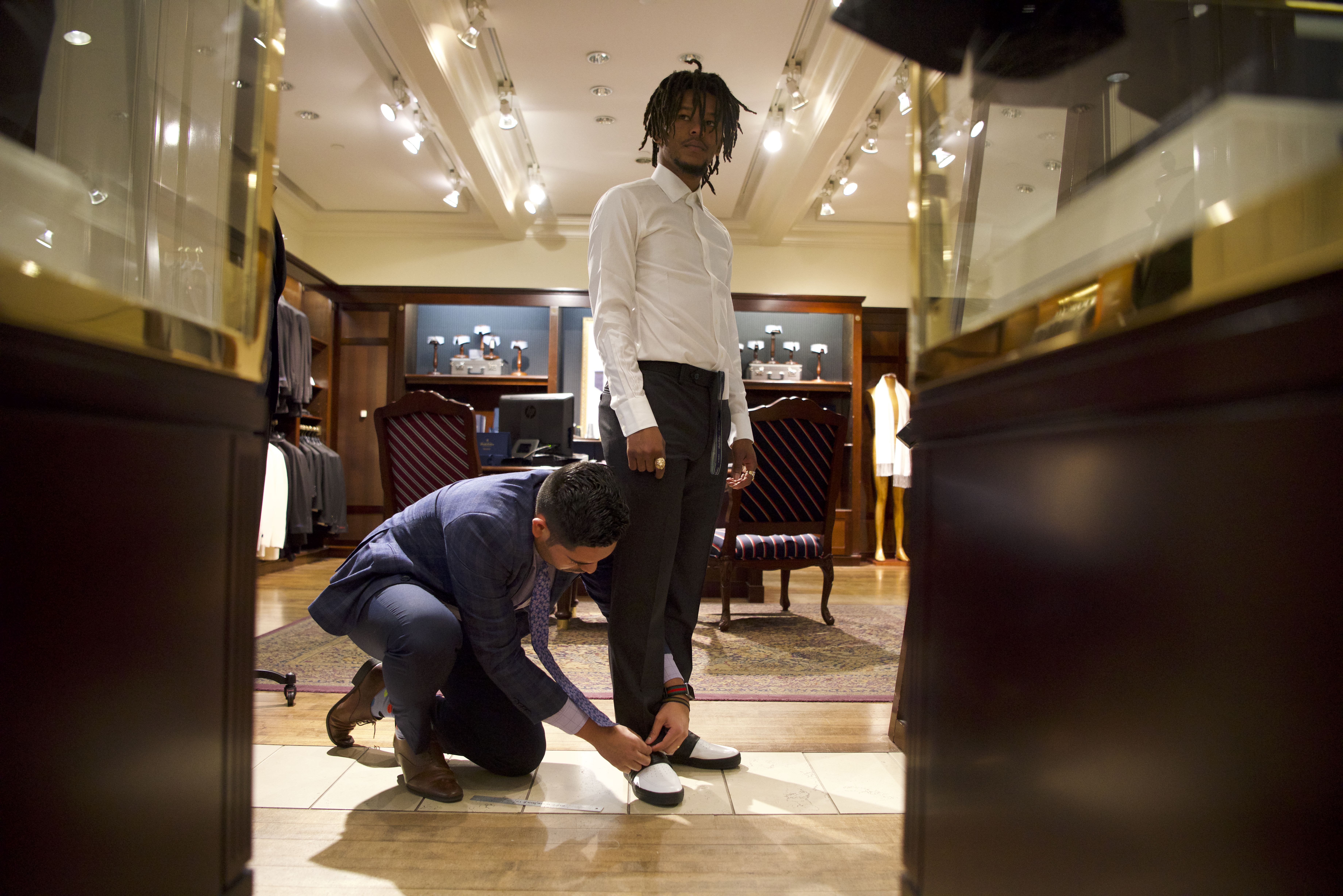 Recently, I had to go to a ball and I had to be dressed very sharp. So, this is my first time buying a suit — I had like little kids suits for graduation or if you go to church one time — and me and my friend Lionel went to buy suits and I was like, woah. I knew Brooks Brothers made good suits but I never really had anything to do where I needed a suit. After that experience of buying a suit and just how helpful everyone was in the store, learning about the size of my body and fitting of shirts I was super, super stoked to have it happen.
Nice Kicks: Conversely, Fucking Awesome is the total other end of the spectrum from Brooks Brothers.
Na-kel Smith: When I came up with the idea for the FA shoe, there was a lot of things to tie it all in together. FA is one of my sponsors, but those are my boys, ya know? I really appreciate outside of being a part of Fucking Awesome just Fucking Awesome as a brand for the eye that Jason Dill has. It's really ill to be working with people who you can trust. Like, when Dill makes me a graphic or makes clothes I can trust that he's going to push the boundaries but not in a bad way.
There's a lot of things going into these projects that start off a few ideas and some of them kind of get pushed out the way. Like, we wanted to do a board with all of this, but it kind of didn't work out that way, but it did work out. I made a good looking shoe and I really like that shoe.
Nice Kicks: As a silhouette, these are definitely one of the wildest shoes you've put out.
Na-kel Smith: I remember, that shoe was on the chopping block one day at the adidas office in Portland. I was sitting in at this random meeting in Portland and it kind of seemed like the shoe might not make it, but I was so infatuated with the shoe because it looked so cool to me. They had an early sample and I was like, "Oh my God you guys have to make this shoe!" When I put it on my foot, the way it hugged my foot felt so good. That's a problem I have with a lot of shoes, some shoes just suck to have on for a long time. The shoe was just some shit that I really fucked with, especially how different it was from a lot of shoes. It was cool, because I felt like my opinion was valued at the meeting. There were changes in the room based off what I said.
I've done every Matchcourt and I could keep doing stuff with that, but my main thing was I wanted to do a different silhouette. I think we caught it all. It's an adidas shoe in collaboration with me and Fucking Awesome and I think we told that story very well with the 'Nak' in the FA font from one of my first pro boards. It looks like a space boot to me and that's what I always picture it as. It's a slip-on that doesn't look like this one company's slip-on. To see a slip-on shoe that doesn't look like that one slip-on? It's amazing. It's just a whole different perspective on it and I think that's awesome.
Nice Kicks: Of your recent work — collaborating, skating, rapping — what sticks out as your personal highlights whether it's the product/song or the process that went into them?
Na-kel Smith: Every day of my life. Every single day of my life I just think that it's crazy that I'm doing all of this shit and that's pretty much it. There's so much that goes on in life and I'm glad that I can at least be doing some good shit on top of everything. All of this shit is kind of therapeutic for me. It takes me away from real life I guess sometimes. It puts you in these different places. I feel like a lot of times if you're not doing something that makes you happy or you never have that time where you're forced to break away from whatever you have going on in your life then you're just going to sit and be mad or be sad or be confused.
My life has had a lot of instant balance. It's like boom: something good will happen, something bad will happen. Then something bad will happen and then something good will happen. It's so back-to-back that I can never truly be sad or vice-versa. I think it's good because it keeps everything in its moment.
Nice Kicks: That's deep.
Na-kel Smith: [Doing things like this] you can have something to be proud. I put a lot of thought and time and I draw shit out. I really try to put in work with all of these things. I do research 24/7, 365 days a year. Every day of my life I look at things, figure out what I like and things start piecing themselves together. I'm always working on it, whatever it is or the next thing is. It's not exhausting, but it is work. When it comes together, it's rewarding and it just puts you in your own place and your own world. That's how I feel about it.
Nice Kicks: On top of all the collabs launching with the 3 Rooms event, you've been performing at the Thrasher Showcase at SXSW and modeling the recent Supreme drop. Do you do anything to recharge?
Na-kel Smith: Fuck no. [Laughs] I probably do need to recharge. I'm so serious. [Laughs] There's always something. It's cool though, I can recharge when I retire later in life. I might as well do it now while I can because I'm not gonna be able to do it forever. At some point I'm gonna wanna move out to the mountains.
Nice Kicks: Lastly, what's your best advice to someone young looking to come up as a creative athlete such as yourself?
Na-kel Smith: Just be yourself. If it's in your characters, just do all the things that you want to do and don't be afraid to be yourself. Period. Because with that comes you being able to say yes and no to things, to say let's do things this way, and keep your eyes open and be aware and learn from the world around you because then the world becomes your playground.
To register for Nak's 3 Rooms event tomorrow in LA click here.