The meeting of two originals.
Welcome to Nice Kicks' Throwback Thursday. The fashion, sneaker, and hip-hop industry have once again made headlines and taken center stage with the upcoming release of the Travis Scott x Air Jordan 1. As collaborations between sneaker brands and fashion influencers continue to push the envelope forward and into the future of modern streetwear, we instead take look back at one of the first collaborations involving the iconic Air Jordan 1 silhouette:
The Levi's x Air Jordan 1.
Both Levi Strauss and Jordan Brand have defined and redefined trends in fashion and footwear, serving as industry leaders, both highly unique American companies, each of which embodies freedom, greatness, expression, aspiration, and a strong, enduring sense individuality. While staying true to their core DNA and heritage, both brands have nonetheless evolved over time, pushing the design envelope as well as establishing new trends, setting the mark in streetwear and high-end fashion as well.
A decade ago, these two fashion giants boldly went where they hadn't gone before and joined forces, which resulted in a project that was truly transformative and altered the trajectory of streetwear, fusing Jordan Brand's signature style with the quality and premium materials seen in Levi's 501 jeans. Enter the 23/501 collaboration.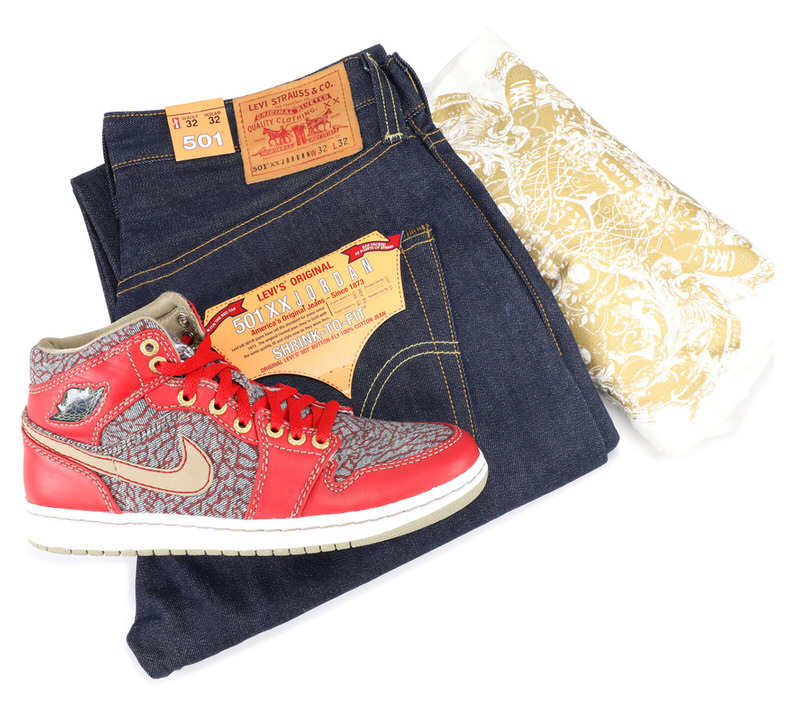 One of the most anticipated and memorable projects of all-time, this first-edition collaboration between the Air Jordan silhouette and Levi's trademark jeans saw the debut of an Air Jordan 1 in a varsity red/midnight navy-khaki-white colorway in conjunction with a matching pair of Levi's jeans and a graphic shirt. This limited-edition release officially launched on March 1, 2008 with only 2,323 pairs produced, further adding to its allure, hype, and urban mass appeal, and sold at an original retail price of $395.
Also, of note is the package's superb craftsmanship, a cornerstone in both Jordan Brand and Levi's longstanding heritage. Featuring an elephant-printed denim base with red leather overlays, the sneaker pays tribute to Levi's in terms of its incorporation of patterns, colors, materials, and the strategic placement of numerous subtleties to the clothing brand, including a red Levi's tab on the side panel and Levi's iconic branded buttons in lieu of the more standard eyelets which closely resemble the metal buttons found on Levi's trademark jeans, a nod to the clothing brand which like Jordan, has served as a pioneer in the fashion and clothing industry.
The custom draw-box is equally appealing as well featuring graphics designed by London-based graphic designer, I Love Dust, a collaborative piece in its own right.
Additional collaborations between Jordan Brand and Levi's have followed suit in recent years including a denim Levi's x Air Jordan 4 collaboration which released earlier this year, illustrating the strong symbiotic, complementary, and highly collaborative relationship between these two iconic global brands.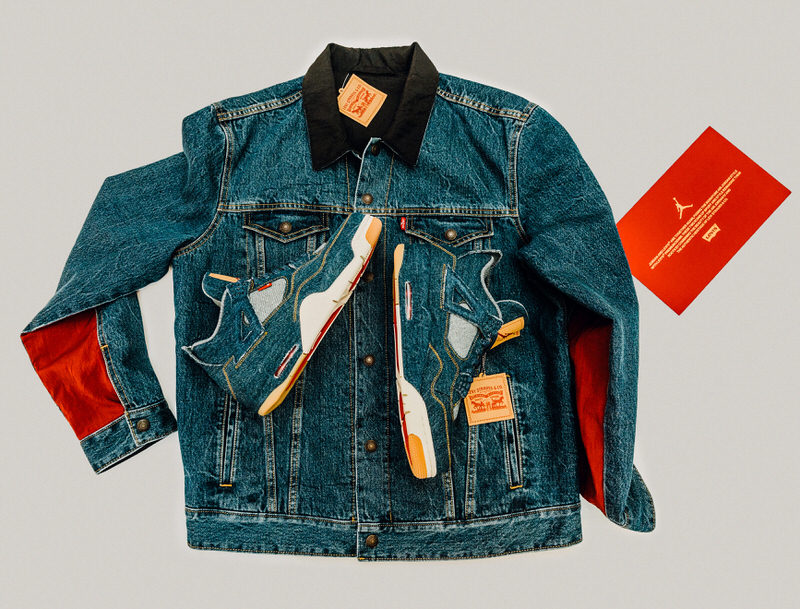 Only time will tell whether these two industry leaders will team up once again and set the newest standard and trend in the fashion industry.
Jordan Brand and Levi Strauss: a collaboration slam dunk.