words // Nick DePaula:
With a few extra days over the weekend at home in Akron, Ohio, while preparing for his 6th consecutive trip to the NBA Finals, LeBron James apparently dipped deep into his extensive personal collection of sneakers. He's known to have amassed an insane collection of his now thirteen signature models, and stores them all at his massive Akron estate, dating all the way back to his very first pairs.
As the Cleveland Cavaliers arrived to the Bay Area and prepared to take the floor this morning for their first NBA Finals practice at Oracle Arena, LeBron caught everyone by surprise and walked into the arena in an original player exclusive colorway of his first shoe, the Air Zoom Generation.
While the all white look may seem subtle to most, this was actually the special edition that Nike Basketball made to celebrate his Rookie of the Year award in the spring of 2004. You'll notice his initial "LJ23" logo is flipped to reads "ROY0304," and there's even custom "20 • 5 • 5" stitching along the inner collar. That detail is a nod to his 20 point, 5 rebound and 5 assist statline from his rookie year. A statline that only Michael Jordan and Oscar Robertson had previously achieved during their first seasons.
After taking a few quick jumpers in the AZGs for old time's sake, James then switched into a pair of his playoff-ready LeBron 13 Elite for the team's full practice session. Check out the vintage Air Zoom Generation pair below in detail, and let us know what other original and nostalgic pairs you'd like to see LeBron break out throughout the NBA Finals.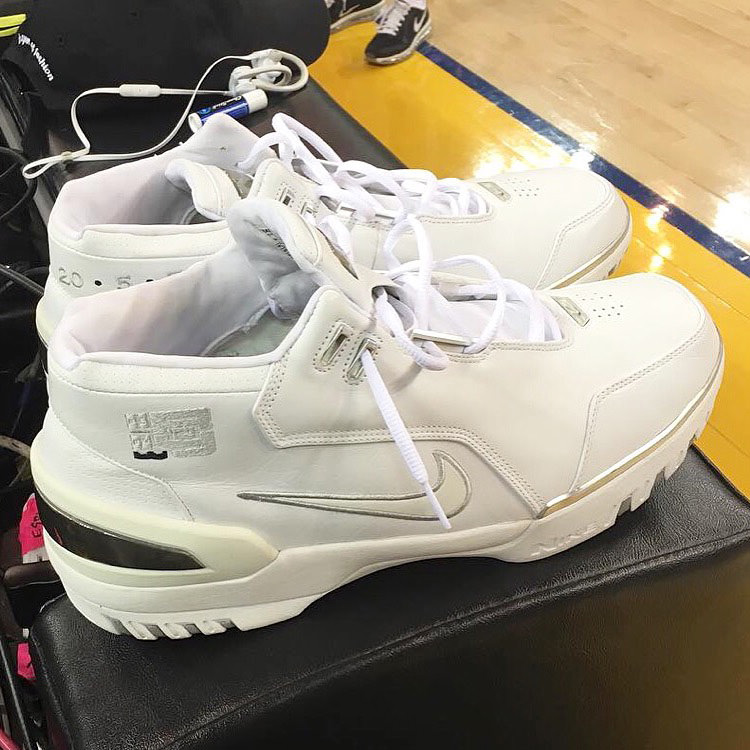 via @mcten