With the 2018 NBA Finals ongoing and a hallmark 51-point performance already under his belt, it's all business for LeBron James in his ninth appearance on the league's biggest stage. He's placed against the immovable gauntlet known as the Golden State Warriors for the fourth time in as many years. James, though, as one would expect a kingly figure to approach such a feat, isn't deterred. Not only is he above and beyond the best player on the court at any given moment, James also has a monopoly on style.
Throughout his masterful and almost unfathomed 15th NBA season, James is, above and beyond, the best-dressed player in the Association. Often times subtle, other times smartly nestled tightly in the midrange with an equal number of boisterous moments that rival a Russ or Swaggy P, James has found a continual groove that mimics moments where he's caught fire on the court. To his credit, he's remained sartorially steadfast, on flame for the entirety of the season and undeniably in years before. Yet his 15-year mark has proven to be the most pivotal and daring in his rousing style evolution.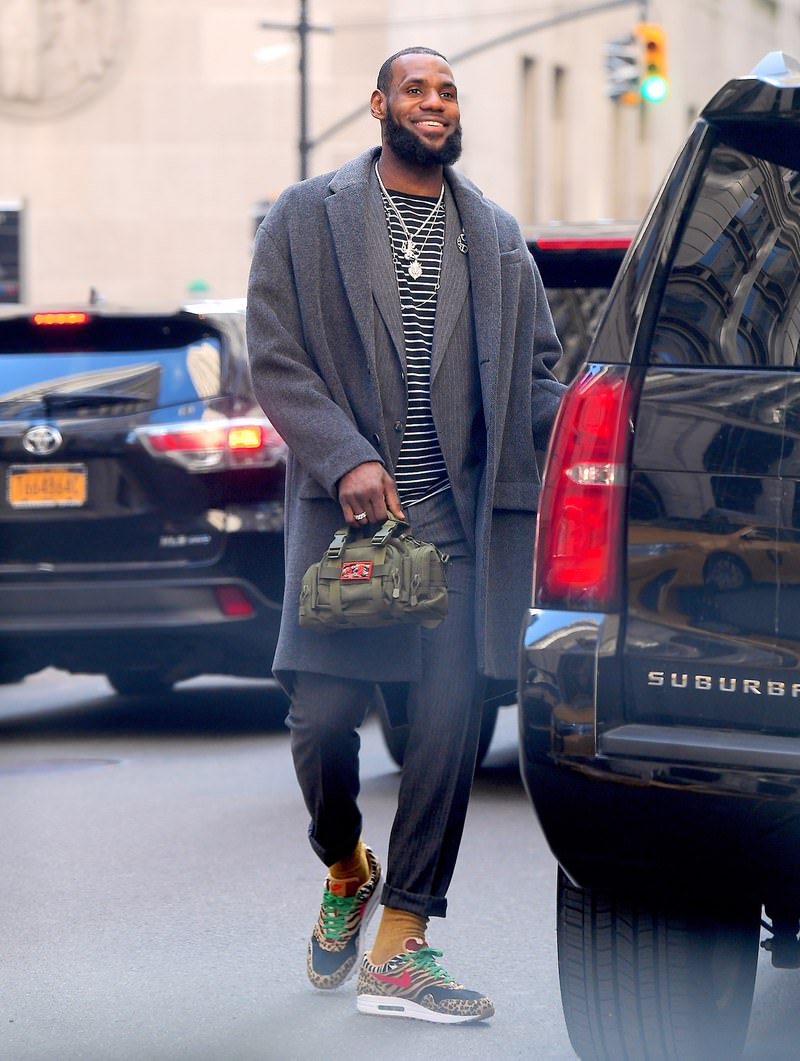 Much of what James embraced to ground this style overhaul is simple. But ahead of any technical or wardrobe alterations, as with almost anything in life, embracing newness with confidence was key. James' regal and refined demeanor allows him to enter the player's tunnel and post-game presser with the same self-assurance he does when lacing up any number of his signature Nike Basketball sneakers on-court. That understated bravado seeps through his tucked tees and tailored trousers. It flows effortlessly over his pinstriped Tom Ford suit and Hermés Prince of Wales check overcoat.
LeBron has also undertaken the daunting yet rewarding task of mixing classic tailoring. Whether that means juxtaposing a sporty black Wacko Maria hoodie with loose-fitting Rick Owens utility pants also in black, the union is forged in a matrimony of hue with a specific undertone that barks athletic chíc. In addition, James chose this particular outfit to debut his John Elliott x Nike LeBron Icon sneaker to the world, a further fusion of genres where mixing and matching pays dividends when executed like James does.
Earlier in the 2018-17 season, James gave us all a timely lesson in uniformity. One of the most effective and compelling vehicles to great signature style, for a long while, James wore nothing but varying layers of all black. Seen through black biker jackets, matching hoodies, slim pants and a beanie for added cool-factor, this sleek and tailored look plays like film noir with a modern twist. James' jacket, a flavorful John Elliott biker, fits slim through the body with enough room in the shoulders to seamlessly layer an equally slimmed hoodie underneath.
This iconic look, often paired with James' signature pre-game coffee, is topped with any number of Swoosh must-haves because, of course, James has them all. Sometimes it was the Air Jordan 1 while others felt more at home as James chose his signature Nike LeBron 15.
There's a level of effortlessness to this look. It's sporty yet easily contemporary. Extremely cool yet awfully simply. Actually, simple may be a bit overstated.
Must we not forget that James pulls this off all whilst standing 6'8″, 200-plus pounds?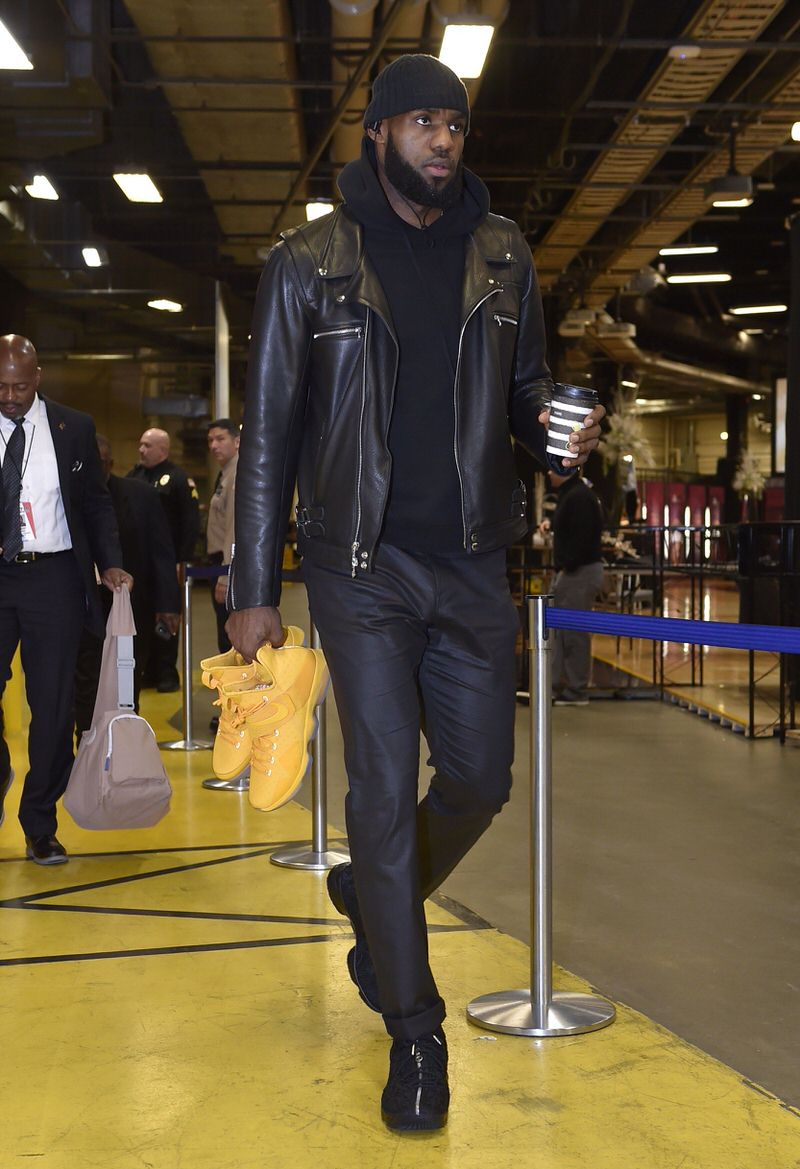 While James' Thom Browne suiting throughout the 2018 NBA Playoffs has been a revelation for menswear nerds across continents, his adaptation of one dominant menswear trend resonates with even greater impact. The tucked tee is ideal for someone of LeBron's Herculean build. With a bulky yet lean frame and long torso in compliment, a tucked tee with rolled sleeves is perfect for the 3x NBA champion. It's also helpful that James often has his jeans and trousers tailored, perfectly set at his waist and tapered through the leg. He appears even more lean via this approach.
Of greater emphasis, this is a much sharper way to wear a t-shirt in a casual setting or one of elevated importance. There's a cleanliness to it.
While there are many examples from which to choose, James may have done this best last month. He donned a black Scholastics tee true to his hoops roots with a bright red Balmain sweatshirt tied at his waist. Travis Scott's upcoming Houston Oilers themed "Cactus Jack" Air Jordan 4 crowned his feet. The contrasting black and powder blue shades were smartly unified by the hints of red in the sweatshirt and James' favorite style accessory, socks.
Sifting through the pages of James' earliest style memoirs, the loose-fitting aesthetic that imposed upon much of the 2000s both literally and figuratively drowned his inherent good style.
James, by in large, wasn't making the most of his greatest asset — his body.
Great style begins with equally great fit. James didn't just learn this lesson in his 15th NBA season; he certainly mastered it this year, though.
Whether or not James wins his fourth championship at the close of the postseason is, by every measure, irrelevant. Almost as irrelevant as Laura Ingraham's "shut up and dribble" comments which the king promptly and triumphantly shaded.
A vast number of accomplishments in his 15th NBA season add to a running tally rivaled by very few. What he's achieved in skillful, on-court performance, political standing, mental and physical wellness and style, James makes the case for not only one the most important basketball players of our generation, but one of the most culturally important athletes in history.
He knows this better than most, shouldering the weighty burden with the ease of any righteous King.
Always, of course, with great style.