words // Nick DePaula:
Golden State Warriors sharpshooter Klay Thompson is under contract with Chinese brand Anta through the end of the 2019-2020 NBA season, and the brand has made him a new multi-year shoe deal extension offer that would place him among the highest earning footwear endorsers in the league, sources tell Nice Kicks.
As Thompson's profile in the league has risen each of the past two seasons, his representatives at BDA Sports Management and Anta had opened endorsement renegotiation talks earlier this fall, which would drastically amplify the value of his current shoe deal. The multi-year renegotiation is similar to the structure that his fellow Splash Brother Stephen Curry agreed to with Under Armour after his MVP season.
Thompson initially left Nike and signed a signature shoe deal with Anta in 2014, which pays him over $3 Million annually after base compensation, bonus incentives and sales royalties are all added together. The deal was considered by several industry sources to be above market value at the time, signed just before the Warriors' consecutive trips to the NBA Finals and Thompson's two All-Star Game appearances. He's since launched two "KT" signature shoes, and is heavily featured in commercials and in the brand's 8,000+ stores throughout China.
Talks on a multi-year renegotiation and extension have landed Thompson a massive new offer from Anta, said to be worth up to $9 Million per year, if all performance incentive bonuses and sales goals royalties are met. His existing terms would be replaced altogether, with the new deal "effective immediately." That figure would make Thompson the highest paid NBA player with a Chinese shoe deal, topping the deals of Dwyane Wade, Kevin Garnett, Tony Parker and Rajon Rondo, and place him just behind LeBron James, Kevin Durant, Stephen Curry, James Harden and Derrick Rose, among all players.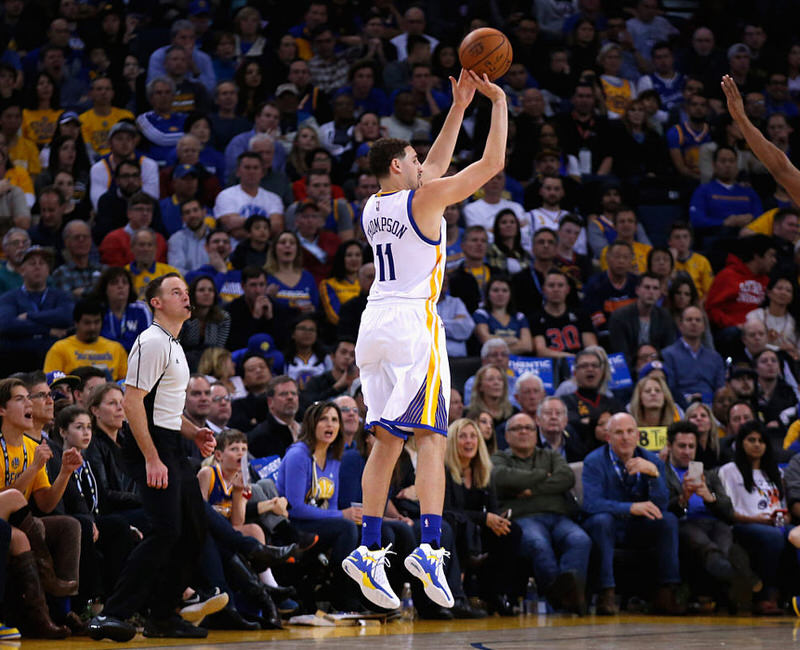 One major factor in the current waiting period from Thompson's side is the fact that he just switched his marketing representation, opting this past Thursday to hire Wasserman Media Group to handle all of his off-court endorsement opportunities. The shift was first reported by USA Today's Sam Amick. The longtime BDA Sports client will still retain BDA to negotiate his NBA team contracts. His brother, Los Angeles Dodgers outfielder Trayce Thompson, along with close friend and professional skateboarder Ryan Skeckler, are both also represented by Wasserman and said to have influenced Klay's decision.
While with BDA, Thompson signed a 4-year max extension with the Warriors through the 2018-19 season, and the move comes at a time when his existing off-court portfolio is jam packed. He has over a dozen endorsement deals, including national and regional deals with companies such as Stance Socks, Body Armour, BMW, ShotTracker, EA Sports, Panini, Gillette, Fanatics, Tempurpedic mattresses and more. Like most NBA players, though, the heart of Thompson's marketing is his sneaker deal.
From the brand's standpoint, Thompson has been an awesome endorser to this point, starring in commercials, traveling to China for an annual summer promotional tour and offering Anta great visibility while playing a key role on the league's most followed team. The brand recently hired a design and athlete services firm in Santa Monica, California to work even more closely with Klay stateside.
Thompson has had the Anta extension offer on the table now for several weeks, and to this point has yet to sign the renegotiation contract. As Wasserman takes over his marketing rights ahead, it'd be extremely unlikely for Thompson to get out of the remaining three seasons of his sneaker contract with Anta and begin talks with a new brand. Navigating through those shoe deal negotiations will now be the key priority for Thompson and his new representation at Wasserman, who is expected to meet with Anta this upcoming week.