words // Nick DePaula:
It was an exciting day for the Kevin Durant brand, as the Oklahoma City Thunder star launched his newest Nike KD signature sneaker at a modest and intimate press event in Austin, Texas on Monday afternoon. The collegiate location was chosen to celebrate the tenth anniversary of Durant stepping onto the University of Texas campus for his prolific lone season in the lone star state. Way back in 2007, Durant was the first freshman to ever be named National Player of the Year.
It didn't take long for the unavoidable topic of his upcoming free agency to seep into the event room during an allotted question and answer session. To his credit, KD rarely shies away from facing questions head on, and is both thoughtful and honest.
And yet, you could hear the uncertainty and residual pain in his voice throughout when reflecting on the season that was. His dejection over the Thunder losing to the Golden State Warriors, after holding a 3-1 series lead just three weeks ago, was still fresh in his mind.
With his looming free agency just ten days away, one could expect that Durant still took some comfort in just how close Oklahoma City got to once again making it to the NBA Finals. Pushing Golden State to the brink of elimination would surely restore his confidence in his franchise going forward and into next year, right? Not so fast.
"Each year is different," Durant firmly cautioned. "We said that when we lost in the Finals. 'We were right there. Three wins away from the title.' And we haven't been back since. A lot of stuff has happened. I just try to stay in the moment and enjoy the journey that we just took through the season. I'm just getting over 2012, so if I think about that Game 7 [against Golden State] and think about that all summer, then it's going to be a bad summer for me."
As he quickly shot down the notion of putting any additional stock into the Thunder's deeper playoff push that saw them also beat out a contending San Antonio Spurs team, he also feels the Thunder had to overcome more than any other playoff team and faced the most difficult matchup of each round.
"I think we had the toughest run," Durant sighed, comparing OKC's playoff path to the fifteen other teams. "We played San Antonio, who won 67 games and they were supposed to sweep us. We had Golden State up 3-1, and they won 73 games and we were supposed to get swept. We didn't let the outside noise distract us, and we kept going."
That outside noise would be the unmistakable questions lingering around Durant's impending free agency. With the Thunder advancing to the depths of the conference finals and a Game 7, the window of time between the conclusion of his season and the start of free agency on July 1st is truncated that much more. Just over thirty days remained before Durant would have to make the biggest decision of his basketball career.
Over the course of the last three weeks, he admits he still watched each and every game of the NBA Finals, but only after a bit of a mental reset after yet another disappointing postseason exit that almost saw him face off against LeBron James and the Cavaliers.
"First of all, I had to remove myself emotionally as a basketball player," reveals Durant. "I didn't look at myself as a basketball player for the next two or three weeks, because I knew I'd be super pissed at whoever won. I had to seriously take myself out of basketball mode, so that I could enjoy just watching basketball."
Enjoy the game play, he did. Players on both sides shined throughout the instantly iconic Finals matchup between Cleveland and Golden State, leaving even one of the league's greatest players impressed. He watched Game 7 on Sunday evening as closely as the record-setting 30 million other viewers.
"I watched that game, and I thought, 'Wow, these two teams really, really want it.' You could appreciate the kind of basketball they played," Durant continues. "I didn't care who won, but to see Cleveland come out on top, after their backs were against the wall, that showed what type of team they have and what kind of leaders they have over there. You wouldn't want basketball any different than how it happened this series. I'm happy for the city of Cleveland, and Kyrie and LeBron were just on another level, so you've got to respect it. As a fan of the game, it was great. As a player in the NBA, I was pissed."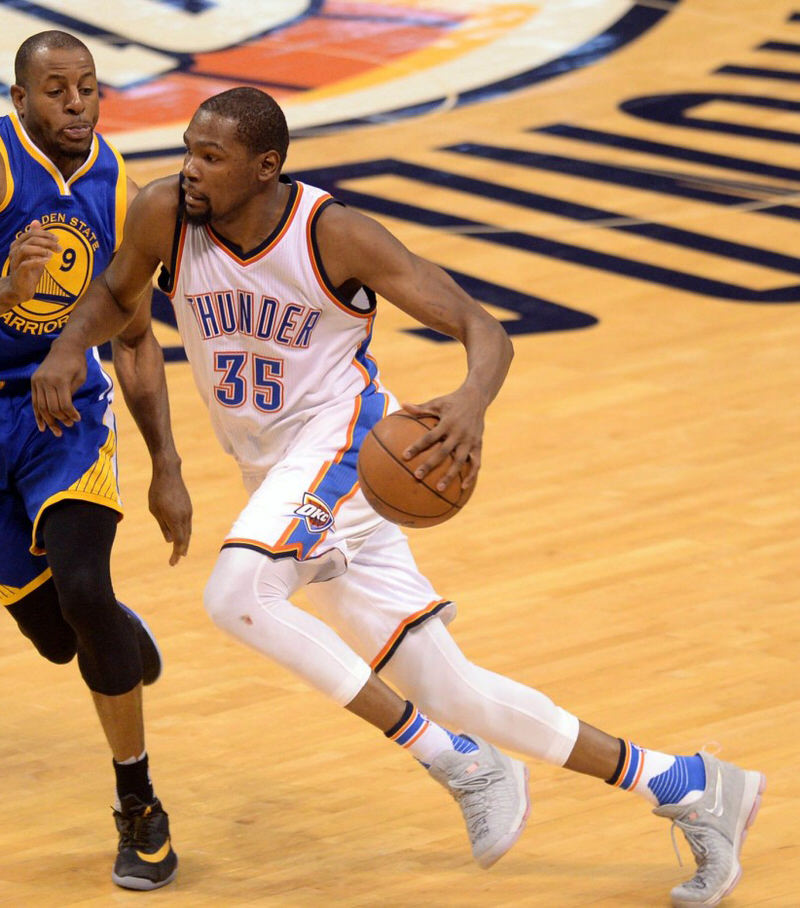 He was pissed because he was so close. Pissed because he feels his team "relaxed" when holding a dominant series lead on that down-but-still-dangerous Warriors team. As the Thunder faced injuries heading into the playoffs in each of the last three seasons, this year was different. They were at full strength, with a second franchise trip to the NBA Finals seemingly there for the taking.
"We really expected to win, but everyone was relaxed," he admits. "We were up 3-1, and we had an opportunity on the road. Lost at home, and then had another opportunity to still win."
With no promises to Oklahoma City just yet, he'll first prepare to meet with prospective suitors for presentations at the start of free agency in New York, where his Roc Nation agents are based.
Without referencing any specific or preferred team or players, Durant did admit to having a loose outline of what he's looking for come July 1st. Most of all, and especially after the recent postseason exit, he's just itching to get back on the basketball court and compete once again for that elusive championship ring.
"I just want to play. I'm excited to play the game again," Durant said. "I know how important this time is. Like I've been saying all season, I've got people that I have all the trust in the world in. We'll sit down and figure this thing out, and figure out what's best for me, and then we'll go from there. It's a little bit more complicated than that, because it's still a few weeks away. It's one of those situations where you work so hard to put yourself in the situation to kinda control your own destiny. I give all the credit to how much work I put in and the people that help me put that work in. I'm worrying about basketball. That's what it is for me. This is a basketball decision, and I'm looking forward to the future."
That future, just ten days away from officially taking shape, will also eventually shape the rest of the league's free agency period, and the future of the Oklahoma City Thunder franchise he's called home for nine seasons.