words // Nick DePaula:
With his offseason officially underway for the past month, Kevin Durant has been everywhere. He went from Oklahoma City to his summer home of Los Angeles at the start of June, and most recently headlined a press event in New York City that introduced the newest twelve members of this summer's Team USA Olympic team. (We'll have to wait a bit to see him in the Bay Area.)
In between, Durant returned to his old stomping grounds of Austin, Texas, a place that holds fond memories for the on-court sniper. It was in Austin during his lone year as a Longhorn that he became the first ever freshman to win National Player of the Year honors. Now exactly a decade after he first stepped foot on campus, KD was in town to talk about his ongoing relationship with Nike and to launch the ninth edition of his signature series, the straightforwardly titled "KD9."
On hand at the event in Austin, Nice Kicks got a chance to catch up with KD and hear his thoughts on the new shoe, how the Kobe 9 inspired his desire to incorporate Flyknit into the upper, and how he's approaching the game going forward.
DEBUTING THE 9 EARLY_
Even though he had a $200 KD8 Elite at retail to push, for the first time, Durant debuted his shoe for next season early during the NBA Playoffs. As I later learned from designer Leo Chang, KD had actually been practicing in the 9 since February to weartest and get comfortable in his next shoe. Soon enough, he was pushing to break them out as soon as possible, and debuted the KD9 during Game 3 of the Western Conference Finals.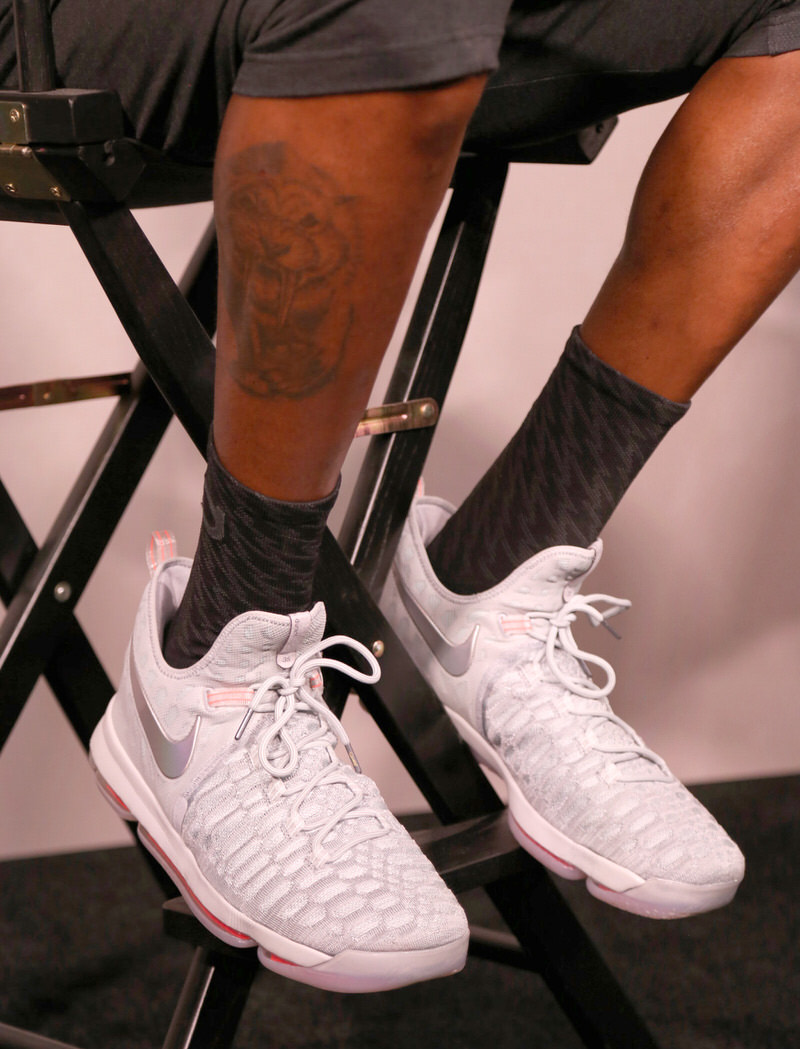 "I actually begged Leo and Chuck Terrell [Nike Sports Marketing] to let me wear them," reveals Durant. "I thought it'd be a perfect way. We were the only game on that night, and it was the perfect way to debut them on the court. They fit great, and they make me a different player."
As he's been known to do over the years, KD added his own simple reminders to the shoe, writing "Have Fun" and "Smile" on the toes of each shoe facing him. Throughout a season with grand expectations and immense pressure, he was often looking to lighten the mood and remember, as he says, that "it's just basketball."
For Chang, the KD9 represented an opportunity to refine his signature series and present a more mature offering as Kevin has grown through the years.
"The design of the 9 was really about keeping up with his evolution as a man and as a player," says Chang. "We wanted to make sure that we take him to another level and a place where he's surpassing where we're at."
From KD's standpoint, he's thinking all ball all the time. As he continues on the path towards remaining one of the league's very best players, he's constantly pushing his team at Nike for footwear that propels him forward.
"I just wanted a shoe that was going to keep me stable and keep me mobile," Durant outlines. "Something that was going to let me move the way that I like to move, side to side and stop on a dime. I wanted to just run and just jump, do all of those things, and still keep the firm and stable feel to the shoe."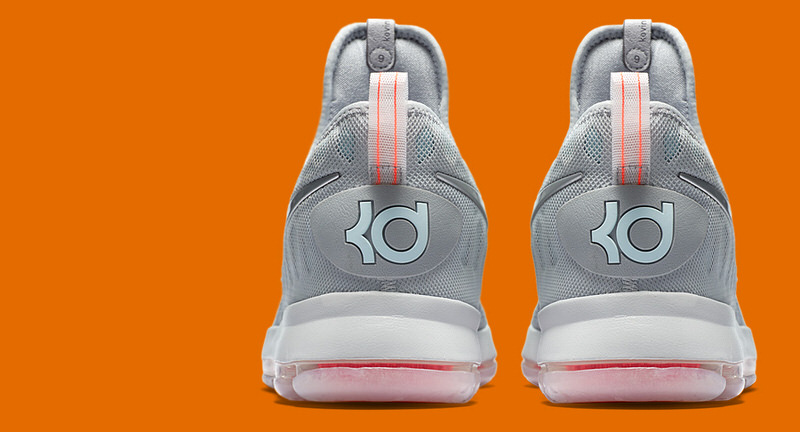 A DECADE WITH THE NIKE FAMILY_
Though he's now on his 9th signature shoe, Durant actually began his very first season in the league in PE colorways of the oft-forgotten Nike Air Viz Sweet. The idea from the start was to let KD get acclimated in the league during his rookie year, and use that first season to allow the relationship between Nike's team of designers and KD to naturally grow.
His debut signature KD1 would then launch during his second season, filled with details and personal touches from his life and journey to the league.
"I didn't think Nike would do that much for me. I figured they'd just say, 'Ok, here's your shoe, go put it on,'" Durant now laughs. "I was prepared for that, and I was just happy [to have my own shoe]."
Instead, the signature process led by designer Leo Chang — his designer every step of the way — was detailed, thorough and thoughtful.
"They came to my neighborhood, and they wanted to see the house I grew up in and where me and my cousins used to play," recalls KD. "Where I first learned to play the game of basketball and where I took my first shot ever. They wanted to see all of that stuff, and I was excited, because nobody had wanted to get that deep into me as a person, where I come from and the people that helped me make me who I am. They cared about how I got to this point, and they didn't just care about now. They wanted to know about the journey and the steps that I made to get to where I am."
For Leo, that close relationship with KD along the way has allowed for him to better understand what Kevin is looking for from year to year. Ever since that first trip to Maryland during Durant's rookie year, the two have traveled together all over the country, throughout Asia and even Europe.
"I was lucky enough to be put on that project, and I've always approached the signature process as getting to know the person first before even putting pen to paper," says Chang. "It can't be that I'm making up some fictitious story or some fake insights, it has to come from him. I wanted to take that opportunity to really see everything from his lens before he became a superstar in the NBA and set foot on a NBA floor. It was a special moment [visiting his hometown with him], and so many of the things that I saw then still make up who he is as a person."
As the two began the process of working on the KD9 nearly two years ago, it was Durant's direct input that helped to shape the foundation of the shoe's parts and pieces.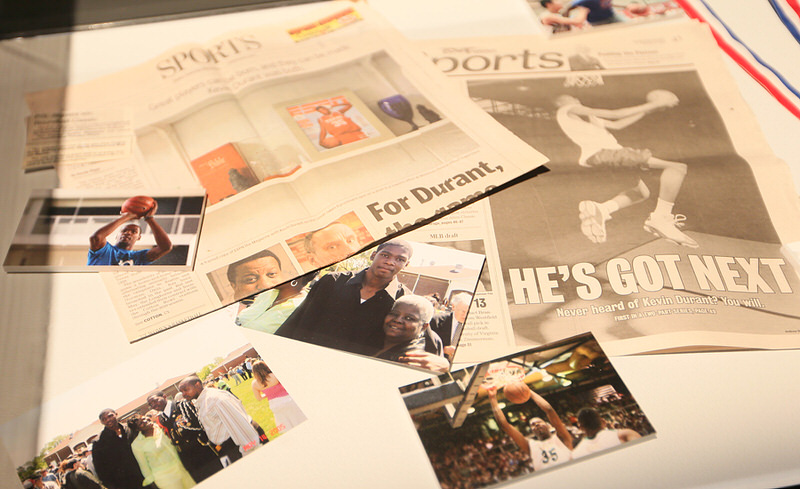 "I WAS A LITTLE JEALOUS OF KOBE'S FLYKNIT"
Some won't admit it, saying they're only focused on their own shoe, but Kevin Durant sees no need to hide the fact that he's constantly looking at and comparing each of Nike's signature shoes.
One model in particular that caught his attention was the Kobe IX, the very first basketball shoe to incorporate Nike's Flyknit construction into the upper.
"I was jealous," he laughs now. "That's when Flyknit first jumped on the scene, and I was telling my guys, 'Man, I would love to have that on my shoe.' It looked so nice, first of all, but I didn't know how it played. To see Kobe in it, I was a little jealous. [laughs]"
Kobe's Flyknit shoe debuted in December of 2013, just as Leo and KD were going through early round concepts of how his own ninth model might take shape.
As the Nike Basketball team has had more time to work with the material and evolve its construction since, the knitted variation now incorporated into the KD9 doesn't feature some of the synthetic feeling backers that we saw on the Kobe 9.
The KD's Flyknit execution is smoother and less stiff, something Durant is hyped about every time he takes the court. "Now, to have my opportunity, I'm excited about it," he beams. "I follow all of our guys when their stuff drops. I try to steal a little bit of intel as well, when I'm on campus. [laughs] I heard Kobe was coming with the Flyknit. I was very excited that they were making a basketball shoe with Flyknit, but I was jealous that he was the first one to break it out. To get an opportunity now to get my own shoe with Flyknit on it, it's a dream come true."
While his initial interest in Flyknit came about after he simply liked the way it looked, he's also been loving the way it feels.
"I want everyone to feel this experience, and it's not just about me," KD continues. "There's a lot of basketball players out there looking for something comfortable and something they can hoop in. That was my main concern. Of course, I want a shoe that's going to fit me on the court, but I want a shoe for hoopers to wear.
"I want them to feel comfortable on the court and feel like they can fly and run without feeling restricted. I do it for the real basketball players, for everyone that plays outside on concrete or the people that play inside."
Early on in his career, with a $60 Million shoe deal in hand, Durant would often wear a pair of shoes for more than a month straight. He only wore a handful of pairs of the KD3 for a full season.
As you can imagine, Nike would often urge him to switch in and out of new colorways to create some energy for his line, but KD simply liked that broken in feel. With the smoother Flyknit upper — and an entirely new Warriors color palette to play with — we can expect to see Kevin mixing things up this upcoming season far more often than usual.
"With the Flyknit, every shoe I put on feels brand new, but it feels like it's broken in at the same time. When I put these on in the playoffs, Leo knows that I can play in the same shoe all season. Which I have done," he jokingly points out.
"I probably change out once every month or month and a half, but they've been trying to get me to do it every week," laughs Durant. "When I put these on for the first time, it felt like I'd already worn 'em all season. That was a great sign for me, and maybe I'll start to get into new ones every week."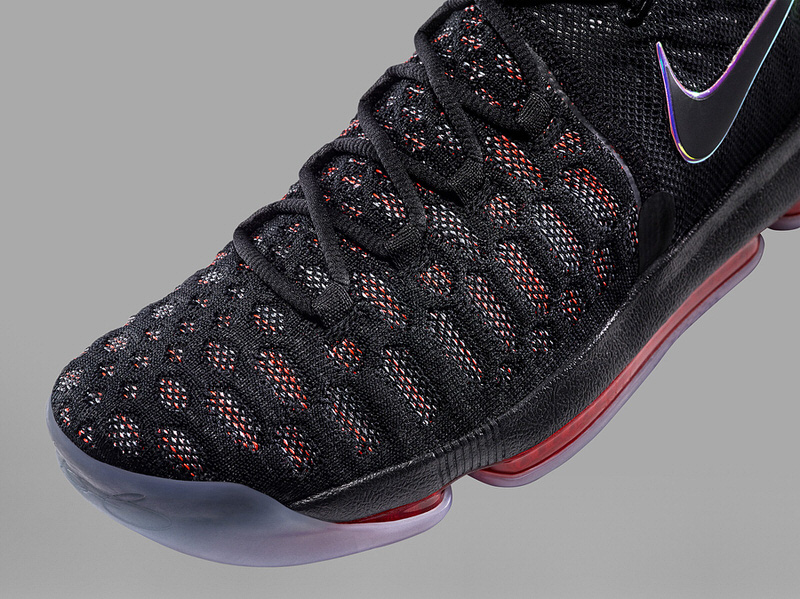 REVAMPING THE ZOOM BAG_
Last year, the biggest addition to KD's signature series was a massive, full-length articulated Zoom Air bag that was both responsive and sat low to the ground for some nimble cushioning.
While he and most everyone that played in the shoe immediately liked it, Leo Chang and the team of Nike Basketball engineers looked to make the KD9's Zoom Air unit even more explosive and responsive.
The first KD shoe to incorporate a full-length Zoom Air unit was the KD6 Elite, which Kevin actually didn't at all care for. Ever since, they've been fine tuning the fiber-packed Air bag just for him.
"It's a new bag with the 9. I tried out the bag on the KD6 Elite, and it felt a little too heavy for me," admits Durant. "The look was nice, but it just felt a little too heavy. I wanted to go back to it somehow, and they made a bag that fit me perfectly."
The 9's Zoom Air bag, seen above in red, runs the full length underneath the midsole, and tapers from 16 mm in the heel to 10 mm in the forefoot with multiple flex grooves throughout to provide the right balance of cushioning and court feel.
STRAP OR NO STRAP?_
The second, fourth and seventh Durant sneakers incorporated a strap of some kind, while KDs 1, 3, 5, 6, 8 and 9 have each had more traditional uppers. There's literally no real explanation or logic, other than it's simply how Kevin was feeling at the time.
He loved playing in the KD2, and caught everyone off guard with a random email outlining his ideas for his third shoe: "I've been thinking that on the KD3, I don't want a strap!!!"
That spontaneous approach hasn't changed since, as Durant takes a fluid approach to finding inspirations and details that might help to influence his next shoe.
"I might wake up tomorrow and say, 'Hey Leo, whatever you've got in mind for the 10 – I want a strap on there.' It's just how I feel at the time," KD says.
For years now, the two have flooded eachother with emails, texts and more recently, FaceTime calls, to offer up ideas or go through feedback on future models. That working relationship is now a full decade long, allowing for Durant to have constant confidence in the direction of his line.
"That's the best part about this relationship," continues Kevin. "I'll just literally text Leo something like, 'Ah, I like airplanes now, so put something on the shoe [for that]. Make something that'll make it fly.' And he'll try his hardest to do it. That makes this whole thing work. You got guys that challenge themselves every single day to get better."
THE KD LINE'S RISING PRICES_
It's an unavoidable topic.
My personal favorite KD shoes to play in are the KD2 and KD9. One was $88 and the other is $150.
Early on, the narrative from both Nike and Durant was that they were looking to have the KD sneaker line be affordable for his fans, after Kevin's own relatable humble upbringing. The early shoes were definitely no frills and low tech, but they were also efficient, simple and performed well.
From $88 to $95, we soon saw subsequent jumps to $115, $130, $150 and then an exceedingly steep $180 last year on the KD8.
Durant is extremely cognizant of those who feel he's priced them out, but both he and his team at Nike feel they've gotten to a good zone by bringing the KD9 back to the $150 level.
The 9 features perhaps more innovation than any prior KD shoe, with its new Flyknit construction, full-length best-in-class Zoom Air unit and a detailed translucent outsole. "You get a $250 shoe for like $150," he jokes.
A decade in, KD is also not shying away from the fact that his game and his status in the league have evolved — and he feels his footwear and marketing should reflect that.
"As humbly as I can say it, I'm not a $88 player. I'm an elite player in the league," Durant responds. "I wanted everything to be affordable, but I knew we had to sacrifice some stuff. I just wanted the fans of the brand and of the shoe to just stay patient with me. And stay patient with who I am as a player, and the level I was trying to go to."
He's since become a league MVP through the course of his professional journey, and as he's added more and more to his game, he's become one of the most dynamic scorers in NBA history. The shoes have followed along with that trajectory over the years, adding more from year to year as well.
"On these shoes, you get it all, and for a nice price," continues Durant. "You get the newest innovation, you get the newest Zoom bag, and you get my story along with it. If you're a fan of what I do in the game of basketball, this is perfect for you. As I evolved as a player, I knew that the shoes, in order for it to stay on the same course and trajectory [that I was headed], I might have to come up a bit on some of the stuff I said earlier. Hopefully people understand, and I think a lot of people have."
APPROACH TO THE GAME_
There's no mistaking it. Losing in the Western Conference Finals — while up seven points with just five minutes left in Game 7 — was immeasurably painful for Durant. He's been looking for a chance to get back on the court immediately and create some new memories, and will take part in this summer's 2016 Olympic Games in Rio De Janeiro to help ease that itch.
"I just want to play," KD says flatly. "I'm excited to play the game again. Olympics is giving me that opportunity."
While the KD9 debuted in a Thunderesque grey and orange colorway this summer, and we can expect to see Warrior yellow and blue hued editions come this fall, the next time Durant takes the court, he'll be doing so in patriotic red, white and blue.
As he describes it, his frantic and spontaneous approach to the game mirrors how he lives his life off the court. He both plays and moves off of feel in the moment, perhaps never exemplified better than his sudden and swift departure from Oklahoma City this week.
"In the game of basketball, you have to react off of instinct. You can't sit down and say, 'Alright, I'm going to go between my legs twice on this play, then go behind my back and shoot a jump shot.' You can't play basketball like that," says Durant. "It's cool in life to plan, but things are just gonna happen. I try to take that same approach in basketball and in life sometimes. Being able to adapt to any situation that comes."
As he takes his talents to Oakland this fall, it'll be yet another setting for KD to sort through.
"Every situation that I've been in, I had to step in and figure it out. Whether it's coming [to Austin for school], whether it's going to Seattle, going to Oklahoma City, Oak Hill Academy or four different high schools. I always had to step in, adapt and adjust," he reflects. "That's how these shoes are. I just step in and just go. On the court, if they throw two defenders at me, I gotta figure it out. If I go into the lane and I don't know what I'm going to do before I get there, I gotta figure it out. That's how my shoes are. You slide 'em on, and just go."
It's an admittedly flippant approach to things for a superstar to take, but that mentality and combination of self-trust and belief hasn't let him astray yet.
"That's how I always played as a kid, being able to do multiple things on the court," says KD. "Whether it's score from different spots on the court or guarding different positions on the court. I've never shied away from the challenge. I try to take it on, and if I've never done it before, then I want to try it out. My confidence has improved as I knew I could do more and more on the court."
As he prepares for his second trip to the iconic Summer Games this August, Kevin Durant will be donning a clean USA-themed KD9. For him, the shoe represents the decade long journey that he and Leo Chang have been working together on his signature series. More importantly, he'll have the chance to get back on the court, and look to get back to winning.
"It just keeps getting better," KD smiles. "I always challenge Leo to get better than previous years, and they always top it. This is my favorite one, and I'm looking forward to the Olympics and getting a chance to play again."