No matter the breakthrough in footwear, there will always be a market for the nostalgia that comes with models of the past.
This week, Foot Locker is launching the "Discover Your Air" campaign. The platform is an invitation for consumers to find their perfect pair of Nike Air shoes and relive some of their favorite models and gear from the '90s — the era that inspired AIR.
The exclusive product collections celebrate the '90s as the era that inspired AIR. To help usher in the platform, Foot Locker has teamed up with Boston Celtics Jayson Tatum to kick off the campaign. In the campaigns, the All-Rookie First Team selection will be unearthing a time capsule filled with some of the most beloved models and gear from the '90s. The collection launches August 23 with the Nike AIR Origins and Frequency Pack and will extend into 2019 with additional product releases.
We spoke with Tatum, who will be just as surprised as we all will during the launching of the different product releases. The 20-year-old discussed what favorite model other than the Kyries he likes to play in, working with Kobe this summer and his excitement for what a fully healthy Celtics team is capable of.
Nice Kicks: Foot Locker picked you to front the Discover Your Air campaign that's rooted in nostalgia. With being born in '98, do you have any favorite models from the '90s or styles you like?
Jayson Tatum: Not anything specific. Like you said, I was born in '98 but a lot of the fashion, shoes, and music from the '90s inspired kids my age and a little bit older than me. With YouTube and things like that, we were still able to see and visualize how things were back then.
Nice Kicks: You mostly wore Kyries during the season but what other models do you enjoy playing in?
Jayson Tatum: I like the PGs. I just like the way they look and on the court, it's obviously about what feels the best and fits your game. His would probably be my second choice to the Kyries.
Nice Kicks: How has your first offseason as a pro been?
Jayson Tatum: It's been good. I've been busy and traveling a lot but I've been enjoying everything that I've gotten a chance to do this offseason as well as continuing to work out, get better and working on my body to get stronger.
Nice Kicks: Was there anything specific you wanted to focus on improving heading into next season?
Jayson Tatum: I wanted to focus on my overall game to take it up a notch. That's the goal every year; to get better than you were the season before.
Nice Kicks: Even though the season ended sooner than you were expected, with the injuries to Kyrie and Gordon, have you got a chance to look at how remarkable a season you guys did have?
Jayson Tatum: Absolutely. I was fortunate enough to come to a great organization and be on a great team. It was a great season even though we obviously came up short. We left it out on the floor each and every night and I'm excited to see what we can do this upcoming season with a healthy team.
Nice Kicks: With just how polished your skillset looked during your rookie year, was there any adjustment you had to make on the floor at the NBA level?
Jayson Tatum: Really, it was just how many games we play. That was the toughest thing for me. I think that's what every rookie will answer at some point and time. The body begins to break down as well as their mind. It can be a lot, playing up to four times a week.
Nice Kicks: You did get a chance to work out with Kobe this summer. What was that like receiving some pointers from one of your favorite players?
Jayson Tatum: That was really cool. Obviously, everyone knows he's my favorite player and to get a chance to work with him, be around him chat and learn some things is something that I'll always remember.
Nice Kicks: Without getting into details, what were some things you wanted to gain insight on from him?
Jayson Tatum: It was just about being around him and getting a chance to ask him how he went about not backtracking, how to get better each and every year and trying to get into his mindset of how he went about things to be so successful.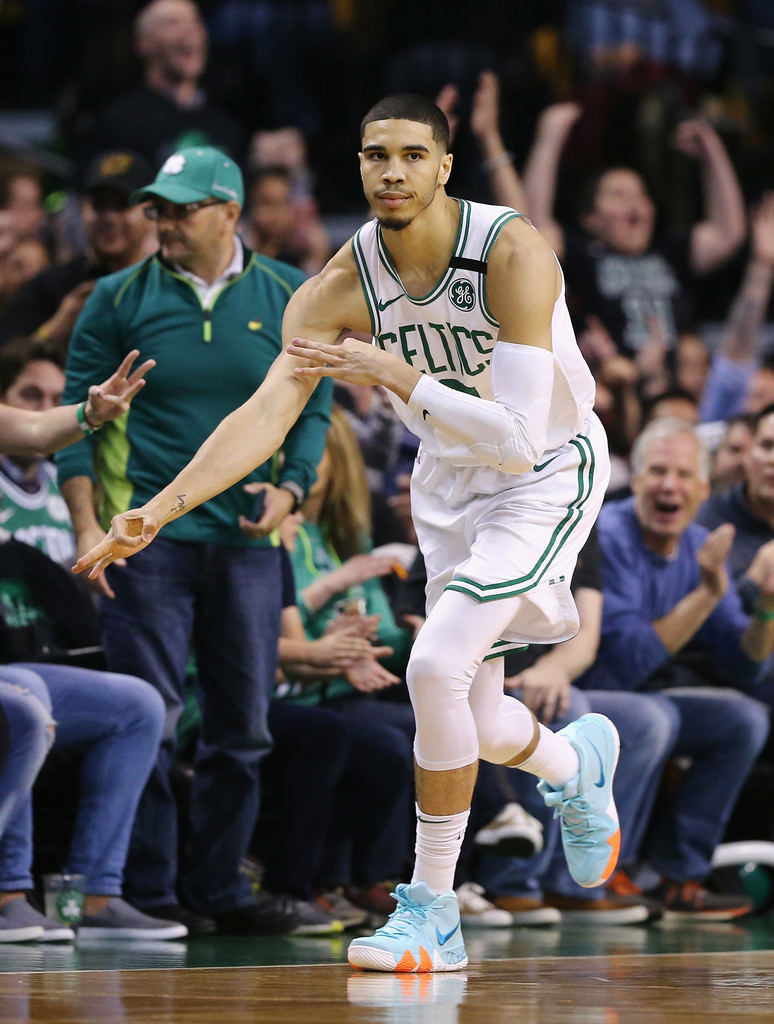 Nice Kicks: What are your thoughts on just some of the offseason moves this summer?
Jayson Tatum: It was crazy. A lot of things happen and a lot of guys are on new teams. I guess that's one of the things that is exciting about the NBA. Things can get switched up pretty quickly and guys have the freedom to go wherever they want to. As a person, you're supposed to do what you feel is best for you and what makes you happy. I'm all for that and guys wanting to go where they want to.
Nice Kicks: With LeBron now in the West, everyone is pegging you guys as the team to beat in the East and everyone will be gunning for you this season. How is it now to be headed into the next season with the expectations that are now placed on the team?
Jayson Tatum: We're really excited. Coming up short last season was very tough but with that experience and everyone being healthy, it's going to be exciting to see how much further we can go.
Select imagery via Zimbio