Father's Day is a family favorite each year for many. While in the sneaker world the word "father" or "dad" and "shoe" together usually draw images in sneakerhead's minds of a shoe that is not at the top of their cop-lists, the category plays a significant role in the overall footwear business. One shoe in particular, the Nike Air Monarch, is a perennial leader in the footwear business, frequently appearing in the top ten in US sales on almost any given week of the year.
The Nike Air Monarch first released in the early 2000s, and was notably one of the only shoes in Nike's lineup that came in various widths (up to a EEEE).  Jason Mayden, who many associate with his design work at Jordan Brand after designing the Air Jordan 2009 and the first several signature shoes for Chris Paul, took on the project of redesigning the Nike Air Monarch for the sequel – the Nike Air Monarch II.  His design of the Nike Air Monarch II set the tone for the shoe and the multi-million dollar business that followed in its path.
I caught up with Jason this weekend to discuss what it was like designing the ultimate dad shoe, and the significance it holds to him as a designer and a father himself.
---
Matt Halfhill: Jason, thanks for taking the time to talk about the Monarch.  If my memory serves me correctly from our past conversations, your work on the shoe was relatively early on in your footwear design career.
Jason Mayden: It was! The Monarch was officially the first shoe that I designed as a Nike employee. I designed the Nike Air Monarch II and the European counterpart made for that region too.
I took on the Nike Air Monarch II project, which was a followup to the original Nike Air Monarch that released a few years earlier that was designed by Rob Dolan. It was a good design and Nike was trying to figure out how to take it and evolve it to compete with some of the other heavy hitters in that market space by New Balance. From a business perspective it was significant and very important, but from a design perspective it was undesirable.
Matt Halfhill:  How so?
Jason Mayden: It wasn't "sexy." It wasn't a signature shoe, or a shoe that incorporated all of the new technologies. However, I was new to Nike and I remember being told that you get praise and you get promoted at Nike from doing the work that no one else wants to do and doing it well. I took that serious and I took on the project and gave it a personality and a life.
Matt Halfhill:  When you say you took the project seriously and gave it a personality, what do you mean?
Jason Mayden:  I based the shoe on various people in my life that meant a lot to me. These were people who were significant figures and people who were archetypal father roles that included coaches, my fifth grade teacher, and my art teacher. They all played a role in making me who I am. They were men who came to volunteer and work within the city of Chicago from Indiana or other parts of the midwest. They might not have looked like me, but they were men who wanted to participate in the development of a child. I had a lot of respect for them because they were real, tangible heroes. They all made sacrifices to help someone else.
Jason Mayden & Michael Jordan discussing the Air Jordan 2009 (designed by Mayden)
Matt Halfhill: That really adds to the phrase that a shoe is "much more than just leather and rubber." After your work on the Nike Air Monarch II, you started working at Jordan Brand. What was it like to see your work continue to live on and grow with subsequent iterations?
Jason Mayden:  The great thing to see is that even after I moved onto Jordan Brand, by the time the Nike Air Monarch III and IV were designed, they were both largely permutations of the Monarch II. There were small tweaks that were made, but nothing too drastic to get away from the II. The Monarch II hit all of the factors that men really loved from the comfort, to the width, to the colors, to the materials, to the price point. It was like, that was it, we nailed it – we had the Sunday shopper's most favorite shoe. We had not just a product that would be here for a season and then go away – we had a shoe that would be here for years and years.
Matt Halfhill: I am sure you've seen the shoe has even spawned a following on the internet with #TeamMonarch? How does it feel to see that?
Jason Mayden: [laughs] Quite honestly, I laugh at it – I think it's hilarious in a good way.
Here's the deal: So much of the sneaker industry has become SO serious. It has become so driven by fashion, struggle and melancholy, and these things that are based on dystopian futures. The Monarch is about a shoe that is happy, that is involved, that most likely has a mustache with no beard that loves Miller High Life, relaxed fitting denim, and a BBQ in the backyard.
He's just the every day guy, the every day dad. He's Dan from Rosanne, he's Carl Winslow from Family Matters, so everybody knows that guy and this is his favorite shoe. When I designed the shoe, I didn't think it would become part of pop-culture, but when I look back at it, it was inevitable. This shoe reminds you of your favorite person, so that's what I think people are reacting to. When they see the shoe, it unlocks those memories of those men who they love in their lives, whether it be their uncles, coaches, grandfather and of course, their dad. It's really cool to see it reflect in that way.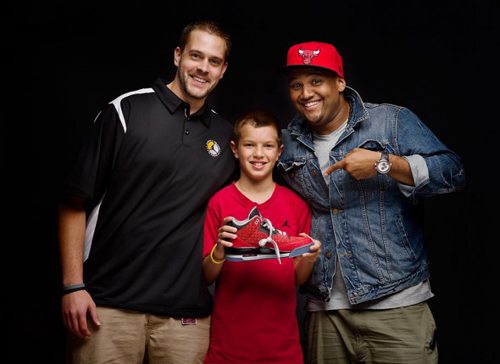 Matt Halfhill: As a designer, what does it feel like for you to know that you've brought to life a design that is part of the illustration in people's minds of the everyday American dad?
Jason Mayden: You know, if I'm being quite frank, I think it is awesome – not only as a designer, not only as a father, not only as a business person, but as an African-American in this country. Because, ultimately in today's world, we are often rarely associated with that – fatherhood.
I feel honored and humbled that the most prized "shoe of fathers" and most prized shoe of the archetypal dad was designed by an African-American. It was designed by someone that so many often don't associate being involved in their children's lives, just based on how I look. I see this as a blessing and as a reflection of the evolution of the opportunity presented to people like me, from where I grew up and the things I experienced. I also look at that as a way to realize that today race, ethnicity, socioeconomics — none of that matters. What matters is the shared experience and that the shared experience is called life.
Everybody loves someone and everybody respects someone, and I appreciate that I have been given the opportunity to deliver a shoe that makes people think about that person and something that people associate with that someone that they love.
Matt Halfhill: Of course I have to ask you, you're a dad yourself – how do you enjoy wearing them?
Jason Mayden: [laughs] I just put my pair of Monarchs on for the first time in years.  The last time I had worn them was when my team member gave me a pair as a going away gift when I transitioned over to Jordan.
I just had to smile because today my son is 13 and my daughter is 9, and my kids weren't born yet when I designed the shoes. I was still just dating my wife, who was my girlfriend, and we laughed back then about how I am a young dude, fresh out of college, designing a shoe for future dads and basically being single with no kids. Fast forward all of these years later, and I basically designed a shoe for my future self.