Sue Bird has teamed up with Corona to create the limited-edition Corona Fine Life Fridge, a one-of-a-kind mini-refrigerator meant to keep coveted kicks and beer "on ice." Sue was tapped by Corona to serve as the Creative Director for the refrigerator as her kick game on and off the court has been well documented throughout her first-ballot Hall of Fame career. The Corona Fine Life Fridge comes with a turntable to flex your favorite pair, LED lights, and Sue's signature highlighting her stamp of approval.
We got to talk to Sue about her sneakers, on and off the court, and what we can expect for the upcoming WNBA season. Much thanks to Sue for taking the time to talk to us and this interview has been edited and condensed for clarity.
NK: The first question is what's the current rotation looking like? What sneakers are you always constantly having by your door?

SB: I'm having a hard time getting away from the black and white Dunk, it's just simple, goes with everything. It's becoming like my go-to travel shoe. Any time I'm about to hit the airport, I'm like, "Yep" because like I said, it goes with everything. So the black and white Dunk is right by my door. And I would say the other pair are sacai's right by my door, really any colorway. It's just kind of whatever the mood is feeling or calling for. So yeah, I would say those two.
NK: Is there an early sneaker memory for you as far as on the basketball court where there's some sort of memory, is there a sneaker that always has a special place in your heart?
SB: Yeah, so my first pair, one of the first pairs I remember picking out was like a pair of like Flights, just like regular Nike Flights. Like, cool, cool, cool, they just kind of did the job.
But it was the Charles Barkley's signature shoe came out where I was like, "Oh, I want those." It was mostly black, but it had white with like a purple accent at the straps that kind of crossed over. They didn't have those in my size, so I had to get the all-black with the gray. But I love that shoe. And what's funny about both the shoes, the Flights that I first had and then the Barkley's were growing up, I had a popular shoe size. So it happened to me a lot where I'd go in the store wanting one thing and I'd have to walk out with another because they didn't have my size. And that happened in both those pairs. Devastating.
NK: The WNBA is fast approaching, you guys are a few months away from the season. At this point in the offseason are you wear testing sneakers at all? Are you kind of like figuring out what you're going to wear for the season or is that something you kind of tinker with during the season?
SB: Oh no, you got to figure that out well before. So obviously, you know, I'm like a big Kyrie sneaker fan. I'm a big Kyrie fan, but a big Kyrie sneaker fan, I love his shoe. Pretty much every iteration that comes out and ends up being my favorite, there hasn't been a need to try anything else. And the same goes for the Kyrie 8. So I've been wearing that for like the last couple of months now, just getting used to it, getting comfortable with it.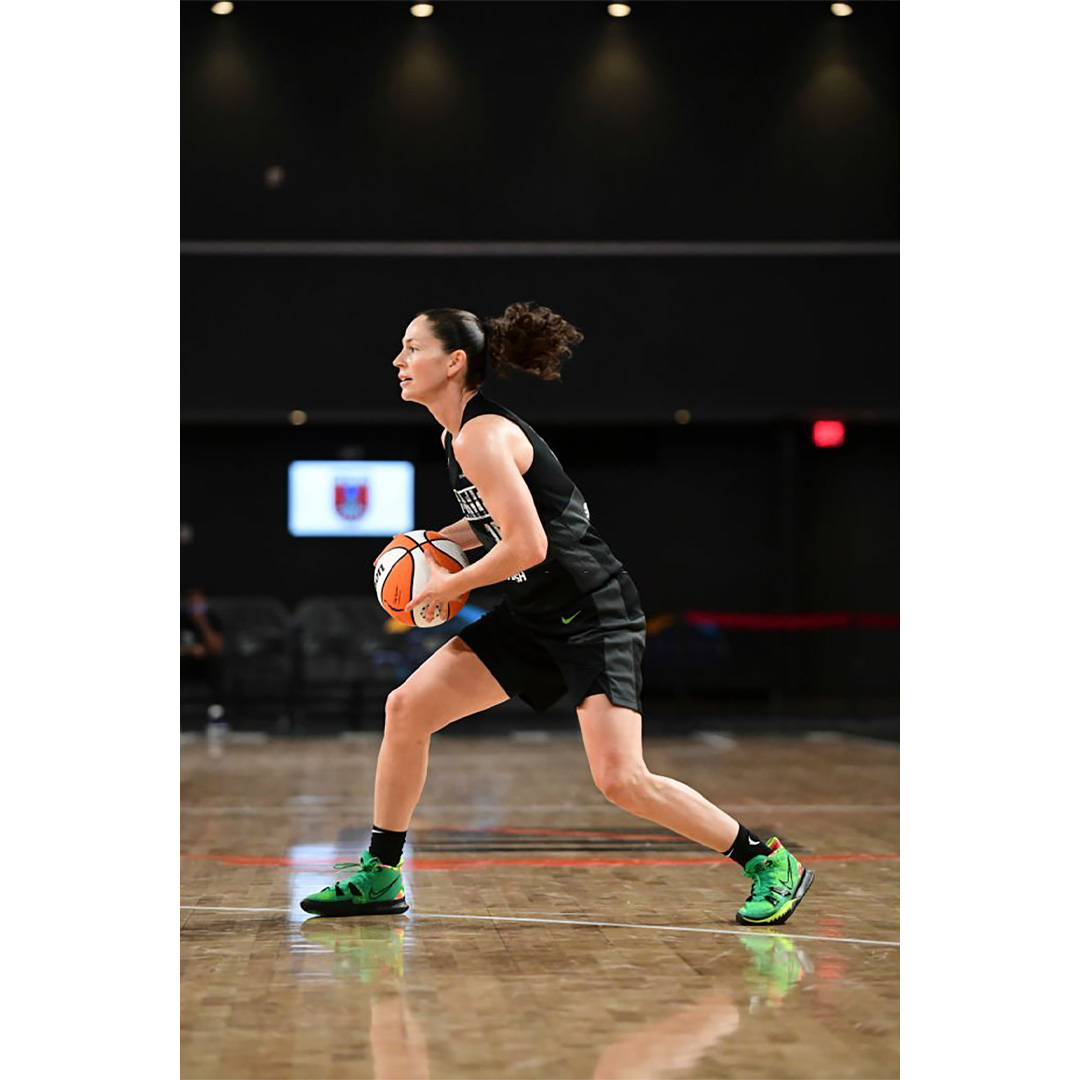 I'm going to have my own PEs in that shoe that you'll get to see. I tried to have some fun with it this time, you know, given that it might be my last year, I tried to pay homage with some of my shoes, but have fun in other ways. So I think you'll like it. I'll have like three or four PEs and then there's going to be a new "Keep Sue Fresh" version too.
NK: I really hope you keep the Birdy nickname on like some of your sneakers because I remember seeing those on your Huarache 2K4s and 2K5s you had back in the day.
SB: Well I don't so I don't have Birdy, but I do have one little ode to New York that I think if you catch it, I think you'll like it.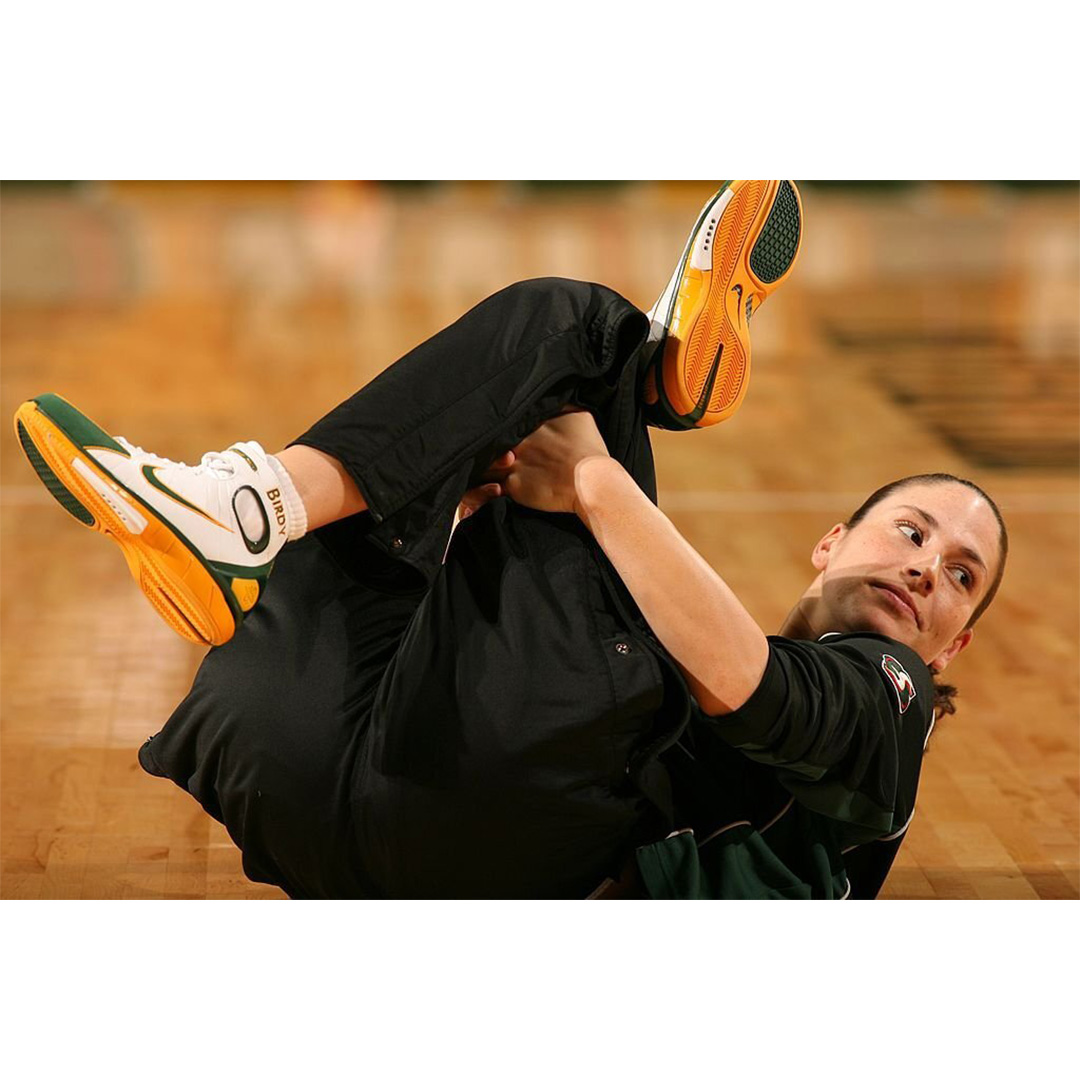 NK: And you know, you've played in so many different sneakers, going back to when you were at UConn and early on in your career. Is there a specific performance sneaker that you would like to come back in a Protro form?
SB: Yeah, the Uptempos (Nike Air Max Tempo). If they could figure out how to do the Uptempo in like a Protro situation, Oh my God. Because what's funny is those came back out maybe two couple of years ago. And I was like, "Oh, let me hoop these". 5 minutes in, I was like, "Get them off, they're heavy." What that tells you is just how crazy the newer technology is and how much more comfortable shoes are. But if they could Uptempos are like probably my favorite basketball shoe of all time. I wore that my rookie year here in Seattle.
NK: WNBA is starting to grow every single year and it's about time for another WNBA athlete to get their own signature sneaker, not just the PE. But excluding yourself, who would you like to see get a signature sneaker?
SB: Stewie (Breanna Stewart) is probably going to get one. We don't say the name of that company, but so that's good news. I would have loved to have seen Diana's signature shoe grow through the years, so I'm sad that that never got to happen. But I do think we have some young hoopers right now. Nike could really do some fun stuff with, I think Arike Ogunbowale is one, I think A'ja Wilson is one. You've got Diamond DeShields. Just these players that, you know, obviously I'm naming Nike athletes, but it's like these players are they're young and already have shown that they're establishing themselves on the court and so I feel like a shoe comes with that.
NK: So with your new partnership with Corona, you starred in a commercial alongside Devin Booker, Vince Carter, and Christian Laettner. And what part of their respective games do you admire most?
SB: Oh, good question. I mean, Devin to me is just so smooth, right? He can kill you on all three levels of the game, but just like the ease in which he does things again, the smoothness. That's what I love about his game, he's super fun to watch.
Vince of course, I feel like everybody is going to say his jumping ability and his dunking, which is very true. But I watched that documentary on him when he was in Canada, the Vince Carter Effect. And I think what I admire about his game, I remember watching him in college and he's always been a high flyer, and as I said, that's what people are going to talk about. But he really took his game to like another level when he got to the pros. Like really took it to another level, I think a level that some people didn't know he had. So that's just like it's super admirable to see somebody do that.
And then, of course, Christian Laettner. I mean, the coolest part about being on that shoot with him was hearing him tell some Dream Team stories and just like what that experience was like. I mean, this is a guy that just experienced so much. When you hear him talk about what that was like, it was just really cool. And then his game, of course. In college, he had some incredible shots, he's really the reason why people hate Duke is because of him. So that's pretty impressive when you can get a whole world, a whole country to basically hate you or hate a whole school just because of you. You must be doing something right, to be honest.
NK: Last question. You kind of touched on it before, but what can we expect to see for you on court for this upcoming WNBA season?
SB: Yeah, like said, I rock with the Kyrie's. To me, they're the most comfortable. They also look the best and look good, feel good, play good. That's always a motto that I subscribe to. You'll see me in the Nike Kyrie 8. Like I said, got some fun PEs coming out, and then there's also the Kyrie "Keep Sue Fresh" that Kyrie had some input on it's kind of like an ode to the gold medals and ode to the Seattle Green. So keep your eyes out for them.
Catch Sue alongside Devin Booker, Vince Carter, and Christian Laettner in Corona commercials all throughout March Madness and you can win the limited-edition Corona Fine Life Fridge, a custom mini-refrigerator meant to keep your kicks and beer "on ice."
Starting Friday, March 25th to Monday, March 28th, you will have a chance to win the fridge by replying to this Corona tweet, tagging @CoronaExtraUSA and using hashtags #CoronaFineLifeFridge and #Giveaway*.