Blowin' minds and on their grind, London-based skate icons/pro riders Benny Fairfax and Chewy Cannon have added personalized takes on the adidas Palace Pro to both their resume and rotation.
The Palace Wayward Boys Choir members both seem to have a hit on their hands, redressing the celebrated skate silo debuted by adidas Originals in colorways indicative of their own style, each take illuminates the minimal model with fresh hues and bold branding that have appeal far out of the growing culture.
Catching up with Benny and Chewy, we discussed not only the collab but also their experience linking with the Three Stripes and the boom of skate business outside of the sport. Read what they had to say in our quick convo.
Nice Kicks: How did you both first get into skateboarding?
Chewy Cannon: I had a mate from school who was into it and I thought it was cool.
Benny Fairfax: I was probably seven or eight years old when I got my first board for Christmas or a birthday. My sister and I would take turns sitting on it and pushing the other one down the hill outside of our house.
Nice Kicks: Was it hard to pursue the skateboarding dream at first? Did family and friends support you?
Chewy: I don't think I really had a skateboarding dream to start. I never knew you could live off skating so I just did it for fun. Same as now, really. I didn't receive loads of support. My old girlfriend helped and my mate Greg King made videos for me so that pushed me a lot. He pushed me a lot.
Benny: I never really thought I was pursuing any kind of dream. I just didn't want to do anything else besides to go skate. My friends and I were obsessed. My parents definitely got pissed off at the rate I'd destroy shoes and boards. They also didn't like me injuring myself but they were supportive.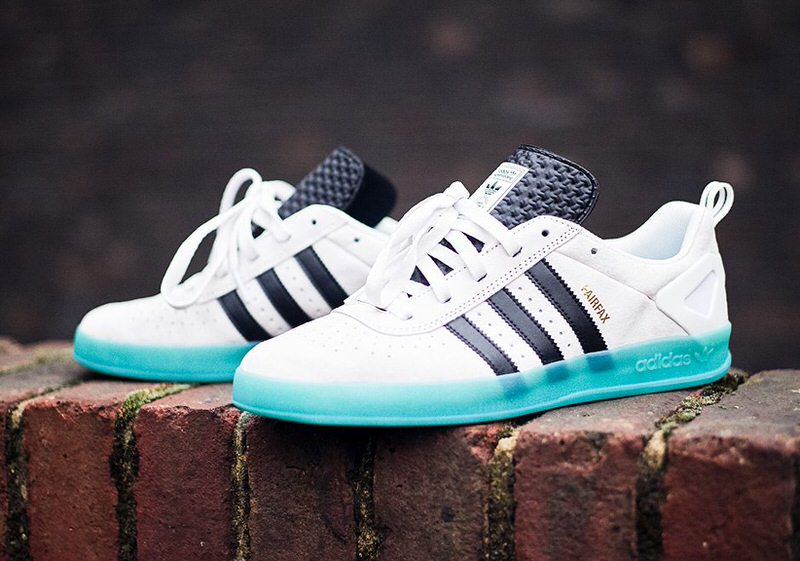 Nice Kicks: How did the adidas deal first come about and how has the relationship grown?
Chewy: Neil Chester phoned me up one day and asked me if I would like to ride for adidas and I was like, "Fuck yeah, I will." I always liked adidas as a kid. Matt Beach, Quím Cardona and the Gonz!!! Plus, my football boots and football team kit were adidas, too, so I was down from the start. Then I just followed it – went on all the trips and skated.
Benny: I got my first box of adidas in the post in 2006 from Bryce Kanights, who was the team manager at that time. It's been amazing ever since. I've got to travel all over the world doing tours with adidas and I couldn't ask for anything more!
Nice Kicks: What was your first reaction when adidas reached out to you to do a sneaker?
Chewy: I was gassed!! I wasn't sure if I really deserved it but I was way too stoked to turn it down. I guess it's probably one of the biggest accomplishments in skating for me.
Benny: Having my name next to the three stripes on an adidas skate shoe is a dream come true. The 13-year-old me would never have believed it could happen.
Nice Kicks: What was the inspiration behind the colorway for the Palace Pro?
Chewy: I guess being both a Palace pro and an adidas rider was the inspiration as it makes sense for both companies. Benny and I dropped the first edit for the initial adidas Originals x Palace Pro release. My signature colourway for the latest Palace Pro release was all adidas. They presented it to me and I said, "Yes, I like that one.
Benny: There's definitely some rave vibes in there!
Nice Kicks: From a skating standpoint, which technical attributes do you like most about the Palace Pro model?
Chewy: They look good, feel good, and skate good!
Benny: They're comfortable straight out of the box. You don't need to wear them in at all.
Nice Kicks: Aside from your latest colorway release, which shoes are getting burn in your rotation?
Chewy: The OG Busenitz. All day.
Benny: I like shelltoes a lot. I also like the Lucas Puig Pro shoe to skate in.
Nice Kicks: From skating to designing and everything in between, what's daily life like for you?
Chewy: Life has been metal, lately. I had a lot going on. But daily life includes tea, emails, JLB, house stuff, skate, beer, and bed. I'm pretty much in between planes, trains, Uber's and globetrotting. Oh, and interviews!
Benny: When I'm not injured, I'm trying to skate everyday if the weather's good. Right now, I'm injured so I'm just focused on getting back on the board.
Nice Kicks: What advice would you give for the kids pursuing the creative field?
Chewy: Be yourself and explore.
Benny: Throw yourself into what you enjoy doing 100% and don't let anything stand in the way of achieving what you want.
Nice Kicks: Skate culture has blown up from a fashion standpoint. What is your opinion on the skateboard brands now being mainstream?
Chewy: I just see it as evolution more than anything. It just keeps on going. For better or worse, till death do us part! I do.
Benny: I think more attention on skateboarding is a good thing and I think the majority of skate brands are a long way from being "mainstream" – whatever that means. I'd much rather see brands that support skateboarding, grow, than to see companies come and cash in on our sport because it's popular at the moment.
adidas Skateboarding's Palace Pro colorways releases on November 17 at specialty three stripes retailers and adidas skateboarding.