words & interview // Nick DePaula:
For the first time, Adidas will be launching a full lineup of basketball models born out of a collaboration between its Portland-based Adidas Village headquarters and its Adidas Brooklyn Farm, looking to bridge the company's brightest basketball minds to push a collective blend of design, innovation and culture for Adidas Hoops.
More than two years in the works, the first batch of silhouettes draw from two opposite approaches, as explained by Rashad Williams, Adidas Basketball's Senior Director of Footwear.
"We sat down and said, 'What do we want Adidas Basketball to look like in this season, two seasons, three seasons?'" recalls Williams. "We knew it was going to be through innovation in-game, and then in culture, life and world. You'll see a north star end of the spectrum with innovation, and then very versatile silhouettes that speak to culture."
From the onset, that meant traveling out east to the Farm for Williams, where he and Denis Dekovic, Adidas Brooklyn Farm Creative Director, bunkered down for a month and a half in BK with the team's designers, concepting and discussing amongst everyone with "all ideas on the table."
"It was really different. It was really collaborative," says Williams. "I sat with Denis and we really were trying to figure out how we were going to re-imagine Adidas Basketball."
For Dekovic, who had been tasked with the project of leading the design collective on its hoops exploration, it was the Brooklyn roots of the Farm that helped to fuel the direction.
"With this collection, we looked to the basketball consumer themselves to tell us what's most important,
and then worked tirelessly, creating hundreds of prototypes to perfect our designs and create something that's never been done before, but is still undeniably adidas," reveals Dekovic.
All three models, the N3XT L3V3L, Pro Vision and Marquee Boost, along with a low-top Marquee Boost, will go on sale exclusively at Adidas.com/Basketball on December 1st, for just 24 hours.
"How do you do something not only polarizing visually, but also polarizing functionally?"
– Rashad Williams
N3XT L3V3L
Clearly the polarizing pair, the fully laceless N3XT L3V3L, designed by Nick Daiber, highlights the future of where the game could be headed.
"The game has really become positionless," says Williams. "You see it at the highest level, but also you start to see kids be more skill-oriented at a younger level. We looked at what we could offer from a product standpoint to help that, and how could we push the boundaries?"
As Dekovic alluded to, hundreds of prototypes and endless feedback sessions were soon in store.
"We took lessons that we've learned from the soccer group, and translated it to basketball. That was a loooong process," laughs Williams. "We said, 'Lets build a rocket ship.' We have to do something very unexpected and something very innovative. A true laceless basketball shoe could scare some people. We knew that if we build it right with the great innovation that we have, that we could create a new space for us."
With a Primeknit upper for a secure sock-like fit, the shoe's unique heel entry setup makes for a locked-in feel against the molded heel counter and lateral "banking barrier."
"It's almost like from outterspace," says Bulls wing Zach LaVine, who first tested them out over the summer. "They're light, they're quick and different. You can feel yourself taking off."
"We really feel excited about this direction, so we're hoping to evolve it," adds Williams.
PRO VISION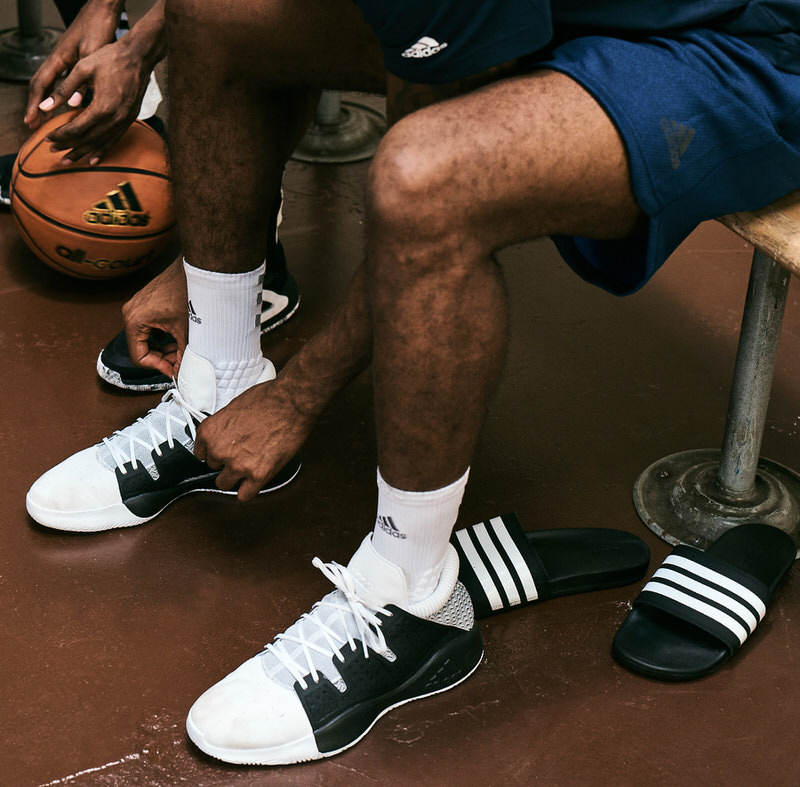 With a clean toe down and branding helping to harness in your foot, the understated Pro Vision canvas relies more on its bold colorblocking and a smooth Bounce cushioning ride.
"For Marquee Boost and Pro Vision, we looked to past icons for inspiration," adds Dekovic.
Icons like the Pro Model lineage and EQT caging provided cues to subtly draft off of. The tongue follows a reverse construction, sitting above the side panels, while the outsole offers up no-frills herringbone grip.
MARQUEE BOOST
Perhaps the most familiar feeling of the bunch, the Marquee Boost merges classic cues from original Top Ten with modern overloaded comfort, thanks in part to a primeknit forefoot, plush padded collar and full-length Boost cushioning.
"This is the most versatile shoe that we have, that not only speaks to Adidas DNA, but also speaks to culture and is a great, playable shoe," says Williams.