Tyler the Creator has stayed true to his own personal taste and sense of style over the years.
Beginning his footwear phenomenon with an array of GOLF WANG and Odd Future branded Vans collaborations with silhouettes like the Old Skool, Authentic and Sk8-Hi, Tyler has since continued his affinity for less hyped silhouettes through his partnership with Converse.
Since joining the Converse family, he's helped revive the brand's One Star by pushing it into a a versatile essential that has a place in a wide variety of wardrobes. By branding the One Star as his own Golf le Fleur staple, he's also recently received his own signature variations of the CT 70.
In celebration of IGOR, check out Young T's sneaker collabs over the years.
Golf Wang x Vans Syndicate Old Skool (2013)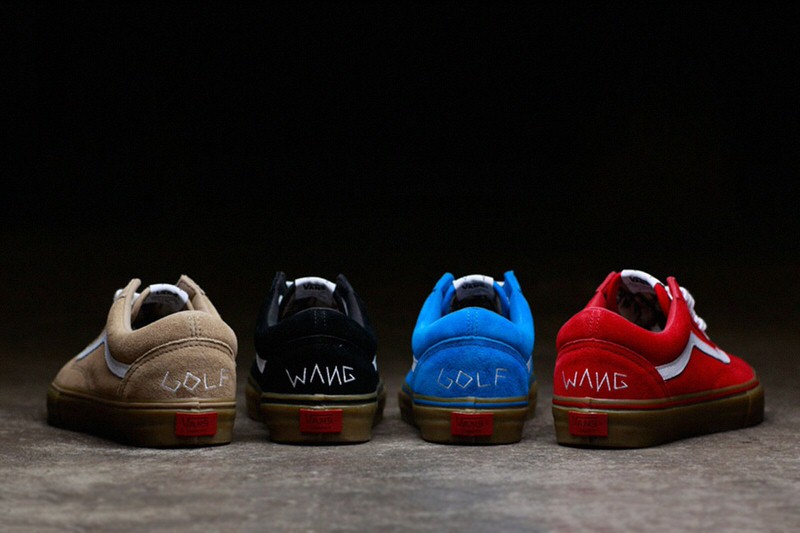 Regularly spotted hanging outside Supreme on Fairfax in LA, one of Tyler's go-to looks in the 2010s was a standard pair of Vans Old Skools.
Kicking off the beginning of the Vans and Golf Wang partnership was four altered variations of the Old Skools.
Using completely suede uppers in classic Vans hues, each silhouette is blocked with a gum midsole and "GOLF WANG" lettering in the label's signature font. Additionally, this project was with the Vans Syndicate line that housed an array of projects with renowned artists of all sorts.
Golf Wang x Vans Syndicate Old Skool Pro (2014)
After his first installment of co-branded Old Skools, Tyler would follow up his debut Vans project with another range of Golf Wang offerings.
Matching the vibrant tones seen throughout Tyler's apparel label, these variations utilize the Old Skool Pro silhouette instead, which is one of Vans' less collaborated models that's equipped with skate-specific technology to withstand the wear and tear during skate sessions.
Additionally, these styles are contrasted with popping pink midsoles and "GOLF WANG" scrawls on the tongue and heel.
Golf Wang x Vans Old Skool (2015)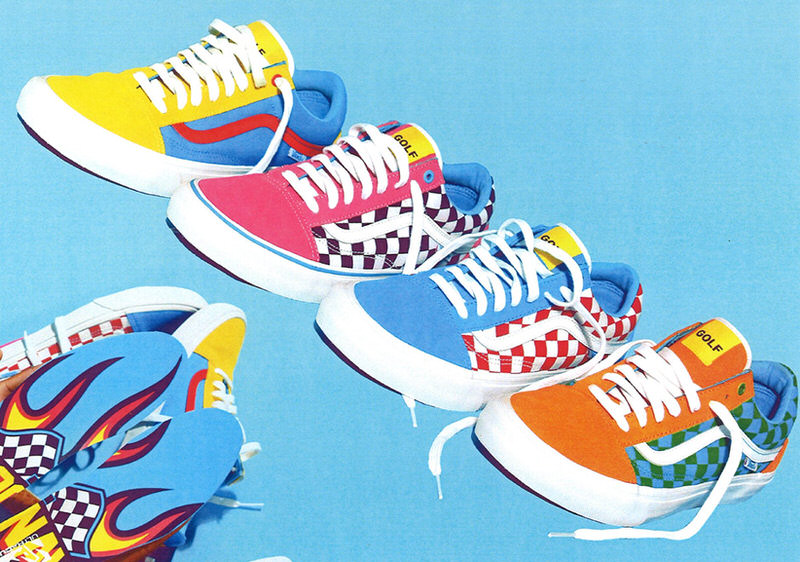 Tyler the Creator was already wearing an array of classic Vans, like the Old Skool and Authentic prior to having a collaboration with the California skate brand.
After making basic Supreme essentials and Vans his signature look post 2010, it would form a genuine partnership with Vans that launched a series of Golf Wang and Odd Future projects with the styles he was organically wearing.
Said to have been wearing the Old Skool regularly in his rotation since the 7th grade, Tyler's third Vans project released in 2015, featuring four renditions of the skate icon. Complete with GOLF branding on the tongues, various checkerboard motifs, and vibrant color palettes, these four pairs form an authentic blend of each brand's DNA.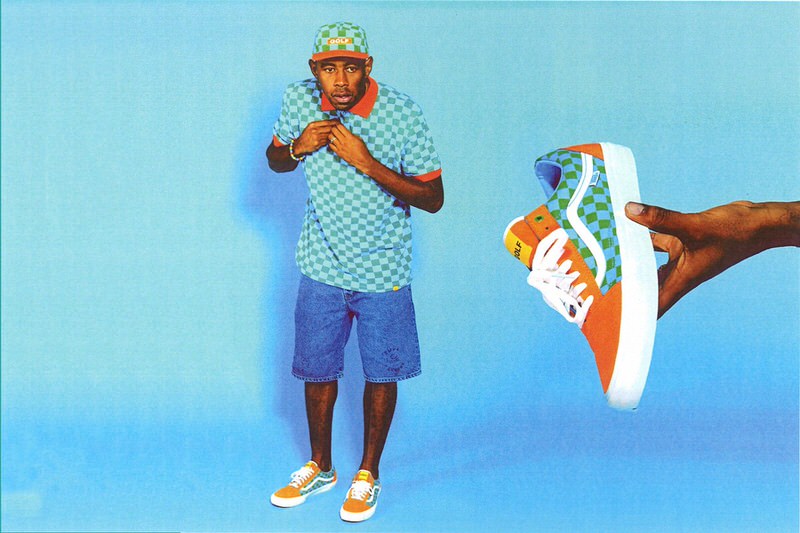 Odd Future x Vans "Donuts Pack" (2016)
Odd Future and Vans came together with Vans in 2016 on the Sk8-Hi and Authentic, incorporating OF's signature pink sprinkled donut that Tyler the Creator first drew when he was 16.
The comical motif is worked into the majority of the design that's blocked with teal suede and canvas paneling on the Sk8-Hi, while it appears throughout the entire upper of the Authentic. Lastly, each style is contrasted with a pink stripe on the midsole to match the donut's frosting accordingly.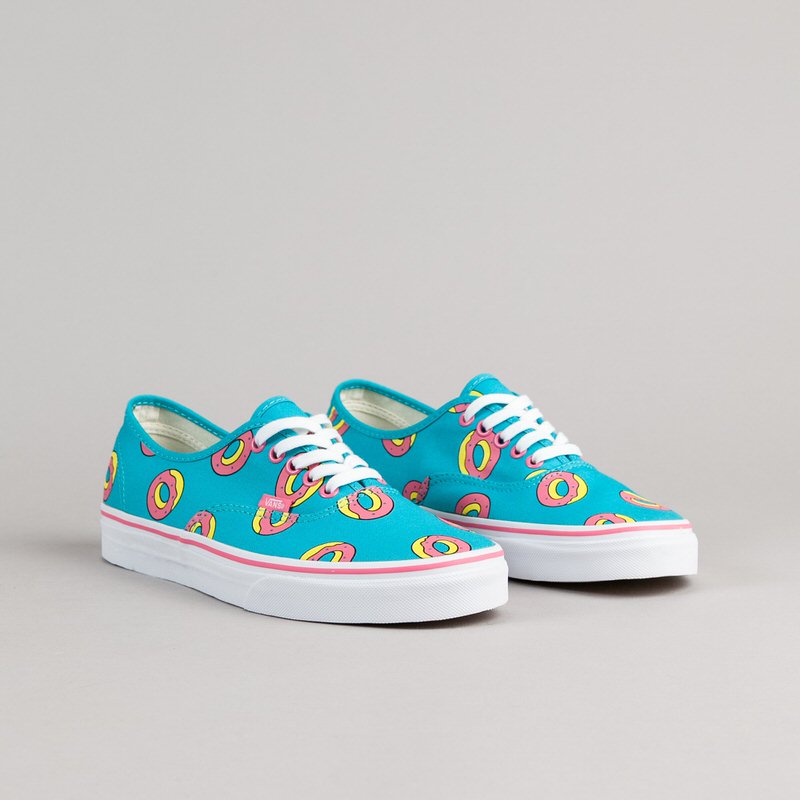 Tyler the Creator x Vans Sk8-Hi "Camp Flog Gnaw 2015"
In conjunction with Camp Flog Gnaw's 2015 occurrence, Tyler the Creator linked up with Vans for a special rendition of the Sk8-Hi that features a pink and teal gradient inspired by the festival's promotional posters that year.
Featuring a completely canvas construction on the upper, this shoe also integrates Tyler's familiar cat logo onto the tongue.
Tyler the Creator x Vans Sk8-Hi "Camp Flog Gnaw 2016"
Tyler the Creator was already wearing the off-white colorway of the Vans Authentic on a regular basis, pairing them with all kinds of now probably grailed Supreme essentials.
To celebrate Camp Flog Gnaw in 2016, these shoes take on the majority of the same color palette, while adding in hits of green, red, and yellow with Flog Gnaw branding on the heel.
Tyler the Creator x Converse One Star "Scum Fuck Flower Boy" (2017)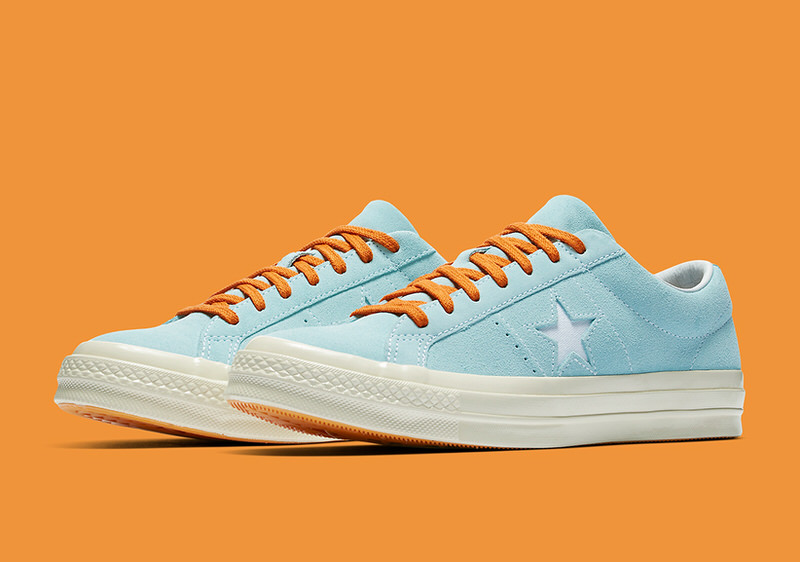 After parting ways with Vans, Tyler the Creator moved onto another similar, yet still skate similar aesthetic – the Converse One Star.
Timing Converse's push of the archived silhouette near perfectly, it wasn't long before the rapper had his first signature rendition on a retro icon. Featuring a vibrant pastel blue on the suede upper, the shoe's footbed is cohesive of his then upcoming album, Scum Fuck Flower Boy by incorporating a cartoon flower motif.
Golf le Fleur x Converse One Star (2017)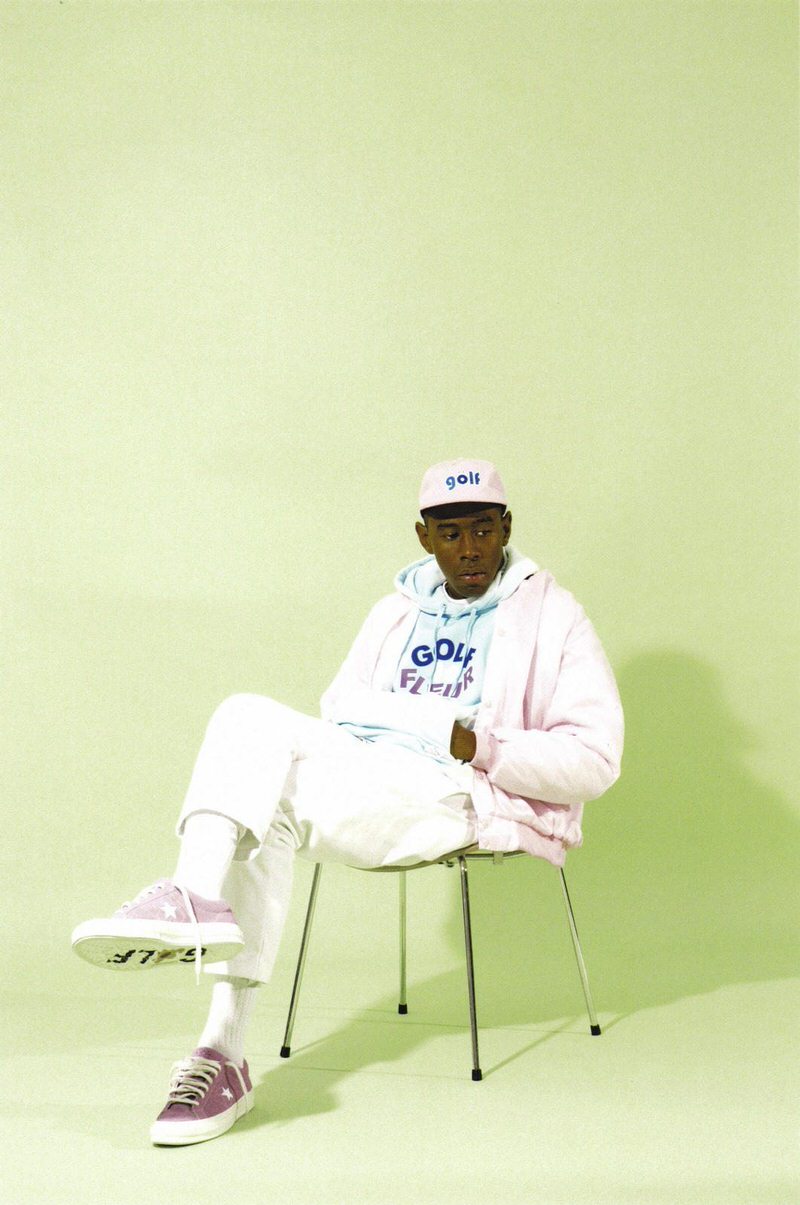 Tyler the Creator debuted his very first Converse collaboration in his Golf le Fleur runway show in 2016. Reworking the One Star with a design that matched his clothing label, the shoe would launch a year later, but attendees would get the chance to get their own one of three color patterns after samples were finished.
Tyler's first full-length collection of One Star appeared with four different renditions of the Converse classic in a range of pastels that were designed with suede uppers and playful Golf le Fleur motifs throughout. Lined with "GOLF" on the outsoles with Golf le Fleur icons on the tongue, these shoes also featured flowery insoles stamped with the phrase, "Don't let 'em kill your flowers, water your garden and stunt."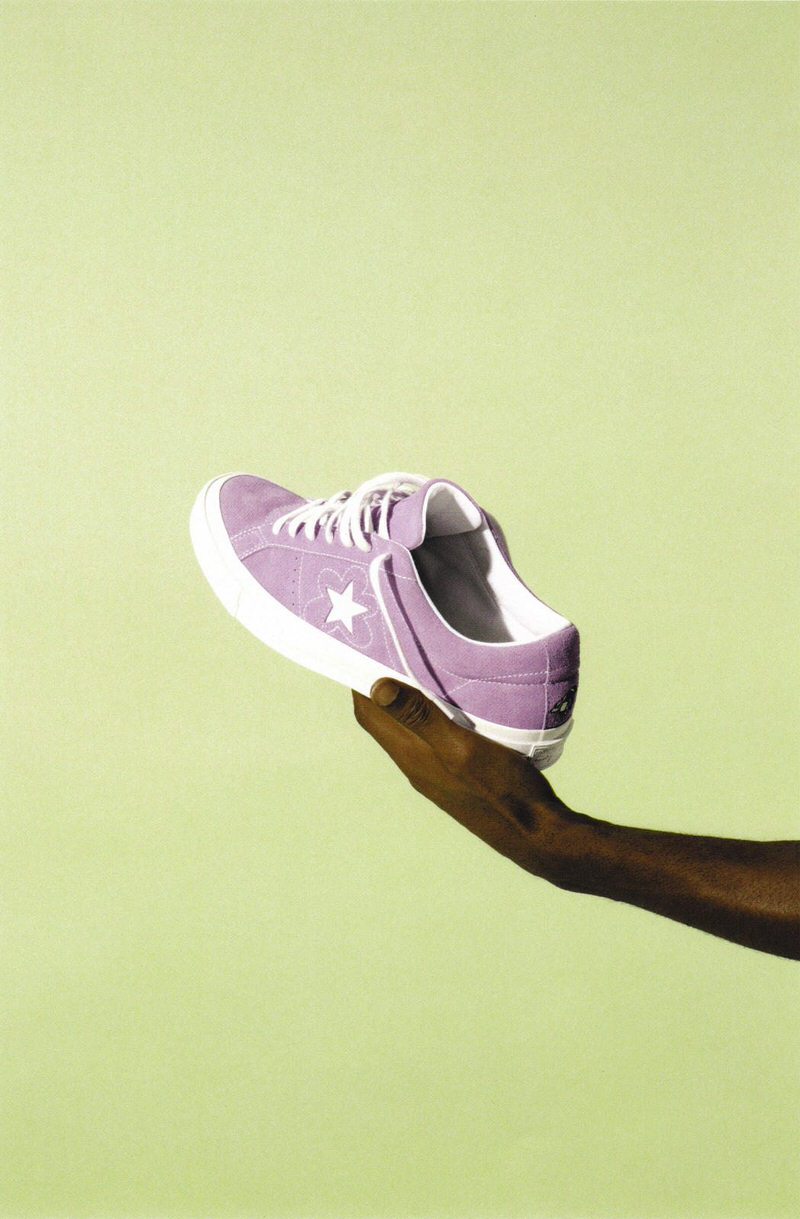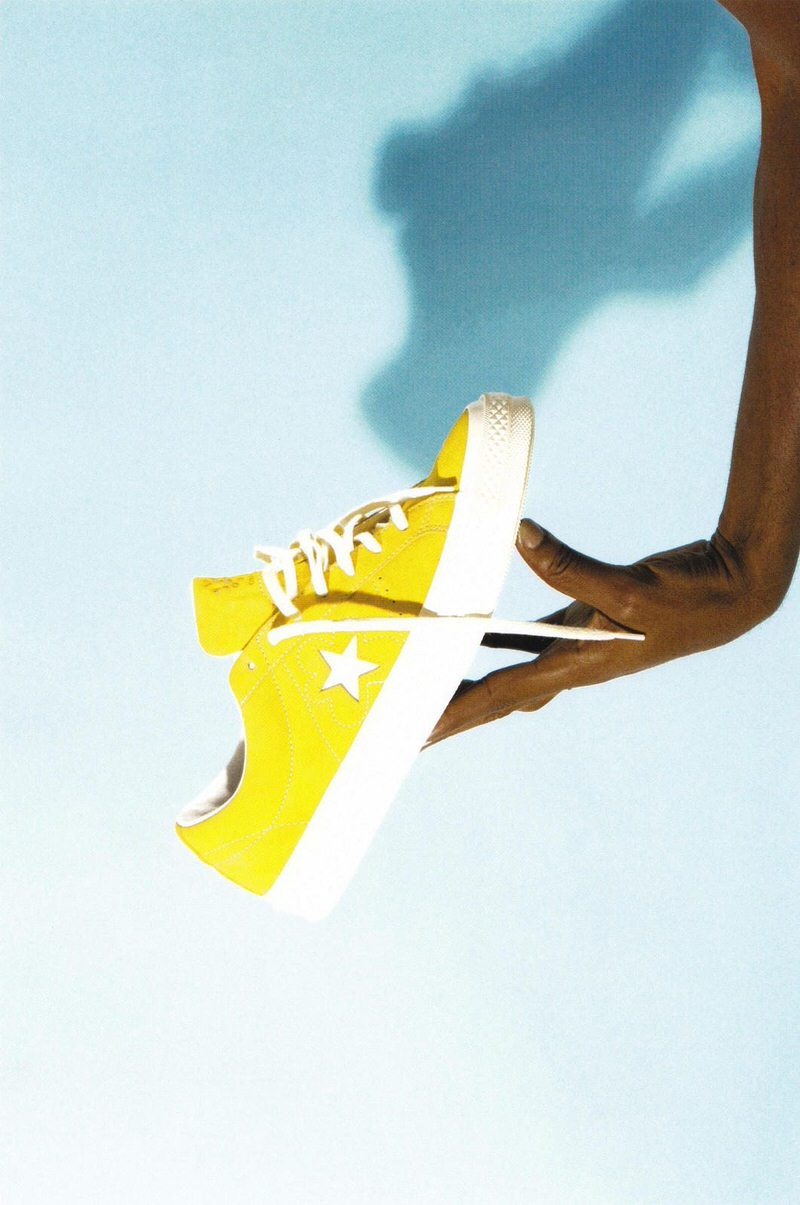 Golf le Fleur x Converse One Star (2017)
As a follow-up to Tyler the Creator's first official Golf le Fleur branded range of Converse One Stars, it was't long before another trio of the renowned silhouette would surface.
Featuring fully suede variations once again, these offerings with sub out the traditional One Star icon and replace them with contrasting Golf le Fleur flower icons.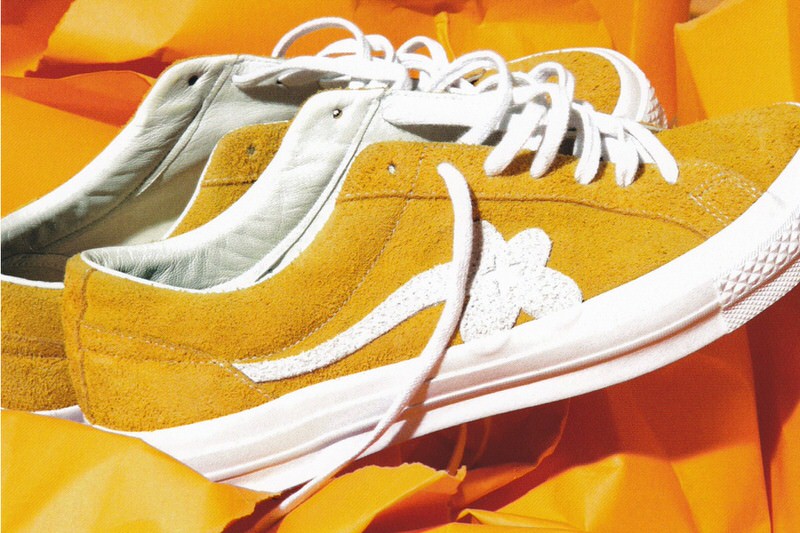 Golf le Fleur x Converse One Star "Mono Collection" (2018)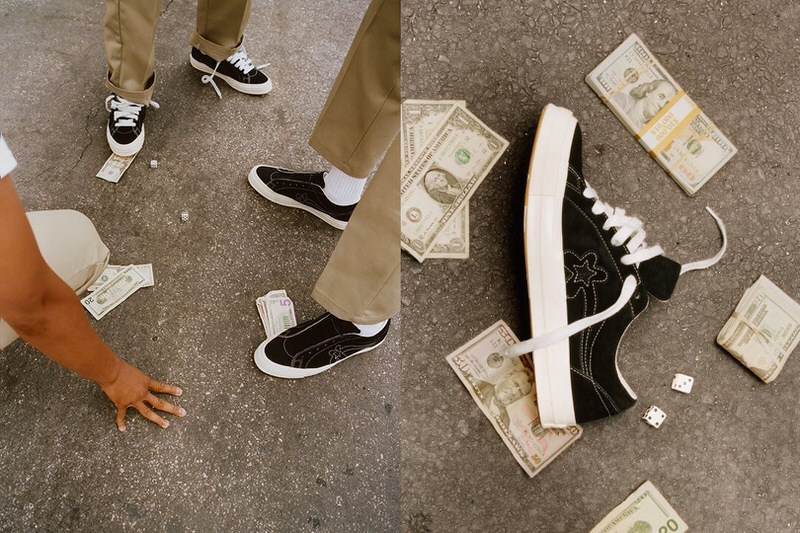 Tyler the Creator followed up his usually vibrant Converse One Star offerings with the "Mono Collection" that combined four neutral variations of the Golf le Fleur classic.
Featuring tonal suede upper with contrast stitching on the side profile's flower icons, these shoes are primarily muted up top, while the outsoles stick to the brand's wild flavor with orange outsoles that incorporates an array of flower icons.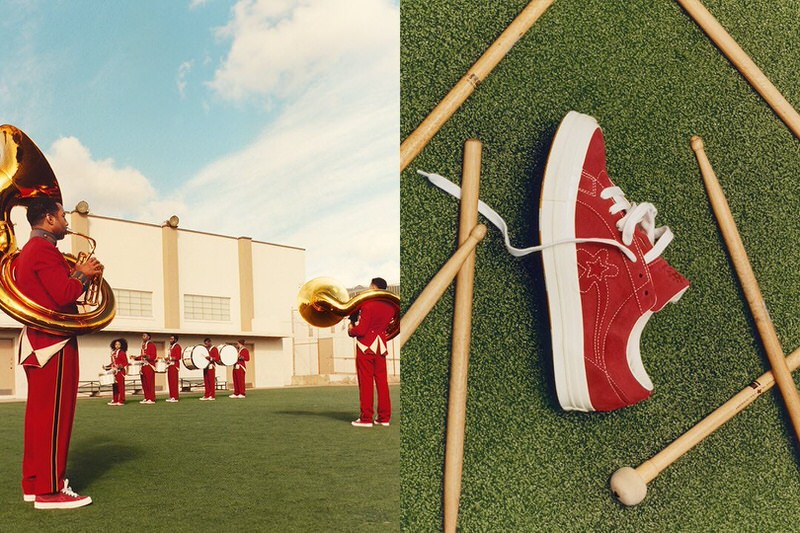 Golf le Fleur x Converse One Star (2018)
Regarded as one of 2017's best collaborations, the
Golf le Fleur x Converse One Star would release in another trio of pastel tones and flowery branding.
Designed with hairy suede uppers, these shoes also incorporate orange outsoles that are contrasted with Golf's signature flower icon.
Golf le Fleur x Converse One Star (2018)
Tyler the Creator's Golf le Fleur Converse range was all about the brights during the first half of 2018, featuring four variations of two-toned offerings coated in both pastels and eye-catching flavors.
Golf le Fleur x Converse "Flog Gnaw Festival" (2018)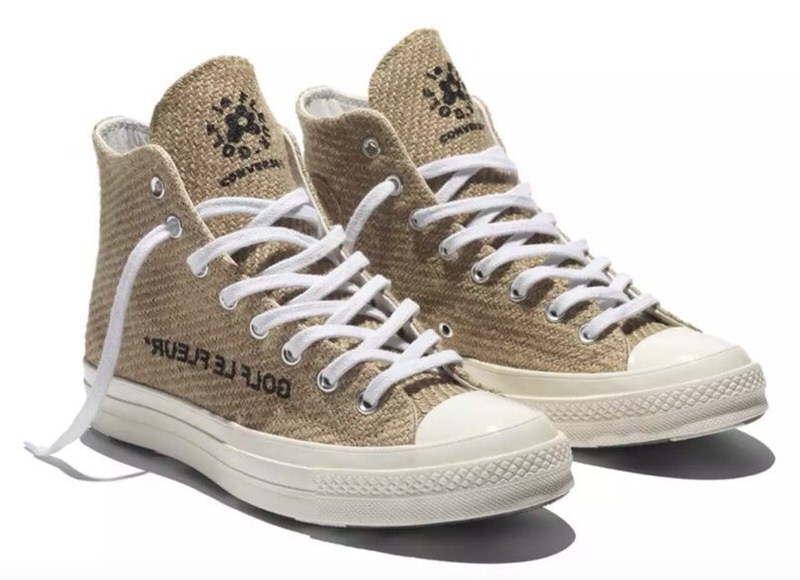 Similar to several of his Vans offerings, 2018 marked his first official Flog Gnaw Festival collaboration with Converse, featuring his signature One Star, along with two renditions of the CT70.
Designed with burlap sack inspiration in mind, these offering come equipped with reverse "Golf le Fleur branding" in quotations with a floral pattern on the outsole.
Golf le Fleur x Converse One Star "Grinch" (2018)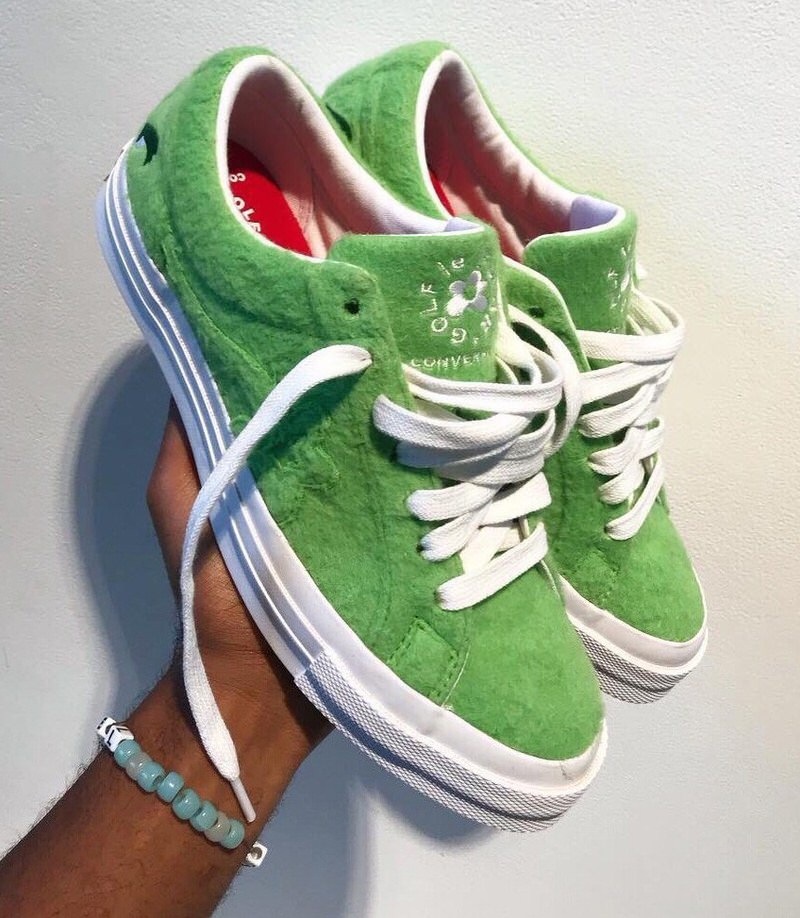 With his hit cover of "You're a Mean One, Mr. Grinch," Tyler the Creator got another exclusive rendition of his Golf le Fleur One Star with a festive holiday appeal.
Featuring a fuzzy green upper that mimics the Grinch character, this shoe also features the Grinch's angry eyes on the heels.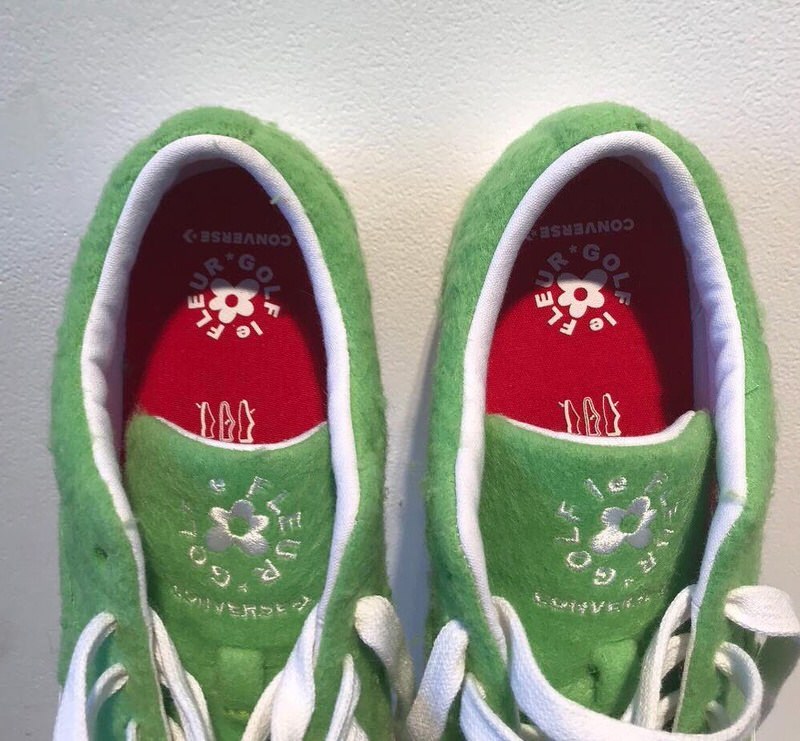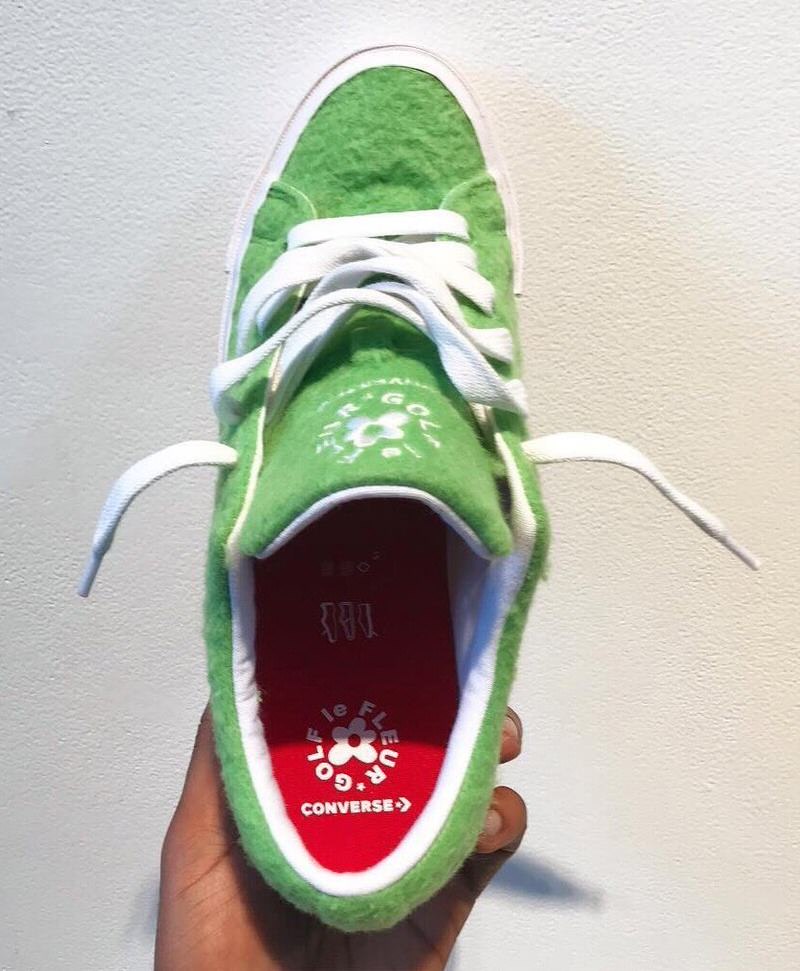 Tyler the Creator x Converse "Artist Series" (2018)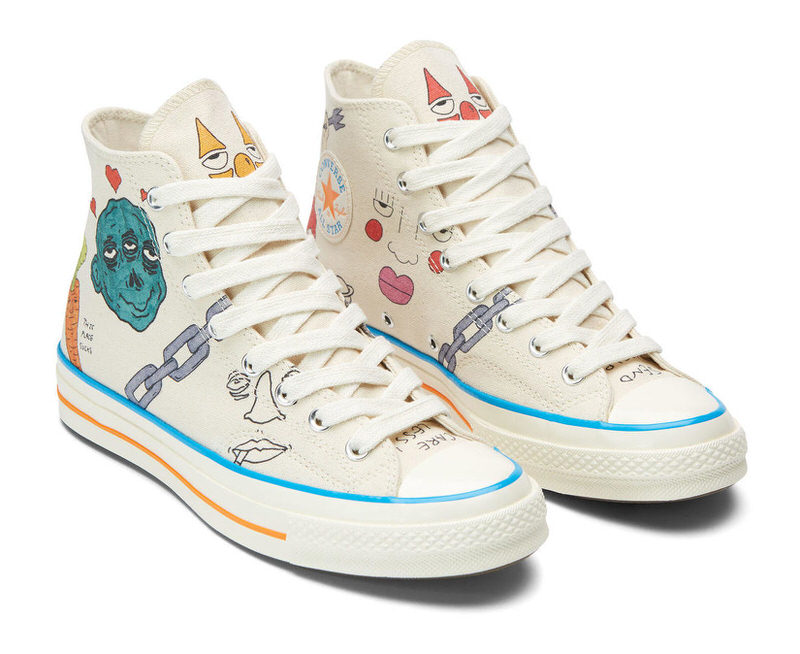 Exclusively designed for Foot Locker, Tyler the Creator and Converse linked up on the CT 70 and One Star to curate two contemporary renderings of the classic styles.
Unrelated to his Golf le Fleur collections, these silhouettes focus on the artwork and motifs seen on the shoes themselves, featuring designs by Tyler's friend Wyatt Navarro, as well as artist, Øyvind Lauvdahl. Navarro's work appears on the CT 70 with his signature motifs and color pairings, while Lauvdahl's work on the One Star is representative of Norway's winters.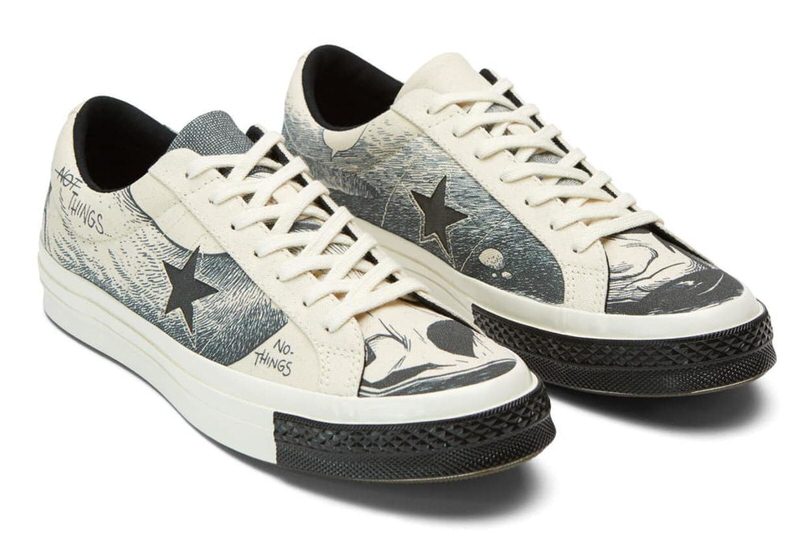 Golf le Fleur x Converse One Star "Reflective" (2019)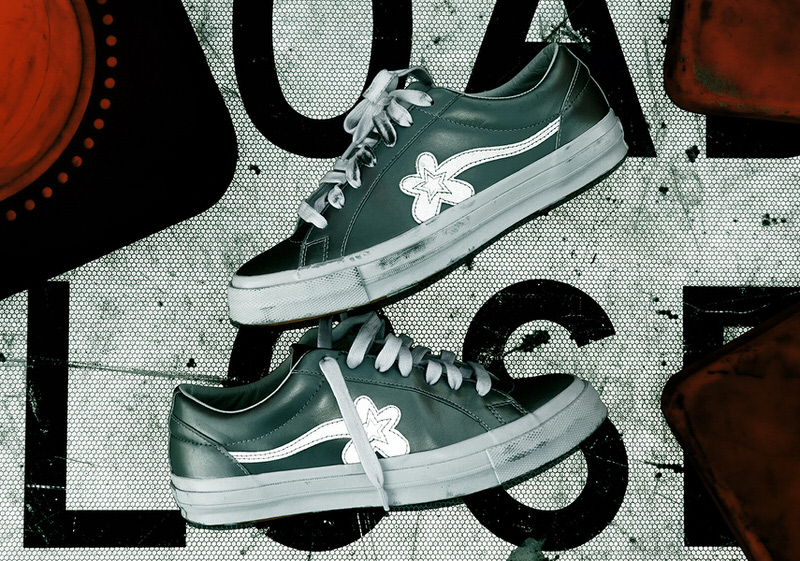 The Golf le Fleur x Converse One Star "Reflective" released exclusively at Dover Street Market.
Straying away from it's typically vibrant color palettes, this iteration of Tyler's signature One Star features a shiny silver leather upper with 3M reflective accents along the flower branding at the sides. Additionally, the shoe keeps the traditionally orange outsole intact.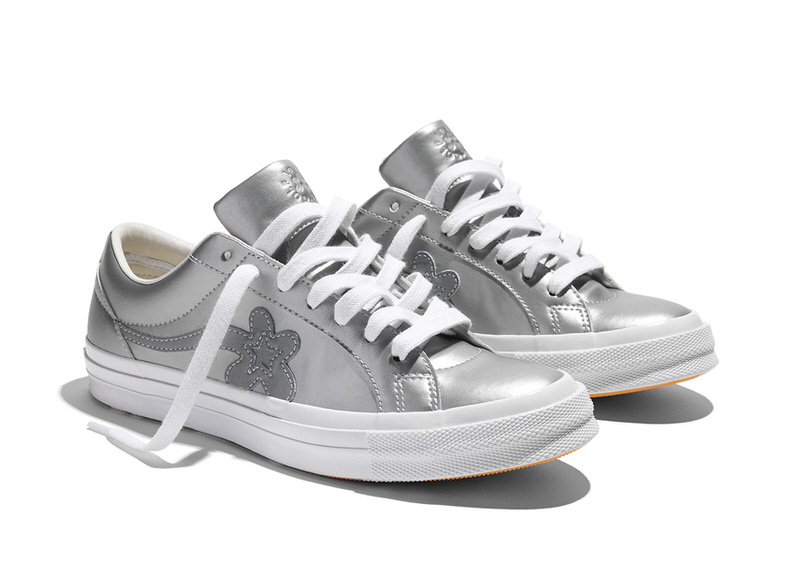 Golf le Fleur x Converse One Star – Unreleased
Not necessarily cohesive with the traditional color blocking as the rest of his Golf le Fleur releases, but this iteration of Tyler's One Star still technically hasn't seen an official launch date.
Its white and red color blocking is also complemented with GOLF lettering in red on the side profile of the shoe .
Golf le Fleur x Converse One Star "Industrial Pack" (2019)
Tyler the Creator's Golf le Fleur x Converse One Star "Industrial Pack" features two different variations of his classic silhouette.
Designed with two-toned uppers that incorporate a leather construction, each style displays black or navy hues on the sides , while white or light blue paneling lines the toe, tongue, and eyestay with GOLF LE FLEUR branding behind the flower icon.
GOLF x SUICOKE KAW-CAB (2019)
While Tyler the Creator has racked up his fair share of Golf le Fleur Converse capsules these past few years, he took a short break to link up with sandal brand SUICOKE for a collaborative pair of slides.
Complete with a suede upper and buckled clips on the forefoot straps, these sandals are blocked with a blue piping along the forefoot bands to complement GOLF WANG's signature vibrant renderings.
Golf le Fleur x Converse One Star "Faux Skin" (2019)
The "Faux Skin" collection from Golf le Fleur and Converse feature a trio of reptilian embossed uppers with green, black and off-white renderings.
The alligator textured uppers were so elusive that the Golf Wang crew had to link up with an actual alligator for the campaign imagery.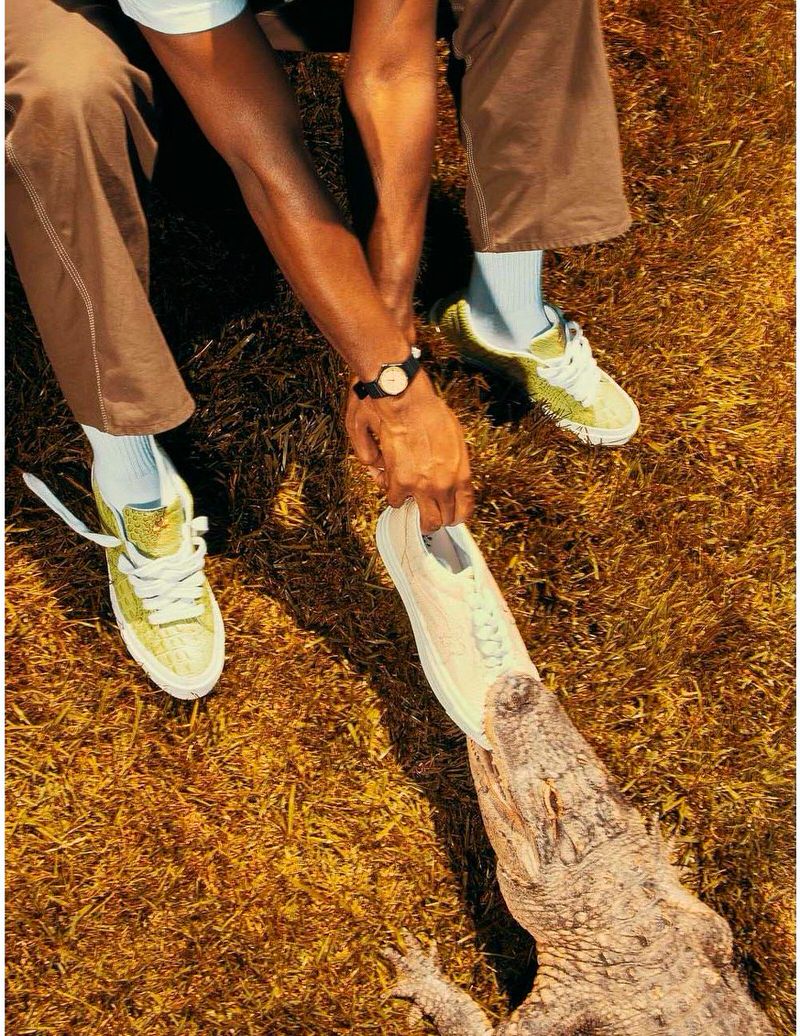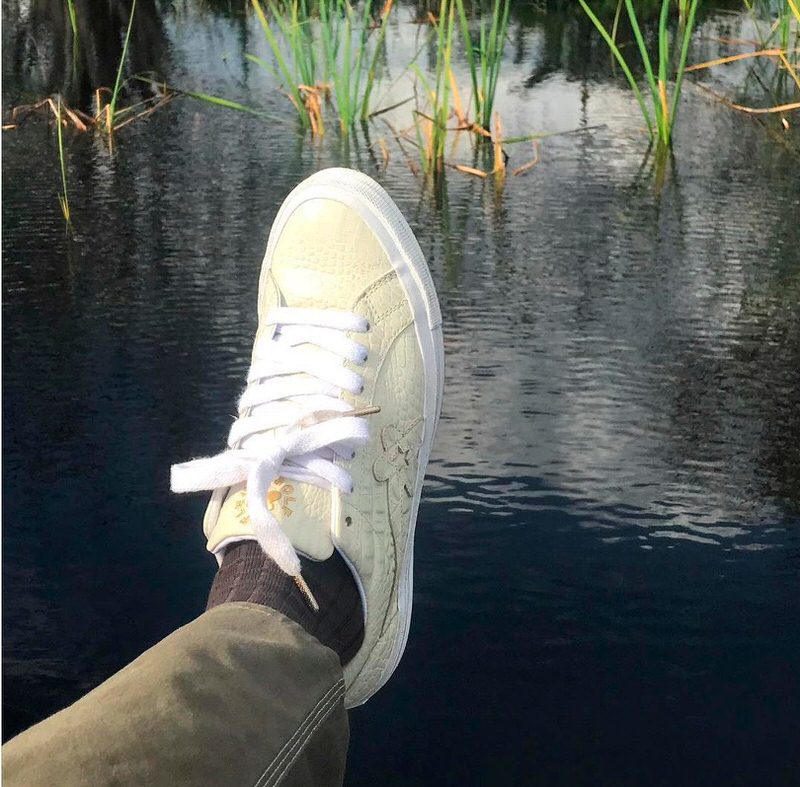 Golf le Fleur x Converse "Quilted Velvet" (2019)
Releasing on May 17th – the same day that Tyler's IGOR album dropped, the Golf le Fleur x Converse "Quilted Velvet" capsule was composed of two different colorings of the One Star, as well as a CT 70 High.
Featuring royal shades of red, tan and purple, the One Stars are accented with a tonal le Fleur branding at the sides, while the CT 70s incorporates a playful flower motif.
Celebrating Pride Month, the Tyler the Creator x Converse Golf le Fleur One Star rocks a rainbow aesthetic to celebrate equal rights and love for all. This pair is slated to launch on June 28, 2019.