The Phoenix Sun reveals the details behind the Nike Book 1.
There is always something special about firsts.
Think about your first job, your first car, or your first love. Regardless of whether they were good or bad, there's no denying that they were memorable.
It's especially true when it comes to a first signature sneaker. While most people are understandably bad at trying something they've never done before, Devin Booker was not going to miss on his prime opportunity to carry his own shoe line.
When he initially found out he was going to be Nike's next signature athlete, he went deep into the brand's archives in order to find out how to create a sneaker that could be a "future classic."
"Ever since they told me I was going to get my own shoe, I've been doing nothing but straight Nike DNA and history for the past two years," Booker said.
The result is the Nike Book 1, the player's debut signature that is reminiscent of the brand's icons like the Air Force 1, Blazer, and the Air Jordan 1, as well as Booker's personal muses like his restored '72 Chevy Blazer K5 – a classic car in his collection that he LS-swapped and replaced with a modern engine.
"This thing looks like an off-the-court shoe, but under the hood we took inspiration from restomod cars," said Ben Nethongkome, Nike's Basketball Senior Footwear Designer. "On the outside, it looks like a classic, but on the inside the engine is really a modern-day performance basketball shoe."
Some of the unseen details inside the shoe include a 14-millimeter Zoom bag in the heel, Cushlon 2.0 foam midsole, and a rigid TPU sidewall for lateral stability. For traction, there is siping along the bottom of the shoe to match the herringbone pattern to help with mobility and flexibility in the forefoot.
It's obviously something that I was knocking on their door about for years prior, but right now, it's the right time.

Devin Booker
Technical performance details aside, you can't have a sneaker called the Book 1 without rich storytelling. Some of that comes through in the aesthetics of the shoe, but also in its early teases online from the player himself.
Booker took a restomod approach to promoting the Book 1's debut too by shooting his own teaser on a Sony Hi8 camcorder, where he documented showing a sample of the shoe to everyone from rapper J. Cole to Nike co-founder Phil Knight.
He felt inspired after he picked up the final sample from Nike WHQ and wanted to create content the mirrored the excitement original Nike basketball ads gave him growing up in the late '90s and early '00s.
"You got a feeling when you watched those commercials and those videos," the Phoenix Sun said. "Your heart rate would go up and you felt like you were a part of that player's journey."
Here, Booker talks about his own journey to the release of his first signature sneaker, how Drake was the first one outside of him to get a pair, and why the Nike Book 1 is more than just a basketball shoe.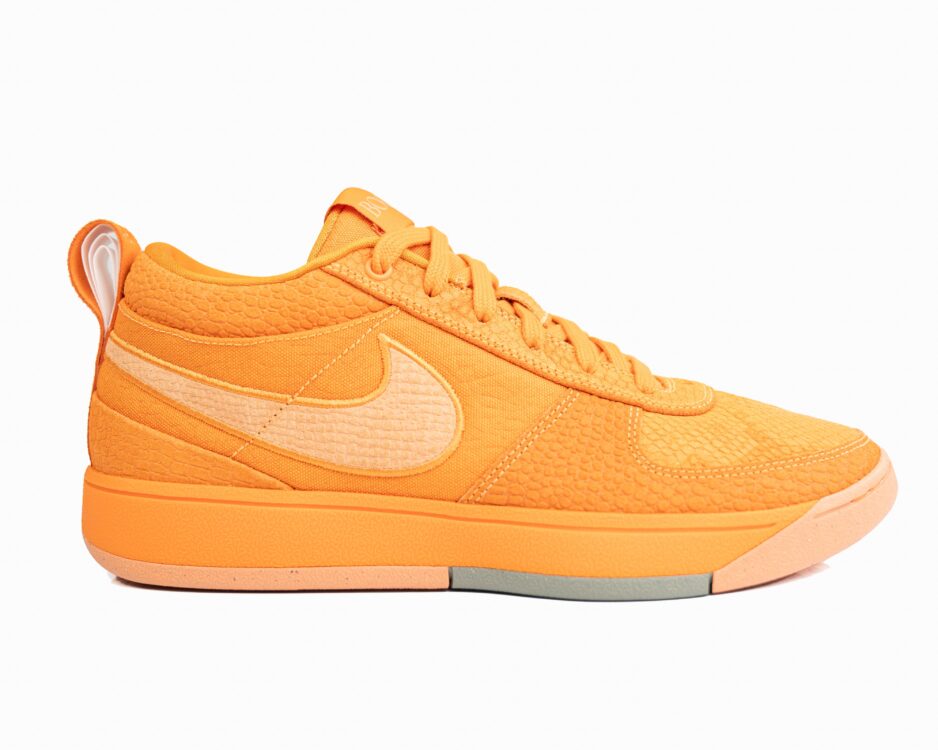 You had one of the most unique ways of teasing a shoe before it was originally unveiled. Was that video always part of the rollout plan or was it something you kind of just did on your own?
Devin Booker: A little bit of both. That was a week's amount of time after I had just left campus and it was my first time having the shoe in hand. So a lot of what was captured in it was natural and authentic.
I just wanted to bring it to my peers and people that I'm inspired by. You see guys like J. Cole, Chris Gibbs, and Drake in the video and that was kind of like a focus group for me. I have a high respect for those guys and I wanted to run it by 'em, see how they felt about the shoe, and capture their initial reactions before the world got to see it.
Did you shoot that all yourself?
DB: Yeah and I'd just hand whoever was next to me the camera so they can capture too. I bring a Sony Hi8 video camera with me pretty much everywhere I go.
One of the big parts of the video was Drake wearing it on stage. Was that something that was coordinated or was it something he organically did after seeing the shoe?
DB: It had to be coordinated because besides my pair, that's the first pair that ever got out. We probably had a month's notice to make it in Drake's size, so shout out to these guys at Nike. They turned it around quick enough.
Drake originally saw it at an open gym of mine where I was wearing the all black pair and he was like, 'Yo, I need to wear those on stage.' And of course, I was thinking the same thing.
He said he was going to do it, but it wasn't until he actually came up in the set with them on—that was the moment where it really struck me.
Getting a signature sneaker is a big deal. Take me back to the moment when you actually found out you were going to be the next guy. Was it a bit of a surprise or was it more like, "It's about time."
DB: Both. To be completely honest, man, it's the greatest feature as a basketball player that you can receive in my regard. Not just to be a signature athlete, but to be a signature athlete with Nike.
It's obviously something that I was knocking on their door about for years prior, but right now, it's the right time. So I just kept moving forward. I love what I did with the Kobe line through my career thus far and I'll always pay homage back to it, but it's exciting to have my own shoe.
During the process of building your own shoe from scratch, what was the most important thing for you?
DB: We started with the term "future classic." Can this shoe live 20 or 25 years from now? Will people want to collect it or bring it back out as a retro?
The performance aspect is obviously the most important. I think that'll be the surprise factor for most people once they put their feet in it for the first time and feel the actual tech that's in the shoe.
How important was it for you that kids and people wear it off the court too?
DB: I mean that's on them honestly. For me specifically, basketball is my lifestyle. I live it daily. I wanted something where I could wake up and wear the same shoe that I wore out of my bed all the way to the court and back home. That was something that was important to me.
Some people might buy 'em just to wear 'em off the court. Some people might buy 'em just to hoop in, but I didn't want it to be a lifestyle shoe or a basketball shoe, just a shoe.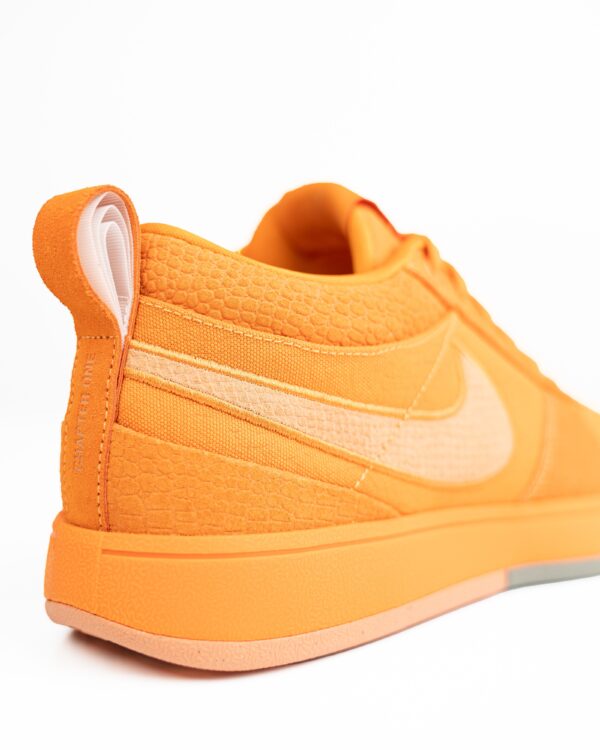 Let's get into some of the details in the Book 1. One of the cool nods is that the pull tab looks like the spine of a book. Are there any other little Easter eggs on the shoe that you might not catch at first glance?
DB: Actually, the book pages on the pull tab had never been done before. In addition to that, I'd say there's a few.
Inside the tongue is my family crest. I actually have the tattoo of it right here. I let each family member draw their own letter on me, so we put that in there. The barcode on the left shoe pays homage to all my hometowns.
There's a Swoosh in the sock liners. That's actually from one of my first Nike meetings where they had me draw my version of the Nike Swoosh. This is the first one I drew and every one after that is way worse, so that's why I put the asterisk next to it and Nike kept it and put it on my first shoe.
Is there a significance to the 96?
DB: Yeah, that's my birth year. We actually had a little asterisk next to it first, but then we realized it reads both ways if you don't put that there. We didn't want to just fill it with fill-in details. We wanted some meaningful stuff. So I think it turned out perfect.
You mentioned paying homage to Kobe, who wrote "Be legendary"on a pair of shoes he gave you, which you've tatted on yourself and made part of your routine to write on your shoes. Did that factor into the design of the Book 1 at all?
DB: Yeah. I mean I don't think I'm going to write it on every shoe this season, but I think there'll be shoes down the line where it'll make sense for me to write it on. That's all I can tell you.
In terms of dream collaborations, are there any creators that you'd want to put a remix on your shoe?
DB: We have some in mind and there are some already cooking up. I can't tell you too much, but I draw a lot of inspiration from different people and I want them to feel a part of the Book 1.
I'm going to give people I trust full control to do what they want and I don't know if those pairs will be able to be released to the masses or not, but I'm definitely going to wear 'em in a game. Hopefully whoever works on 'em, I can send it off to friends and family too because they're also part of the journey. I want everybody to be a part of the story.
How about in the NBA? Are there other players that you want to see in your shoe besides yourself?
DB: I want to see certain players in it—the ones I have a real, authentic relationship with. A few guys have already reached out to me about it.
The cat's already out the hat with P.J. Tucker. We go way back. So finding a way to incorporate him in this journey is going to be something. He was one of the people that was the most excited for me. He called me and said he was damn near in tears at how happy he was for me, even though he still calls me "Rook."
He's a guy that I've drawn so much inspiration from and nobody can compete with the sneakers he has or what he does with them. So PJ's definitely one of those guys.
Obviously it's a big deal to get a signature sneaker. What were some of your personal favorite debut sneakers growing up?
DB: I wasn't alive, but the Air Jordan 1, because of how much controversy was on that, like MJ sitting on the talk show and talking about how it was banned. Seeing those videos gives me a nostalgic feeling.
I love the Penny line. The 1 and 2 are some of my favorites because I like those styles from the '90s and early 2000s. Even all the marketing behind those shoes was memorable. You got a feeling when you watched those commercials and those videos. Your heart rate would go up and you felt like you were a part of that player's journey. That's what I wanted to get to with the Book 1.
---
Keep it locked on Nice Kicks on Instagram and the sneaker release dates page to stay on top of the latest news and drops.