words & images // Nick DePaula:
As Stephen Curry was preparing for his 9th season in the NBA earlier this summer — a summer in which he was able to reflect on now two NBA championships, two MVP awards, countless shooting records and already a certified Hall of Fame career — he turned to a close friend of his from Under Armour and confidently laid out the blueprint for the second half of his career:
"I want to get greedy."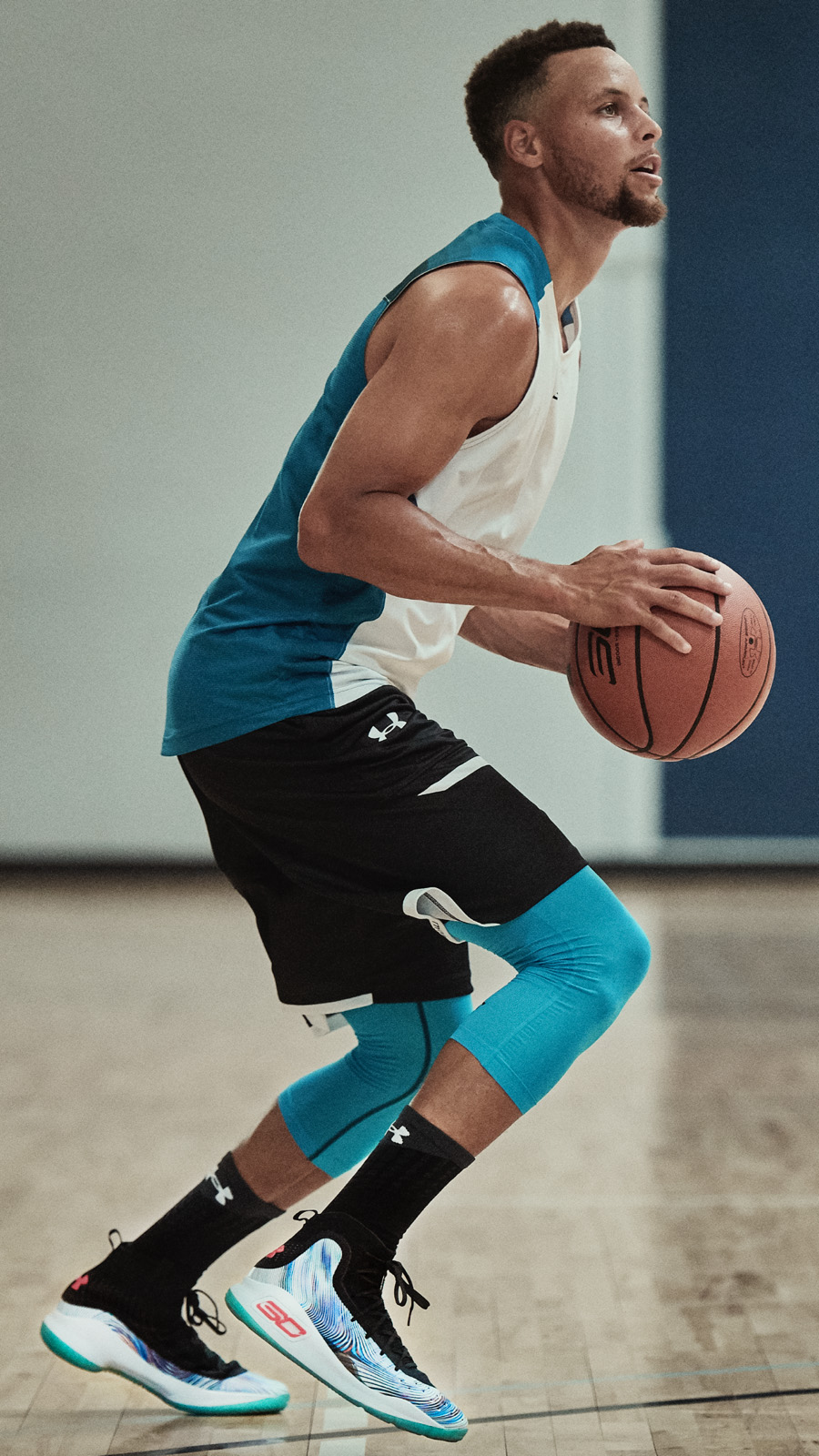 More wins. More fun. More signature sneakers. More titles. More joy. More MVPs.
With his father capping off a career after 16 accomplished NBA seasons, the younger Wardell feels like he's only just getting going, with at least eight more seasons on deck ahead of him. The plan is to match his pops, just like the matching #30 jersey he's put his own stamp on decades later in the league.
The first chapter of Curry's concept of "more" will be coming to life this season through his new Curry 4.
It's got admittedly more design, more sleekness and more anticipation than any Curry sneaker to date, thanks in part to his early debut during the 2017 NBA Finals. That's all a noted improvement for a company that's still not even a full ten years in the footwear game.
With a batch of colorways slated to launch throughout this fall, the first foray for the Four debuts overseas in China, where Stephen and the Warriors are embarking on a series of pre-season games.
Dubbed "More Magic," the aqua and vivid red tones "pull inspiration from the vibrancy of The Bund, where the neon lights of the modern city reflect off the waters of the Huangpu River snaking through Shanghai," according to Under Armour.
In addition to the China-specific inspiration, there's also several subtle details throughout the sneaker to be discovered. Along the inner heel rubber reads Curry's constant "I Can Do All Things" phrasing. The collar strip reads "IV SC" on the outside, with his initials "W.S.C." on the inner half.
On the lateral support wedge, you'll notice an understated "><" icon, which Curry and his wife Ayesha each have tattooed, representing the religious phrase "He Is Greater Than I." Inscribed onto the heels of each shoe, you'll find both the names and birth years of all four Curry fam members — "Wardell 88 Ayesha 89 Riley 12 Ryan 15."
While the shoe will be primarily available at China Under Armour locations this weekend, they'll also be dropping in limited numbers stateside on Saturday, October 7th in the Bay Area at Shoe Palace in Oakland (4900 Telegraph Ave) and the Sunvalley Mall Footlocker in Concord, along with the Under Armour Brand Houses in Boston and Chicago.
For the latest info on the Curry 4, you can keep tabs on Under Armour's new dedicated micro-site for the model. For more on Stephen's time in Asia, be sure to check out UA's recap video of the 2017 Curry Asia Tour below.