The CSC founder talks about his first Nike SB sneaker and how he was mentored by Born X Raised founder Spanto. 
At the age of 14, Tobias "Tobey" McIntosh and his friends started Crenshaw Skate Posse, a group of kids from South Central, Los Angeles who gathered to ride throughout the city. While simple in nature, the group grew to have a larger mission of filling the void of representation of Black and brown kids in the skate industry. 
" I saw a lack of representation in the skate industry of people who look like my friends and me," Tobey said. "So, we wanted to start something that represents us."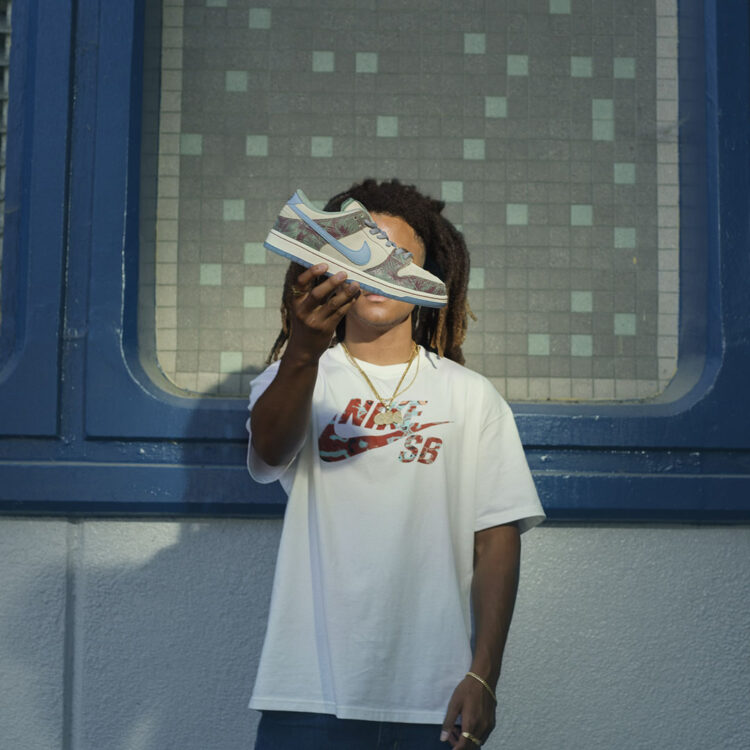 The Posse would be renamed as Crenshaw Skate Club and with only $100, Tobey cooked up some t-shirts that were eventually sold at Supreme LA, a result of Tobey's organic relationship of hanging around the store while his father ran errands in the area. 
"The only plan I had was to move with purpose and always remember why I started the brand," he said.
Tobey, now 20 and a student at Stanford University, would've never imagined that a desire to form a skate crew would turn into a brand that has touched some of the most elite names in streetwear.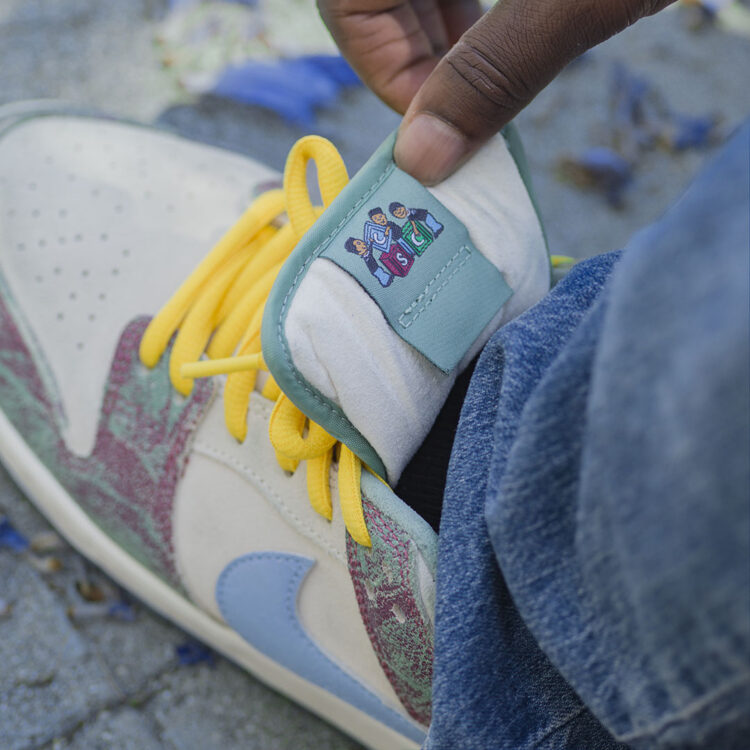 From Supreme being CSC's first retail stockist, to collaborating with BBC Ice Cream, LA's Born X Raised, The Hundreds, and even the Los Angeles Clippers, Crenshaw Skate Club now has its first skate shoe collab on deck with the Crenshaw Skate Club x Nike SB Dunk Low, releasing at CrenshawSkateClub.com and select skate shops nationwide on August 5.
But for Tobey, CSC is more than just a skate brand, but also a platform to inspire and empower skaters of color.
"I knew that with each shirt sold, I could spread that message even further, and I can just use [them] as a canvas to display my message," he said.
Living up to its name and brand's mission, the CSC x Nike SB Dunk Low is inspired by Los Angeles' predominantly Black neighborhood.
Key details on the shoe feature a blue, green, and patina-like finish on the shoe's toe box, overlays, and heel counter, representative of the street signs in the area that have been beaten down by the California sun and oxidized to a similar hue.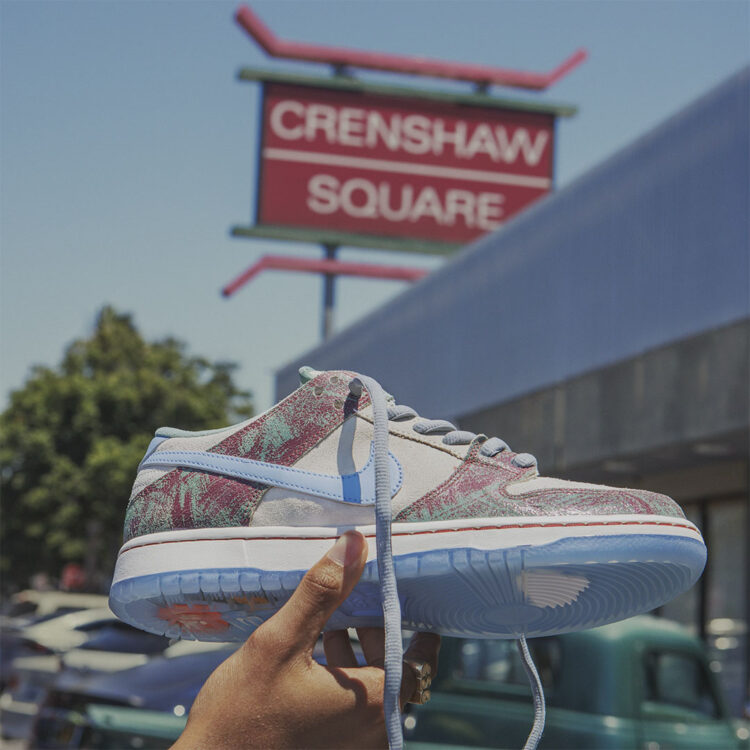 Palm trees, an extra set of insoles, extra laces, his zip code on the bottom of the insole, and a sticker all are a part of the shoe and its story — a story that Tobey has been waiting to tell.
The CSC letter blocks is an homage to a daycare center nearby where Tobey grew up and a quote inspired by former President Barack Obama's speech, "We are the ones you've been waiting for," is located under the tongue. 
Another symbolic reference to Crenshaw on the shoe is the mysterious drawing located on the shoe's bottom heel tab which has been speculated ever since the shoe's early leaks.
Until now, Tobey says no one has been able to break down its significance, unless you're familiar with the neighborhood. The design is representative of the Crenshaw Square sign and is outlined as a subtle nod to the landmark. 
"I wanted to put that there just to have something on the shoe that glues in the reference without it being too obvious," he said.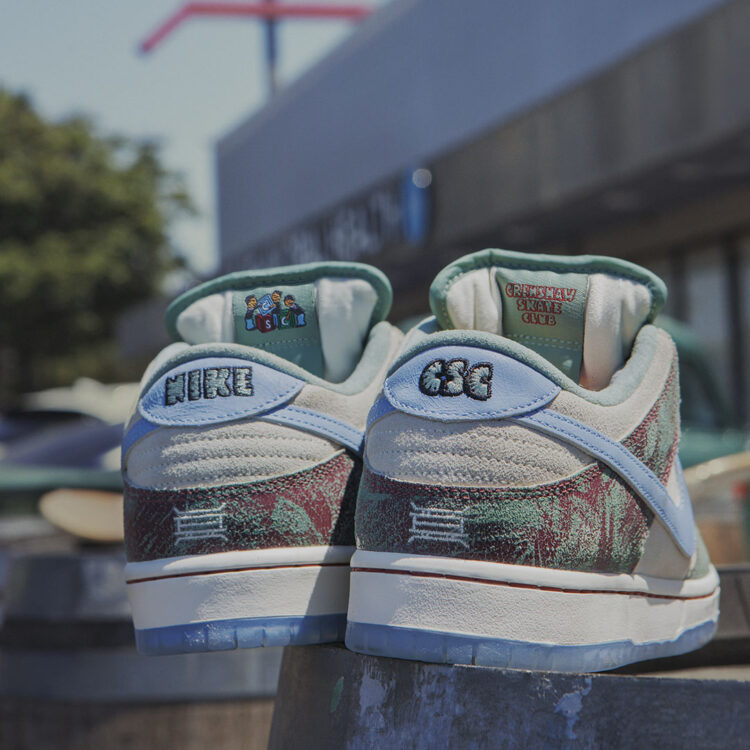 Like any highly anticipated shoe release, CSC's Nike collab got in the hands of leakers and images of the shoe started circulating the internet.
"[Leaks] can only hinder your rollout and the momentum of the project if you let it," he said. "I shut that all out and just stay focused on the work I had to do so that I could tell my story my own way." 
 Instead of a traditional hyped up sneaker launch with Instagrammable social moments for influencers to post, Tobey celebrated the collab by having an event at a local skate park where members of the Crenshaw community could get a free skate deck, eat, and most importantly — skate.  
A few Nike SB legends such as Theotis Beasley, Dashawn Jordan, Curtis Fontenot, and Eric Koston even showed up. And to Tobey's disbelief, Koston was wearing the CSC x Nike SB to skate around in.
"I'd pinch myself a couple of times to make sure it was real — it was a legendary moment," Tobey said. 
While Tobey has been supported by the community and LA-based designers over the past years, the passing of one of his mentors — Born X Raised founder Spanto — leaves a certain hole in Tobey's heart as both brands were planning to release their LA-dedicated Nike SB collabs just weeks apart. The release date of the Born X Raised x Nike SB Dunk Low "One Block at a Time" has been delayed indefinitely. 
But for Tobey, the release of the CSC Nike SB is a reminder of a promise he made to Spanto.
"It sucks that he's not here in my corner," he reflected. "He would always tell me how important this collaboration was for Los Angeles, and I want to make him proud and make sure that all the things that I told him that I wanted to do with this project happen."
Beyond this project, Tobey plans to do more for Crenshaw as his long-term goal is to build an after-school program for kids throughout Los Angeles.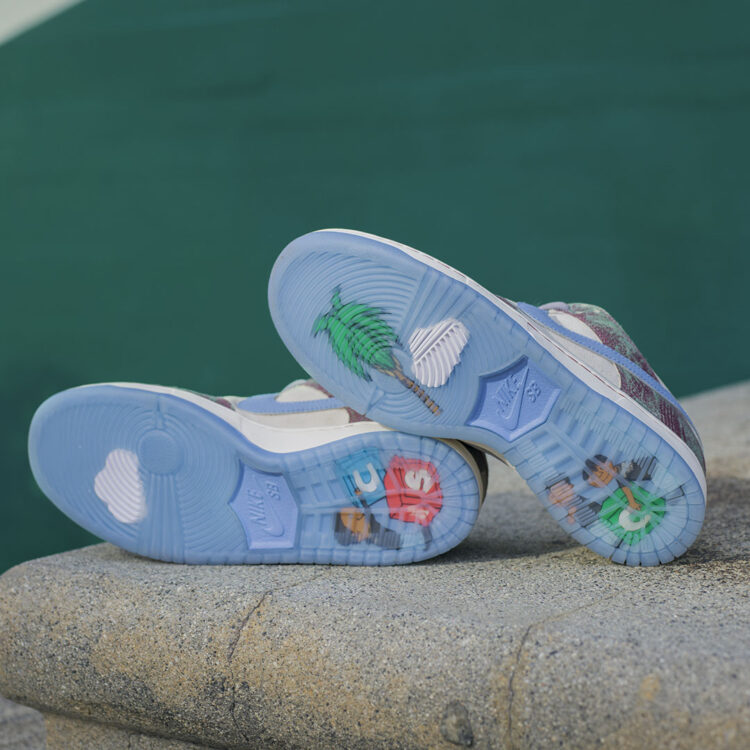 "Each program [will come] with an individual skate park for their respective school, and I would love to build more skateparks in my neighborhood, even aside from the program," he said. "A park is something that's forever and the name will literally be cemented in history."