As one of the most historic basketball cities in the world, Chicago has been a mecca for defining moments and hardwood heroes. Yet even with all the iconic ballers and shining glory attached to the city, Chi-Town managed to set a new precedent for itself as it hosted its first-ever WNBA All-Star game earlier this month.
In attendance was Chicago's very own Candace Parker, making this her 7th WNBA All-Star appearance. Parker played with Team A'ja Wilson and beat Team Breanna Stewart 134–112 at the Wintrust Arena in Chicago. As the fans roared with applause for Parker's post-game on-court interview, you could tell that the All-Star was at home, and the city was happy to have her.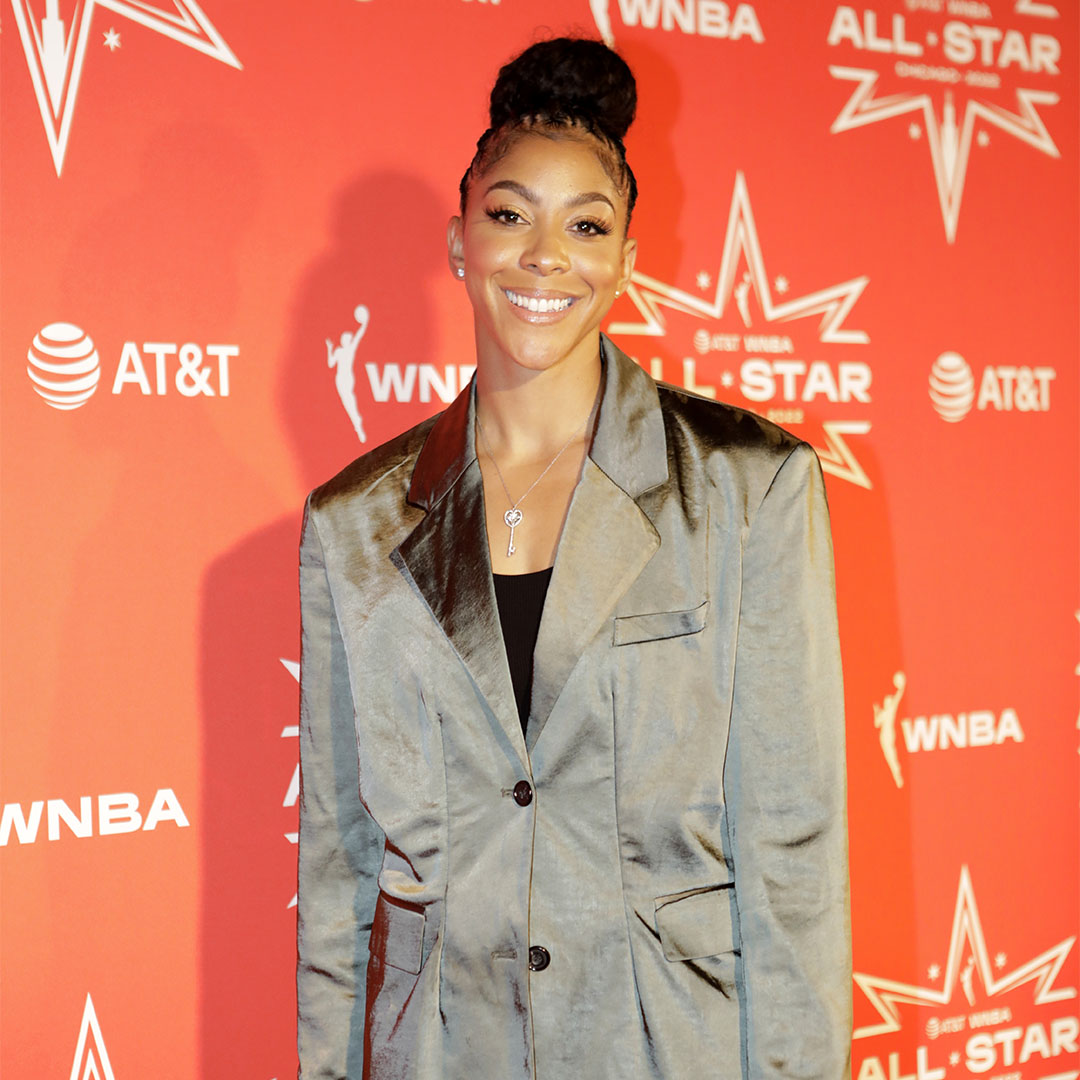 Anyone from Chicago is sure to tell you that Parker is considered basketball royalty, but rather than being crowned as Queen Candace, she's known as Ace. Chicago was the first city to see the Ace herself snatch feat after feat.
She played for the local Naperville Central High School girl's basketball team, in which she landed her first Slam Dunk at age 15. From there, she helped to secure back-to-back state titles for the school, which she was honored with Player of the Year awards from both Gatorade and Naismith Prep. Just before she graduated high school, she became the first woman ever to win the Slam Dunk contest at the McDonald's All-American Game, out-scoring her male counterparts Josh Smith and J.R. Smith.
"It's been a dream of mine to come back and play in the city where I first started playing basketball," Parker said. "To be able to represent Chicago is amazing, but then to also be able to host an All-Star Game is incredible. Chicago is showing up. I'm so proud."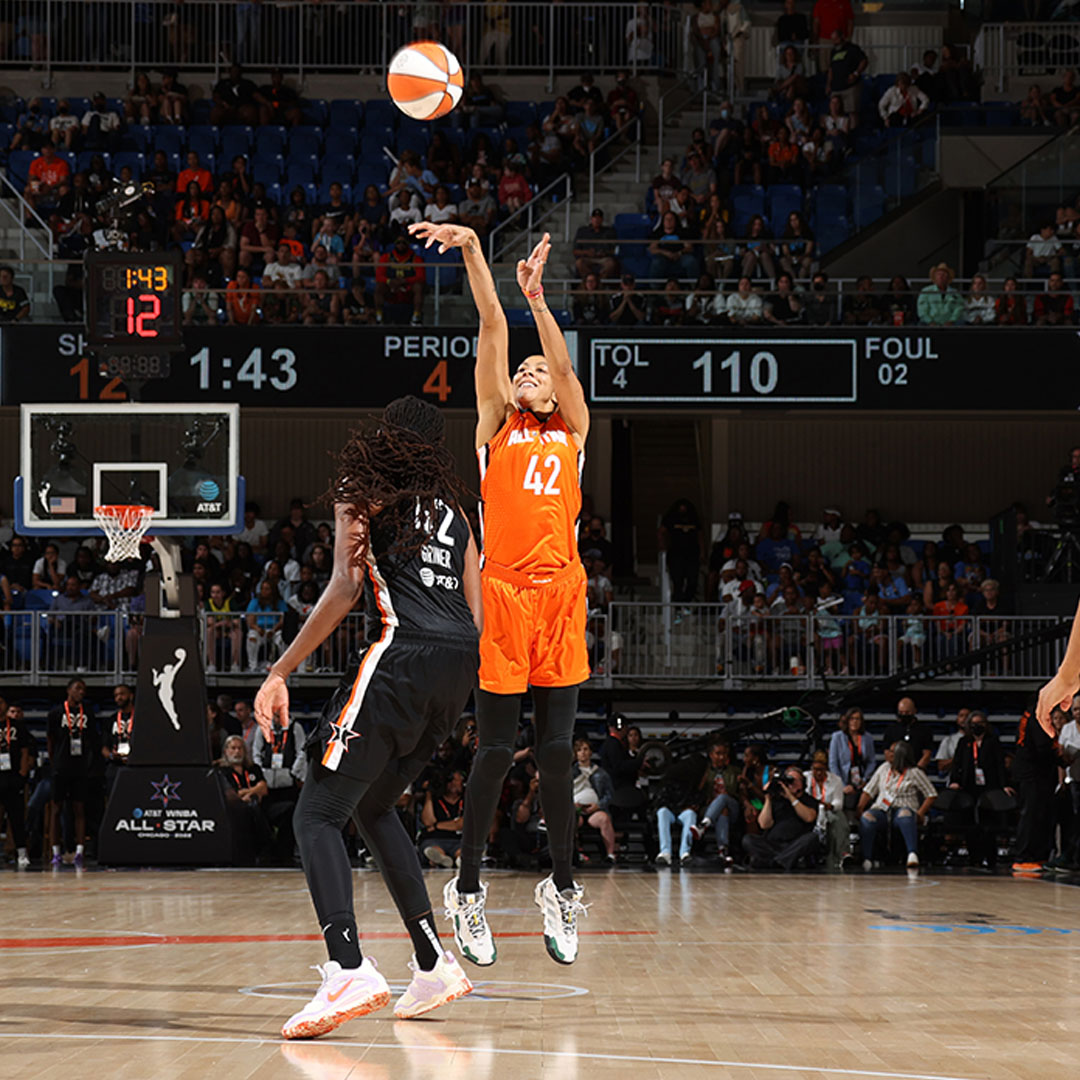 Since her beginnings in Chi-City, Parker has managed to rack up a long list of achievements, including 2x NCAA Champ, 2x Olympic Gold Medalist, 2x WNBA Champion, 2x WNBA MVP, 7x WNBA All-Star, and pretty much every other accolade in the world of the WNBA.
Most notably, though, Parker brought a winning title to her hometown as she led the Chicago Sky to clinch their first-ever WNBA Championship in 2021. More than just a title, this win felt like a manifestation of everything that Parker had been working towards her whole career. It was a full-circle moment that celebrated Chicago, women's athletics, and Parker's dedication to basketball.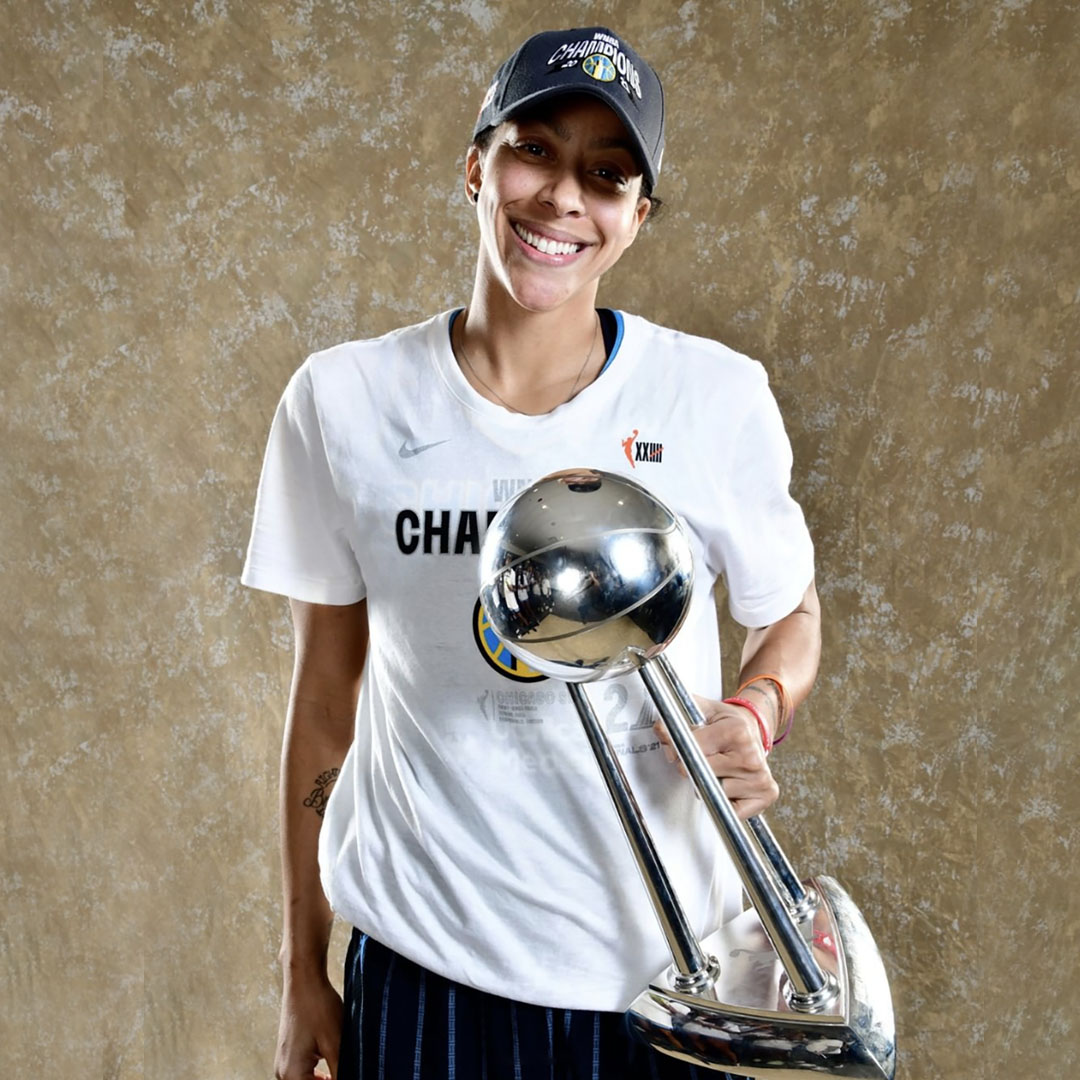 Just before winning the 2021 Championship title, Parker hit another major milestone in her career as she launched her first ever signature collection with adidas. Parker has been a longtime fan of adidas – thanks to Kobe Bryant – and has been donning the Three-Stripes since she first stepped onto the University of Tennessee court.
For the inaugural Candace Parker Collection, the All-Star created a capsule that represented highlights and personal mementos from her extensive career, including a nod to her time with the LA Sparks and a tribute to her late college coach, Pat Summitt.
Almost a year from the first collection's launch, Parker is back with an updated demonstration of her life's work. This time around, Parker is on her Championship flow as she delivers five new iterations of the adidas Exhibit B, even creating her very own "Chicago" colorway.
"It means the world to me to be from Chicago," said Parker. "Chicago is definitely one of the cities where — especially with the Bulls — it was the expectation of winning, and I love that. I love that pressure, and I love that expectation. To get love from Chicago has been the best."
Rather than the traditional red and black colorway that has become synonymous with Chicago à la Michael Jordan and the Bulls, Parker puts on for her city with the Sky team colors as the main inspiration for the adidas Exhibit B "Chicago." The celebratory sneaker has a monochromatic blue upper with hints of yellow on the adidas Three-Stripes. Parker's signature "Ace" nickname is seen on the back of the pull tab and is surrounded by four red stars – a design element inspired by Chicago's city flag.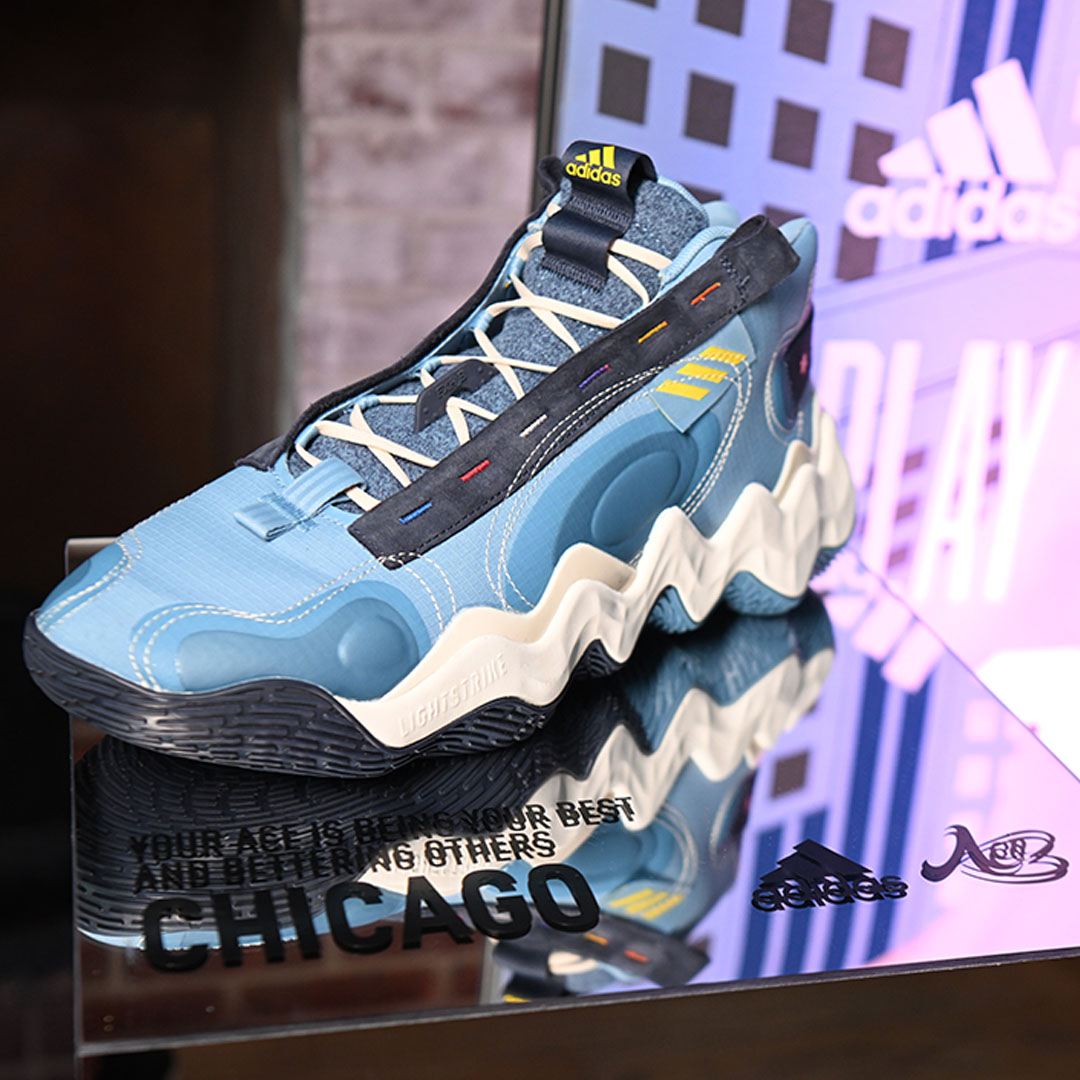 Picking up the "Chicago" colorway and dissecting its details, Candace looks up sharply, her eyes lighting up with a spark to say, "I don't take this for granted, and I don't take it lightly – to be able to debut a line at an All-Star game in my home city. There's a lot of nod to my love for Chicago, my love for this city, and my love for the people that have been involved in my process, like Lailaa Nicole."
Lailaa Nicole is Parker's 13-year-old daughter, who actually made her first on-court appearance in 2008; in Parker's belly, of course. Parker unknowingly played pregnant during the first season of her professional career, scoring an Olympic gold medal, Rookie of the Year, and even MVP – all while pregnant with Lailaa.
"My daughter has been a part of my career for 14 out of my 15 seasons," Parker said. "To be able to wear 'Lailaa Nicole' on my feet at the All-Star game is amazing. My children are my inspiration. They're the reason why I'm able to do what I do, in terms of just going out there and feeling confident. They give me that confidence. They give me that inspiration."
As a working mom, All-Star athlete, and designer, adidas has given Parker the space to convey every aspect of her life into her collections. She combines sportswear with sentiment to create a series that is filled with a fierce love for basketball and an amorous allegiance to her family.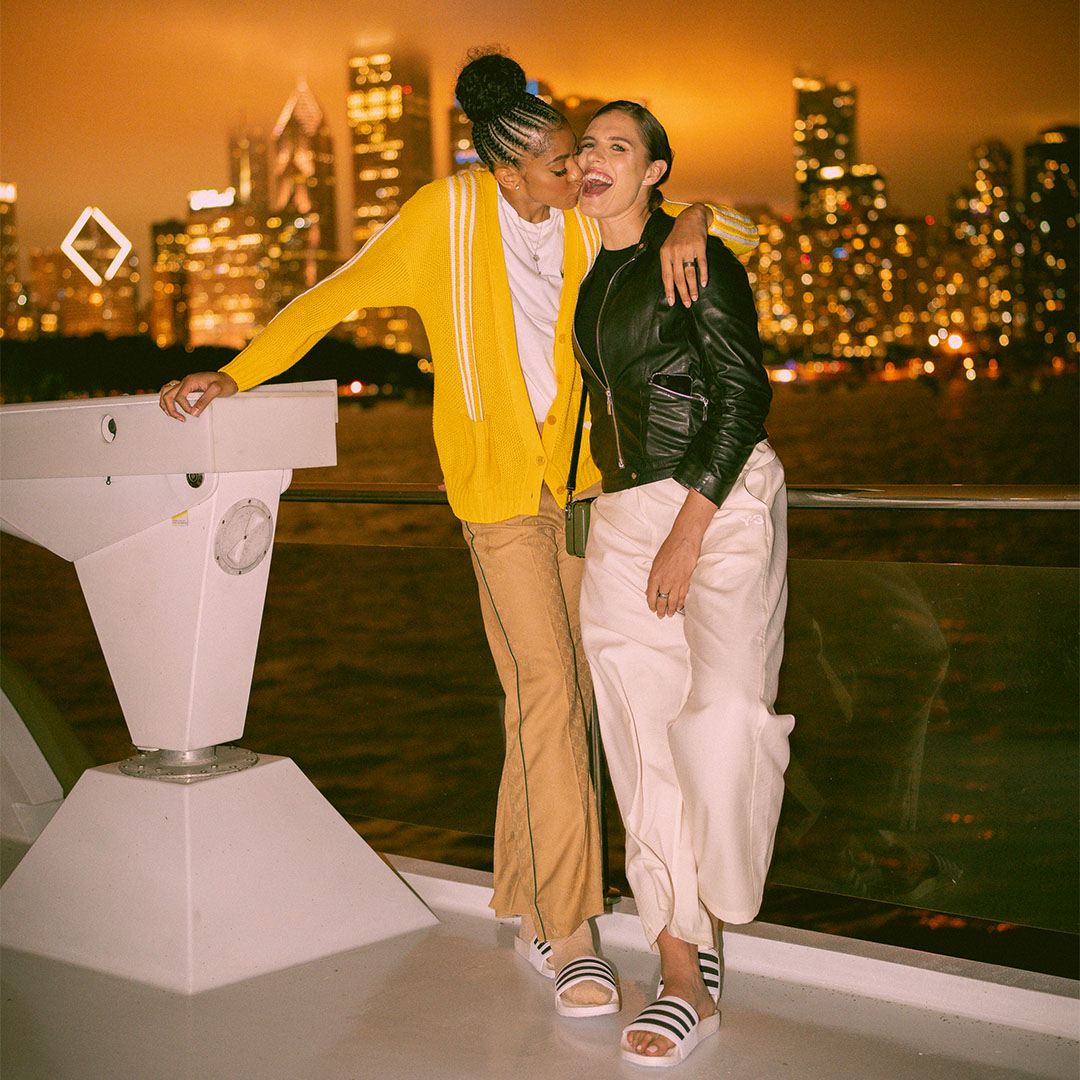 "I know they're always looking at me, so I know I have to represent our family well," Parker said. "Being able to tell the story of our relationship on the shoes is really special. For Mother's Day, my daughter made me the 'My Reason' shoe. I call [Lailaa] my reason; I have it tattooed on my arm. She even put details like our favorite movie, 'The Little Mermaid,' on the shoe. It was so special to see. She listens to me when I tell her about what I'm doing in terms of designing and things like that."
For the adidas x Candace Parker Collection Part II, CP3 returned the favor to Lailaa, designing a shoe dedicated especially for her daughter. Parker gave fans a first look at the adidas Exhibit B "Lailaa" during the WNBA All-Star Game, as she wore the sneaker while she played on-court. The pair has a light cream-based upper with emerald accents and yellow highlights that match the "Chicago" colorway. The back of the pull tab reads "Lailaa Nicole," in a shiny silver cursive.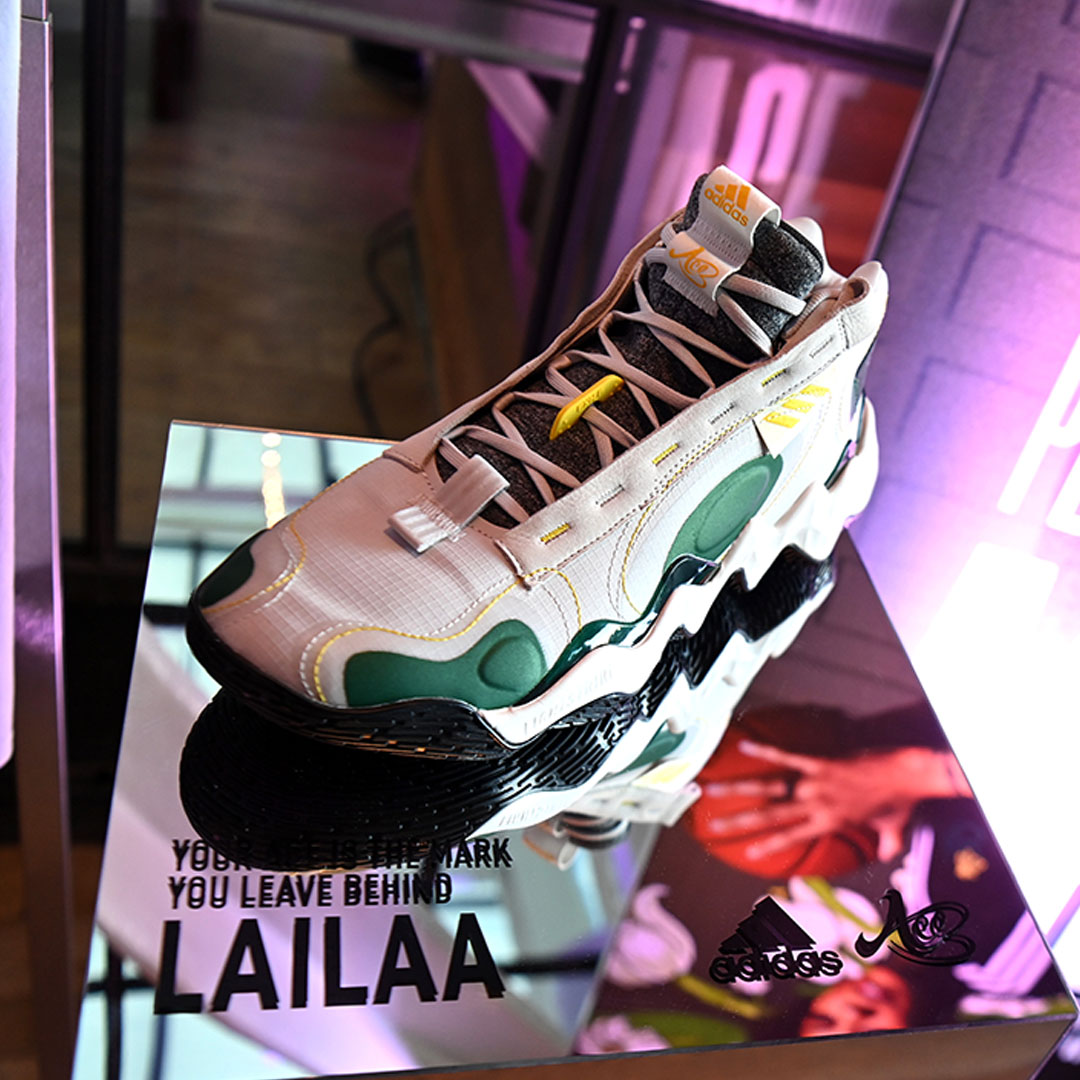 Another foundational element of Parker's legacy is her commitment to uplifting the next generation of women's basketball. Parker has been vocal about the disparities between the WNBA and the NBA, which has continued to bring to light the inequalities that women face – even at the top of their game.
This pursuit is reflected in the adidas Exhibit B "Royalty," which is dedicated to wearing the crown and sharing it too. The sneaker comes ready in a majestic shade of purple and is complete with regal gold highlights. This shoe serves as a reminder that in Parker's Queendom, leaving the world better than before is the only way to rule.
"I definitely want to leave the next generation better," Parker said. "I think that's what the people that came before me did for me. Whether it's being on a video game or having your own collection."
With Parker's exuberant confidence and intense focus, it's hard to imagine that the Ace herself was once a little girl potentially filled with self-doubt – which actually seems highly unlikely, considering that her family gave her the childhood nickname of "Can Do." But at the same time, doubt would seem to make sense for Parker, considering that the WNBA didn't exist until she was 11 years old. There was no pinnacle, no paradigm, and no role model for Parker to look up to, where she could see herself represented as a young Black girl with a passion to play basketball.
"I think it's important that maybe I am one of the first, but I'm going to be one of the many – soon," Parker said. "That's my goal for this next run. My daughter's age group and generation will have so many powerful female leaders to look up to that they'll never doubt whether they can do something."
While Parker's "Can-Do" attitude has always remained a constant in her life, she admits that the design process can be challenging at times. Despite the difficulties, Parker is enjoying the process and also hints that more lifestyle silhouettes, like her former adidas Forum Low, might be on the way soon.
"I have a mind like a squirrel," Parker laughed off. "When it comes to designing, you kind of have to tame your thoughts. You can't put everything – every story, every message – on a shoe. So I have to think about which stories I want to tell."
Part II of the adidas x Candace Parker Collection comes fully loaded with an expanded range of apparel and six different colorways of the adidas Exhibit B. Even though this is Parker's biggest collection yet, she admits that her first collection will always have a special spot in her heart, but she's excited to keep elevating the Ace brand.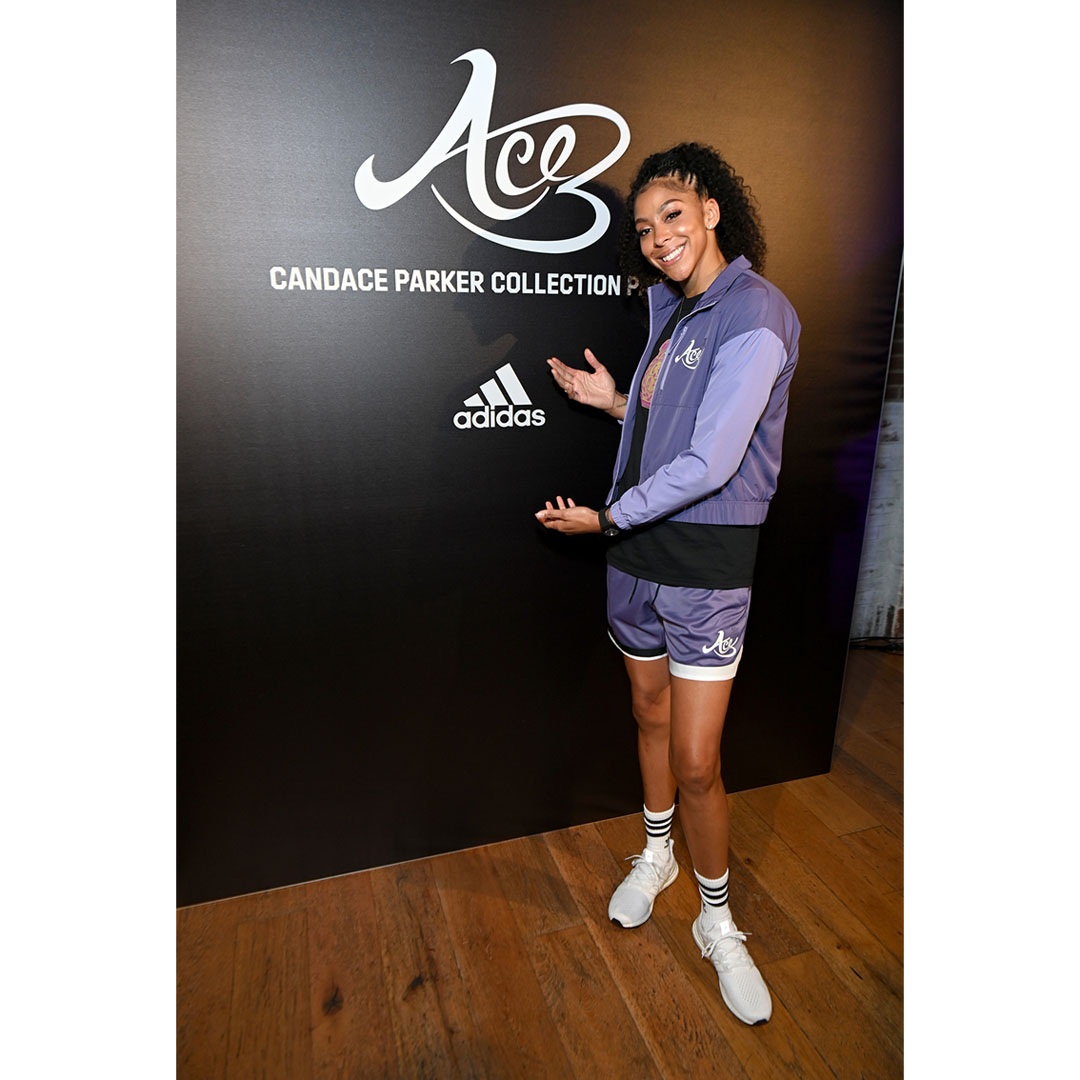 "I think it's definitely an evolution, but your first collection will always be your first collection, just in terms of impact and how special it is," Parker said. "I love seeing the Ace logo and the Ace brand grow into a storyline onto t-shirts, shoes, and things like that. It's been fun to see different ways that we can play with it; Play with Ace as a logo, but then also Ace, as the story of who I am."
As Ace's story continues to unfold in front of her, she keeps her eyes on the prize and her heart in the game. With the Chicago Sky currently in the lead for the 2022 WNBA season, another championship win may be on the horizon for Parker, making it the third title for CP3 herself.
"I want more rings," Parker said. "Once you taste victory and you feel that feeling, it's one of those things where you don't feel full. You want to do it again. You want more; you're more hungry. That's just how it is. What's left is just to continue winning."
Keep up with @CandaceParker and @adidasBasketball by following them on Instagram. For more sneaker news and release dates, stayed tuned to Nice Kicks.
—