Big Sean and Nice Kicks go back. Way back. Like a decade back.
"I've been fucking with Nice Kicks since like 2008 when I did my first interview!" proudly reflects Sean Don backstage before performing at the launch of his first PUMA collection in Los Angeles.
In the ten years we've known each other, the Detroit product has been consistent in regards to being fresh, collaborating and modeling for the best of them and now officially taking on design duties as PUMA celebrates 50 years of the Suede.
While Sean is hype out about his first full scale collection that dives deep into both footwear and apparel, he's even more excited about what's coming next — to include his own signature silhouette with PUMA. From embedding himself and Detroit into the PUMA legacy to his advice to his younger self, read up on it all in our conversation with Sean below.
Nice Kicks: Since partnering with PUMA, how has your involvement in the creative process grown and how does it show in your new collection?
Big Sean: I've been involved in every aspect. We are working on a lot of clothes, a lot of shoes, and when I look at this collection it's cool because to me I think it's a very good first collection. It's very wearable and it's something I haven't necessarily seen PUMA do. I'm just happy to bring my ideas and what I know and like to the table.
Nice Kicks: Detroit seems to be at the heart of all you do. From the barber shop roll out to the vintage Lions helmet in the shoot, how did your home inspire the look and feel of the collection?
Big Sean: I'm wearing all white right now, so you clearly know that's Detroit! My dad used to rock all white so I used to wait for the moment I could do that. But what makes this different is the whole concept of everything we're doing is that we brought the barbershop to Big Sur and the whole metaphor is I've been so many places in the world but everywhere I go I bring a piece of me and a piece of Detroit for people who've never been there. I've done shows in Japan where people have on Red Wings hats, Lions hats, you know Tigers hats, and everywhere I go I bring a piece of me with me.
You've got a place like Big Sur where a black barbershop doesn't belong there but it's a piece of me and it went together beautifully. That's a metaphor for the whole collection: bringing relaxed sweatsuits and lounge wear and mixing that with luxury. That's what we're all about. It's done in a way that the everyday person can wear it and the "fashion gurus" can still fuck with it and it goes. We're just starting, too.
Nice Kicks: From clothes to kicks the collection is deep. Which pieces have been getting the most wear from you personally?
Big Sean: I actually like this collection a lot right now, but it's more of the samples coming from the next collection that I've been rocking, too. I've seen a lot of people rocking the tracksuits like Rihanna wearing them in advance and I appreciate them showing the support.
There's just been a lot of people showing love. [Editor's Note: This includes Jay-Z] I've been showing the collection to a lot of my friends like Don C in advance because those are like my OGs and the people that bred me and taught me how to come up. They all approve and say it's fire — and I show them things from two collections ahead!
These shoes are just my take on the 50th Anniversary Suedes, so it's a collab. Obviously I had a lot to do with the design, but we've been working on an actual shoe where we've created a whole new entity…
Nice Kicks: It's crazy to think but you're a good decade in the game now. If you had a chance to talk to your younger self, what advice would you give them?
Big Sean: The one thing I'd tell myself is to pay a little more attention to myself. One of my biggest things is I always try to take care of everybody else. As I approach 30 and look in the mirror it's like I kinda gotta work on myself a little more. That's kind of the one person that's really lacking. Just trying to enhance my consciousness, that's kind of where I'm at.
I'm happy that I'm making music while I'm doing it too because it's a cool process to come to in your life. I've had platinum albums and then another platinum album and another platinum album, and it's crazy because that's what I thought that was all I ever wanted — but clearly it's not. I'm not fulfilled because that's only a temporary fix. It's really your passion and your pursuit of happiness that's deeper than just material things, it's emotional, you know?
If I could go back and talk to my younger self I would just say take more time for yourself, speak up for yourself and don't let people try to tell you what to do just because they're experts or they think that they know. Just listen to your heart because your heart never fails you. It's a learning process, you know?
Get an inside look at the Big Sean x PUMA Collection below. Drop 1 is available now at select PUMA accounts.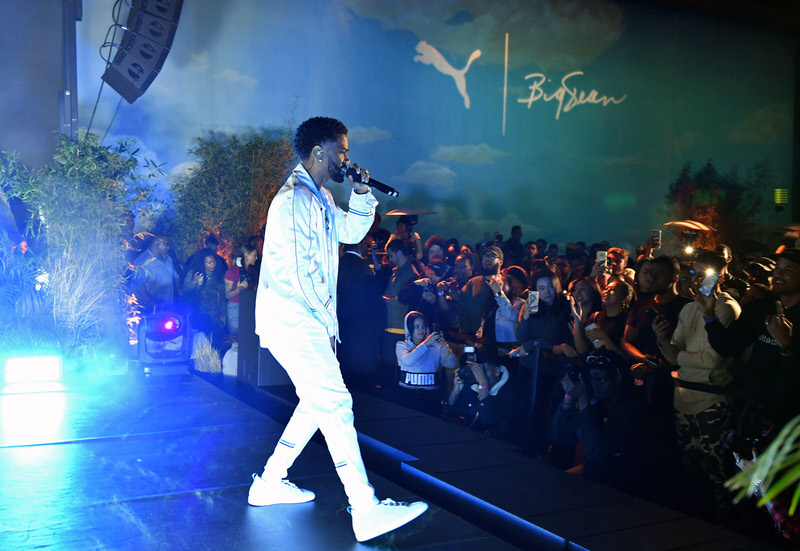 https://youtu.be/LHemq7y_8WQ