In early May, adidas Basketball added Aliyah Boston, the 2023 #1 overall draft, to its roster.
During her time at the University of South Carolina, Boston racked up a plethora of accolades including the 2022 NCAA championship & being named defensive player of the year not once but twice.
Halfway through her rookie season, Boston was named to her first-ever WNBA All-Star averaging 15 points, 8 rebounds, 2 assists, and 1 steal.
We caught up with the Indiana Fever forward about her first All-Star, adidas' commitment to women's basketball, her relationship with Candace Parker, and more.
Learn what Boston had to say below.
---
Nice Kicks: How significant is it for you to be one of the few adidas #1 overall draft picks since Candace Parker? What's the relationship been like with her since you joined the brand?
Aliyah Boston: It's special. I didn't know that until you just told me that. Candace is somebody that I looked up to and I still look up to her just as the person she is and the type of player she is. She's someone that you look at and you're like 'I want to be like her.'
Since I joined the brand, she's been very welcoming. She gave me her custom PEs to wear and I rocked them the entire first half of the season. 
NK: adidas has made its commitment to women's sports, especially basketball, evident with the all-new adidas Exhibit Select and overall investment in women's basketball. How important was adidas' commitment to the women's game in your decision to sign with the brand?
AB: It was very important because that's what this is about — it's about growing the women's game. You want to be with a brand that wants to see you succeed, and more young girls succeed as well not just professional athletes and that was an important thing for me. So when I was looking at adidas, what they love aligns with what I do.
NK: How do you like playing in the women's-specific designed adidas Exhibit Select?
AB: They're very comfortable. When it comes to my feet, I usually have to use inserts, but with these, I don't have to. It's special because it shows how they're made for your feet.
I really love them. They're very comfortable. 
NK: Can we expect any special colorways or Player Exclusives (PEs)?
AB: Of course. There are definitely some colorways coming. I'm a big color girl, too, so I'm excited about that.
NK: What's it been like to be a part of the adidas Hoops sisterhood?
AB: It's very special because you look at who's a part of this brand and you know there's something special about them. When you look at what they do on the court, and the way they produce, young girls would look up to them because they're in a spot they want to be in.
To be in a brand with these girls, wow. They're serious killers on the court. And I'm in that sisterhood with them.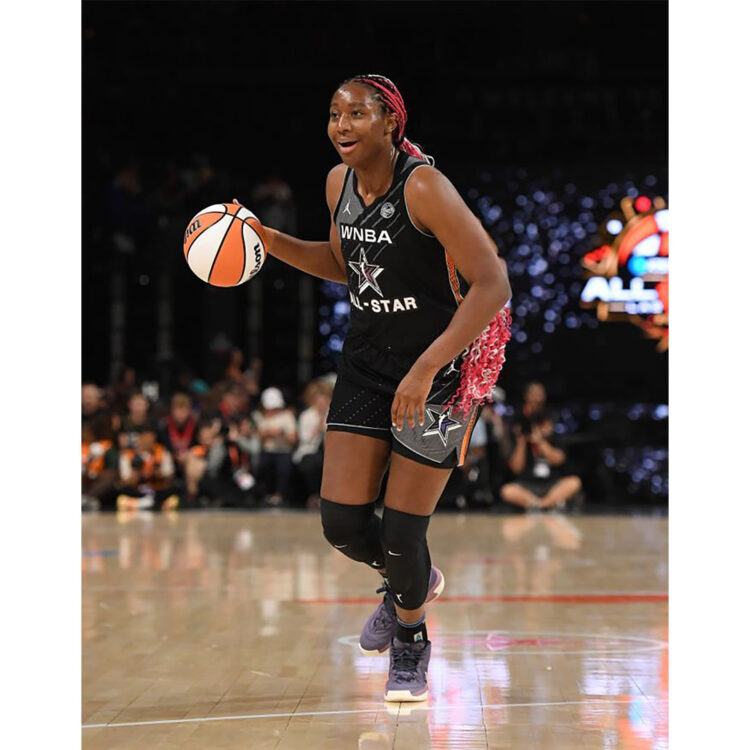 NK: You're only 19 games into your first WNBA season but already making a monumental impact. How did your time at the University of South Carolina prepare you?
AB: My time at USC prepared me for this because coach Staley did a great job of just helping me learn the game, understanding the different aspects of it, and getting to the next level by bringing people back that played professionally to talk to us, and give us words of wisdom.
19 games in, it feels really nice — I feel like it's going by so fast. It's a really fun rookie season.
NK: How's All-Star Weekend treating you so far?
AB: It feels nice to be included in everything. Being a rookie can be very intimidating because you have a lot of vets that are talented. 
---
Keep it locked on Nice Kicks on Instagram and the adidas release dates page to stay on top of the latest news and drops.