Spike Lee's time-honored film, He Got Game, officially opened in theaters on May 1, 1998. On the eve of its 20th anniversary, screenings for the picture are taking place this week in Los Angeles at the famed TCL Chinese Theatre and, of course, in Lee's Fort Greene neighborhood at the BAM Rose Cinema.
Not all films celebrate their 20-year marker. But not every film is He Got Game.
Lee, through his work with Denzel Washington, Rosario Dawson, Ray Allen and others, was able to tap into basketball in a way that no one before him had. Not only did the film capture the essence of the game and its history in New York City, but its relationship to families, teammates, and the game's ability to serve as an outlet or a bridge for anyone it touches.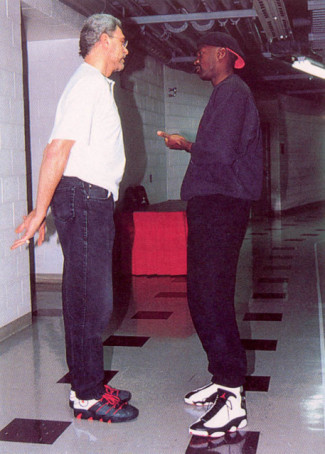 The culture around the game was uniquely fresh through Lee's lens. Although Kobe Bryant was his initial choice to play Jesus Shuttlesworth, Ray Allen, who starred in the film and is rumored to return for a potential sequel, was far better suited for the role. Basketball is a game based largely in skill but also in mechanics. Very few players have better mechanics than Ray Allen. His jump, squared shoulders, 10-and-2 hand posture on the ball, and his graceful follow-through proved to be the most cinematic adoration of the film — even when set against the subtle beauty of Coney Island in the late '90s.
Then there were the sneakers.
Jordan Brand had just released the Air Jordan 13 in 1997. The White/Black-Varsity OG worn by Washington's character, Jake Shuttlesworth, stands as the only Air Jordan 13 to release in '97 — all other original pairs debuted at retailers the following year. In the film, Jake, just a few days removed from prison, makes a point to go purchase a new pair of basketball sneakers. He bounces into his local sneaker shop and is handed the "new Jordans" because, at the time, the 13s were great ball shoes.
A legend was birthed in that moment. The shoes would forever after be deemed the Air Jordan 13 "He Got Game" and linked to Lee and his film. Later this year the shoe will return in celebration of the aforementioned 20th anniversary. And, like those bi-coastal screenings later this week, the latest "He Got Game" retro this August rekindles the magic Spike channeled on the silver screen decades ago.