The Air Jordan 3 is arguably the most iconic basketball shoe ever made. Winning over wearers from almost all style camps, the elephant-printed pair was enough to keep Mike with the Swoosh and helped launch Tinker Hatfield into a league of his own.
Like most beloved basketball models, a strong sense of originality makes new takes tougher to take to. For the past 13 years, the Air Jordan 3 has seen an array of new colorways. Some have been loved upon launch, others neglected, but over time, most have become sought after. As we approach the drop of the Air Jordan 3 "Infrared 23", we take a look back at all the non-OG AJ3 releases.
"Mocha"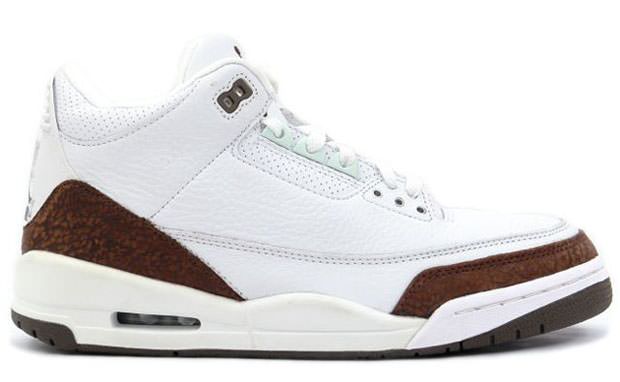 Released: 2001
The first non-OG AJ3 drop was a risk, and not necessarily a hit. The "Mocha" 3s were a general release and the first AJ3 drop since the '94 wave. A very L'Style oriented colorway missed the mark with Day 1 fans and came way before the retro rush we see today. The "Mocha" makeup didn't take well to the NBA hardwood, but Fab managed to hook them up with a Browns jersey in the "Young'n (Holla Back)" video. Over time, the oddity that made these a miss in '01 combined with their current rarity have made them a favorite among modern day fans and current artists like Macklemore and A$AP Twelvy.