words & interview // Nick DePaula:
For Sacramento Kings point guard De'Aaron Fox, his love for sneakers started at an early age.
"My brother is actually a huge sneakerhead, like, he needs to tone it down," laughs Fox. "He's the one that got me into shoes. My brother and I wear the same size now."
While at Kentucky, that meant borrowing from the 25 year-old Quentin's rotation of sneakers. Once De'Aaron wrapped up his 1st team All-SEC season, a 32-6 run for for the Wildcats that carried them to the Elite 8, Fox instantly found himself sorting through endorsement deal offers from all of the brands he'd grown up following.

"When I was younger, we saw Nike, adidas, Under Armour and when Reebok had a basketball side," he continues. "For those brands to be coming at me and talking to me about what they were going to do in terms of commercials, it was just a blessing. I grew up wearing all of their shoes and paying for them, and at the end of the day, they wanted to pay me to wear their shoes."
After hearing strong presentations and pitches from both adidas and Under Armour, De'Aaron decided to land with Nike, where he felt most comfortable on court. When he's not training relentlessly as he navigates through his rookie season, Fox is typically kicking around a variety of casual kicks with a combination of warmup gear and hoodies. He hasn't dipped into designer kicks or hunted down any retro Jordans just yet for off the court, saying he's typically on the go to and from the gym.
Nice Kicks recently caught up with the future of the Kings franchise to hear all about what's in his rotation. Check out all of De'Aaron's favorite kicks to wear in the latest edition of My 5.
Air Presto
Fox: "Definitely including the Presto – that's #1 on my list right now. I'm trying to get them in every color. I'm also trying to customize them, so I'm looking to do an all white, all black, all green and all pink. All of that!"
VaporMax

Fox: "The newest Air Maxes, just because I wear a lot of things with no socks, like the Prestos."
Kobe AD

Fox: "I've been wearing those a lot. I wore those during my pre-Draft stuff when I was working out. My brother is going to handle some NIKEiDs actually. There was a purple pair that I saw Buddy [Hield] with, and that's a pair that I'm definitely going to get too."
Sock Dart

Fox: "Those are so comfortable! Every time I walk into the locker room with them, me and Justin [Jackson] are right next to eachother, and he's like, 'Man, stop trying to copy me!' He wears them like every single day. If you drop something on 'em, you're gonna feel it! [laughs] There's no protection on the top of them."
Kobe NXT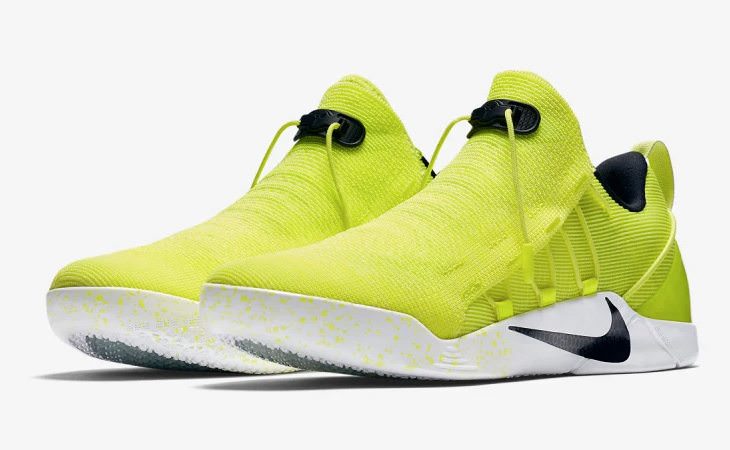 Fox: "I've been dressing real comfortable, and I haven't really been wearing Js like that. I haven't been doing nothin' — it's just been to the gym and home. [laughs] The other Kobes, the NXTs, I've been working out in those a lot too. I have them in all grey and also the volt green ones."