While certainly one of the more obvious examples of best dressed on the court, Kyrie Irving is also certainly among the top few for having one of the best footwear and wardrobe combinations off of it. Easily identified more as a minimalist, Kyrie is commonly associated with putting together a plethora of simple, yet put together combinations, drawing more attention to what's actually on his feet.
Known for breaking out statement making colorways of his signature shoes with Nike over the past several seasons, Irving is able to create his own signature style off the court by becoming an early adopter of the latest trends before they hit peak appeal.
Just how so? Find out below as we break it down in our latest installment of What's In Their Wardrobe.
Beyond the Hype
Kyrie Irving knows that the best way to stand out amongst an assortment of stacked wardrobes throughout the NBA is to flex with brands that the others haven't already made obvious. And for Kyrie, the way he accomplishes this is by taking the luxury route.
Notorious for wearing brands like Valentino with their iconic camo print, choice AMIRI denim, and of course statement Saint Laurent silhouettes, Kyrie has discovered his own lane to create a unique look in a saturated market. But the best part is, he makes it all look incredibly simple, so while your pockets might not be as deep as his, breaking down his looks just might be a key factor in giving you some inspiration for what these standout essentials consist of.
Stick with the Classics
Believe it or not, there are style gurus out there who aren't as obsessed about what's on their feet as you and I — shocking, I know. However, for some people, sneakers aren't always the focal point, but an accent to complete their overall look to match their favorite apparel styles, which is what Kyrie does really well.
What's cool about Kyrie's wardrobe is almost everything he wears is a classic and is a utilitarian piece that can stand the test of time. Again, even though he isn't the most obvious in terms of celebs with style, he's not going to look back in 15 years and be like, "Why did I ever wear that?" And while a lot of the other noteworthy influencers are hot and heavy with hyped essentials at the moment, they might be having the opposite reaction as Irving down the road.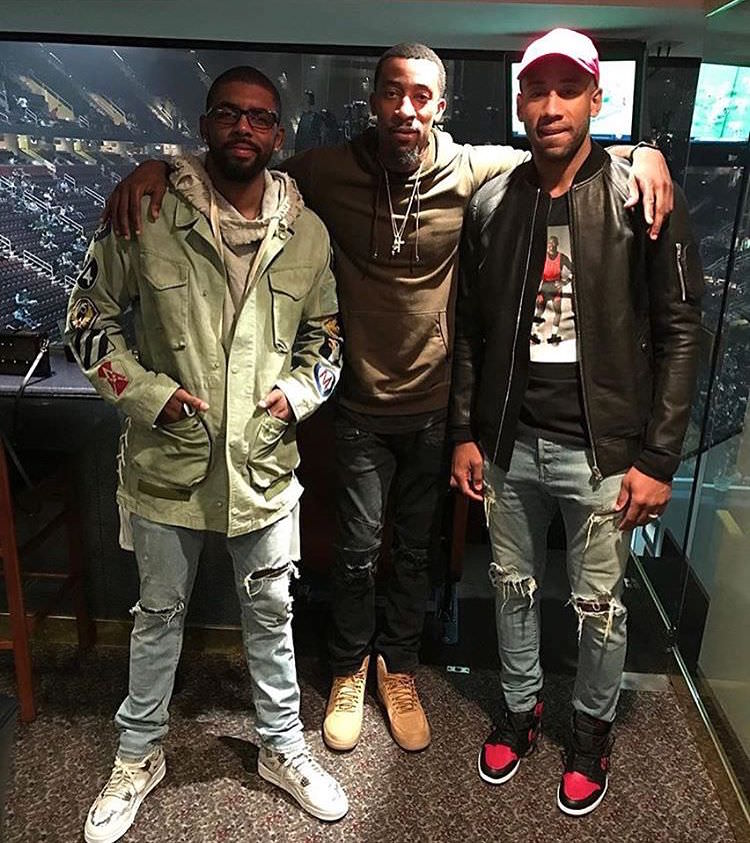 Nike Boyz
Even though the days of the SB Dunks aren't at the heights they used to reach, there's still been those staples that have proven they'll turn heads until the end of time.
Cue Kyrie Irving, who even broke out several custom renditions of his third signature shoe with a Rayguns colorway that released early on within the line's lineage. Just last weekend, Irving was also spotted sitting courtside wearing the iconic "Skunk Dunk" that continues to exude that classic SB storytelling that introduced us to the line's glory days. Lastly, Kyrie has certainly broken out some neck breakers, like the Air Yeezy 2s right before game time.