Kevin Durant is known for his nickname "Easy Money" on the court, but he lives up to it off the court as well – consistently showcasing impeccable style. Without even needing to flaunt flashy labels from trending brands, Durant knows how to keep things obviously simple, while ensuring that his wardrobe is nothing short of timeless.
Standing at just under seven feet tall, it's inevitable that an athlete like Kevin Durant is not necessarily going to have an easy time buying clothes off the rack. Not only that, he's also really skinny. That being said, he's figured out a style that works well for him and it's great inspiration for anyone who runs into a similar shopping dilemma or those that just want to build an effortless wardrobe.
Take Flight
Kevin Durant has shown that it's all about utilitarian pieces that can take on an assortment of different looks when worn with other pieces. Like the bomber jacket for example: KD usually wears one with a host of neutral color palettes and pairs it with a low-profile tee and distressed skinny jeans. While items from Durant's wardrobe don't necessarily jump out at you right away, look a little closer and you'll see they're coming from really high-end brands like AMIRI, especially on the denim front.
Sporting a neutral color palette and simple wardrobe staples makes it relatively easy to make your footwear rotation take center stage. Kevin Durant even keeps it simple from this perspective as well, repping key styles like the Jordan 1, Flyknit Trainer, and even the Cortez. However, he's usually sporting the more coveted colorways for each of the aforementioned.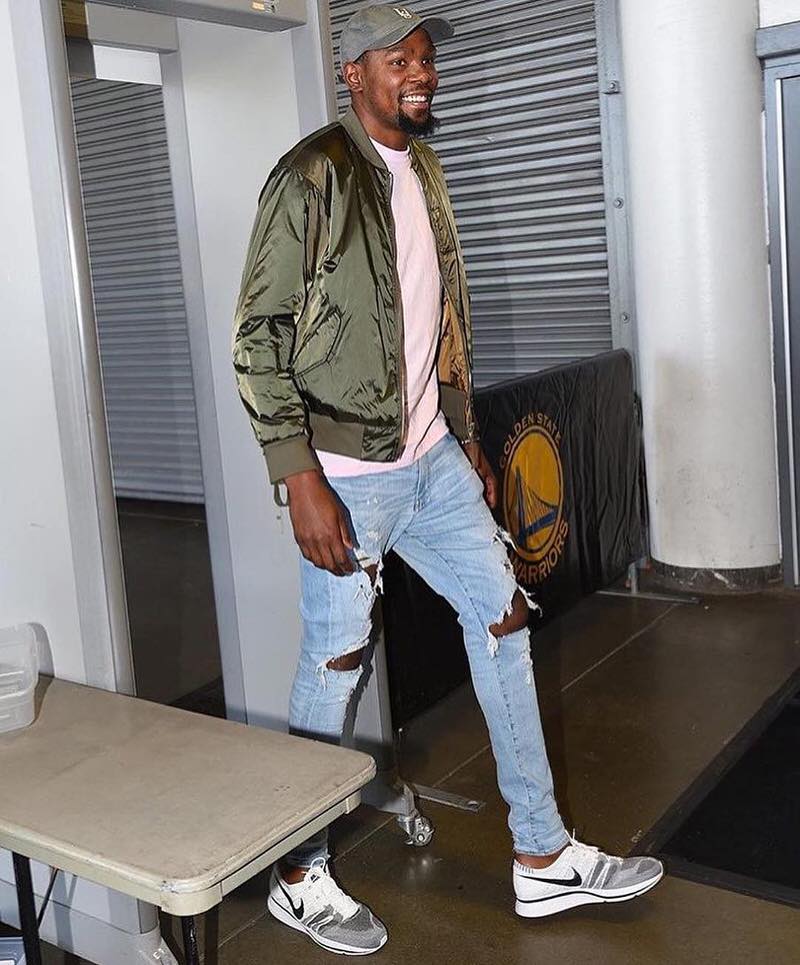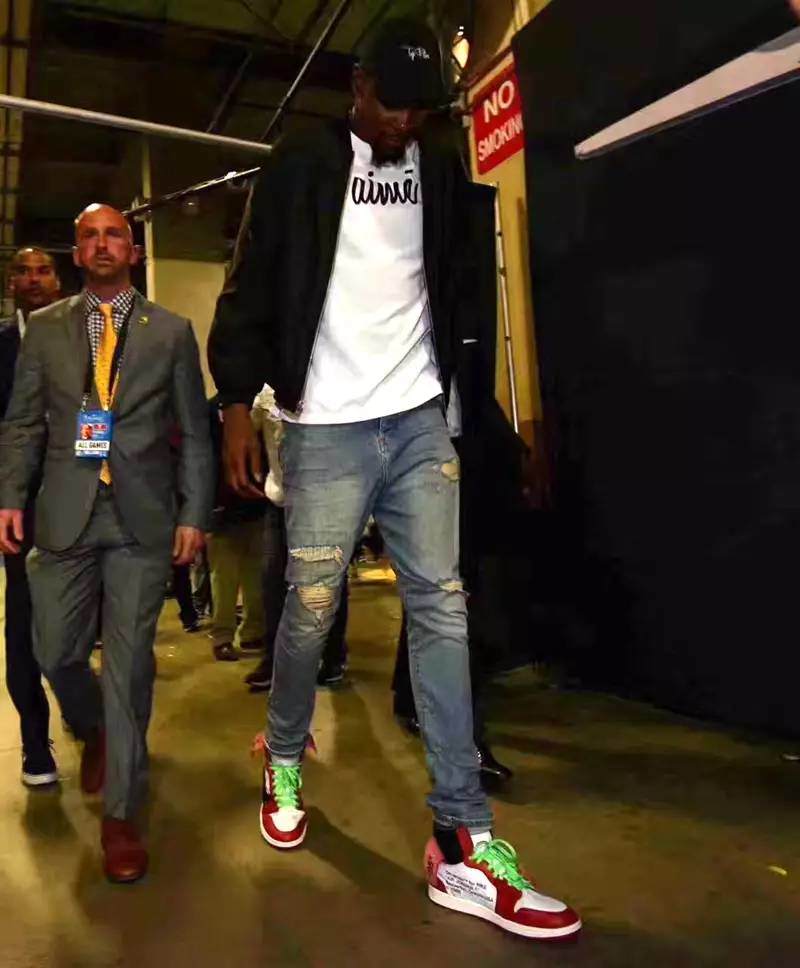 Easy Money Sniper
Incorporating camo into your wardrobe is a surefire way to let your style standout. And Kevin Durant wears a lot of camo. At this point, it's pretty much considered a neutral color and is a great pattern to pair with footwear essentials like Jordan 1s and Air Force 1s. No stranger to the affinity for BAPE, KD has also made appearances with his fair share of the infamous camouflage pattern in just about every color tone they offer.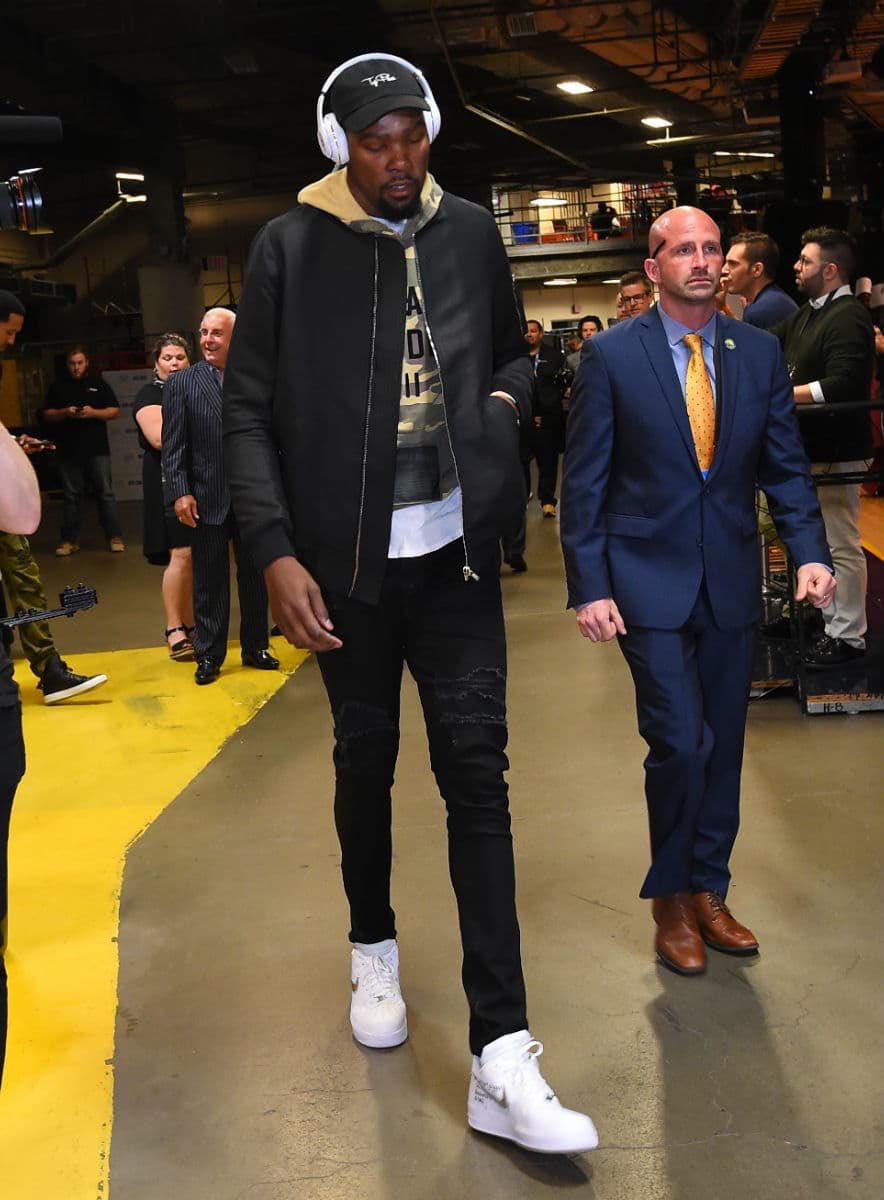 This Forward's Style is Straightforward
As lethal off the court as he is on it, Kevin Durant's style might be straightforward, but it's still pretty killer. And the best part about it for us mortals is that it's actually not that hard to mimic. Even though KD reps some of the more high-end brands like AMIRI, OFF-WHITE, BAPE, and VLONE, the versatility of each of these pieces make it pretty simple to mix them up to form different looks. Durant's wardrobe is inspiring from the perspective that you don't actually need to have a lot of the popular styles from lesser known brands, but you can have the same labels, while only requiring a few pieces.
The pieces in his wardrobe are not only of higher quality, but they're also timeless, which means you can wear them longer with fewer attempts to spring clean your wardrobe. Now you the know the brands he's wearing, but what are some of these timeless pieces that can keep your apparel rotation fresh for years to come?
Starting with the more timeless essentials like denim, you might need anywhere from two to four pairs, including a stonewashed and all black pair, with the option of adding distressed variations based on your preference. Pairing these with premium black, white, and grey tees and hoodies can be another way to mix up your options. Brands like John Elliott, Reigning Champ, and Wanderluste all have great offerings that ensure you won't have to replace them every season – allowing more cash for sneakers releasing the following weekend. Lastly, these options give you the versatility to throw in your favorite graphic tees at your discretion.