Drake's style has certainly improved exponentially over the years and now he's supporting essentially every Stone Island classic that's known to mankind – all while continuing to release an assortment of satisfactory items within his own OVO label.
From sporting track suits to the point where you want to go out and get one of your own (or four), to making the wild designs of embroidered Gucci jackets look nonchalant, Drake keeps his overall clothing and footwear pairings pretty casual. He's just doing it nine times better than the majority of the common folk.
Champagne Papi has a few different styles in his rotation, keeping what's on his feet fresh and interesting, which betters the chance of inspiring an idea for a new wardrobe combination. See how Drizzy makes his ensembles work in the latest What's In Their Wardrobe.
Jumpman Jumpman Jumpman
Jordan's aren't necessarily the go-to shoe for anyone of celebrity status with style that chooses to flex these days. That being said, Drake has continued to sport the Jumpman lineage, even receiving several signature styles featuring OVO inspiration and his own PEs.
But how does he continue to impress us with his style again and again if Jordans are no longer everyone's only options in their footwear rotation? Much of the credit can be given to the influence of his OVO label, focusing more on premium materials, while putting less emphasis on flashy colorways.  If you're not really feeling the vibrant colors from the Bulls heyday, opt in for some of Drake's signature collaborations. The elegant materials and atypical black/gold or white/gold color schemes of the 8s, 10s, and 12s make them quite simple to pair with an assortment of essentials that may already exist in your closet.
Welcome to Timb-Buck Two
If you're looking for some winter inspiration for your wardrobe, Drake is no stranger to pairing distressed denim essentials, oversized flannels and turtleneck sweaters with his Timberland boots. It doesn't matter whether he's dressed to the nines wearing Gucci or venturing off to a mountain getaway, he's able to pull off either look in their most casual to affluent states.
Typically repping either the wheat or all-black colorway, Drake has proven that these utilitarian colorways makes it easy to pair with an assortment of fashion staples. He even further validates this habit with his latest OVO x Timberland collaboration, featuring the same classic colors, but with the addition of his label's owl logo and a sherpa liner on the tongue. Take his western sherpa jacket from RRL featured below for instance. Combine that with a pair of the wheat or black Timbs and you'll have functional winter style on lock.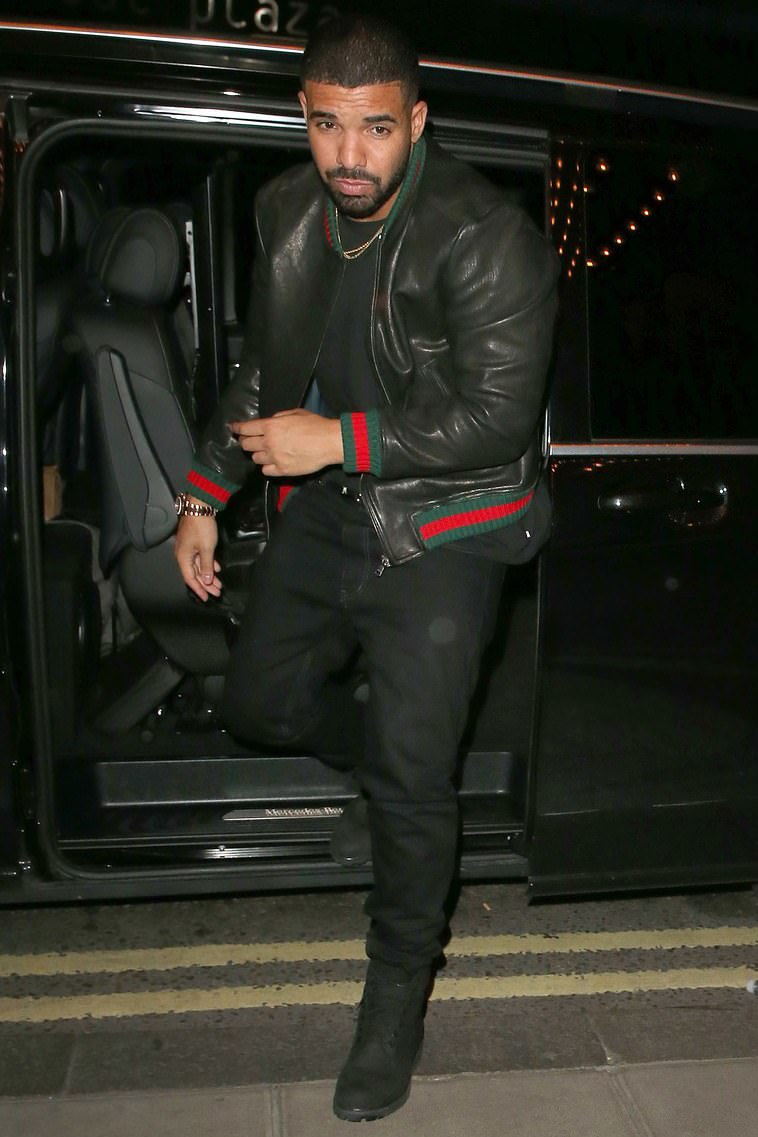 Winning at Wimbledon
You might not be able to remember who won Wimbledon back in 2016, but you might agree that Drizzy's style was certainly in the finals. Breaking out a different Stone Island piece almost every day of the tournament, Drake proved that anything from basic white long-sleeves and sweaters to satin jackets and pair of low-profile sneakers like the Supreme x Nike SB Tennis Classic was the winning combination.
Aside from the Tennis Classic, we also saw him sporting additional pairs of the Huarache throughout the duration of the tournament. Their classic '90s nostalgia added with the all-white theme makes them almost as utilitarian as can be for most wardrobes.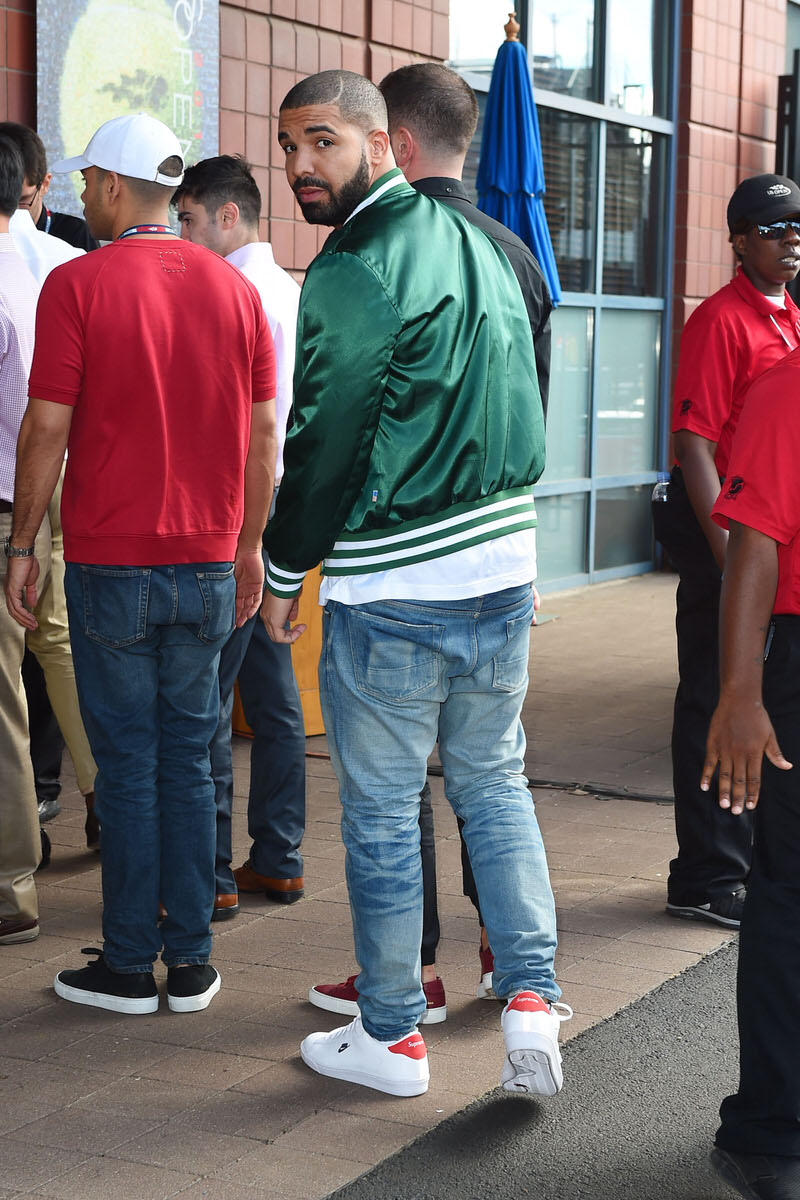 High-School Reunion
There comes a time in every man's age where it's no longer acceptable to dress like they're still in high school, but in Drake's case, all hail the 6God because his assortment of letterman inspired jackets are the key accents to his impressive footwear rotation. All-white Air Force 1s are an obvious option, as Drizzy has flawlessly exhibited time and time again. But what are some of the lesser known pairings that would accent this timeless look? Some of Drake's go-to combinations incorporate NBA varsity jackets, like the infamous Raptors jacket (seen below) with just about any pair of retro basketball shoes bringing back the nostalgia from the '90s without actually looking like you just came from there.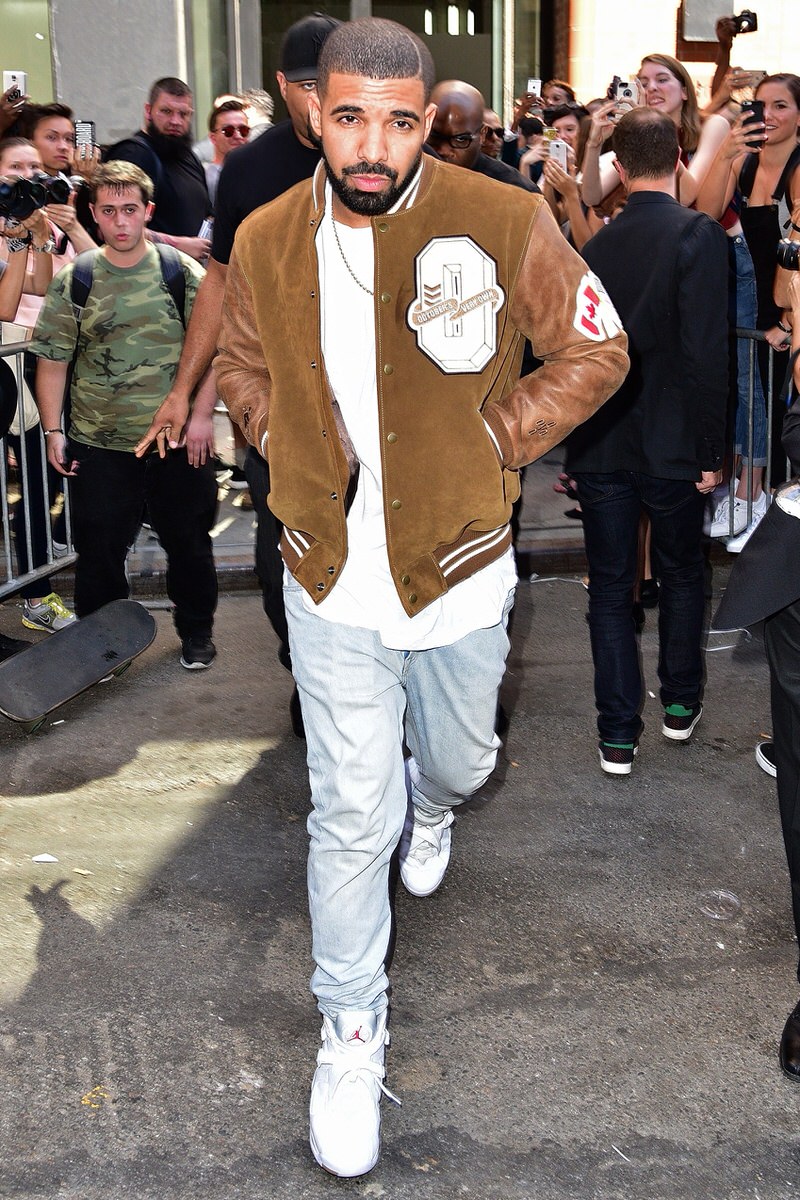 Outerwear is Everywhere
Drake looks like he is a walking ambassador for Stone Island and honestly, it just works with everything else he is wearing. And frankly, it's probably quite practical when roaming around in the frigid temperatures of Toronto this time of year. Similar to what some of the other best dressed members of society endorse, Drake typically makes an article like his jacket the statement piece, while his shoes are just an accent that ties the rest of the look together. Drizzy's outerwear essential usually incorporates a future modern approach in terms of aesthetic, which is why silhouettes like the Air Max 97 and 98s are a valid option to pair with his assortment of Stone Island down jackets.