Roger Federer is undoubtedly the greatest tennis player to ever play the game. On and off the court, Fed is a class act as he is not only one of the most liked players but also the most elegant. Contrasting Andre Agassi's loud and vibrant attire, the Swiss Maestro's style is sophisticated and cool. Also an acclaimed sneaker enthusiast, Federer has repped an assortment of coveted Nikes, both out in public and under the lights of whatever Grand Slam he's playing in.
Beginning his career with the top tennis brand back in 1994, it appears that his 24-year reign with the Swoosh may be coming to an end based on a $300 million (yes, that's million) 10-year contract from Japanese label, Uniqlo.
The only de facto statement that can be made at this point is that Fed has remarkable style. The de facto is that the audience of GQ voted him as 2016's Most Stylish Man. Owning the arena no matter where he goes, Federer is usually the best dressed whether that's his ritziest attire or even his elevated basics. When it comes to simplicity, we're all outmatched against him. While the Swiss Maestro is a regular when it comes to winning astonishing points, another one of his most impressive points comes from his approach to fashion. Every public sighting of the guy proves that you don't need to wear the flashiest trends or most relevant designers. Simplicity works and it's always been a key move inside Federer's style strategy.
Fed's Style is PeRFect
While the sneaker community knows him best for the classic kicks that Fed debuts on the court, many of those paying attention from a high-fashion perspective know his style to be perfect. Renowned for wearing tailored fitting clothes from some of the more tenured labels out there, the Swiss Maestro knows how to incorporate just enough of a playful edge by adding in a fun pair of sneakers so it doesn't seem as if everything is strictly business.
Whether he's wearing a pair of Tennis Classics with a razor sharp tuxedo or showing up to a Louis Vuitton fashion show wearing a suede blazer, turtleneck, and vibrant Air Max 90s, Federer exemplifies that he's one of the few that can rewrite the style rule book and actually make it work. Another simple and sophististicated style hack that we could all borrow from Fed is his incorporation of wearing tonal hues – especially outerwear for winter. And while varied shades of black is usually a can't fail tactic for building a smart wardrobe, navy is definitley a close second.
The year Federer won GQ's Most Stylish Man involved a particular day wear he wore a navy shearling flight jacket, sweater, and trousers, while pairing them with a woven pair of black Nike Innevas for a subtle contrast. Start referencing hacks like this and you'll be the only contender that's allowed to play in no man's land.
Roger Does Basics Betterer
While you might not be in the same stadium in terms of your tennis skills, you might be able to learn something from Federer's pre-match wardrobes for your weekend routine: always simple and always casual. Fed keeps it easy with timeless track jackets, basic tees/shorts, and of course his signature tennis shoes. Over the years and especially recently, we've seen him bust out some coveted kicks on court. Obvious offerings like Air Zoom Vapor AJ3 in White Cement, Black Cement, and the atmos "Jade" additions certainly stand out. And then there's the NikeCourt Vapor RF x AM 95 in both the OG "Neon" and "Greedy" colorways — all of which are a unique and simple silhouette that go with an array of muted active essentials.
But what's perhaps most impressive about these silhouettes is not the ones that were released with anticipated hype. Like MJ's "Banned" Jordan 1s, RF's Zoom Vapor 9 also had a similar outcome at Wimbledon in 2014 when they too were banned after his first match for having too much orange on them. That being said, a small allotment of this grass-court silhouette did release to the general public. And while they might not carry the nostalgia that Jordan's pair did, they're still rebel enough for those who want to give their simple off-duty wardrobe a slight edge.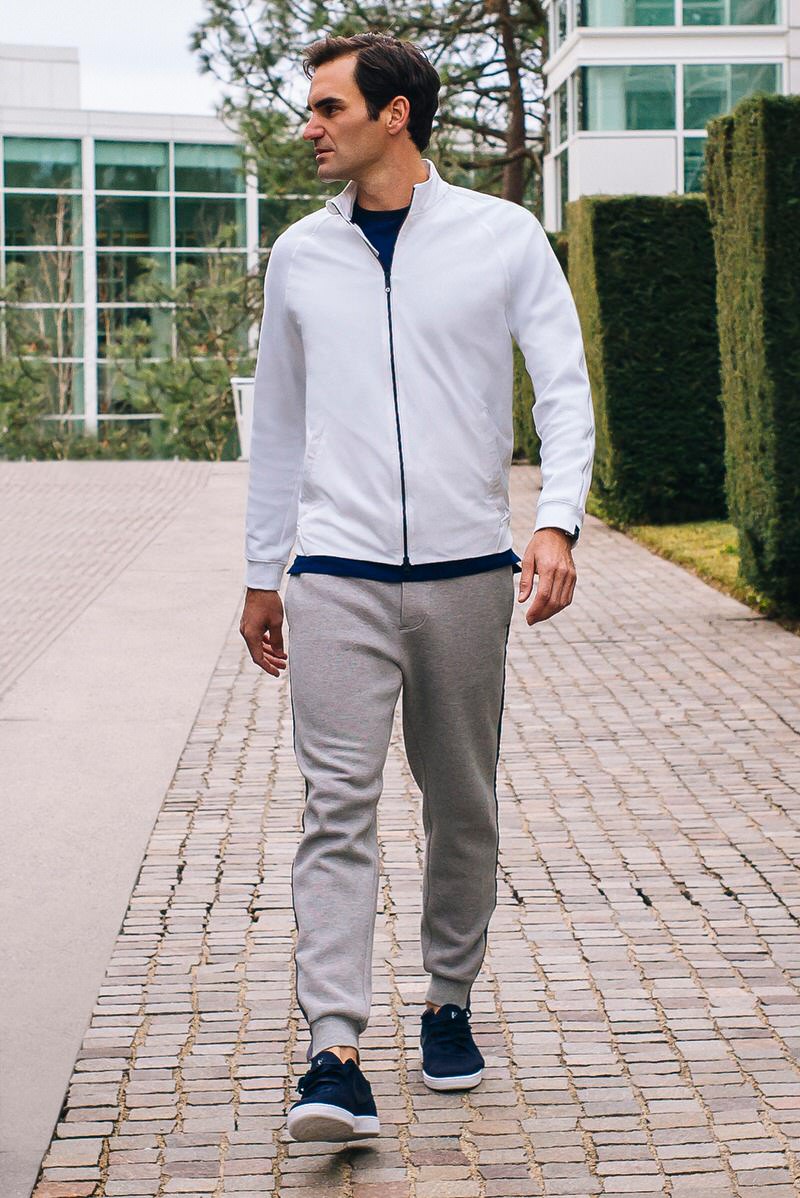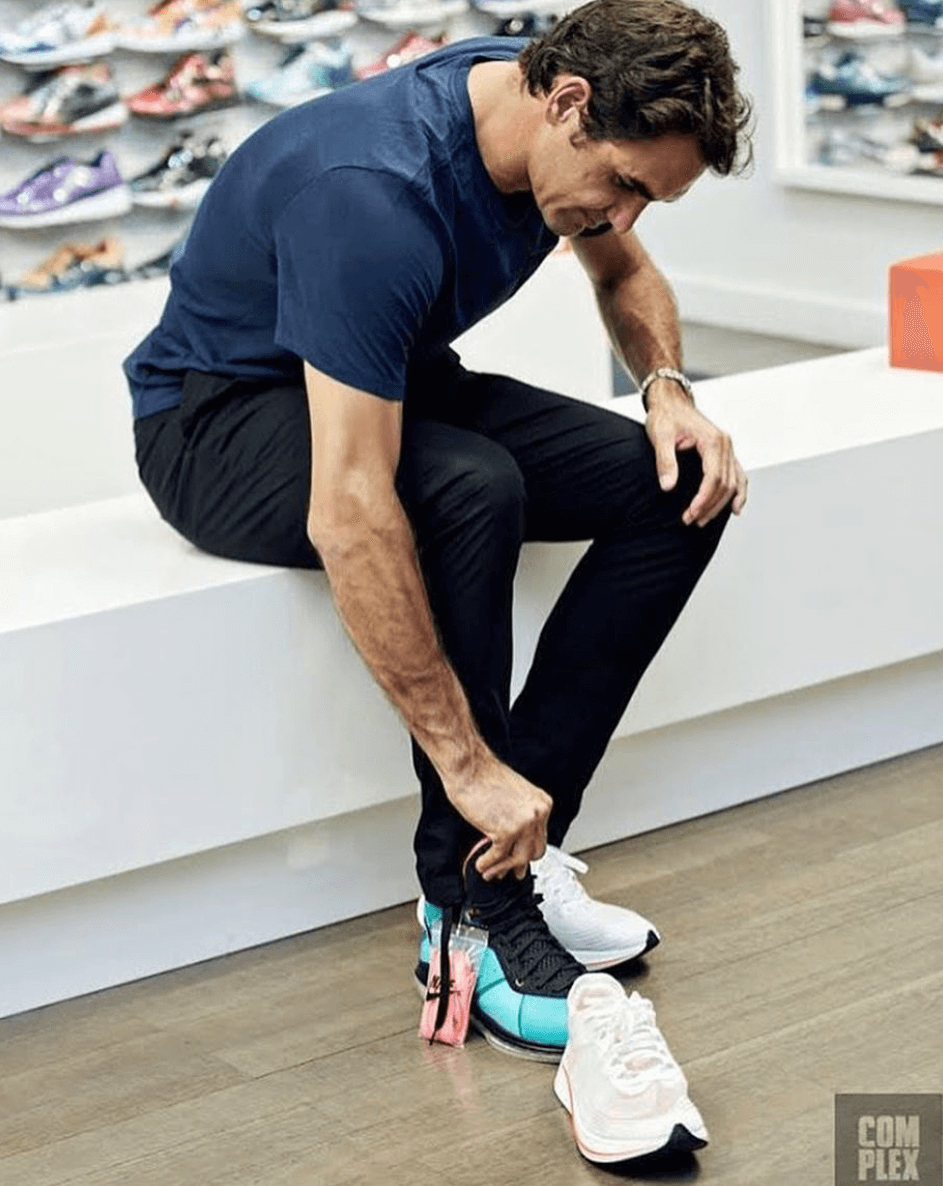 Fed Up With Trendy Fashion Looks
When your uniform is simple and even somewhat muted and plain, it doesn't mean that's how your style will be perceived. Fed has been mastering this move for years and it's as though he's plain fed up with trendy one-hit wonder looks, which is why he's resorted to the simple essentials. Building a wardrobe that consists of basic bomber jackets, toned down sweaters, and unassuming slim-fit jeans is like asking you to break out your grailed kicks. Because these essentials go with everything in your footwear rotation.
Having a plain wardrobe like Fed's not only makes it ten times easier to get ready in the morning, but you'll get a lot more use out of your favorite kicks. It seemed like Fed broke the Internet several years ago when he was spotted wearing the black Yeezy 2s. Suddenly, it was as if Roger Federer went from star tennis player to star sneaker rotation. What made that photo stand out so much was the fact that he didn't have to wear anything too flashy to take the cake.
Just to recap so far: Roger Federer is the GOAT in tennis for 20 reasons (that many Grand Slams), he has impeccable style, and he has a lot of really exclusive kicks – some of them are even his own signature PEs. While there are plenty of ways Fed can inspire us, especially from a fashion perspective, there are also many things that we cannot, like wearing a sweater tied around our neck. Remember, he's the GOAT after all. And he's also the only one with the demeanor to pull something like this off. After all, he has probably spent plenty of time at tennis country clubs to make this OK.