Lil Uzi Vert is not a rapper, he's a rockstar. In fact, he's punk rock. Whether it's up for debate on what genre his music is, it's pretty clear that his style is as punk as it gets. And we envy him for that. With distressed styling and his punk rock edge, the Philly local is renowned for throwing brands like OFF-WHITE, Bape, and Gucci into the mix.
And from a footwear perspective, his selections are indeed those that only a rockstar would pick, keeping viewers on their toes by mixing it up in the most unassuming ways possible. Some days it might be a pair of Jordan 1s, which is a move we've seen Slash execute. Then there are days when it's an extreme jump to streetwear with OFF-WHITE Air Force 1s or the all-red CLOT Vapormax runners. And finally, as rockstar as it gets – Uzi goes full-throttle on the distressed wave, riding it all the way in on a beat-up pair of Golden Goose sneakers.
Luv is Unassuming
Sometimes being a rockstar doesn't just mean wearing all black with an edgy leather jacket. Sometimes it can swing the complete opposite way, turning prep staples into their own punk styling. We saw these moves early on with Kurt Cobain and Eddie Vedder. And today, Uzi is having his own revival with a curated spin. We've seen Uzi take to the striped shirt tucked into the chinos look with a pair of reflective Air Max 97s, but the Philly artist certainly put his own spin on it, having a stuffed animal polar bear hanging on his back during his performance.
Living like a '90s rockstar and making it modern, Uzi is often seen wearing oversized graphic crews, while pairing them with destroyed skinny jeans and iconic footwear staples like Jordan 1s, Converse One Stars and even the Comme des Garcons CT 70s. There's even a photo below where it looks like Uzi jacked Kurt Cobain's infamous Freddy Krueger sweater and linked it with a pair of jeans Slash might've worn in the '80s. Capping a look like that off might also incorporate those CDG Converse. We really can't argue thought. This rockstar really does wear his heart on his feet.
Uzi seeking Nirvana with this Kurt Cobain inspired sweater.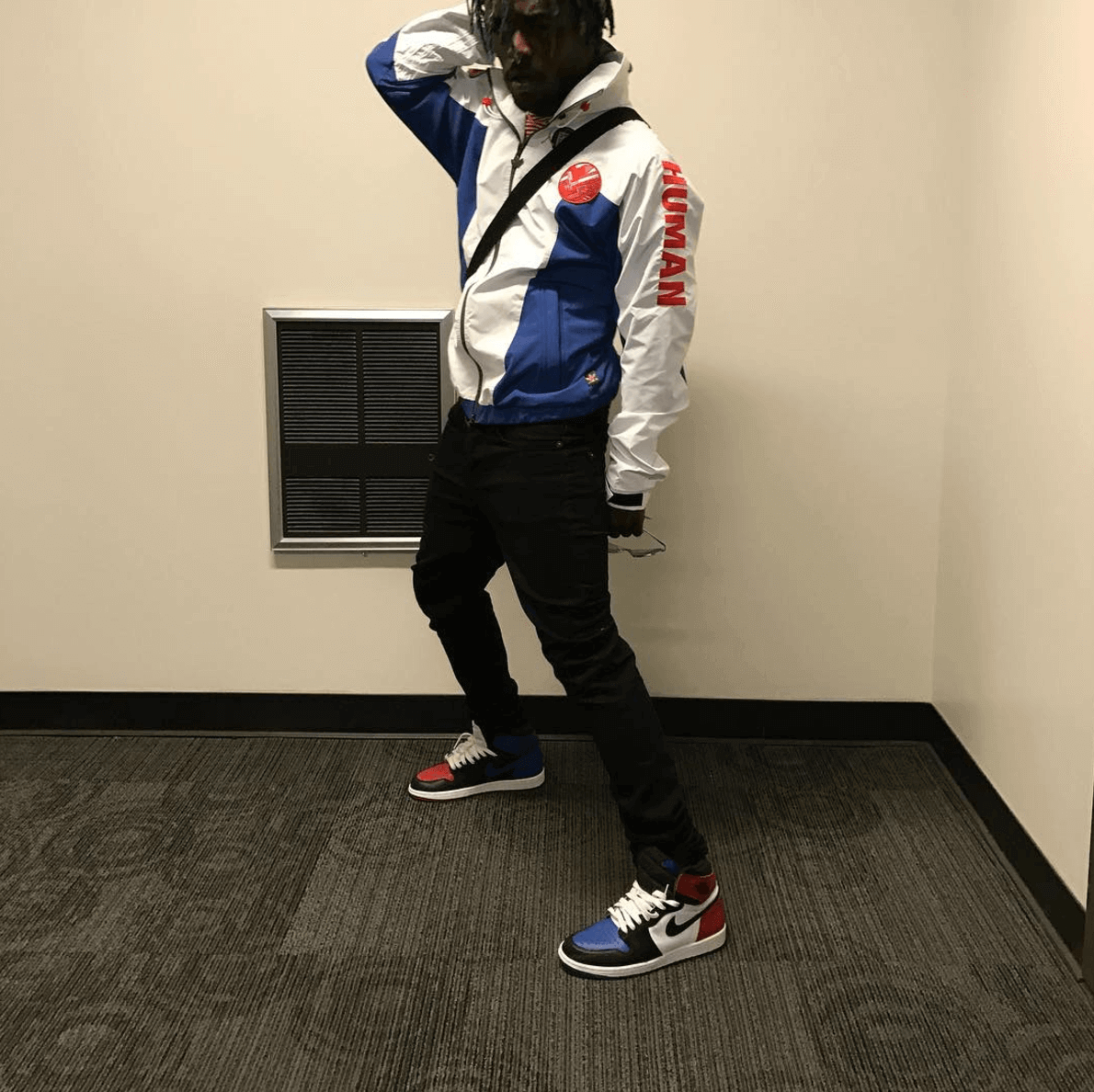 Passion for Flashin'
While Lil Uzi Vert indisputably has the rotation to rock all the hyped footwear classics, he's also more than capable of pulling the ultimate rockstar power move – doing what everyone else isn't. This is when the rockstar's passion for flashin' really shines, especially when he's rocking an assortment of the chunky sneaker trend from big house labels like Chanel and Louis Vuitton. He takes it one step further and he'll wear all high-end designer head to toe too. An example being when he repped the entire Burberry pattern and paired them with Chanel kicks, which is just about as much of a rockstar move as it gets.
Do What I Want
Just like the hit song, Uzi wants everyone to know that he does exactly what he wants to, which is a true punk rock move. Occasionally wearing Evisu everything with a pair of Louis Vuitton sandals, he's also been seen wearing wide leg trousers with adidas Yung 1s. And like most celebrities right now, he's been spotted wearing OFF-WHITE apparel and sneakers from the Nike collaboration to countless events. Only he pulls it off in a very Uzi way with the brand's most wild prints and offerings from their growing capsules. And while camouflage might be intended to make something hidden, Uzi knows that this is just the maneuver to stand out in fashion, pairing them with wild footwear styles, like the Nike VaporMax in vibrant colorways.