Just a few years after launching his acclaimed elevated basics brand, John Elliott has set out to bridge the gap between streetwear and sophisticated essentials. Turning heads on the apparel front since the brand's first official launch in 2013, Elliott is now getting the conversation going on the footwear side with several renditions of his co-branded Nike Vandal and the upcoming dad shoe variations with his Fall 2018 collection.
Living up to his motto of "You always want the look to be believable," John Elliott does exactly that. Everything he wears from his brand's line is exactly something you'd expect him to wear. The California native aims to symbolize a place where summer never really ends with his offerings, reflecting the stories that influenced his style growing up. Overall, John Elliott's style is very simple, which if you're anything like him, that makes getting dressed very easy in the morning. And furthermore, if you're style is reminiscent of his, you know exactly where you can get what he's sporting.
Basically, it's All About the Basics
For the most part, John Elliott is basically all about the basics because it's the essentials that can withstand the trends. Elliott believes that a leather perfecto jacket is a good investment to always be stylish and something you'll more than likely have forever. Need further validation? LeBron has been seen dozens of times wearing John Elliott head to toe with the perfecto jacket as the statement piece before game-time.
JE also claims that the brand's dual-zip hoodie is one of his own as well as his team's favorite pieces and offers plenty of versatility for how it can be worn. Also jumping on the layering trend early, the brand has offered a series of longline essentials and slim-cut sweats that showcase a timeless and casual look. Elliott's product line looks simple, but when it is worn together, it is meant to look even stronger.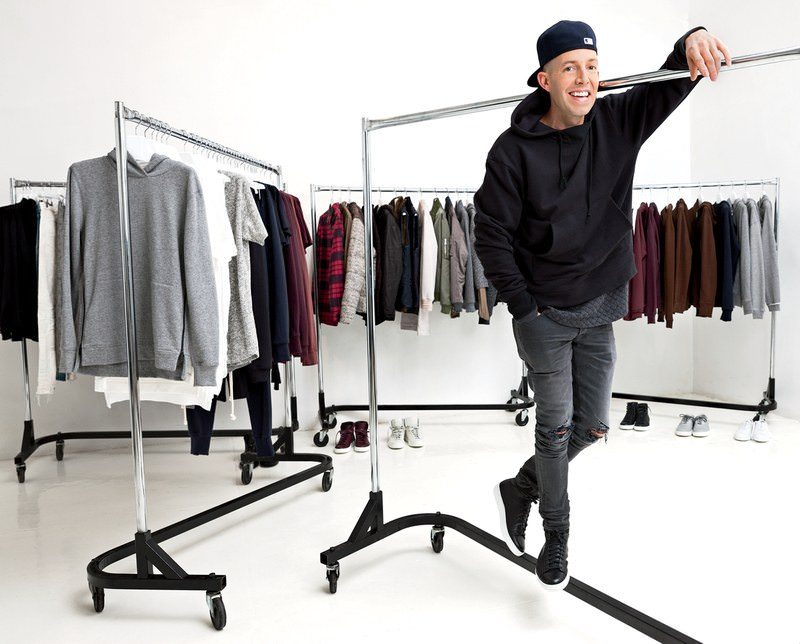 Play Your Style Wildcard
Even though John Elliott keeps it relatively simple, there are indeed those times where he has to play his style wildcard. What's cool about Elliott is that he keeps most of his look the exact same as he would otherwise, except he'll replace one of the usual items with something unexpected to grab your attention. And even though it's unexpected it's still believable. A prime example would be JE's Nike collaboration with the Swoosh. Of all the silhouettes he could've chosen from, he picked the Vandal because it was his go-to shoe throughout high-school and college that offered the versatility for skating and playing basketball.
Building off those moments when JE plays his style wildcard, there are times when he even designs that way. During Paris Fashion week several months back, Elliott was spotted with his acclaimed Vandals, but this time he traded in his signature skinny jeans for a pair of white painter pants that were made to look worn-in. Pause and actually observe what's going on and you might question what you see, but suddenly it grows on you and you can understand how it actually applies to the rest of his pairings.
The brand is best known for its renowned Villian hoodie, featuring a slim French terry construction with RiRi side zippers, this again was a point in menswear that Elliott and team played the style wildcard. JE has been quoted, "The market is open to new ideas; as a result, you get to explore."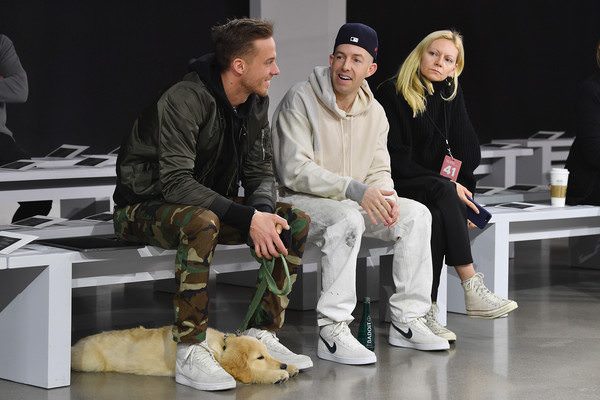 Double-Up on Denim
One of JE's classic looks is his ability to wear denim on denim without veering off into Canadian tuxedo territory. How does he do this? Significant contrast. Usually layering a hoodie underneath, Elliott has frequently been seen with a light wash distressed denim jacket that's paired with white jeans. Afraid white jeans are too trendy for you? The John Elliott brand has plenty of washes that rough up the tone's neatness, appearing with a worn-in streetwear edge. Elliott's way of wearing double denim also makes it even easier to pick out sneakers since they'll essentially go with everything, like Old Skools, Common Projects, and Air Force 1s.
John Elliott has some of the most unique denim washes that anyone on the market has to offer and he's consistently able to mix up the ways in how different shades and distressing can be applied. JE's denim range stems from his early days of picking up well faded pairs from APC's Butler Program, which sells pre-worn raw denim from its customers who bring in faded pairs in exchange for 50% off a new pair. The washes that Elliott offers mirror the fades, honeycombs, whiskering, and rips that APCs take on with prolonged wear, only his take on this sort of character right from the start.